The Best Dog Training in Torrance, CA
7 minutes
Welcome to Torrance, where the dog training scene is a delightful medley of tailored options perfectly matched to suit the unique personalities of our beloved furry friends. Whether your pup loves frolicking on the sandy shores or exploring the city streets, rest assured that Torrance has the right training for them.
Torrance's dynamic and vibrant atmosphere provides an idyllic backdrop for your pup's training journey and forging cherished memories between you and your loyal companion. From leisurely walks along the beach to heart-pumping adventures in the city, a well-trained dog opens the door to boundless joy and endless experiences in this enchanting city.
Whether it's mastering obedience skills for peaceful walks through the city, addressing behavioral issues to improve overall well-being, or exploring agility training for mental and physical enrichment – the city caters to every aspect of your pup's unique journey.
So, leash up your excitement and follow us as we embark on this exciting journey to uncover the best dog training centers in Torrance.
A Quick Look at the Best Dog Training in Torrance, CA
Please take a quick peek at our table showcasing Torrance's best dog training options. This handy summary provides a glimpse into the top-notch centers that have earned their spot on our list. We'll dive into a more detailed review of each training center in the following sections.
| | | | |
| --- | --- | --- | --- |
| Trainer | Price | Training Types | Online / In-Person |
| Dog Academy |  $49.99 – $349.99 | Obedience Classes, Psychiatric Service Dog Training, Specialized Training | Online and In-Person |
| Zoom Room Dog Training | $25.00 – $579.00 | Obedience Training, Agility Classes, Specialty Classes | Online and In-Person |
| Torrance Dog Training & Daycare | $650.00 – $2,000.00 | Leash Training, Potty Training, Socialization, Behavior Classes | In-Person |
| The Noble Dog Trainer LLC | $50.00 – $200.00 | Basic Obedience Training, Behavioral Classes | Online and In-Person |
| Pink Pucci | $299.00 – $999.00 | Basic Obedience, Leash Training, Behavior Correction Classes | In-Person |
Online Vs. In-Person Training in Torrance, California
The dog training scene in Torrance offers a world of possibilities for pet parents, with two distinctive paths: the virtual realm of online training and the tangible experience of in-person sessions. Each avenue presents its own set of perks and considerations, catering to various lifestyles and training preferences.
Embracing the online training journey offers the convenience of learning right from your living room. With virtual sessions, you can set the pace, fitting training into your busy schedule without leaving the comfort of your home. The digital world also grants access to a wealth of resources, empowering you to deepen your understanding and support your pup's progress between sessions.
On the flip side, the charm of in-person training lies in the tangible connection between you, your furry companion, and the seasoned trainers. Not only does it allow your pup to receive real-time feedback, but it also allows you to adapt the training to ensure a more personalized approach to unique behavioral challenges. Besides, the presence of other canine classmates also opens doors for socialization, creating a fun and interactive learning environment for your pup.

Perks of Online and In-Person Training in Torrance
Torrance offers the best of both online and in-person training, allowing you to choose the approach that complements your lifestyle and your dog's unique personality. The table below lists the advantages of online and in-person training options, each carefully considered and offered right here in Torrance.
| | | |
| --- | --- | --- |
| Perks | Online Training | In-Person Training |
| Budget-friendly | ✓ | ✓ |
| Flexibility | ✓ | x |
| Personalized Feedback | ✓ | x |
| Distraction Management | x | ✓ |
| Community Interaction | x | ✓ |
| Hands-on Practice | ✓ | ✓ |
The Best Dog Training in Torrance
We scoured every corner, carefully considering factors like training expertise, client reviews, training methods, and the overall experience each center offers.
The result? A meticulously curated list that highlights the best of the best. From their training philosophy and expert trainers to their training programs and unique features, we've left no "bone" unturned in our quest to bring you the cream of the crop.
Dog Academy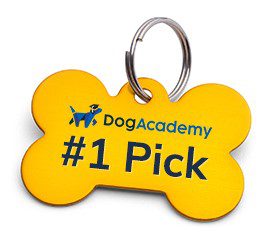 At the top of our list is Dog Academy, a comprehensive training hub offering in-person and online dog training in Torrance. With a vast network of expert trainers and hours of online content, they cater to every pup's needs. Their trainers boast impressive credentials and are committed to positive reinforcement, fostering a stronger bond between you and your furry friend.
They cover everything from private training to specialty classes like psychiatric service dog (PSD) training and emotional support animal (ESA) training. Dog Academy's focus on effective communication and understanding your dog sets the stage for a happy and healthy relationship. With their unparalleled expertise, you can confidently unleash your dog's potential for a joyous and harmonious journey together.
Zoom Room Dog Training
Next, we have Zoom Room Dog Training, renowned for its exceptional and positive dog training classes. Their expert trainers specialize in obedience, agility, puppy training, and enrichment workshops within their indoor, climate-controlled dog gym. They even host playgroups for puppies and adolescents, fostering socialization and confidence-building from an early age.
Whether you opt for group classes, private training, or virtual sessions, Zoom Room offers a wide array of training options to suit your convenience. Additionally, Zoom Room is an AKC-registered evaluator, offering a range of testing services for you and your dog.
Torrance Dog Training & Daycare
Torrance Dog Training & Daycare is a well-established training center and a haven for our furry friends. It is located in the heart of Torrance, CA, between Crenshaw and Lomita Ave. This second branch was established to serve customers in South Torrance, while the first branch, "Pink Pucci," is located in North Torrance.
Specializing in puppy training, they offer in-person sessions from Monday to Friday, creating a structured and positive learning environment for your young canine companion. They offer a range of courses, including basic obedience, leash pulling, certification, and boot camp programs. Their experienced trainers rely on positive reinforcement, ensuring a constructive and rewarding training experience for dogs and their owners.
The Noble Dog Trainer LLC
The Noble Dog Trainer boasts an impressive array of courses, covering everything from basic obedience training to behavioral classes. No matter the training goals you have in mind, their experienced team is committed to guiding you and your dog on a transformative journey toward success.
By seamlessly blending positive reinforcement with correction-based methods, they pave the way for a harmonious and well-rounded training experience for your furry companion. Whether you opt for private sessions, at-home private sessions, in-person evaluations, or board and train programs, they've got you covered.
Pink Pucci
Established in 2007, Pink Pucci Dog Grooming & Training is a premier dog spa and training center. They have a wealth of experience in catering to the needs of dogs and their owners, and their connection to Torrance Dog Training & Daycare further adds to the allure.
Their exceptional puppy training program on weekdays and courses in basic obedience, leash training, and more ensures a comprehensive approach to nurturing young pups. In addition to the standard courses, you can also find advanced courses like separation anxiety, barking, aggression, and calm-down training to ensure your dogs become well-behaved and confident.
Find the Right Dog Training for You
In the vibrant city of Torrance, finding the perfect dog training center is a breeze with the diverse options available. From positive reinforcement methods to balanced training approaches, there's a perfect fit for every canine and their devoted owners.
Whether you seek puppy training to build a strong foundation, advanced obedience for well-mannered companions, or specialized classes to address behavioral challenges, the choices are endless. The variety of training mediums – in-person sessions, group classes, and virtual consultations – provide flexible learning opportunities for all.
With expert trainers guiding the way, you and your furry companion can embark on a transformative training journey, strengthening your bond and creating cherished memories in this enchanting city.
So, unleash the potential in your dog by choosing a trainer that understands you and your four-legged companion. The right training is just a paw's reach away!