The Best Dog Training in Sioux Falls, SD
8 minutes
In Sioux Falls, there are many walking trails, parks, and breweries that are dog-friendly. Dart Boutique and 1880 Cowboy Town also allow dogs. Bringing your dog out on the town with you can be a lot of fun, but if your pooch isn't well-behaved, fun can easily become frustration.
You may think your crazy dog will never be behaved enough to leave home, but this isn't true. With the help of a professional dog trainer, any dog can learn to behave and look to you for guidance.
In this article, we've compiled a list of the five best dog training options in Sioux Falls. These dog trainers can help train puppies, adults, and even senior dogs. Not only do they offer basic obedience, but they can help with serious issues like aggression or separation anxiety. Some of them can also train special skills, like scent work, that can be used to provide enrichment and leave your dog tuckered out!
Keep reading to learn more about the best dog trainers in Sioux Falls and what services they have to offer.
A Quick Look at the Best Dog Training in Sioux Falls
Here, we've put together a chart that provides a quick overview of the top training options in Sioux Falls. We'll be sharing in-depth information on each trainer later in the article, so be sure to keep reading.
| | | | |
| --- | --- | --- | --- |
| Trainer | Price | Training Types | Online / In-Person |
| Dog Academy | $49.99 – $349.99 | Obedience Classes, Psychiatric Service Dog Training, Specialty Classes (e.g. Canine Confidence, Separation Anxiety) | Both |
| Tenacious Dog Training | Private Training $175 – 1200; Group Classes $70 – $380 | Service Dog Training, Aggression, Scent Work | Both |
| K9 Nose Sports | $140 for a 4-Week Class | Nose Work | In-Person |
| Pet Pals | Contact for Details | Puppy Training, Manners, Obedience | In-Person |
| Dunbar Academy | $100 – $200 per single course, or $20/month subscription (or $150 annually) | Behavior Problems, Dog to Dog Reactivity, Games | Online |
Online Vs. In-Person Training in Sioux Falls
Many people think that virtual dog training isn't as effective as in-person dog training, but this simply isn't true. Both have their pros and cons. Online dog training is very convenient and tends to be more affordable. However, it isn't the best choice for people who aren't good with technology.
In-person training, on the other hand, is a great way to socialize your dog with other dogs or strangers, especially if you take a group class. It's also nice if you like having opportunities to meet new people. However, in-person dog training isn't always the best choice for dogs that are easily overwhelmed by strange people or dogs — those types of dogs may benefit more from online training.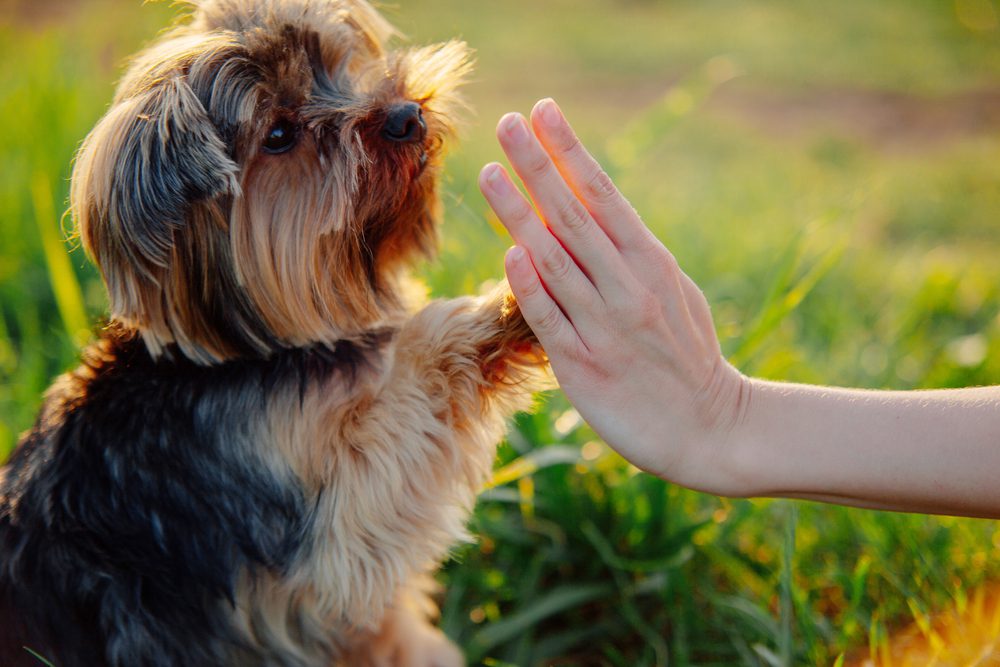 Perks of Online and In-Person Training in Sioux Falls
If you were wondering what all the perks of online and in-person dog training are, we've created a simple chart to help you understand.
| | | |
| --- | --- | --- |
| | Online Training | In-Person Training |
| Socializes Your Dog | X | ✓ |
| Flexible Schedule | ✓ | ✓ |
| Ask Questions | ✓ | ✓ |
| Study at Your Own Pace | ✓ | X |
| Learn at Home | ✓ | ✓ |
The Best Dog Training in Sioux Falls
Finding a trainer in Sioux Falls isn't all that easy as your options are somewhat limited. However, that doesn't mean dog owners in the area are completely out of luck. There are still some awesome dog trainers in Sioux Falls, and online dog training is always an option, too. We've put together a list of the five best dog training options in Sioux Falls, complete with a brief summary of services, prices, and contact details. Check it out!
Dog Academy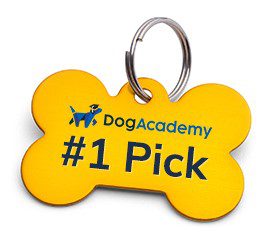 Dog Academy offers both online and in-person training programs. The in-person programs provide both private and group classes, and there are a dozen trainers that service every city in America, including Sioux Falls. If you're more interested in online training, Dog Academy has a plethora of courses to suit your needs.
You can find puppy training, basic obedience training, psychiatric service dog training, emotional support dog training, leash manners training, trick training, crate training, and more on Dog Academy's course list. If your pup has problem behaviors such as reactivity or excessive barking, Dog Academy can help with that, too.
You can even find classes designed for people! Learn how to apply first aid or administer canine CPR or how to groom your dog at home. Each course was designed by Americal Kennel Club-certified trainers who have over 25 years of experience. For online courses, you can easily contact trainers via phone, email, or the contact form on Dog Academy's website should you have any questions.
Tenacious Dog Training
Tenacious Dog Training employs force-free dog trainers and provides a plethora of dog training options. You can attend a group class, one-on-one training in your own home, or even train virtually.
They offer family dog training and puppy training along with more specialized options such as training for dogs that are aggressive or suffer from separation anxiety. They even have a service dog program for owners who would like to train their own service dogs.
They also offer an office dog program and a brewery dog program; as you can guess, these programs train dogs to behave in these environments. Tenacious Dog Training has an extensive catalog of group training courses including puppy classes, Canine Good Citizen prep, tricks, lure coursing, nose work, and canine cognition.
K9 Nose Sports
As the name of the company suggests, K9 Nose Sports trains dogs and their owners in the sport of scent detection. K9 Nose Sports offers training both for people who wish to compete in scent work trials and for those who are just looking for a fun activity to do with their dogs. They are very good at working at your dog's pace, even in a group setting.
K9 Nose Sports offers classes at varying experience levels as well as private lessons for those wishing to hone in on a specific issue or element of nose work. Clients have described their experiences with K9 Nose Sports as fun, rewarding, and beneficial to their dogs' well-being in that it tires their dogs out and has even helped their fur babies become more confident around other dogs and people.
Client reviews have also praised the head trainer, Roger, for being patient and using only positive reinforcement when interacting with dogs. K9 Nose Sports welcomes all dogs except for those that are aggressive toward humans.
Pet Pals
Pet Pals is primarily a pet sitting and dog walking company, but they also offer in-home dog training via the Pet Pals Mentorship Program.
The goal of this program isn't just to train dogs; it's also to help owners learn about socialization, body language, and other aspects of dog behavior.
Pet Pals uses completely force-free techniques which means the entire family can join in on the training. They are able to train dogs of any age, from puppies to senior citizens. They teach dog owners about canine enrichment, how to introduce new dogs to a household, and they share useful dog training resources.
Dunbar Academy
Ian Dunbar is considered a pioneer of modern, force-free dog training. With the help of his wife and son, he has created a website that provides online training courses. There are a plethora of courses, some which focus on dog training itself and others that focus more on the science behind it.
Dog training courses include puppy training, behavior problems, using games to train reliability, dog-to-dog reactivity, treatment and prevention of aggression, and more. Dunbar Academy also offers a monthly subscription to their Top Dog Academy.
The Top Dog Academy includes hundreds of hours of dog training videos, ebooks, podcasts, and worksheets. There are also periodic seminars and live Q&A sessions. With the subscription, you also receive access to an exclusive Facebook group where you can get advice from professional trainers and even the Dunbars themselves.
A number of the dog training courses on the website are also included in the Top Dog Academy subscription. Since the subscription is only $20 per month, you can potentially save money by opting for the subscription instead of paying a flat fee for each course.
Find the Right Dog Training for You
The right dog training for you is the one that fits your budget, works on your schedule, and can help you achieve your dog training goals. If your dog has behavior issues that need addressing, then check out Tenacious Dog Training, Dog Academy, or Dunbar Academy.
For basic training such as obedience or puppy training, any of the options on our list would work except for K9 Nose Sports, which is your best option if you're interested in teaching your dog scent work or competing in scent work trials.
For service dog training, turn to Dog Academy for Psychiatric Service Dogs or Tenacious Dog Training for other types of service work.  Whatever your dog training goals are, with love, patience, and consistency, we know you'll be able to achieve them.