The Best Dog Training in Scottsdale, AZ
7 minutes
One of several desert cities in the United States, Scottsdale is a great place to live with a dog. Arizona is filled with desert and other places to have plenty of adventures with your companion. Scottsdale is also known for its golf courses, rock formations, and other things to see.
While Scottsdale is a great place to live with a dog, it's important to put your dog through proper training. In fact, if you want to make the most out of your time with a dog in Scottsdale, training your dog is the best option. That said, you need to make sure it's the right type of training. Scottsdale is a desert landscape, so make sure you train your dog for desert weather, avoidance of wild animals, and socialization for when you're in urban areas.
Several trainers are available, but it's not always easy to find the right one, especially when you don't know where to look. The good news is that plenty of qualified trainers in Scottsdale can train your dog to remain by your side in town, on adventures, and far away from the wrong types of wildlife.
To help you narrow down your options, we've selected the five best dog trainers in Scottsdale. There's a brief overview of their services in the chart below, and more detailed reviews later on.
| | | | |
| --- | --- | --- | --- |
| Trainer | Price | Training Types | Online / In-Person |
| Dog Academy | $49.99 – $349.99 | Obedience Classes, Puppy Training, Psychiatric Service Dog Training | Both |
| Partner's Dog Training, Resort, and Daycare | Consultation-Based | Training Camp, Behavior Camp, DaySchool | Both |
| JD'S Powerhouse K9 Bootcamp | $260 | Bootcamp, Puppy Training and Socialization, Dog Reactivity | In-Person |
| True Canine Training | Consultation-Based | Potty Training, Biting or Chewing, Aggression | In-Person |
| K9Katelynn Dog Training | Consultation-Based | Obedience Training, Behavioral Modification, Leash Training | In-Person |
Online vs. In-Person Training
When you're selecting a dog trainer you need to consider a few things. The most important factor is how the trainer trains your dog. In-person training used to be the only option, but this is no longer the case. Online training has become increasingly popular, and video calls are an effective way to teach a dog commands. In many cases, people prefer online dog training to in-person training because of its benefits. We'll take you through a description of each type below.
Online dog training is effective for a few reasons. First and foremost, the classes are more flexible than in-person options. Online courses are more flexible because trainers don't have to commute, and some platforms have trainers who are available in the evening. Another benefit of online courses is that they're inexpensive compared to most in-person courses. This isn't always true, but many in-person courses are expensive because they include things like grooming, boarding, or extra supplies like leashes.
On the other hand, in-person dog training also has some benefits. These benefits are more focused on the trainer having a physical connection with your dog. Furthermore, in-person trainers may be ideal for people who need dog daycare, boarding, or grooming services. For some, these services make training much easier.
All that said, in-person and online dog training are both viable options depending on what your dog needs. Always evaluate your options before making a choice.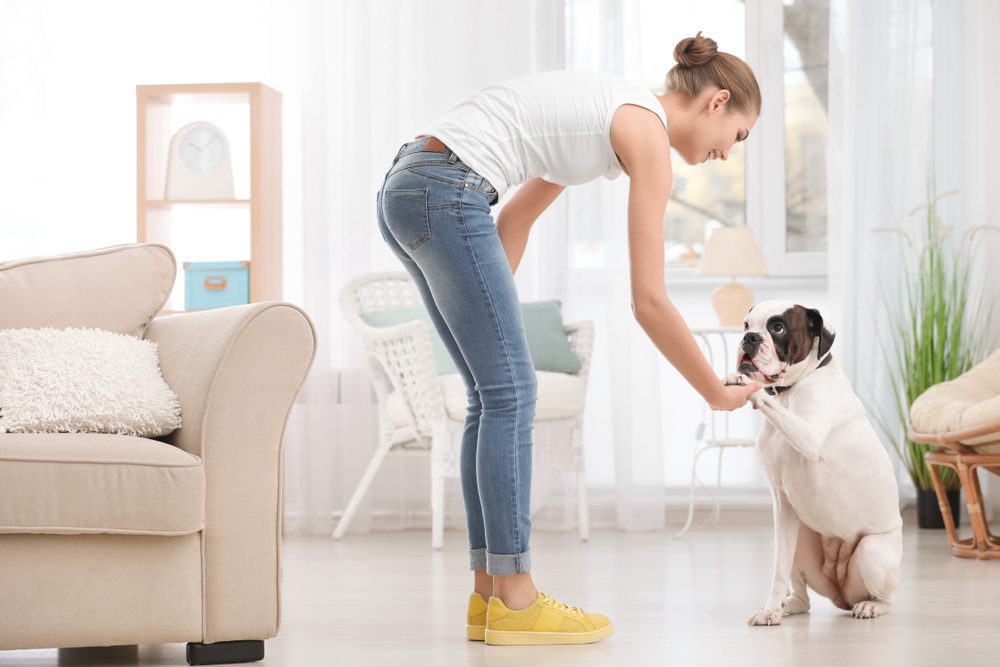 Perks of Online and In-Person Training in Scottsdale
Online and In-person dog training comes with some unique perks. We provide a summary of these perks below.
| | | |
| --- | --- | --- |
| | Online Training | In-Person Training |
| Group Classes | X | ✓ |
| Cost Effective | ✓ | X |
| Flexible Schedule | ✓ | X |
| One-on-One Instruction | ✓ | ✓ |
| Study at Your Own Pace | ✓ | ✓ |
| Socializes Your Dog | X | ✓ |
The Best Dog Training in Scottsdale
Dozens of dog trainers are at your disposal in Scottsdale. Between online platforms and dog training services, trainers have never been easier to find. Unfortunately, ease of access does not equate to good dog training. Thankfully, we have selected five of the best dog trainers in Scottsdale to help you narrow down your options.
1). Dog Academy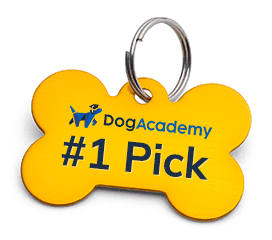 Dog Academy is one of the best dog training services in the United States. Not only will you find dog trainers in Scottsdale, but you can find them in any state or city. Dog Academy trainers come with professional backgrounds, and every online trainer maintains American Kennel Club (AKC) certifications. Some other benefits of Dog Academy include special courses for therapy and support dogs, group sessions, and service dogs.
Dog Academy trainers are also some of the best when it comes to bonding. Trainers have extensive experience with video calls and in-person training sessions, and the organization has won several awards for its premium services. Overall, Dog Academy is our top pick for dog training in Scottsdale.
2). Partners Dog Training, Resort, and Daycare
Partners Dog Training, Resort, and Daycare is the largest dog training organization in the Southwest. The company has a total of 100 years of combined dog training experience and has trained more than 40,000 dogs. There are dozens of great programs for boarding your dog and training your dog with private lessons, so you have plenty of options. What's more, there is an online quiz that the website offers. The online quiz helps you determine what type of dog training works best for your dog. Furthermore, there are dozens of trainers to choose from if you want to work with someone else. It's also important to note that it's one of the most flexible in-person options because of the size of the company.
3). JD's Powerhouse K9 Bootcamp
JD'S Powerhouse K9 Bootcamp is a family-owned dog training operation in Scottsdale. It's owned by husband and wife Jose and Monique and has been around since 2016. The couple works well because they come from different dog training backgrounds and have combined their methods.
Jose understands how dogs think and has experience working with Animal Control. Monique has experience working with dogs who have social issues from shelters. Monique is also great at working with breeds that don't get a lot of love, like pit bulls. With boot camp programs Monique and Jose work on behavior modification and commands, and all training is certified force-free.
4). True Canine Training
True Canine Training is one of the best options for in-home dog training in Arizona. Many programs take place in your home, which helps dogs remain comfortable during the training process. Also, unlike other in-home trainers, True Canine Training has a facility for board and train programs that help with socialization and behavioral modification.
What makes True Canine Training unique is that there are infinite follow-up lessons. This enhances the value of the program because pet owners can meet with trainers as often as necessary to ensure their dog remains properly trained. These extra lessons are perfect for people who have stubborn dogs who aren't listening to their owners.
5). K9Katelynn Dog Training
K9Katelynn Dog Training is a small organization that helps dogs with obedience problems in Scottsdale, Arizona. The organization was founded by the daughter of the owner, Katelynn, who had a passion for animals and veterinarian work. In fact, it's not uncommon to find many K9Katelynn Dog Training cards in Scottsdale veterinarian offices. Also, that's what makes this organization special. It has support and recognition from local veterinarians, vet technicians, and online organizations like Angi.
Find the Right Dog Training for You in Scottsdale
You'll find plenty of trainers that can help you and your dog conquer every adventure in Scottsdale. When you're choosing a dog trainer, always take into consideration your budget, schedule, and dog's personality. Also, don't be afraid to try more than one dog trainer if you don't notice an improvement.
All that said, our favorite dog trainer is always Dog Academy. You'll have access to a vast database of information about dogs and plenty of high-quality dog trainers. Always check testimonials and reviews if you're unsure.