The Best Dog Training in Santa Clarita, CA
9 minutes
In Santa Clarita, dog training is particularly important due to the high number of households with pets. With over 40% of households in the city owning at least one dog, there is a growing need for effective training to help pets and their owners live together in harmony. Additionally, Santa Clarita has many outdoor activities, including hiking trails and dog parks, where well-trained dogs are welcomed and encouraged to participate.
Santa Clarita offers a range of dog training options to help pet owners with different types of behavior problems or to simply improve their pet's obedience skills. The types of training available include obedience training, behavior modification, agility training, and socialization training.
Effective dog training can help improve the bond between dogs and their handlers, reduce destructive behavior, and increase overall happiness and well-being for both pets and their owners. For example, obedience training can prevent dogs from jumping on people or running away when off-leash, while behavior modification can help dogs with anxiety issues feel more comfortable in different situations. Agility training can also help dogs build confidence and overcome their fears, while socialization training can prevent aggression and improve overall behavior in social settings.
Effective dog training in Santa Clarita not only helps pets and their owners but also contributes to a more harmonious and welcoming community for all.
A Quick Look at the Best Dog Training in Santa Clarita
The following table provides a summary of the best dog training options in Santa Clarita, while a more detailed review of each option is covered later in the article.
| | | | |
| --- | --- | --- | --- |
| Trainer | Price | Training Types | Online / In-Person |
| Dog Academy | $49.99 – $349.99 | Obedience classes, puppy training, psychiatric service dog training | Both |
| The Mannered Mutt | $100-$150 | Obedience training | Both |
| AngelDogs Training | $120-$750 | Socialization, reactivity training, training deaf dogs | In-Person |
| A Paw Above Dog Training | Contact for details | Puppy socialization, obedience training, Canine Good Citizen | In-Person |
| Animal Attraction Unlimited | Contact for details | Basic obedience, behavior modification, aggression issues | Both |
| 3 Dog Training | $150-$180 | Puppy socialization, obedience classes, enrichment day camp | In-Person |
| Zoom Room | $25-$579 | Agility classes, obedience training, puppy preschool | In-Person |
Online vs. In-Person Training in Santa Clarita
Online and in-person dog training sessions both have their advantages and disadvantages. In-person training is the more traditional method of dog training, where pet owners attend classes with their dogs and receive personalized instruction from a professional trainer.
One advantage of in-person training is that the trainer can provide hands-on guidance and correction to the pet owner and their dog. In-person training also allows pet owners to socialize their dogs with other pets, providing valuable opportunities for socialization and interaction. However, in-person training may require more time and resources, as pet owners must travel to the training location and commit to a set schedule.
Conversely, online training allows pet owners to receive instruction from a trainer remotely, often through video conferencing or pre-recorded sessions. Online training also offers greater flexibility and convenience, as pet owners can access training sessions from anywhere with an internet connection.
Online training may also be more cost-effective than in-person training, as there are no travel or facility rental costs. However, online training may not be as effective as in-person training for dogs with more severe behavior issues or those requiring more personalized attention. Additionally, online training may not provide the same level of socialization opportunities for pets.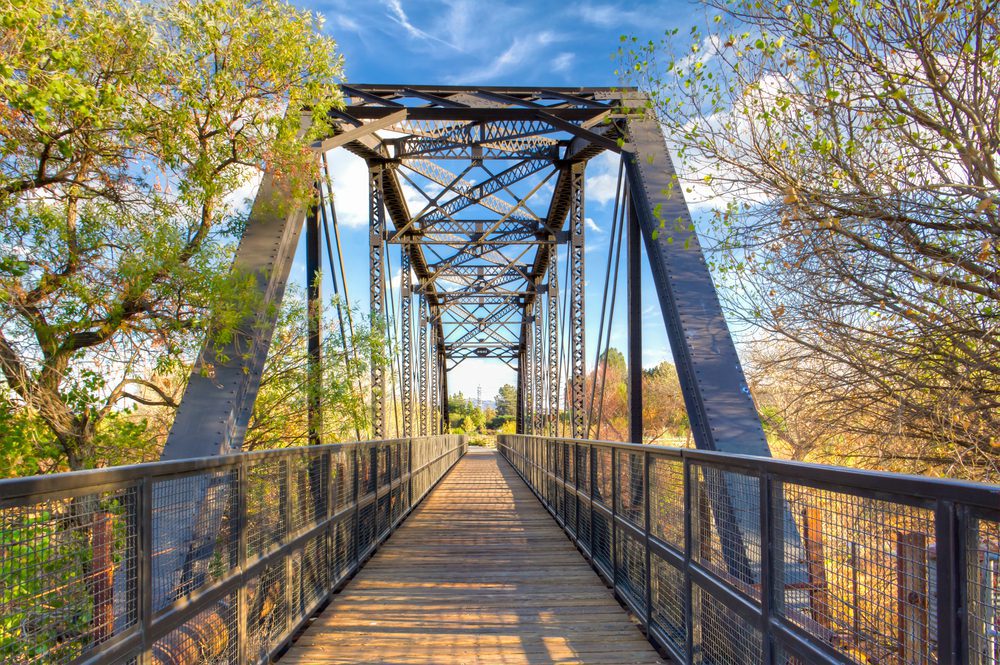 Perks of Online and In-Person Training in Santa Clarita
Each type of dog training has its own benefits. Check out our useful table comparing the two types.
| | | |
| --- | --- | --- |
| | Online Training | In-Person Training |
| Interactive and Engaging | ✓ | ✓ |
| Socialization Opportunities | x | ✓ |
| Access to Expert Trainers | ✓ | ✓ |
| Self-Paced Learning | ✓ | x |
| Immediate Feedback | x | ✓ |
The Best Dog Training in Santa Clarita
Here are some of the best dog trainers in Santa Clarita who offer both online and in-person training options to pet owners looking to improve their dogs' behavior and obedience skills. Each trainer on this list has been selected based on their experience, qualifications, and positive customer feedback.
Dog Academy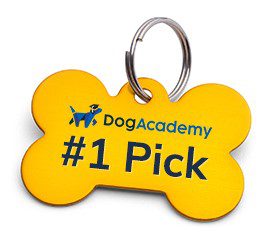 Online or In-Person: Online and In-Person
Types of Training Courses: Obedience Classes, Behavioral Issues, Puppy Training, Psychiatric Service Dog Training, Emotional Support Animal Training, Specialty Classes (e.g., Canine Confidence, Separation Anxiety)
Price Range: $49.99 – $349.99
Link to Website:

Dog Academy Basic Obedience Training Program

Phone Number: (605) 223-1971
Crate training, fundamental obedience, mental health service dog training, emotional support dog training, leash etiquette, and tricks training are just a few of the courses offered at Dog Academy.
Additionally, there are programs to help with serious behavioral issues, including separation anxiety and harmful habits like barking and reactivity. Dog Academy even has a course if you want to bring your dog to the office.
All Dog Academy's courses were developed by certified American Kennel Club trainers with over 25 years of expertise. It's fun, helpful, and non-coercive to train. It's easy to contact the trainers if you have any questions regarding their virtual training service by phone, email, or the contact form on their website.
The Mannered Mutt
Online or In-Person: Both
Types of Training Courses: Obedience Training
Price Range: $100-$150
Link to Website: http://www.themanneredmutt.com
Address: Newhall, CA
Phone Number: (661) 904-3835
Mannered Mutt's owner Alec Torres obtained her Concept Dog Trainer certification from Pro Dog Trainer in 2019 and is a member of the Pro Dog Trainer Club. She is also enrolled in The School of Canine Science's three-year Master's Equivalence degree in canine behavior.
Alec believes that miracles can and will occur when constructive criticism is combined with enjoyable, persevering, repeated work. She is renowned for her great and transforming effects and calm, tranquil manner with both people and animals.
AngelDogs Training
Online or In-Person: In-Person
Types of Training Courses: Basic Obedience, Socialization, Reactivity Training, Training Deaf Dogs
Price Range: $120-$750
Link to Website: http://angeldogstraining.com
Address: Santa Clarita, CA
Phone Number: (661) 803-8461
For many of us, dogs become more than just pets; they become our friends and members of the family. For many families, training opens up a new world of opportunities, and AngelDogs thinks every dog deserves the chance to achieve their full potential. Each dog has a distinct personality, and training will be tailored to that nature.
To help you learn how to teach your dog so you can be its leader for life, AngelDogs uses only positive reinforcement techniques. They will reinforce desirable actions or responses and deter undesirable ones without punishment or force. Happy dogs, happy people, and deep ties between the canines and humans are all signs of positive training success.
A Paw Above Dog Training
Online or In-Person: In-Person
Types of Training Courses: Puppy Socialization, Obedience Training, Canine Good Citizen Testing
Price Range: Contact for details
Link to Website: https://www.apawabovedogtraining.com
Address: 27946 Henry Mayo Dr, Castaic, CA 91384
Phone Number: (661) 678-3647
With over 13 years of expertise instructing private in-home and group sessions in Santa Clarita using only positive approaches, Beth Harrison is an ABC Certified Dog Trainer. She has trained and dealt with hundreds of dogs from various walks of life, including excitable pups, obsessive-compulsive kids, hostile adults, and rescue dogs with PTSD.
Beth started raising puppies for Guide Dogs of America after earning her certification as a dog trainer, and she then served as the head trainer in Los Angeles for a multi-state pet dog training business. She can certify your dog as an AKC S.T.A.R. puppy and a Canine Good Citizen because she is an AKC Accredited Evaluator.
Animal Attraction Unlimited
Online or In-Person: Both
Types of Training Courses: Basic Obedience, Behavior Modification, Aggression Issues
Price Range: Contact for details
Link to Website: https://www.petdogtrainer.com
Address: Woodland Hills, CA
Phone Number: (818) 800-4818
Animal Attraction Unlimited provides positive reinforcement dog training, puppy training, and mini pig training both in-person throughout Los Angeles and Ventura counties. Laura can help you with basic obedience and common behavior problems for dogs and mini pigs.
In the convenience of your own home or through online training, Animal Attraction Unlimited offers real, practical solutions for anything from basic obedience to behavior modification. You can finally have the relationship with your pet you've always desired by employing positive, humane methods.
3 Dog Training
Online or In-Person: In-Person
Types of Training Courses: Puppy Socialization, Obedience Classes, Enrichment Day Camp
Price Range: $150-$180
Link to Website: https://3dogtraining.com
Address: Simi Valley, CA
Phone Number: (818) 445-3452
As dog trainers, 3 Dog Training's primary goal is to ensure that your relationship with your pet is as positive as it can be. They want to support you in developing clarity, learning to interpret body language, and understanding your dog's distinct nature so that your relationship flourishes and your communication methods are as effective as possible.
The methodology used by 3 Dog Training is built on making the most of your dog and tailoring each lesson to fit what motivates your dog rather than the "one size fits all" philosophy that frequently underpins many group classes. Your dog can be trained via positive reinforcement by identifying their internal motivator. They disbelieve in the use of intimidation, pain, or fear tactics.
Zoom Room
Online or In-Person: In-Person
Types of Training Courses: Therapy Dog Training, Agility Classes, Obedience Training, Puppy Preschool
Price Range: $25-$579
Link to Website: https://zoomroom.com/location/santa-clarita
Address: 26111 Bouquet Canyon Rd, Suite D3B, Saugus, CA 91350
Phone Number: (661) 388-5550
At Zoom Room Santa Clarita, basic manners are the first step in dog obedience training. Working together, you'll effectively communicate the desired behavior via positive reinforcement. Advanced handling techniques, working off-leash, and distractions are all included in later levels. They solely employ positive reinforcement techniques since they are the most successful and simple for all family members to understand. For optimal involvement, they want to incorporate creative games within the curriculum.
Find the Right Dog Training for You
Finding the right dog trainer is an important decision for Santa Clarita pet owners looking to improve their dogs' behavior and obedience skills. The first step is to determine what type of training is best for your dog based on their specific needs and behavioral issues. Consider whether you prefer in-person or online training and what your budget and scheduling requirements are.
Once you have determined your training needs, research the trainers in Santa Clarita and read customer reviews to find a trainer with experience and positive feedback. Many trainers offer free consultations or trial sessions, which can provide an opportunity to meet with the trainer and evaluate their teaching style and compatibility with your pet. Ultimately, the right dog trainer will be able to provide personalized instruction that meets your needs and helps your dog become a well-behaved and happy member of your family.