The Best Dog Training in Santa Ana, CA
7 minutes
Santa Ana is a populous city that's situated in Orange County. The city is home to millions of people and thousands of dog owners. In fact, California is a common place for people to have pets. That said, if you have a dog in Santa Ana getting them trained properly is important.
Santa Ana isn't the densest city in the United States but it's still important to socialize your dog. You want to ensure that your dog can manage interactions with other dogs, people, or animals. Furthermore, you'll want to make sure your dog isn't aggressive around other animals.
Santa Ana is also home to wildlife that may creep into the city at night. Therefore, training a dog to avoid interactions with animals like coyotes may save their lives. For this reason, aversion training in Santa Ana is always a good idea.
The good news is that there are plenty of dog trainers who can help you. Dog trainers in Santa Ana will help with aversion training and socialization through group classes. Furthermore, dog training is available online or In-person, which is perfect for people who need flexible training solutions.
We've compiled a list of the best dog trainers in Santa Ana and we'll take you through a brief overview in the chart below.
| | | | |
| --- | --- | --- | --- |
| Trainer | Price | Training Types | Online / In-Person |
| Dog Academy | $49.99 – $349.99 | Obedience Classes, Behavioral Issues, Puppy Training, Psychiatric Service Dog Training, Emotional Support Animal Training, Specialty Classes | Both |
| Your Dog Dog Trainer | $200/lesson | Behavioral Training, Obedience Training, Daycare, Boarding, Bathing | In-person |
| Petco Dog Training | $179 – $279 | Puppy Training (Levels 1-2), Adult Dog Training (Levels 1-2), Boarding, Grooming | Both |
| The Working Dog K9 University | $200 – $300 | Service Dog, Behavioral Training, Obedience Training, Boarding | In-person |
| Bob Burrud's Pet Services | $90 – $750 | Behavior Problem Solving, Companion Training, Group Puppy Kindergarten, Group Training Class, House Breaking | In-person |
Online vs. In-Person Training
Online and in-person dog training are the options available to you in Santa Ana, California. In-person dog training is the traditional method and has been around for centuries. However, with technological innovation, progress has been made with virtual dog training also known as online dog training.
Today, online dog training can be just as effective as in-person dog training. In fact, for some people, it's even better. What makes online dog training special is the flexibility. People can meet with dog trainers whenever they need to and most dog trainers have online courses to help you learn at your own pace. It's also important to note that online dog training is more affordable than in-person dog training.
On the other hand, in-person dog training has the most evidence supporting it. Since it's been around for centuries, people know that it works and you can trust the process. The benefits of in-person dog training include physical interaction with your dog and group classes that offer better socialization opportunities. Drawbacks of in-person training include higher costs and less flexibility.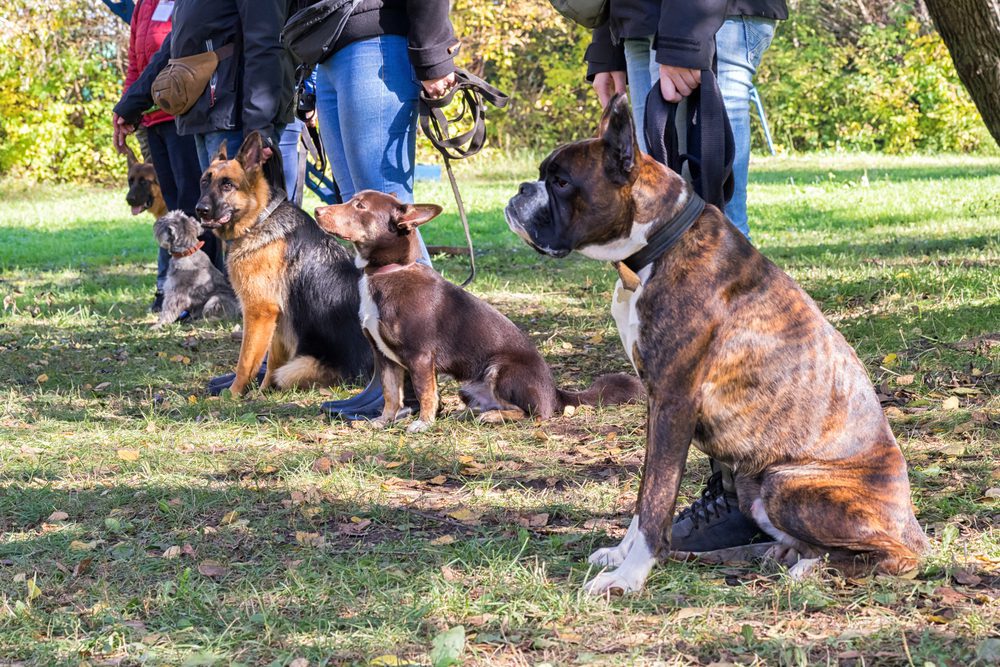 Perks of Online and In-Person Training in Santa Ana
We take you through the pros and cons of dog training in the chart below.
| | | |
| --- | --- | --- |
| | Online Training | In-Person Training |
| Cost Effective | ✓ | X |
| Flexible Schedule | ✓ | X |
| One-on-One Instruction | ✓ | ✓ |
| Study at Your Own Pace | ✓ | ✓ |
| Socializes Your Dog | ✓ | ✓ |
| Group Classes | ✓ | ✓ |
| Sports and Tricks | X | ✓ |
The Best Dog Training in Santa Ana
Santa Ana is one of the largest cities in Orange County, which means there are hundreds of dog training options. Plus, many people who groom or board dogs will also offer basic dog training services. Therefore, it's important to narrow down your options to get the best dog trainer. We show you the five best dog trainers in Santa Ana below to help you make the right choice.
1). Dog Academy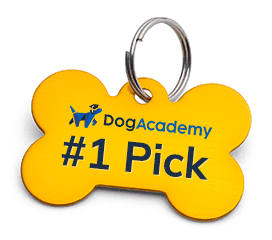 Dog Academy is always one of the best dog training options. There are online training options for people who need flexible scheduling and in-person training for people who prefer a more personal experience. Online trainers with Dog Academy maintain experience and accreditations from the AKC and in-person trainers all have a professional background with years of experience. Depending on the type of training you need, there are training packages available that will last for days, weeks, or even months. There are even dog training options for people who have more than one dog.
2). Your Dog Dog Trainer
Your Dog Trainer is one of Orange County's oldest dog trainers. They've been around since 1987 and know the Santa Ana region well. While Your Dog Trainer focuses on training dogs, what makes this group unique is the number of amenities that dogs get. Amenities include things like grooming, bathing, and amenities for owners like boarding. There are also specialized programs for boarding and training dogs as well as programs for training sports dogs or show dogs. Plus, there are even adoption services available at Your Dog Trainer.
3). Petco Dog Training
Petco is famous for being a dog supply store. You can adopt dogs, purchase pets, board your pets, and much more. While Petco is known for having pets and pet accessories, there are also dog training programs. These programs are done online or in person, so there are flexible options for everyone. Moreover, dog training at Petco is done by verified and certified trainers.  Petco is also more affordable than the majority of dog trainers and there are flexible hours.
4). The Working K9 University
The Working K9 University is owned by a young dog trainer named Joey.  Joey has been training dogs since 2013 and has years of experience helping dogs develop better relationships with their owners. The Working K9 University primarily focuses on obedience training, service dog training, and even boarding. Some boarding programs also include board and training, which helps dogs train over longer periods with the trainer. One thing many customers note is that Joey is much more affordable than some of the local dog trainers in Santa Ana.
5). Bob Burrud's Pet Services
Bob is a one-man show but that doesn't mean he's a bad dog trainer. In fact, he has a unique way with dogs that helps them develop better relationships with their owners. Starting with puppy kindergarten, he teaches dogs to live with people and other dogs. The basics of commands and good behaviors are also taught during puppy kindergarten. Additionally, Bob has adult companionship classes that help older dogs develop a better sense of obedience with their owners. Who said you can't teach an old dog new tricks?
Find the Right Dog Training for You in Santa Ana
To find the right dog training for you in Santa Ana there are a few things you need to consider. First and foremost, make sure the dog trainer has convenient classes for you. If you have a busy schedule, you should consider an online dog trainer like Dog Academy for the best results. On the other hand, if your dog is having a hard time adjusting to virtual training you should use an in-person dog trainer.
Another thing to consider is the cost and availability of the trainer. Most trainers have good availability but when you choose board and train options you may run into issues because the class is full. So, make sure you contact your options before committing to an outcome. Always make sure you also speak with trainers to determine if your personalities are a match. We always recommend free consultations whenever possible to avoid problems.