The Best Dog Training in San Bernardino, CA
8 minutes
San Bernardino is home to a number of dog-friendly attractions and activities such as parks, hiking trails, beaches, restaurant patios, breweries, and even an apple farm. However, enjoying these activities might be a bit difficult if your dog isn't well-behaved or suffers from behavioral issues such as fearfulness, reactivity, or aggression.
If you've always wanted to be able to enjoy San Bernardino with your dog, the solution is a no-brainer: Dog training. It'll take effort on your part, but it is totally worth it. Best of all, there are several skilled dog trainers in the area who can help you transform your pooch into a well-mannered individual who doesn't freak out in public places.
We've done some research and put together a list of the best trainers in San Bernardino who can help you with all of your dog training needs. Keep reading to find out more about these trainers and the services they have to offer.
A Quick Look at the Best Dog Training in San Bernardino
Here's a quick overview of the best trainers in San Bernardino. We'll be providing in-depth information on each training option later in the article, so be sure to keep reading.
| | | | |
| --- | --- | --- | --- |
| Trainer | Price | Training Types | Online / In-Person |
| Dog Academy | $49.99 – $349.99 | Obedience Classes, Behavioral Issues, Psychiatric Service Dog Training, | Both |
| Upward Dogs | Group Classes $150/7 weeks; Private Lesson $125/session; Boarding and Training $145/night | Manners, Behavior Modification, Reactivity | In-Person |
| Pawsitively Mannered | Private Lessons $120-$700; Group Classes $150/6 Lessons | Canine Fitness, Canine Good Citizen Prep, Behavior Modification | In-Person |
| Rogue K9 Academy | Virtual Training Package $425; In-Person Training Package $655 | Swimming, Fitness, Aggression | Both |
| Inside Out Dog Training | Contact for Details | Puppy Training, Behavior Modification, Service Dog Training | In-Person |
| Bark Busters | Contact for Details | Aggression, Behavior Modification,  Separation Anxiety | In-Person |
Online Vs. In-Person Training in San Bernardino
Online training has often been considered inferior to in-person training but in reality, neither is truly better than the other. They are both effective options for training dogs, and they both have their pros and cons.
Online training is affordable and convenient as it can be done from anywhere with an internet connection. If you purchase a course, that information is yours to keep and study whenever you need to. The best part is, it's always at your fingertips via your smartphone.
In-person training is a great option for people who aren't so good with technology or who just prefer face-to-face interactions. It also provides some distractions and socialization for your dog, especially if you attend a group class. With virtual training, you would have to go out and seek this kind of exposure separately.
As you can see, neither online nor in-person training is better than the other; it's more about your preference.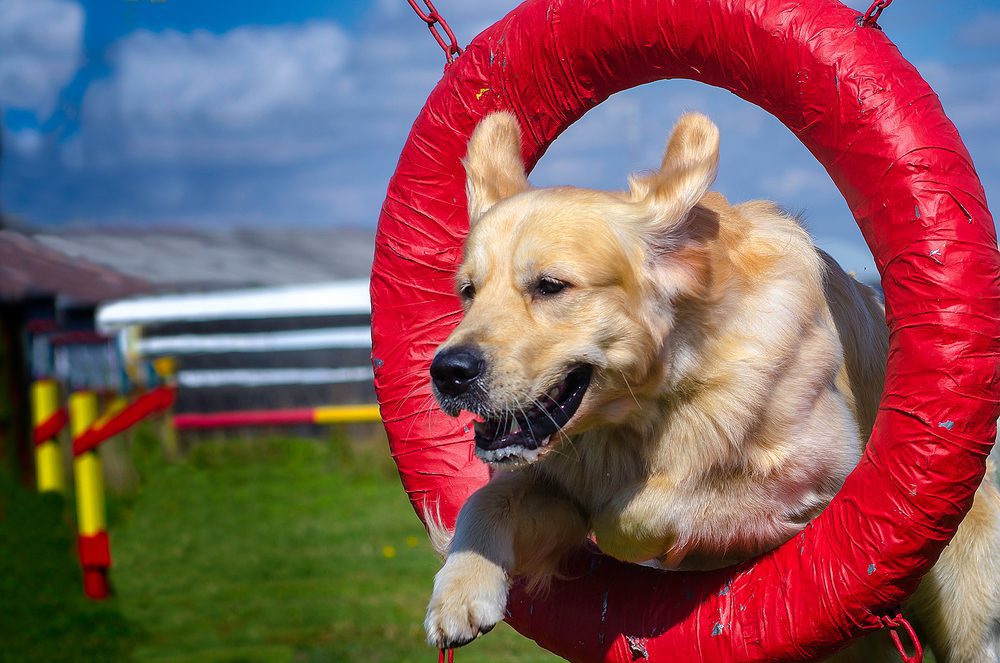 Perks of Online and In-Person Training in San Bernardino
Here's a quick chart outlining the perks of online vs in-person training.
| | | |
| --- | --- | --- |
| | Online Training | In-Person Training |
| Train with Professionals | ✓ | ✓ |
| Learn from Home | ✓ | ✓ |
| One-on-One Instruction | ✓ | ✓ |
| Study at Your Own Pace | ✓ | X |
| Socializes Your Dog | X | ✓ |
The Best Dog Training in San Bernardino
With so many trainers in the area, it can take a lot of time to research them all to find the one that's best for you. To save you some time, we've researched dog trainers in San Bernardino and narrowed them down to what we think are the six best training options. Take a look!
Dog Academy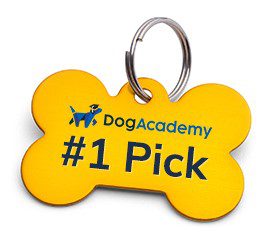 Whether you're interested in online or in-person dog training, Dog Academy has your back. Dog Academy offers group classes, private training, and online courses. We have a dozen experienced dog trainers servicing every city in the United States, including San Bernardino!
If in-person training isn't your thing, check out Dog Academy's impressive catalog of online courses. You can find puppy training, basic obedience, psychiatric service dog training, emotional support dog training, leash manners, trick training, crate training, and more classes on Dog Academy's website. There are even courses addressing problem behaviors, including barking and reactivity.
If you'd like to learn a skill such as how to groom your dog at home or administer life-saving canine CPR, Dog Academy can help with this, too! All of our online classes are designed by American Kennel Club-certified trainers with over 25 years of experience. If you need to get in touch with a trainer, you can do so via phone, email, or the contact form on Dog Academy's website.
Upward Dogs
Upward Dogs offers private lessons, group classes, and boarding and training. Group classes focus on basic obedience, manners, loose-leash walking, behavior modification, and problem-solving. Private training focuses on many of the same things but is, of course, custom-tailored to your needs.
Private training is a better fit for reactive dogs as the group class doesn't cover reactive behaviors and may be too overwhelming for a reactive or fearful dog.  Boarding and training will address any specific goals you have, and the trainer will pick up and drop off your dog.
Upward Dogs describes their training methods as affection-based, gentle, and rewarding. Because of this, not only is training fun and humane, but it is easy and safe for the entire family to participate, including young children.
Pawsitively Mannered
Pawsitively Mannered is owned and operated by Debbie Bradford, a Certified Professional Dog Trainer – Knowledge Assessed (CPDT-KA) and Animal Behavior College Dog Trainer (ABCDT). Debbie has many other professional dog training certifications and her methods are effective and force-free.
She offers private training, group classes, and in-home instruction specifically geared toward teaching children how to interact safely with dogs. Pawsitively Mannered can help with puppy training, obedience training, canine fitness training, Canine Good Citizen training, and behavior modification. Common behavioral issues Pawsitively Mannered can address include jumping, separation anxiety, chewing, barking, begging, digging, and more.
Rogue K9 Academy
Rogue K9 Academy is owned and operated by Allie Delosa, who uses the LIMA (least intrusive, minimally aversive)  approach to train dogs. Allie is also enrolled in a mentorship program where she continues to learn about dog training, canine nutrition, and disease prevention.
Rather than offering group classes and private training separately, Rogue K9's training packages include both. This way, dogs get both personalized training as well as the opportunity to socialize and practice skills in a more distracting environment.
Rogue K9 is able to help with a plethora of dog training needs, including obedience, manners, puppy rearing, adoption acclimation, and behavior modification. Behavioral issues that can be addressed include minor issues such as bad manners and excitability all the way to serious issues like fear and aggression. Swimming lessons and canine fitness classes are also available.
Inside Out Dog Training
Inside Out Dog Training offers group classes, private training, and boarding and training. Their methods are all positive and focus on teaching you how to communicate with your dog.
Inside Out Dog Training can help with basic obedience and manners, loose-leash walking, crate training, potty training, distraction training, behavior modification, and more.
Common behavioral issues they can solve include aggression toward other dogs or people, fearful behavior, bite prevention, reactivity, separation anxiety, and more. If you're interested in training your own service dog, Inside Out Dog Training is capable of handling this task, as well.
Bark Busters
Bark Busters offers private, in-home training for dogs of any age. Their training style is rather unique because while it does not rely on the use of choke collars, prong collars, ecollars, or other aversives, it also does not rely on treats or clickers.
Bark Busters' training methods are pain-free and will not harm your dog into obedience. Instead, they describe their method as instinctive and natural, using body language and voice tones to grab your dog's focus and earn their respect.
Bark Busters can help with numerous behavioral issues such as aggression, biting, barking, jumping, digging, destruction, whining, leash pulling, and separation anxiety. After you finish training with them, they will continue to help you tackle new or recurring issues for the life of your dog at no additional cost.
Find the Right Dog Training for You
Finding the right dog trainer for your situation isn't always easy. There are many options to choose from, and you want what's best for both your dog and your wallet. To start, figure out how far you're willing to travel (if at all), how much you're okay with spending, and what your overall training goals are.
If you're just looking for basic obedience, manners, or puppy training, then we'd recommend Pawsitively Mannered, Bark Busters, or Upward Dogs. If your dog has more serious behavior problems that need to be addressed, such as aggression, we'd recommend Rogue K9 Academy or Inside Out Dog Training. The latter also offers service dog training.
If you want a convenient online solution, Dog Academy offers almost every type of training we've just mentioned. If online training isn't for you, Dog Academy also offers in-person training. Whichever training option you choose, we're sure that with love, patience, and consistency, you can achieve your dog training goals.