The Best Dog Training in Salt Lake City, UT
10 minutes
If you're a dog owner in Salt Lake City, then there are plenty of fun outings you can take with your pup. Hiking at Memory Grove, shopping at City Creek Center, enjoying the Gateway, or taking a swim at Dog Lake in Millcreek Canyon are all wonderful ways to spend time with your pup.
However, bad behavior from your four-legged friend can put a damper on such activities and, in some cases, even be such an issue as to prevent you from enjoying them in the first place! Luckily, there are a number of dog trainers in Salt Lake City that can help.
Whether you need help with off-leash obedience, so you can enjoy hikes and parks, or you need a dog that has good leash manners and is calm in public places, like the City Creek Center, there are definitely trainers who can lend a hand. In this article, we'll be sharing the six best dog training options in Salt Lake City, so keep reading!
A Quick Look at the Best Dog Training in Salt Lake City
Here's a table that'll give you a brief overview of the best dog training in Salt Lake City. Be sure to keep reading for more in-depth information on each trainer.
| | | | |
| --- | --- | --- | --- |
| Trainer | Price | Training Types | Online / In-Person |
| Dog Academy | $49.99 – $349.99 | Obedience Classes, Puppy Training, Psychiatric Service Dog Training | Both |
| Superhero Dog Academy | $175 – $5,260 | Puppy Training, Behavior Modification, Emotional Support Dog Training | Both |
| The Canine Mind | $300 – $3,500 | Obedience Training, Behavior Modification, Custom Training | Both |
| Pets Decoded | $285 – $900 | Behavior Consultation and Modification | In-person |
| Shake on It Pet Training | $95 – $385 for behavior consult package | Behavior Consulting, Puppy Training, Treibball Training | In-person |
| Side by Side Dog Training | $70 – $225 | Scent Work, Cooperative Care Canine Good Citizen | Both |
Online Vs. In-Person Training in Salt Lake City
Both online and in-person training are effective options for teaching your dog new skills. Online training allows you to train at your own pace and in the comfort of your own home — or anywhere with an internet connection! It also tends to be the most affordable.
In-person training is usually more expensive, but it has its own perks. It tends to have a more rigid schedule and thus more accountability; for those who struggle to do their homework, this type of structure and accountability can help them stay on track.
As we've said, both avenues of training are viable options. It's up to you which you prefer.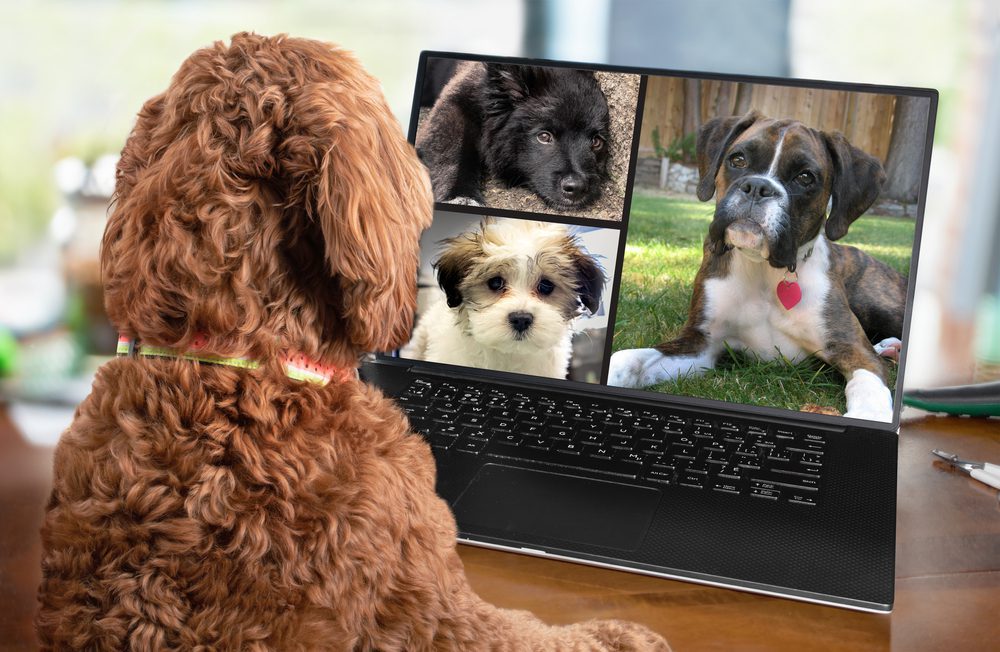 Perks of Online and In-Person Training in Salt Lake City
Here's a quick chart comparing the perks of online and in-person training.
| | | |
| --- | --- | --- |
| | Online Training | In-Person Training |
| Socialization Options | X | ✓ |
| Flexible Schedule | ✓ | ✓ |
| Ask Questions | ✓ | ✓ |
| Study at Your Own Pace | ✓ | X |
| Learn at Home | ✓ | ✓ |
The Best Dog Training in Salt Lake City
There are quite a few dog trainers serving the Salt Lake City area. However, we've gone ahead and done some research to find the best ones! Below, you'll find the details about our top picks for dog training in Salt Lake City.
Dog Academy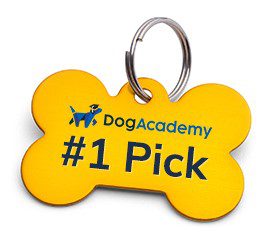 Dog Academy offers a plethora of online courses for all of your dog training needs. All of Dog Academy's courses are designed by American Kennel Club-certified trainers with over 25 years of experience in dog training. They also offer private, in-person training with experienced professional trainers that can come straight to your home!
Training is fun, effective, and force-free thanks to Dog Academy's positive approach. Even if you take online courses, you can still reach trainers via phone, email, or the contact form if you have any questions.
Dog Academy offers numerous courses, including puppy training, basic obedience, Psychiatric Service Dog training, emotional support dog training, leash manners, tricks, crate training, and more. There are even courses that'll teach you how to handle separation anxiety and courses that'll prepare your dog to join you at your workplace.
Classes for problem behaviors, such as barking and reactivity, are available, too. Dog Academy also has courses that can teach you valuable skills. You can learn dog first aid and CPR, as well as how to groom your pup at home.
Superhero Dog Academy
Superhero Dog Academy specializes in helping dogs that have behavior issues such as fear, anxiety, reactivity, and aggression. Excessive barking, destructive behaviors like digging or chewing, and other undesirable behaviors, like counter-surfing, can also be modified by Superhero Dog Academy.
They use the LIMA approach, which stands for "least intrusive, minimally aversive." This means they won't be using E-collars, pinch collars, slip leads, or any other tools that cause pain or induce fear. At Superhero Dog Academy, their main goal is to teach you how to "speak dog" so that you can effectively communicate with and train your dog.
They offer one-on-one training that can take place at a variety of locations such as in your home, at a park, or at a dog-friendly business. They also offer a board-and-train option and online training in the form of videos, webinars, and Zoom sessions.
There are various training packages available so that you can find one that fits your budget. Not only that, but Superhero Dog also wants to make sure that dog owners aren't avoiding dog training due to cost. Therefore, they offer a sliding scale for payment along with financing options upon request.
The Canine Mind
The Canine Mind believes that every dog is unique and thus feels that a "one size fits all" approach does not work. Instead, they provide relationship-based training that focuses on building a strong connection with your dog so that the dog can trust your leadership and guidance.
The Canine Mind works to educate pet parents on how their pups' minds work. This way, owners can train their dogs to be obedient through understanding rather than force.
The Canine Mind offers private training, group classes, boarding and training, and online training. They have a number of different packages to address different training needs, such as puppy training, basic training, companion animal training, obedience and advanced obedience, and custom programs.
The Canine Mind can help with a plethora of behavioral issues, from jumping, barking, digging, and counter-surfing to more serious issues, such as growling, biting, reactivity, and aggression. They also offer an online video library for $15 a month that contains a plethora of detailed videos about obedience training, socialization, equipment tutorials, and more.
Pets Decoded
Pets Decoded is run by Lynne Gilbert-Norton, an animal behaviorist with a Ph.D. in the subject. Lynne is affiliated with the American Veterinary Society of Animal Behavior and, as such, must have her qualifications approved by an executive board of veterinarians every two years. Lynne has also had her research published in a number of scientific journals such as Animal Behavior and Applied Animal Welfare Science.
Lynne is an expert in canine behavior and focuses on helping dogs with severe behavioral issues such as reactivity, separation anxiety, fear, and mild aggression (however, Lynne refers clients with severe aggression cases to other trusted trainers). She can also help those who are overwhelmed by out-of-control dogs or those whose dogs exhibit behaviors such as excessive barking and destructive tendencies like chewing.
Lynne figures out the root of a dog's behavior and creates a plan to address it. Pets Decoded believes in ethical dog training, uses the Least Intrusive Minimally Aversive (LIMA) approach, and never uses pinch, prong, or shock collars.
Shake On It Pet Training
Shake On It Pet Training is run by Jamie Flanders, who is a Certified Dog Behavior Consultant, Family Paws Parent Educator, and a Certified Family Dog Mediator. She uses only force-free training methods and can help with a variety of problem behaviors, from barking, jumping, and counter-surfing to resource guarding and other types of aggression.
The only behavior issue she does not help with is separation anxiety. Jamie also does not believe in traditional loose-leash training; instead, she feels that walking dogs on long lines or having a dog that can be off-leash is far more beneficial to a dog's health and well-being, and she helps people and their dogs achieve this.
Jamie offers a number of different training options, including behavior consulting, puppy training, Treibball training, rattlesnake avoidance and alert training, and health and grooming cooperative care training. She can even help with cats!
Another unique aspect of Jamie's training is that she works with you in the real world. She'll accompany you to the park, on a hike, to the vet's office — anywhere your dog needs training!
Side by Side Dog Training
Side by Side Dog Training offers private lessons, group classes, behavior modification plans, and online training. All of their instructors use force-free techniques, so you'll be able to train your dog in a way that is effective, fun, and most importantly, humane.
Side by Side Dog Training provides puppy classes, teenage dog classes, cooperative care (grooming and vet visits) classes, nose work classes, Canine Good Citizen classes, classes for relaxing reactive dogs, snake avoidance classes, dog sports courses, therapy dog classes, and much more.
One of Side by Side's most experienced trainers is Laurie Schlossnagle. Her accomplishments are far too numerous to list, but she has extensive experience working with dogs with all sorts of behavioral issues (including aggression) and needs. She is a Certified Professional Dog Trainer (CPDT-KA), A Certified Behavior Consultant (CBCC-KA), an AKC Good Citizen Evaluator, and a licensed judge for a handful of different dog sports competitions, including AKC scent work.
Find the Right Dog Training for You
With so many options, it can be hard to pick the best one for you and your pup. We recommend that you figure out your preferences first. For instance, are you willing to travel, or would you like to learn at home? How much are you willing to spend? Do you want to board and train or be fully involved in your dog's training? Are you interested in group lessons, or would you prefer private training?
Aside from these preferences, you also need to know what kind of training your dog needs. Is there a specific behavioral issue you'd like to address? Is your dog a puppy and you'd like to get started with training before they learn bad behaviors? Are you looking to do something fun such as learn tricks or try out dog sports?
Once you've figured out your preferences as well as the type of training you'd like, it'll be a lot easier to narrow down your options. Whichever trainer you choose, we know that with patience, love, and a lot of consistency, your dog can become an even more perfect companion than they already are.