The Best Dog Training in Salem, OR
10 minutes
Vineyards, parks, arboretums, tulip farms, hiking, and even a Bob Ross Painting class — these are all places you can visit with your dog in Salem, Oregon. Though these activities are dog-friendly, some of them will expect your dog to be well-behaved.
Though others, like hiking trails, don't have any such rules, you may struggle to have a good time with your dog if they are unruly, reactive, or aggressive. If you want to be able to enjoy life outside of your household with your dog, then it is worthwhile to look into dog training.
We've put together a list of the top six dog trainers in Salem. These dog trainers can help rehabilitate dogs that are anxious, reactive, or aggressive. They can also help with basic manners and even off-leash obedience. Finally, if you need your dog to be more than just a pet, some trainers are even offering service dog training.  Keep reading to find out more about these awesome dog trainers in Salem!
A Quick Look at the Best Dog Training in Salem
Here's a quick overview of the best dog trainers in Salem. We'll be sharing more in-depth information on each trainer later in the article, so keep reading.
| | | | |
| --- | --- | --- | --- |
| Trainer | Price | Training Types | Online / In-Person |
| Dog Academy | $49.99 – $349.99 | Behavioral Issues, Psychiatric Service Dog Training, Specialty Classes | Both |
| Integrity Dog Training | Online Courses – $75; Puppy Lessons – $60/hour; Dog Lessons – $105/hour; 6-week S.T.A.R. Puppy Group Class – $250; 6-week Canine Good Citizen Group Class – $400; 2-week Board & Train – $2,800 | Advanced Obedience, Canine Good Citizen Training, AKC S.T.A.R. Puppy Training | Both |
| Smart Dog Pet Training | $185 for 4 weeks; $285 for 6 weeks; Private Training – $60/hour | Manners, Puppy Training (including AKC S.T.A.R.), Canine Good Citizen Training | In-Person |
| Joy of Living Assistance Dogs | $2,000 for first 6 months, $1,500 for subsequent 6 months; free for veterans and first responders | Service Dogs, Facility Dogs, Therapy Dogs | In-Person |
| Lucky Leash | Contact for Details | Aggression, Fear, Reactivity, Anxiety | In-Person |
| Symbiont Dog Training | Behavior Modification – $310 – $770; Obedience – $260-$650 | Puppy Training, Behavior Modification (Including Aggression), Service Dogs | Both |
Online Vs. In-Person Training in Salem
Many people think that online dog training isn't as effective as in-person dog training, but this simply isn't true. Believe it or not, dog training is more about teaching humans than teaching dogs, so whether or not online dog training works for you is more so up to what type of learner you are and the ways in which you prefer to learn.
There are some pros and cons to both online and in-person training. Online training tends to be the most affordable and the most convenient; you can learn from anywhere with an internet connection. However, it isn't great for those who aren't tech-savvy or for those who enjoy a group setting.
In-person training is great for your dog's socialization and your own as both you and your dog can make new friends by taking a group class. However, if your dog is especially reactive toward strangers, in-person training can be a bit overwhelming.

Perks of Online and In-Person Training in Salem
Here's a quick chart outlining the perks of online vs in-person training.
| | | |
| --- | --- | --- |
| | Online Training | In-Person Training |
| Train With Professionals | ✓ | ✓ |
| Learn From Home | ✓ | ✓ |
| One-On-One Instruction | ✓ | ✓ |
| Study at Your Own Pace | ✓ | X |
| Socializes Your Dog | X | ✓ |
The Best Dog Training in Salem
There are so many dog trainers in Salem, it can be hard to sort through them all. Therefore, we've gone ahead and found the six best dog training options in the city. If you're looking for a dog trainer in Salem, then check out the list below!
Dog Academy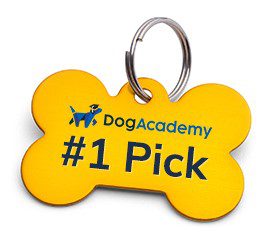 Dog academy offers both online and in-person training. We have a dozen trainers servicing every city in the United States, including Salem. Our experienced trainers can come to your home for a private session or you can attend a group class.
If you're more interested in virtual dog training, then check out Dog Academy's extensive catalog of online courses. You can find puppy training, basic obedience, psychiatric service dog training, emotional support dog training, leash manners, trick training, crate training, and more classes on Dog Academy's website. There are even courses addressing problem behaviors such as barking, separation anxiety, and reactivity.
Don't just train your dog, train yourself! At Dog Academy, you can learn how to groom your pup at home or take a class on canine CPR and first aid. All of Dog Academy's online courses have been designed by American Kennel Club-certified trainers with over 25 years of experience. If you're taking an online class and ever need to get in touch with a trainer, you can do so via phone, email, or the contact form on Dog Academy's website.
Integrity Dog Training
Integrity Dog Training's goal is to teach dog owners how to "speak dog" through the use of positive and loving dog training techniques. They value patience, persistence, and consistency in dog training. One customer described their training techniques as gentle, positive, and devoid of harsh punishment.
Integrity Dog Training offers a puppy program that consists of both private lessons and group classes as well as private training for adult dogs. For those with less time available to attend training, online classes and boarding and training options are available.
Skills that dogs and puppies will learn include come, sit, down, place, heel, leave it, touch, and look at me. Advanced skills such as distance sit, distance down, halfway recall, off-leash obedience, advanced door manners, advanced vehicle manners, return to heel, and send to place can also be learned.
Whether your dog already knows the basics or has some bad habits such as darting out of doors, Integrity Dog Training can help shape them into a well-mannered member of the family.
Smart Dog Pet Training
Smart Dog Pet Training provides force-free dog training for puppies and adult dogs.  All of their training is private, in your home (or at a public location of your choosing), and on your schedule. They even offer a free phone consultation to get you started.
Smart Dog Pet Training has many different training programs and options available. You can purchase private sessions separately or in packages. Types of training available include puppy basics, advanced puppy, AKC S.T.A.R. puppy, adult dog life skills, distraction training, Canine Good Citizen (CGC) Training, AKC Community Canine training, AKC Urban CGC, and behavioral rehabilitation.
Behavior rehabilitation is great for dogs that are fearful or reactive. Smart Pet Dog Training can help rehabilitate aggressive dogs, too.
Joy of Living Assistance Dogs
If you are looking to train your own service dog, Joy of Living Assistance Dogs may be able to help. They have owner-trainer programs for service dogs, facility dogs, and therapy dogs.
They train service dogs specifically for mobility impairments such as multiple sclerosis, muscular dystrophy, cerebral palsy, spina bifida, paraplegia, tetraplegia, arthritis, amputation, stroke, and traumatic brain or spinal cord injury.  They also train service dogs for PTSD.
Though this program allows you to train a dog you already own, Joy of Living Assitance Dogs does have some requirements for dogs. Dogs must be 12 months or older but younger than three years old and they must be spayed. They also must have passed the Canine Good Citizen test.
Finally, they cannot be any breed that has guarding or herding instincts. This includes but is not limited to Shepherds, Rottweilers, Staffordshire Terriers, Huskies, Dobermans, McNabs, Australian Cattle Dogs, and Cane Corsos.
If you are a veteran or first responder who is interested in training your own service dog, you will only have to pay an application fee of $155, but you will not be required to pay for the training program itself.
Lucky Leash
Lucky Leash is owned and operated by Lola Carey, a certified professional dog trainer (CPDT – KA) and Karen Pryor Academy Certified Training Partner (KPA-CTP.  Lola is a force-free trainer who is constantly educating herself in dog training so that she can be the best trainer possible.
Lucky Leash offers private dog training as well as a small group class. The group class is limited to four dogs and focuses on reactivity.
This company focuses particularly on training dogs that struggle with anxiety, fear, leash aggression, and dog-to-dog aggression. If your dog has any sort of behavioral issue that you believe is likely a result of fear or anxiety, then Lucky Leash can help.
Symbiont Dog Training
Symbiont Dog Training uses a positive training method. This includes rewards for success and non-painful corrections such as verbal indicators, resets (putting the dog back in the proper place or position), or time-outs.
Symbiont offers puppy training, adult obedience, behavior modification, and service dog training. Training takes place privately in your home or in public places where your dog needs practice. Behavior issues Symbiont can help with include barking, jumping, chasing, nipping, reactivity, unresponsiveness, dog-to-dog aggression, dog-to-human aggression, and other nuisance behaviors.
Part of Symbiont's training includes owner education. They teach dog owners the methods and philosophies behind dog training so owners can gain a better understanding of dog behavior. This helps owners be better equipped to train their dogs.
Find the Right Dog Training for You
Finding the right dog trainer can be tough; you want to make the right decision for both your dog and your wallet. To help narrow things down, consider factors like how much you're willing to spend, whether or not you're willing to travel, how involved you want to be, and what goals you hope to achieve.
If you're hoping to train from the comfort of your own home, check out Dog Academy or Smart Dog Pet Training. If you aren't able to be involved in your dog's training, we'd recommend Integrity Dog Training's board and train program.
If your dog struggles with behavior issues such as aggression, definitely try Symbiont Dog Training or Lucky Leash dog training. Finally, if you're interested in training your dog for service work, then you'll want to consider Joy of Living Assistance Dogs or Symbiont Dog Training. Just remember that the former only trains dogs for mobility assistance and PTSD.
Whichever trainer you choose, we know that with a little patience, love, and consistency, you'll be able to meet your dog training goals.