The Best Dog Training in Rockford, IL
8 minutes
If you live in Rockford, Illinois, you may already know that there are a number of lovely parks and trails that you can take your dog to. There is even a dog-friendly arboretum, and rumor has it that the local Home Depot allows dogs, too.
However, just because you can take your dog somewhere with you doesn't always mean it's easy to do so. Some dogs struggle with outings because they are reactive, fearful, or just overly excited. If you've landed on this article, it's likely because you are ready to send your dog to boot camp.
Whether you want to enjoy outings with your pup or just want them to be better behaved at home, there are trainers in the Rockford area who can help. These trainers can teach your dog manners and obedience, but they can also help with serious behavioral issues like separation anxiety, reactivity, and aggression. Keep reading to learn more about the best dog trainers in Rockford.
A Quick Look at the Best Dog Training in Rockford, IL
Here's a quick overview of the best trainers in Rockford. We'll be providing more in-depth info on each trainer later in the article, so keep reading.
| | | | |
| --- | --- | --- | --- |
| Trainer | Price | Training Types | Online / In-Person |
| Dog Academy | $49.99-$349.99 | Obedience Classes, Psychiatric Service Dog Training, Specialty Classes | Both |
| Canine in Focus | Contact for Details | Puppy Training, Manners, Behavior Modification | Both |
| Dog Obedience by Gina | Day Training $850 for 5 Days; Private Training $450 for 4 One-Hour Sessions; Board and Train $2995 for 2 Weeks | Behavior Modification, Manners, Obedience | In-Person |
| Puppy Tutor | $65-$499 | Reactivity, Separation Anxiety, Aggression | Both |
| Ms. Cristy's Canine Academy | Group Classes $120-$130 for 6 Weeks; Private Lessons $350 for 4 One-Hour Sessions | Therapy Dog Training, AKC Canine Good Citizen Training, Rally | In-Person |
| 4 C Positive Dog Training LLC | $120-$130 | Basic Manners, Trick Training, Nose Work | In-Person |
Online Vs. In-Person Training in Rockford
Both online and in-person training can be very effective. The differences are mainly that online training is more convenient and tends to be more affordable, whereas in-person training is better for people who aren't great with technology or prefer meeting face to face.
In-person training (especially group classes) can also provide more distraction and socialization for dogs. Neither is better than the other and which you choose is up to your personal preference.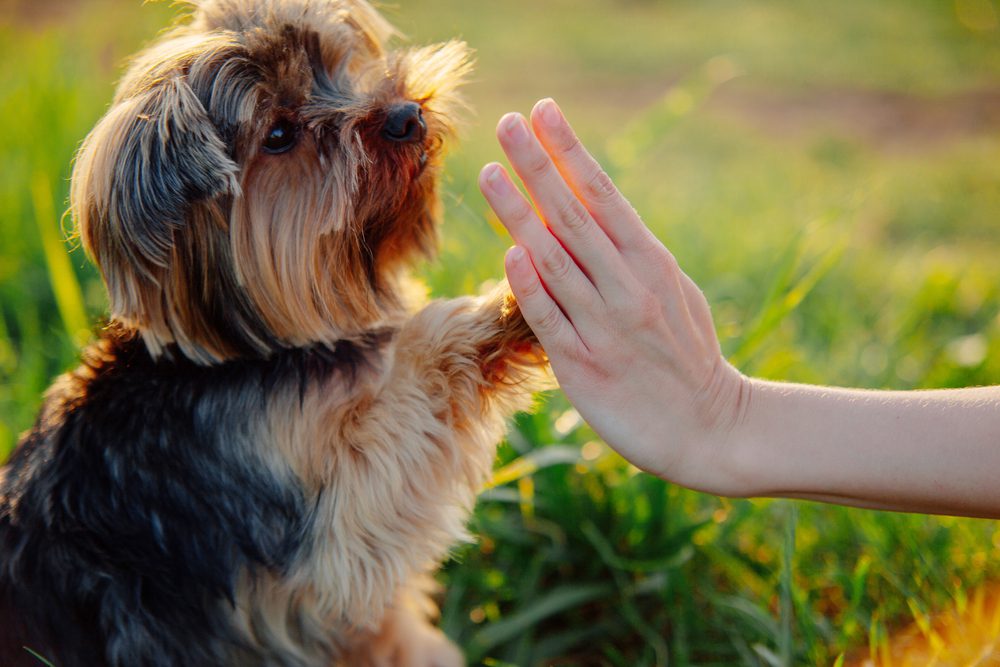 Perks of Online and In-Person Training in Rockford
Check out this chart for a comparison of online and in-person training.
| | | |
| --- | --- | --- |
| | Online Training | In-Person Training |
| Cost-Effective | ✓ | ✓ |
| Flexible Schedule | ✓ | ✓ |
| Socialization | X | ✓ |
| Study at Your Own Pace | ✓ | X |
| Learn at Home | ✓ | ✓ |
The Best Dog Training in Rockford
It can be hard to find the right dog trainer. That's why we've put together a list of the best dog trainers in the Rockford area. Here, you'll find a summary of each trainer's services as well as contact information and pricing.
Dog Academy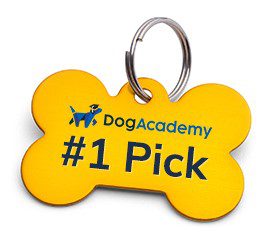 Dog Academy offers both online and in-person training programs. The in-person programs provide private and group classes, and there are a dozen trainers that service every city in America, including Rockford. If you're more interested in online training, Dog Academy has a plethora of courses to suit your needs.
You can find puppy training, basic obedience, psychiatric service dog training, emotional support dog training, leash manners, trick training, crate training, and more on Dog Academy's course list. If your pup has problem behaviors such as reactivity or excessive barking, Dog Academy can help with that, too.
You can even find classes designed for people! Learn how to apply first aid or administer canine CPR or how to groom your dog at home. Each course was designed by Americal Kennel Club-certified trainers who have over 25 years of experience. For online courses, you can easily contact trainers via phone, email, or the contact form on Dog Academy's website should you have any questions.
Canine in Focus
Canine in Focus offers private in-home training, virtual training, and board and train programs. They work with dogs of all ages and can provide puppy training as well as basic manners and obedience training. If your dog is struggling with behavioral issues, Canine in Focus can help.
Their behavior modification training can remedy many types of issues, including hyperactivity, fear, anxiety, reactivity, resource guarding, territorial behavior, and aggression. While their behavior modification training is tailored to these more serious issues, they can help with other common problems such as jumping, pulling on the leash, and much more.
Canine in Focus is dedicated to using science-based positive reinforcement methods and absolutely no force. Your dog will learn new skills in a safe, gentle, and fun environment.
Dog Obedience by Gina
Dog Obedience by Gina is focused on solving common problems faced by dog owners. This includes but is not limited to chewing, digging, house soiling, jumping, destructive behavior, reactivity, and bolting. Not only can the head trainer, Gina, help with these issues, but she can also help train basic skills such as sit, stay, down, leave it, focus, loose leash walking, heel, come, and more.
Dog Obedience by Gina is dedicated to helping you build a positive relationship with your dog that is based on love, trust, and mutual respect. As such, Gina is a force-free trainer who does not use aversive methods or tools. Dog Obedience by Gina offers day training, private training (at their location), and boarding and training.
Puppy Tutor
Puppy Tutor provides mostly virtual one-on-one dog training, but they will train in person in Rockford for an additional fee. This company's goal is largely to help dog owners understand their dogs' behavior and become better owners and trainers themselves.
As such, each training package will include tutelage on dog behavior. Issues that Puppy Tutor can help with include aggression, separation anxiety, resource guarding, fear, reactivity, counter surfing, barking, jumping, pulling on the leash, and more.
Puppy Tutor is happy to custom tailor training to you and your dog's needs and can help with behavior modification or with teaching basic manners and obedience. This company believes in using 100% humane techniques and will never ask you to use force, pain, or fear to train your dog.
Ms. Cristy's Canine Academy, LLC
Ms. Cristy's Canine Academy offers a number of group classes as well as private in-home training. Group classes focus on training basic obedience, manners, loose leash walking, and recall to puppies and older dogs alike.
Ms. Cristy's Canine Academy also offers therapy dog classes, rally classes, and AKC Canine Good Citizen training.
All classes last for six weeks. Ms. Cristy's Canine Academy is dedicated to using training techniques that are fun, modern, and force-free.
4 C Positive Dog Training, LLC
4 C Positive Dog Training is owned and operated by a woman named Adrienne Kelenc.  Adrienne hosts group classes at Ms. Cristy's Canine Academy but offers different courses from Ms. Cristy. These mainly include trick training and nose work.
The nose work classes are broken up into different levels, starting with an introduction to nose work and moving up to using specific odors that are common in nose work competitions. Finally, there is a vehicles and exteriors class that trains dogs to search vehicles and outside areas. 4 C Positive Dog Training also offers a beginner-level dog training class that teaches basic manners and skills.
As the company's name suggests, 4 C uses only science-backed positive reinforcement techniques. In fact, Adrienne is a Certified Training Partner of the Karen Pryor Academy, which educates dog trainers in the clicker training technique.
Find the Right Dog Training for You
If you're having trouble choosing between all of the experienced trainers on our list, take a moment to think about your needs and preferences. First, what type of training are you looking for? For puppy training, basic manners, and obedience, Ms. Cristy's Canine Academy and 4 C Positive Dog Training are great choices.
If you have a dog with behavioral issues, then check out Canine in Focus or Puppy Tutor. If the issues aren't serious but are more related to bad manners, then you'll want to try Dog Academy or Dog Obedience by Gina.
Finally, consider how far you're willing to travel or if you're willing to travel at all. Dog Academy and Puppy Tutor offer online and in-home training so that you don't have to go anywhere.
Whichever trainer you decide to choose, we know you'll be able to achieve all your dog training goals. It just takes a little patience, consistency, and love.