The Best Dog Training in Richmond, VA
7 minutes
Richmond is the capital city of Virginia which has a large population, scenic trails, and even whitewater rafting. Pet owners in Richmond VA also have access to many amenities and spacious living areas. This makes owning a dog in Richmond VA a rewarding experience for pet owners and their dogs.
That said, to maximize your time in Richmond, Virginia, it's important to have your dog trained. Training your dog is good for their confidence, provides mental stimulation, and even helps with the bond between owner and pet.
In fact, good dog trainers also help with socialization between dogs and other animals. This is important, especially in Richmond, because many people and dogs are walking down the busy streets.
Dog trainers in Richmond may also help with leash training and getting your dog ready to spend time in public. For example, this helps you and your dog socialize in breweries, coffee shops, dog parks, and much more. While this may seem like a lot to think about, we're here to make the process of finding a trainer a breeze. We'll take you through everything you need to know about the best trainers in Richmond VA.
Below we summarize our top choices for dog trainers in Richmond, Virginia.
| | | | |
| --- | --- | --- | --- |
| Trainer | Price | Training Types | Online / In-Person |
| Dog Academy | $49.99 – $349.99 | Obedience Classes, Puppy Training, Psychiatric Service Dog Training | Both |
| Calm K9 Training | Consultation-Based | Walk Program, Off-Leash Training, Rehabilitation Bootcamp | In-Person |
| Sit Means Sit Dog Training | Consultation-Based | Board and Train, Doggy Daycare, Ultimate Training Program | In-Person |
| James River Dog Training | Consultation-Based | In-Home Dog Training, Puppy Training, Aggressive Dog Training | In-Person |
| Richmond Dog Obedience Club | $55 – $110 | Good Canine Citizen, Competition Classes, Tracking | Both |
Online vs. In-Person Training
The most important thing to consider when looking for a dog trainer is the method of training. This needs to be decided before you even consider a trainer's program. The common types of training options are in-person and online dog training. Both options have some unique advantages that benefit specific situations.
Starting with online training, online dog trainers are flexible and affordable. Trainers with online services can provide training at a lower cost and with more flexibility because it's easier to jump on a video call as opposed to meeting at a location.
Online trainers are also great at helping dog owners who want additional information, or dog owners who want to train their dogs at their own pace. What's more, online trainers may have additional supplies like collars and treats at their online store.
Next, you have in-person trainers. In-person trainers have been around since dogs have been domesticated. When it comes to dog training there's nothing better than an in-person trainer for bonding and obedience. In-person trainers also have more to offer when it comes to boarding, grooming, and socialization services. However, the drawback of in-person training is that it's less flexible and more expensive.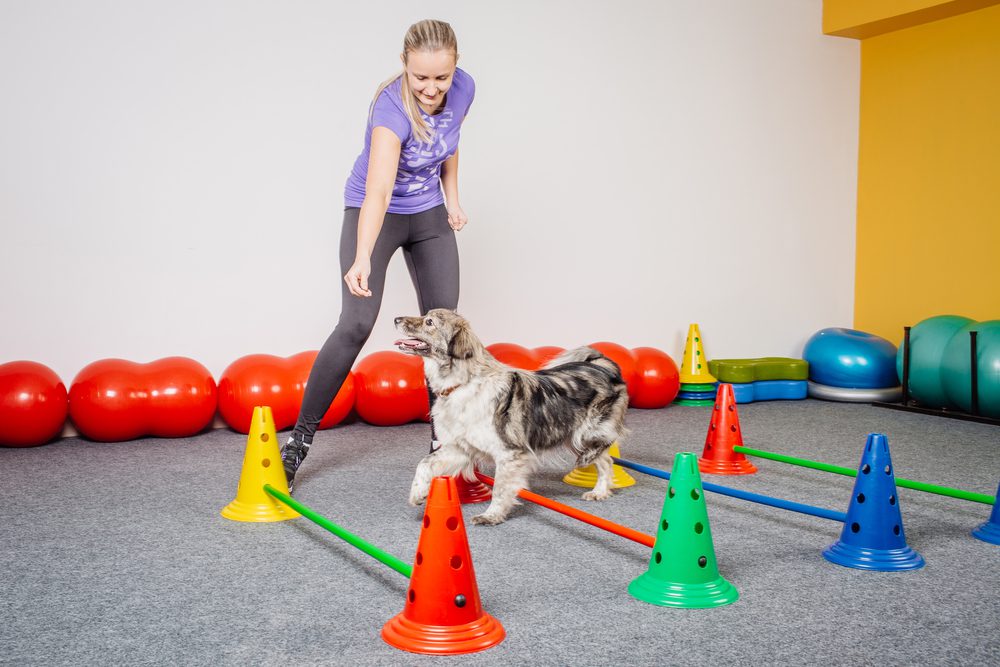 Perks of Online and In-Person Training in Richmond
Several perks are available for each training method. We take you through them below.
| | | |
| --- | --- | --- |
| | Online Training | In-Person Training |
| Cost Effective | ✓ | X |
| Flexible Schedule | ✓ | ✓ |
| One-on-One Instruction | ✓ | ✓ |
| Study at Your Own Pace | ✓ | ✓ |
| Socializes Your Dog | X | ✓ |
The Best Dog Training in Richmond
There are plenty of people and organizations who will help you train your dogs in Richmond. Unfortunately, it's not always easy to find a good trainer, especially with the influx of online companies that sell gimmicky courses. Fortunately, we have vetted several trainers in Richmond to help you narrow down your options.
Below we list the top five trainers in Richmond, Virginia.
Dog Academy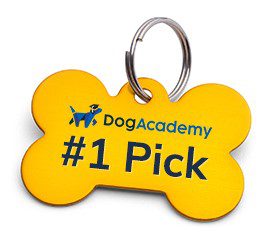 When you need dog training nobody does it better than Dog Academy. Dog Academy is one of the best training organizations in the industry and has grown across the entire United States. There are plenty of in-person and online services available, so you have a few options depending on your location.
What's more, all trainers with Dog Academy have a professional background in training and online trainers are American Kennel Club-certified (AKC). Dog Academy also makes pricing and flexibility a priority. Classes are available in every state and grouped into packages for the best value.
Calm K9 Training
Calm K9 Training focuses on providing logical, positive, and practical training methods. The team is perfect at identifying and reducing bad behavior in dogs. Some examples include working with dogs who have aggressive behavior, barking problems, and disobedience issues.
Calm K9 Training also offers unique rehabilitation services for dogs who have been abused or experienced other trauma. Off-leash training and other basic obedience courses are also available and they're more affordable than many other in-person options after the initial consultation.
Sit Means Sit Dog Training
Sit Means Sit Dog Training is a national company with trainers in just about every state. The organization has a wide network of support, which helps trainers communicate with one another for the best dog training approaches. So, you're not just getting one trainer but a group of trainers with decades of experience.
As a larger group, Sit Means Sit Dog Training is one of the best options for additional services and long training programs. There are long-term boarding options, daycare, grooming, and even dedicated socialization programs.
The trainer for Richmond is JP Frink, who has been helping dogs train for years. He's great for leash training, off-leash training, and obedience courses. Additionally, JP Frink graduated from the Sit Means Sit Training School in Las Vegas and has been with the company since 2008. Overall, you're in good hands with Frink at the helm.
James River Dog Training
James River Dog Training is a group of vegetarian-recommended trainers who help dog owners establish a healthy bond with their companions.  The group consists of several trainers with Pat Burke being the owner and head trainer. Burke is certified through the Canine Trade Group School for Professional Dog Trainers and can help with obedience, walking, and much more.
Burke also keeps his staff well-educated and works with great trainers like Clair Cortright and more. While it's a smaller organization than other trainers in Richmond, it's a great personal approach that won't make you feel pressured or rushed.
Richmond Dog Obedience Club
The Richmond Dog Obedience Club is a group of trainers and dog owners who care about providing the best training. While traditional services are available with this trainer, some unique ones stand out when compared to other options. For example, trainers can help with tracking, hunting, service dogs, and much more.
Additionally, there are also other "Utility" options. These are helpful for all types of unique needs like sports, footwork, and specialized dog athletics. Basic courses are also more affordable than other options when you become a part of the Richmond Dog Obedience Club.
Find the Right Dog Training for You in Richmond
It's not always easy to find the right dog trainer, especially when you don't know what to look for. In Richmond, you want a trainer that will help you socialize your dog with other animals and behave in public places (like the park).
You want a trainer that can accommodate your unique needs like how much space you have, where you'll be taking your dog, your dog's age, and your budget.. Ultimately, you'll want to consider the activities that you'll be doing with your dog in Richmond before you choose a trainer.
When it comes to the best trainers for your needs any of the five options we covered are viable. However, some may work better for some than others, so it's important to reach out for a consultation if you're unsure. We always recommend Dog Academy as our top choice because they can identify your needs and provide affordable online and in-person training solutions.