The Best Dog Training in Raleigh, NC
10 minutes
There are many dog-friendly places in Raleigh, North Carolina. You can take your dog to several different parks, including the Historic Oak View County Park, where you can see restored farm buildings that have been standing since before the Civil War.
There are also a number of dog-friendly patios where you can enjoy a bite to eat, outdoor movies and concerts, and even an outdoor art museum! Wherever you hope to go with your dog, you'll have a much more enjoyable time if your pup is well-behaved.
There are plenty of trainers in Raleigh who can help you teach your dog the skills they need to join you in these fun activities. So whether you need basic obedience training, behavior modification, or are interested in dog sports, you can find it in Raleigh. In this article, we'll share the best trainers in Raleigh, so keep reading!
A Quick Look at the Best Dog Training in Raleigh
Here's a quick overview of all the trainers on our list. Keep reading for more detailed information on each trainer and their services.
| | | | |
| --- | --- | --- | --- |
| Trainer | Price | Training Types | Online / In-Person / Both |
| Dog Academy | $49.99 – $349.99 | Obedience Classes, Behavioral Issues, Psychiatric Service Dog Training | Both |
| Teamworks Dog Training | $180-$210 for 6-7 group sessions, $50 per 30 min private lesson | Puppy Training, Manners Training, Dog Sports | Both |
| Dynamic Dogs North Carolina | $250 for 5 group classes | Agility, Scent Tracking, Social Etiquette | In-Person |
| Training Your Best Friend LLC | $150 – $335 for group classes; $250 per 2 hours private sessions | Reactivity and Fear, Dog Sports | In-Person |
| Pedogogy Dog Training | Contact for details | Obedience, Behavior Modification | In-Person |
| Animal Insight | $480 – $1290 for basic obedience and manners, $880 – $1350 for behavior modification | Puppy Training, Basic Obedience and Manners, Custom Training | Both |
Online Vs. In-Person Training in Raleigh
Online and in-person dog training are both viable options for teaching your dog new skills. The benefits of online training are that it is the most affordable and the most convenient since you can study literally anywhere with an internet connection. You could even be training your dog during a road trip!
In-person training may not be quite as convenient or affordable, but it has its own perks. In-person training tends to have a more rigid schedule, which can be good for those who struggle to stay consistent. It also gives you and your dog the opportunity to be social.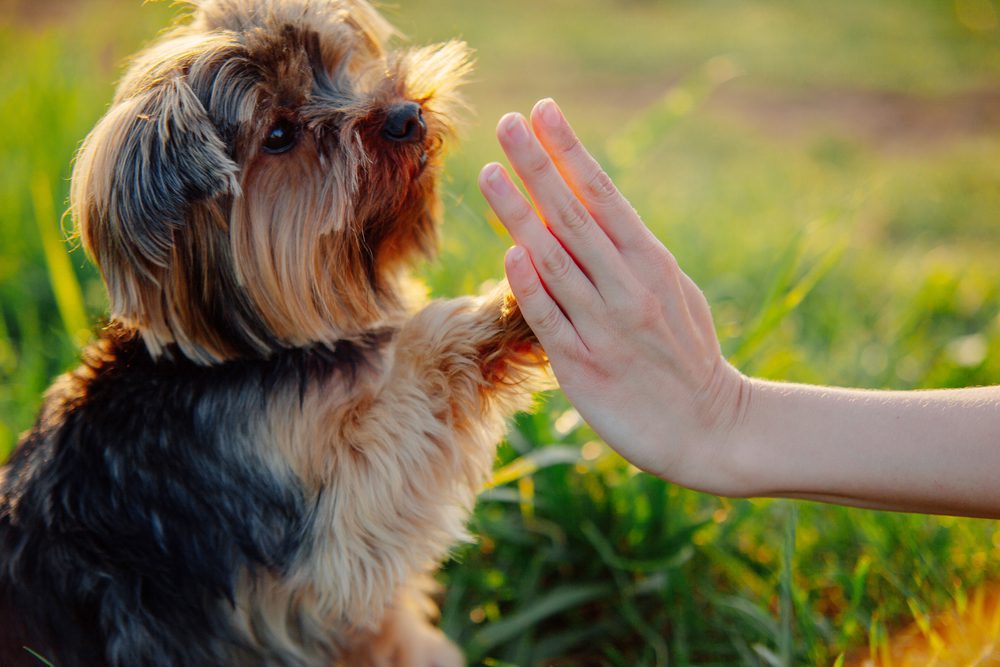 Perks of Online and In-Person Training in Raleigh
Here's a quick chart comparing the perks of online and in-person training.
| | | |
| --- | --- | --- |
| | Online Training | In-Person Training |
| Cost-Effective | ✓ | X |
| Flexible Schedule | ✓ | X |
| Ask Questions | ✓ | ✓ |
| Learn at Home | ✓ | ✓ |
| Socialize | X | ✓ |
The Best Dog Training in Raleigh
There are many dog training options in Raleigh, but we've done some research to pick out the best of the best. Here are our top picks for dog training in Raleigh.
1). Dog Academy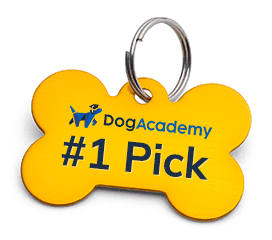 Dog Academy is one of the best places to go for online training, as well as in-person training. They offer numerous courses, including puppy training, basic obedience, psychiatric service dog training, emotional support dog training, leash manners, tricks, crate training, and more.
There are even courses to help with serious behavioral issues such as separation anxiety as well as problem behaviors like barking and reactivity. If you want to take your dog to the office with you, Dog Academy has a class for that, too!
Not only can you learn how to train your dog, but you can also learn some useful skills for yourself! Dog Academy has courses on grooming your pup at home as well as first aid and CPR training. Of course, we hope you never run into any emergencies with your pup, but if you do, it's good to be prepared.
All of Dog Academy's courses are designed by American Kennel Club-certified trainers who have over 25 years of experience. Training is fun, effective, and force-free. With their virtual training service, it's easy to contact trainers via phone, email, or the contact form on Dog Academy's website should you have any questions. And if you'd prefer to study in person, they have a dozen trainers who serve every city in the United States, including Raleigh!
2). Teamworks Dog Training
Teamworks Dog Training uses force-free methods and has a plethora of different training options. They offer group classes, private sessions, boarding and training, day school, and online training. As for what they can train, the answer is just about anything!
They offer both manners classes and various dog sports such as rally, scent work, dock diving, barn hunting, and agility. There's even a dog sports sampler class for those who aren't sure what sort of sport they or their dog would enjoy most. Manners classes include puppy training, canine good citizen (CGC) training (along with evaluation), distraction training, and even therapy dog training.
Aside from these types of classes, Teamworks Dog Training also offers behavior modification. Though they can help with various problems, their website highlights their ability to train dogs with reactivity and fear issues.
3). Dynamic Dogs North Carolina
Dynamic Dogs offers AKC-certified dog training in the form of group classes and private lessons. They also have a pet sitting and dog walking service, during which you can even ask that they work on training your pup.
Their group classes include puppy training, basic, intermediate, and advanced obedience, canine good citizen training, agility, and scent tracking. They also have a course for owners to learn canine first aid and CPR.
As for one-on-one training, the offerings are much the same, but there is some slight variation. Dynamic Dogs provides private training for obedience, social etiquette, off-leash obedience, basic skills for puppies, rehabilitation of a rescue dog, and behavior modification.
Dynamic Dogs believes in training that is based on love and positive reinforcement. Their goal is to help bridge the gap in communication between dogs and humans.
4). Training Your Best Friend LLC
Training Your Best Friend LLC uses only positive reinforcement to train dogs. They do not support-punishment based practices and instead believe in setting a dog up to succeed and using a dog's own motivations for training. If training is fun, dogs are motivated and excited to learn.
Training Your Best Friend LLC offers both private and group courses. Private training focuses on resolving specific problem behaviors and is useful for dealing with issues that occur outside of the home. In fact, private training can occur wherever you need it to.
Though private training is great for dogs who may need a little extra help, Training Your Best Friend LLC also offers many fun and effective group classes. These include puppy classes,  obedience classes, canine good citizen classes, therapy dog training, dog sports, and behavioral classes.
Dog sports offered include agility, nose work, rally, treibball, and tricks. Behavioral classes offered include those for reactive dogs, fearful dogs, and leash reactive dogs.
5). Pedogogy Dog Training
Pedogogy Dog Training is owned by Jen Hendrickson, who is also the sole trainer. Jen believes that dogs are beloved members of the family and thus should be treated as such. Therefore, she only uses positive, force-free methods. Many people expect dogs to be perfect, but Hendrickson believes dogs should be allowed to be dogs and advocates for this while still helping owners train their pups to be better-behaved companions.
Pedogogy Dog Training offers consultations, obedience training, and behavior modification. Obedience training teaches dogs skills like sit, stay, or come, and behavior modification focuses on turning undesirable behaviors into good ones. Consultations, on the other hand, serve a few different purposes.
Hendrickson can provide consultations that help you choose the right dog for your lifestyle. She'll also help you find a trustworthy breeder or shelter to match you with the appropriate dog for your lifestyle. Her goal is to reduce dogs ending up in shelters due to being too much for their owner to handle.
She also provides consultations for those who have purchased a puppy from a breeder but are waiting for the puppy to be old enough to bring home. Finally, consultations for training and behavior are also available and are required before Pedogogy Training can provide training services.
6). Animal Insight
Animal Insight uses the LIMA approach to training, which stands for "least intrusive, minimally aversive." As the name suggests, this type of training focuses on positive reinforcement rather than force or intimidation.
Animal Insight offers behavior modification training to address aggression, separation anxiety, fearfulness, barking, lunging, and more. They also offer general training that can be customized to your needs. So whether your dog just needs to learn basic commands or is having trouble listening in public, or is pulling on the leash during walks, Animal Insight can help.
Training will take place in your home, but you can also meet with trainers at other dog-friendly locations. For example, if your dog is an angel at home but a menace at the park, trainers can work with you and your dog at the park. Online training via Zoom is also available. Animal Insight offers lifetime support, so if you've got a question after you've finished your training program, they welcome you to call.
Find the Right Dog Training for You
Even though we've narrowed things down, choosing a trainer can still be hard when there are so many great options. If you're interested in convenience above all else, then we'd recommend Dog Academy, as you can train anytime, anywhere.
If your dog has a behavior issue, we'd recommend Pedogogy Dog Training or Animal Insight, both of which specialize in behavior modification. If your pup is ultimately a good dog, but you're looking for a fun activity to do with them, check out Teamworks Dog Training or Training Your Best Friend LLC for courses on dog sports.
Hoping to pass the AKC's Canine Good Citizen test? Dynamic Dogs, Teamworks Dog Training, and Training Your Best Friend LLC are all great resources for getting your dog the training they need to earn their certificate.
Dog training is hard work, but having a knowledgeable professional to help will set you on the path to success. Whichever trainer you choose, we know that with patience, love, and consistency, your dog will become an even "good-er" boy or girl than they already are!