The Best Dog Training in Providence, RI
9 minutes
Providence and the surrounding cities are surprisingly dog-friendly. There are dog-friendly vineyards, breweries, parks, hiking trails, and beaches. You can take your dog to Books on the Square to enjoy a good read or take a rail bike tour via Rail Explorers with your pooch.
As fun as these activities may be, they can easily become frustrating if your dog isn't well-behaved in public. It's hard trying to wrangle a dog that is constantly lunging or barking at other dogs and people. On the other hand, even a friendly dog who is over-excitable can be hard to handle as they constantly pull at the leash trying to say hi to everyone who passes.
Bad behavior doesn't mean your dog is destined to live their entire life in the confines of your home. Dog training is the best solution to these unruly behaviors and can transform your dog from wild child to calm companion.
We've put together a list of the six best dog trainers in Providence, Rhode Island who can help you achieve your dog training goals. From puppy training to eliminating aggressive behaviors, the trainers on this list can do it all. Keep reading to find out more!
A Quick Look at the Best Dog Training in Providence
Here's a quick overview of the best dog trainers in Providence. We'll be sharing more in-depth information on each trainer later in the article, so keep reading.
| | | | |
| --- | --- | --- | --- |
| Trainer | Price | Training Types | Online / In-Person |
| Dog Academy | $49.99 – $349.99 | Obedience Classes, Psychiatric Service Dog Training, Specialty Classes (e.g. Canine Confidence, Separation Anxiety) | Both |
| Dogs Got Class | Contact for Details | Puppy Training, Manners, Behavior Modification | In-Person |
| Modern Dog Training | Group Classes $195-$210; Private Lessons $599/4 lessons or $135/hr (after $249 behavior assessment); Group Class Packages $399-$480 | Puppy Training, Behavior Modification (Including Aggression), AKC Fit Dog Training | Both |
| Copper & Co | General Training 4 Lessons for $600; Behavior Modification 4 Lessons for $750; Group Class $45/session | Puppy Training, Manners, Obedience | In-Person |
| Pooch Pawsitive | Contact for Details | Socialization, AKC Trick Dog, AKC Canine Good Citizen | In-Person |
| Patience Inspired Dog Training | 6-week Group Classes $195; Drop-in Classes $20; Packages $465-$876; Virtual Lessons $40 for 30 mins or $80 for 60 mins | Agility, Nose Work, Therapy Dog Training | Both |
Online Vs. In-Person Training in Providence
Some people believe that online dog training isn't as effective as in-person dog training, but this isn't true. Both are effective but both have pros and cons. Online dog training is more affordable and very convenient as you can study from anywhere with an internet connection. However, those who aren't good with technology may struggle to take advantage of online training.
In-person training provides a great opportunity for your dog to socialize, especially if you take a group class. It also allows your dog to learn in the presence of distractions. On the other hand, dogs that are reactive or easily overwhelmed may be too triggered in the presence of strange people or dogs and may do better if their training starts with online courses.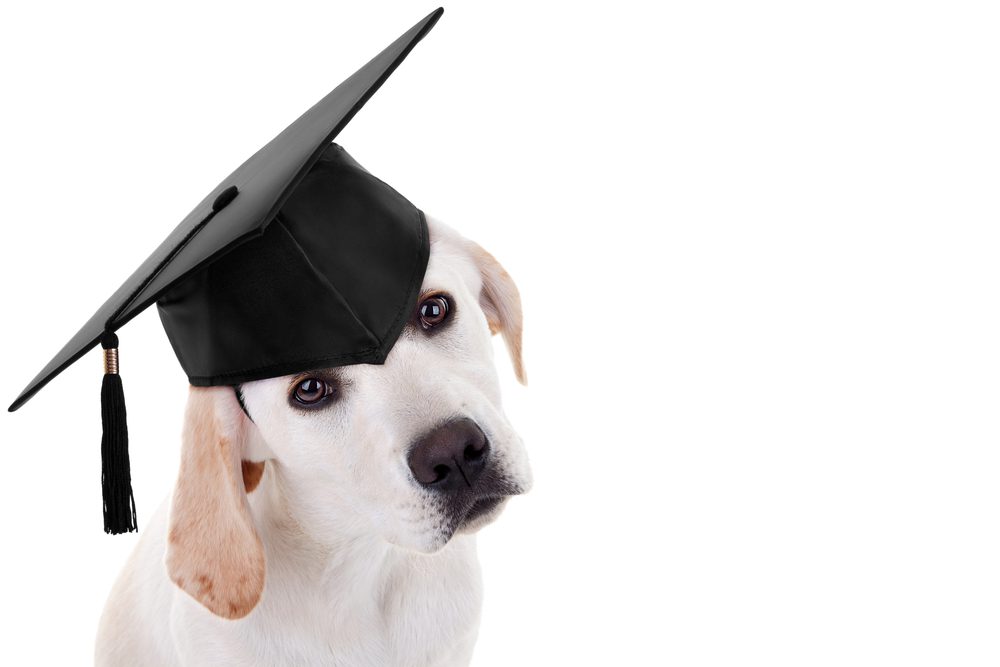 Perks of Online and In-Person Training in Providence
Here's a quick chart outlining the perks of online vs in-person training.
| | | |
| --- | --- | --- |
| | Online Training | In-Person Training |
| Train With Professionals | ✓ | ✓ |
| Learn From Home | ✓ | ✓ |
| One-On-One Instruction | ✓ | ✓ |
| Study at Your Own Pace | ✓ | X |
| Socializes Your Dog | X | ✓ |
The Best Dog Training in Providence
There are many awesome trainers in and around the Providence area. We've done some research to find the best of the best and compiled them into a list for you. This list includes a brief summary of each trainer's services as well as contact information and pricing. Take a look!
Dog Academy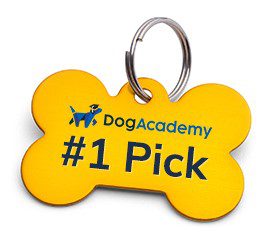 Dog Academy offers both online and in-person training. We have a dozen trainers servicing every city in the United States, including Providence. Our experienced trainers can come to your home for a private session or you can attend a group class.
If you're more interested in virtual dog training, then check out Dog Academy's extensive catalog of online courses. You can find puppy training, basic obedience, psychiatric service dog training, emotional support dog training, leash manners, trick training, crate training, and more classes on Dog Academy's website. There are even courses addressing problem behaviors such as barking, separation anxiety, and reactivity.
Don't just train your dog, train yourself! At Dog Academy, you can learn how to groom your pup at home or take a class on canine CPR and first aid. All of Dog Academy's online courses have been designed by American Kennel Club-certified trainers with over 25 years of experience. If you're taking an online class and ever need to get in touch with a trainer, you can do so via phone, email, or the contact form on Dog Academy's website.
Dogs Got Class
Dogs Got Class offers private in-home training, day training, and puppy potty breaks. The puppy potty breaks are more than just letting your puppy out — they are very structured and include short walks, training, socialization, and playtime.
Dogs Got Class offers basic and advanced obedience training that focuses on teaching your dog common but important skills such as come, sit, down, stay, wait, and leave it. Obedience training also focuses on impulse control so that your dog can remain calm around different distractions and learn to greet people pleasantly.
Finally, Dogs Got Class offers training to resolve unwanted behaviors such as barking, chewing, digging, begging, jumping, house-soiling, pulling on the leash, counter-surfing, and more. Do note that Dogs Got Class is not able to help with severe behavioral issues such as aggression or separation anxiety but can refer you to a trusted specialist.
Dogs Got Class is a force-free trainer, so you can be certain your dog is being treated with respect.
Modern Dog Training
Modern Dog Training offers both private in-home (or virtual) lessons as well as group classes and workshops. They use completely force-free techniques in their dog training.
Training topics covered by Modern Dog Training include puppy training and socialization, basic manners and skills, leash walking skills, AKC Fit Dog training, and reactivity training. They also offer behavior modification for dogs struggling with just about any behavioral issue, including aggression, fear, anxiety, resource guarding, and more.
Copper & Co.
Copper & Co. is owned and operated by Kaylee Bashaw (CPDT-KA) who uses the Least Invasive, Minimally Aversive (LIMA) method to train dogs. She describes her approach as giving dogs agency and communication skills so that both humans and their dogs can be empowered to live happy lives together.
Copper & Co. can help solve behaviors like excitable greetings, barking, leash pulling, counter-surfing, and more. Your dog will also learn basic manners, obedience, and recall. More serious behaviors such as anxiety, fear aggression, or reactivity can be solved with Copper & Co.'s behavior modification training.
Kaylee also offers puppy training and a group class that focuses on helping dogs learn to listen and behave in the presence of distractions. Aside from the aforementioned group class, training is private and will take place in your home (or in a public location where your dog needs work).
Pooch Pawsitive
Pooch Pawsitive specializes in puppy training, but they do offer group classes and private training for dogs of all ages. They also operate a doggy daycare with built-in training that reinforces good behavior. Daycare also helps socialize dogs to common triggers like thunder and fireworks so they won't be afraid in the future.
Puppy training offered includes a puppy jumpstart workshop, a puppy kindergarten class, a puppy academy (a half or full day of puppy training and fun at daycare), and puppy socials. The jumpstart workshop and kindergarten classes offer hands-on training for puppy owners, whereas the social is a great way for your pup to meet other dogs and make new friends.
Classes Pooch Positive offers for all ages include basic and intermediate manners, games (similar to dog sports but less serious), AKC Trick Dog, AKC Canine Good Citizen prep, loose-leash walking, and recall. Pooch Pawsitive is also able to help with behavior problems on a case-by-case basis.
Patience Inspired Dog Training
Patience Inspired Dog Training is about a 30-minute drive from Providence, but it may be worth it for some of their classes. For example, they are the only training option on this list offering agility and therapy dog training.
Patience Inspired Dog Training is committed to using fear-free dog training techniques that don't harm your dog into submission. They offer in-home or in-facility private training, group classes, drop-in classes, and virtual training.
Private training is great for addressing issues like reactivity, aggression, separation anxiety, compulsive behaviors, fear, nipping, jumping, and more. Of course, private training can also be used for basic obedience and skills.
Group classes available include puppy manners, obedience, therapy dog training, recall, agility, nose work, tricks, canine communication, and even a grooming course. Drop-in classes include playgroups, agility, puppy enrichment, and rally obedience.
Find the Right Dog Training for You
Finding the right dog trainer isn't always easy; there are often many options and training can be quite pricey. If you want an affordable solution to dog training, check out Dog Academy's extensive catalog of online courses. We offer basic obedience and skills courses as well as courses to help you tackle problem behaviors or even train your dog to be a psychiatric service dog.
Aside from Dog Academy, there are many knowledgeable trainers in Providence. If you're bringing home a new puppy, definitely check out Pooch Pawsitive as puppies are their specialty. If your dog displays nuisance behaviors like digging, chewing, counter-surfing, etc., give Dogs Got Class a try.
If your dog has more serious behavioral issues like aggression, anxiety, or reactivity, Modern Dog Training or Copper & Co. are great trainers to turn to. If you're willing to take a bit of a drive, Patience Inspired Dog Training is perfect for anyone who is interested in dog sports like agility or nose work. They also offer therapy dog training.
Whichever trainer you go with, we know that with patience, love, and consistency, you'll be able to achieve all of your dog training goals.