The Best Dog Training in Portland, OR
8 minutes
Being the largest city in Oregon, Portland has a lot to offer in terms of dog training. Whether you've brought home a new puppy and are looking to train foundational skills, or you have a problem child who needs behavior modification, you can find it all in Portland.
The city itself is known for its parks, bridges, and bicycle paths, and it would be a shame to be unable to share these experiences with your dog. Therefore, it's often worthwhile to hire a professional trainer so your dog can be calm and obedient enough to enjoy these places with you.
Even if you have no plans to explore the city with your dog by your side, having a well-mannered dog can save you a lot of headaches (and possibly even heartache). For dogs that are suffering from serious issues, such as aggression or separation anxiety, the right training can eliminate these negative behaviors and instead, help the dog feel safe, confident, and calm.
Because there are so many options in Portland, it can be difficult to find the right trainer for you. Therefore, we've gone ahead and researched the best trainers in Portland so that we can share them with you.
A Quick Look at the Best Dog Training in Portland
Here, we have provided a chart of the best trainers in Portland in order to give you a quick overview of what is available. We'll provide in-depth information on each trainer later in the article, so be sure to check that out for any trainers you're interested in!
| | | | |
| --- | --- | --- | --- |
| Trainer | Price | Training Types | Online / In-Person |
| Dog Academy | $49.99 – $349.99 | Obedience Training, Puppy Training, Service Dog Training | Both |
| Noble Wolf | $39.99 – $1,130 | Obedience, Behavior Modification | Both |
| The Canine Classroom | Contact for details | Custom | In-person |
| Urban Pawsibilities | $75 – $1,000 | Reactivity Reduction, CGC Training, Separation Anxiety | In-person |
| Happy-Go-Lucky Dog Training | $175 – $800 | Trick training. Distraction Training, CGC Training | Both |
| Doggy Business | $90 – $520 | Puppy Training, Obedience, Behavioral Problems | In-person |
Online Vs. In-Person Training in Portland
In this digital age, just about everything can be done online, and that includes dog training! While both in-person and online training options are viable, online training tends to be more affordable and convenient.
It also allows you to begin your training in a comfortable environment for both you and your dog, which can sometimes increase success. In-person training, on the other hand, can sometimes have the added benefit of providing socialization and a distracting environment for your pup to learn in.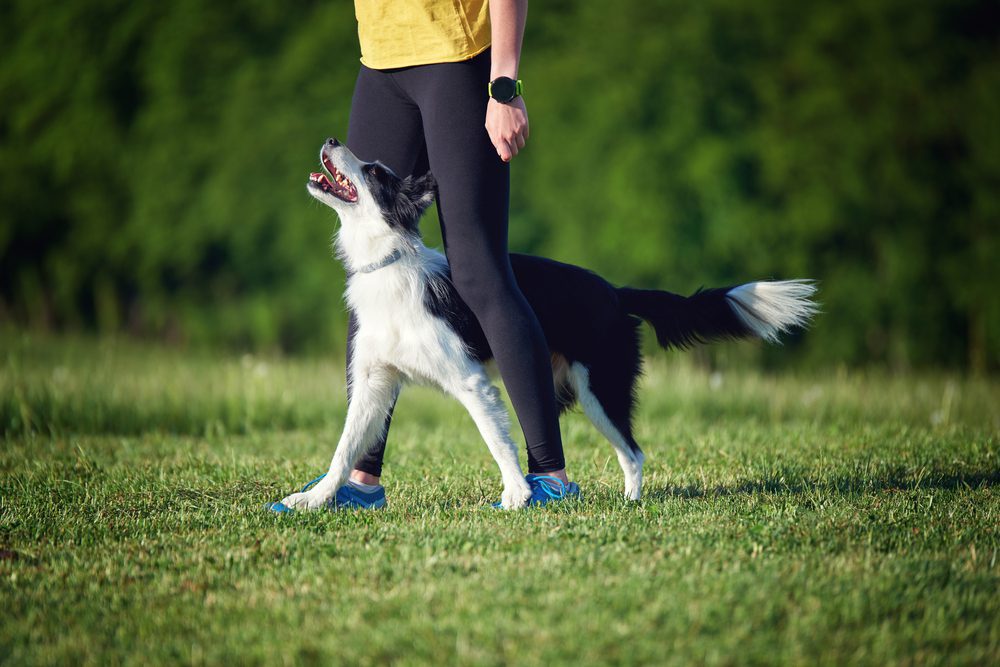 Perks of Online and In-Person Training in Portland
We've created a chart so that you can easily see the perks of both online and in-person training.
| | | |
| --- | --- | --- |
| | Online Training | In-Person Training |
| Socialize Your Dog | X | ✔️ |
| Flexible Schedule | ✔️ | ✔️ |
| Ask Questions | ✔️ | ✔️ |
| Study at Your Own Pace | ✔️ | X |
| Learn at Home | ✔️ | ✔️ |
The Best Dog Training in Portland
We've rounded up the absolute best trainers in Portland. In this section, we'll provide descriptions of what each trainer has to offer, as well as contact details and price. This should help you find the perfect trainer for your needs.
1). Dog Academy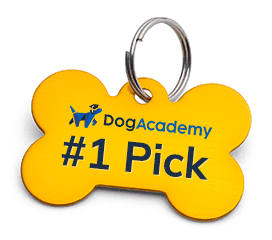 Dog Academy offers multiple online courses to suit a number of different dog training needs, as well as in-person training. Each course has been designed by American Kennel Club certified trainers who have over 25 years of experience in dog training. Dog Academy teaches positive reinforcement techniques that are fun, effective, and force-free – as well as extremely effective.
Even if you study online only, users can still contact trainers via phone, email, or the contact form to ask any questions they have during the training process. Dog Academy offers a number of different courses, including puppy training, basic obedience, Psychiatric Service Dog training, training to minimize separation anxiety, and even a course that'll teach your dog the manners they need to join you at your workplace. And you can combine online and in-person training, so that you get the best of both worlds.
2). Noble Wolf
Noble Wolf dog training focuses on humane, ethical training methods such as clicker training. They help you better understand your dog and set realistic expectations and goals. They work with your dog's instincts instead of against them, which results in a dog that is happy to learn and behave.
Noble Wolf offers private training, day camp, board and train, behavior modification, and group classes. Private training occurs in your home and the training is tailored specifically to you and your dog's needs. Noble Wolf offers puppy training, basic obedience training, and behavior modification for fear, separation anxiety, and aggression.
The list of issues that they can help solve is too long to share here, so just understand that if your dog has any problematic behaviors (or if you just need help teaching them manners and obedience), then Noble Wolf can help. They even have some fully online courses, which are much more affordable; however, the online classes do not address as wide of a range of problems and are more focused on basic skills.
3). The Canine Classroom
The Canine Classroom focuses on resolving behavioral problems such as aggression, housebreaking, barking, biting, chewing, jumping, separation anxiety, and more. They design custom dog-training programs on an individual basis so that you can be sure the training will fit both you and your dog's needs.
Their training methods use positive reinforcement as they do not believe in punishing dogs for bad behavior. Instead, they focus on replacing unwanted behavior with positive behavior.
The Canine Classroom was voted the Best Dog Trainer by Portland Monthly Magazine and has dozens of veterinarians referring clients to them. They are often able to turn around situations in which owners are ready to give up their dogs due to unruly or even aggressive behavior.
4). Urban Pawsibilities
Urban Pawsibilities employs five different dog trainers, all of whom are well-versed in positive reinforcement training. In fact, Urban Pawsibilities does not believe in using aversives, like shock collars, prong collars, or any type of force or intimidation.
The company offers a number of different training options, including group classes, private training (either in-home or at their location), and day training which is similar to doggy daycare but with training mixed in. Urban Pawsibilities offers a range of different training topics, from basic obedience training to reactivity reduction.
Whether you want to teach your dog new tricks or resolve serious issues such as fear, Urban Pawsibilities can help. They even offer "study hall hours" where you can use their facility to train your dog around distractions such as other dogs. If you get hung up on something, trainers are on standby to answer questions.
5). Happy-Go-Lucky Dog Training
Happy-Go-Lucky dog training focuses on teaching puppies and adult dogs basic obedience and manners. Group classes, private training at their facility, and online training (both Zoom consultations and video courses) are available.
They also have a day training option that is similar to doggy daycare and includes playgroups but also incorporates training sessions. Happy-Go-Lucky only takes 10 dogs per day for this day training, so you'll know that your pup isn't getting lost in the crowd.
Aside from basic obedience and manners, Happy-Go-Lucky Dog Training also offers trick training and Canine Good Citizen training. Because much of their training is done in the form of group classes, they do not accept reactive or aggressive dogs into their programs. However, if you're looking for foundational training for your dog, then Happy-Go-Lucky is a great option.
6). Doggy Business
Doggy Business provides many different training options, including classes, private training, and day camp. They can help with puppy training, basic manners and obedience, impulse control, loose-leash walking, Canine Good Citizen prep, scent work, aggression, and more.
They even have classes dedicated to teaching your dog how to relax for vet visits and grooming. Best of all, the training methods used are reward-based so you can feel confident that your dog will learn new skills without being mistreated.
Find the Right Dog Training for You
We've narrowed down the giant pool of dog trainers in Portland, Oregon to just six options. Still, it may be difficult to choose since they are all great choices. First, determine what type of training you want: do you just need basic obedience training, or does your dog require behavioral modification? For dogs with behavioral issues, we'd recommend The Canine Classroom or Urban Pawsibilities.
Next, think about where you want the training to take place and in what mode. Would you rather go to a group class or stay in your own home? For at-home training, check out Dog Academy or Noble Wolf. For group classes, Happy-Go-Lucky Dog Training and Doggy Business are great options.
Whichever trainer you choose, we're sure you'll be well on your way to training your dog to be an even more perfect companion than they already are.