The Best Dog Training in Port St. Lucie, FL
7 minutes
Port St. Lucie is a hot spot in Florida, and it's no wonder. With beautiful coastline and a vibrant local community, it's a great city for folks who love to be out and about with their human and canine families. Because there's good weather for the majority of the year and plenty of outdoor activities to keep you busy, you'll want to have your dog prepared to enjoy an active life with you.
To keep your dog safe and happy, you want to ensure that they have the skills and training they need to navigate a variety of situations. Fortunately, there are a number of high-quality dog trainers in the Port St. Lucie area, so you can find the one who will be the perfect match for your canine companion.
A Quick Look at the Best Dog Training in Port St. Lucie, FL
Here is a quick run-down of some of the most highly-rated dog trainers around Port St. Lucie and their essential stats. You'll find a more detailed profile of each trainer below.
| | | | |
| --- | --- | --- | --- |
| Trainer | Price | Training Types | Online / In-Person |
| Dog Academy | $49.99 – $349.99 | Service Animal Training, Puppy Training, Behavior Issue Correction | Both |
| Tropical K9 Consultants | Contact for Pricing | Individual Training, Behavior Correction | In-Person |
| Applied Canine Concepts | $60-$600 | Foundations, Hunting, Puppy Swim, Service Dog | Both |
| KK's Canine Training | $575-$895+ | Puppy Training, Behavior Modification, CGC | In-Person |
Online vs. In-Person Training in Port St. Lucie, FL
It should come as no surprise in our increasingly digital world that more and more services are available online—even dog training. There are benefits and disadvantages to both online and in-person dog training, of course.
While in-person training offers more in-depth correction to behavioral issues, online training is great for building a deeper connection with your dog and being able to train whenever works best for your schedule.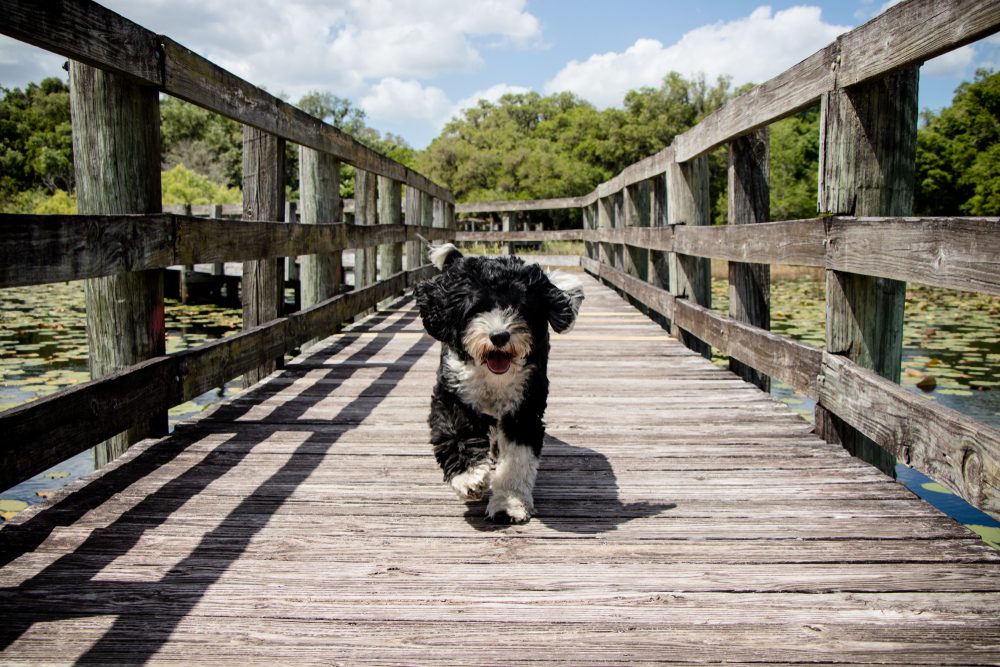 Perks of Online and In-Person Training in Port St. Lucie, FL
If you've never considered dog training before, you might not know which type will work best for you and your dog. To help you evaluate the differences between online and in-person training, we've made this handy reference table so you can weigh the pros and cons of both styles.
| | | |
| --- | --- | --- |
| | Online Training | In-Person Training |
| Specialized Classes | ✓ | ✓ |
| Flexible Schedule | ✓ | X |
| Socialization Opportunities | X | ✓ |
| Classes by Experienced Trainers | ✓ | ✓ |
| Correct Behavior Issues | ✓ | ✓ |
The Best Dog Training in Port St. Lucie
We've compiled this list of highly rated and respected dog trainers in the Port St. Lucie area for your convenience. There are a number of different training options and experienced animal professionals with different specialty areas, so we're confident that you'll find the right one for your family.
Dog Academy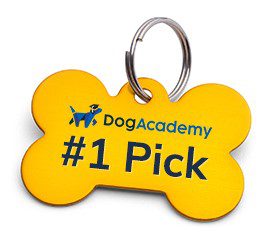 Dog Academy is a national dog training service that empowers owners to train their dogs from home. If you have a busy schedule or a dog struggling around other dogs, strangers, or unfamiliar environments, home training may be ideal. Dog Academy courses are designed by certified trainers to tackle everything from basic puppy and obedience training to more specialty subjects and behavioral issues.
Dog Academy has flexible options and an extremely wide range of course options, even offering some breed-specific training to work with your dog's unique characteristics. If you want to work with a trainer in person, Dog Academy also offers a service to match you with an approved local trainer in your area to give your dog personalized training in a setting of your choice.
Tropical K9 Consultants
Offering individualized care from an experienced trainer, Tropical K9 Consultants comes to you so your dog can receive instruction in their own space. The courses are taught by one instructor who adheres to a method of teaching rather than training. Rather than using any form of correction, she focuses on redirection and communication. This methodology is applied to both early puppy training and to more advanced classes and behavior modification for older dogs.
Each dog receives custom training based on their needs and ability level, and this comes with custom pricing as well. Evaluations are free, with the trainer coming to you to see what you and your dog need first. From there, a custom lesson plan is developed.
Applied Canine Concepts
With a large team of professionals, Applied Canine Concepts is one of the bigger training schools on our list. They are unique in that they offer in-person and online courses with options for continuous membership learning. Most of their in-person training is offered on a board-and-train system for your pup to be fully immersed in learning for one to three weeks. This program focuses on the foundations of good behavior, listening, leash training, and other essentials.
Their online training courses also cover basic skills, such as the ones covered in board and train, but there are also options for more advanced subjects you can cover with your dog, including teaching them hunting skills. If someone in your family is an avid hunter, this could be a great course.
Additionally, they offer specialized in-person training for service dog skills to fit a variety of needs. Their newest class is for puppy swim lessons, which are ideal if you have a pool or are a watersports enthusiast and want your dog to be able to safely accompany you.
KK's Canine Training
KK's Canine Training covers everything from house training in new puppies to helping break negative behavioral habits in older dogs. Their courses embrace a variety of training situations to prepare your dog for the real world. Individual and group classes are part of their training programs. This allows your dog to practice new skills in your home, in the park, and around other dogs and people.
Training packages range from six to sixteen weeks, which you can choose depending on your dog's needs. Puppy training starts at four weeks and goes up to six weeks. Every adult training course includes American Kennel Club Canine Good Citizen (CGC) testing.
You can also receive free therapy dog evaluations at the end of your training course. Puppies are trained on the AKC's STAR program—socialization, training, activity, and responsible owner. All dogs that go through KK's training courses have access to free group sessions for life to keep their skills sharp.
Find the Right Dog Training for You
Whether you want a happy and well-adjusted family dog, an active dog that can take part in your outdoor hobbies with you, or a dog trained to support your health, Port St. Lucie has trainers that are ready to help you. You can find a trainer that suits your and your dog's needs and budget on the Treasure Coast.
Dog training is essential, but you don't have to go at it alone. With the help of our list, you'll be able to find the perfect training match for your canine family members.