The Best Dog Training in Plano, TX
7 minutes
Plano, Texas offers a variety of dog training options to suit different needs and preferences of pet owners.
Some popular training options include obedience training, behavior modification, agility training, and scent work. Obedience training focuses on teaching basic commands like "sit," "stay," and "come." This training helps build a strong foundation of communication and trust between the dog and its handler.
Behavior modification, on the other hand, addresses specific problem behaviors such as excessive barking, aggression, or separation anxiety. This training can help dogs feel more relaxed and confident in their environment.
Plano has a number of dog parks, so residents may want to ensure that their pooch is comfortable off-leash and around other dogs. With the help of experienced trainers, any problems can be addressed and overcome, resulting in a happier and more well-behaved pet.
A Quick Look at the Best Dog Training in Plano, TX
This table provides a brief overview of the best dog trainers in Plano. A more in-depth review of each trainer can be found later in the article.
| | | | |
| --- | --- | --- | --- |
| Trainer | Price | Training Types | Online / In-Person |
| Dog Academy | $49.99–$349.99 | Obedience Classes, Puppy Training, Psychiatric Service Dog Training | Both |
| Wiggle Butt Academy | $50-$1500 | Obedience Classes, Puppy Training, Stay and Play Classes | In-Person |
| Fido's Finest Dog Training | $110-$1000 | Therapy and Service Dog Assistance Training, Trick Classes, Dog Swimming Lessons | Both |
| Positively Pups | Contact for Details | Behavior Modification, Puppy Classes, Owner Away Training | In-Person |
| K-9 University | Contact for Details | Obedience Classes, Custom Private Training | In-Person |
| Canine Dimensions In-Home Dog Training | Contact for Details | Puppy Training, Aggressive Dog Training, Dog Behavior Modification | In-Person |
Online Vs. In-Person Training in Plano, TX
Online and in-person dog training sessions are two popular options for pet owners in Plano. While both methods can be effective in helping dogs learn new skills and behaviors, they offer different benefits and challenges. Online training allows pet owners to access training resources from the comfort of their own homes and can be more flexible in terms of scheduling.
On the other hand, in-person training provides a more immersive experience, allowing dogs to receive immediate feedback and interact with other dogs and trainers. Additionally, in-person training can be more hands-on and personal, which may be more suitable for dogs with specific training needs.
Ultimately, the best training method for your dog will depend on various factors, including the individual needs and preferences of both the dog and their owner. For example, some dogs may do better with in-person training sessions where they can receive immediate feedback and interact with other dogs and trainers.
Other dogs may benefit from online training, which offers more flexibility in terms of scheduling and can be a good option for pet owners who are unable to attend in-person training sessions.
Additionally, the type of training needed will also play a role in determining the best training method. For instance, obedience training may be best suited to an in-person format, while behavior modification may be more effectively achieved through a combination of in-person and online training.
It is important to consider these factors when choosing the best training method for your dog and to work with a professional trainer who can guide you in making the right decision.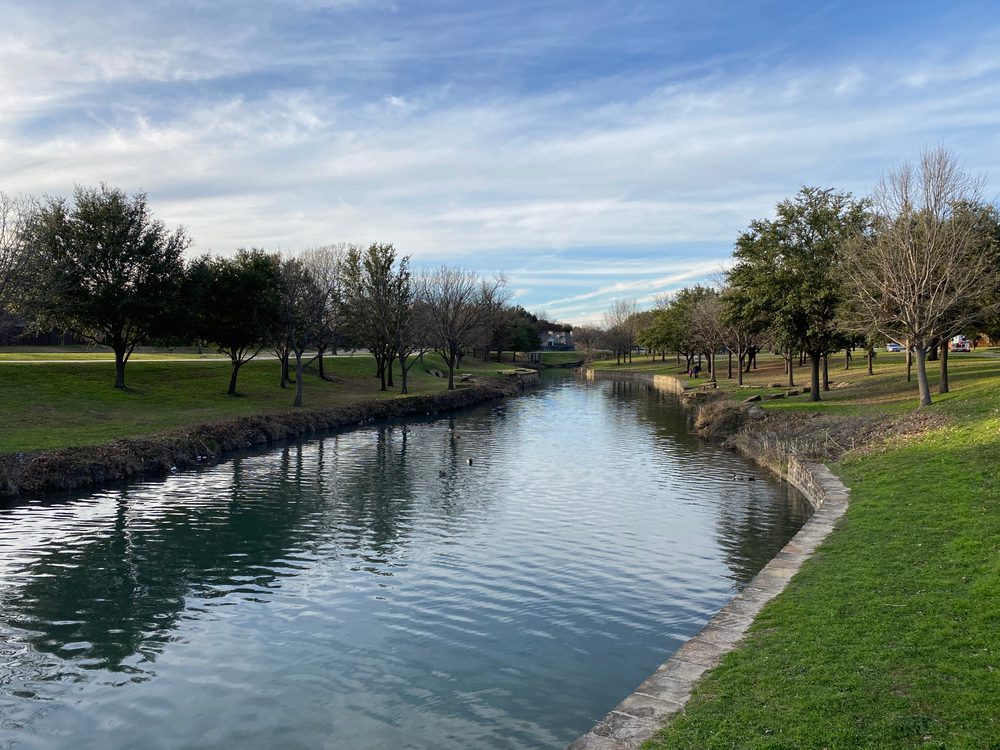 Perks of Online and In-Person Training in Plano
To easily compare the two types of training available in Plano, here's a handy table showing the differences.
| | | |
| --- | --- | --- |
| | Online Training | In-Person Training |
| Cost Effective | ✓ | ✓ |
| Flexible Schedule | ✓ | x |
| One-on-One Instruction | x | ✓ |
| Study at Your Own Pace | ✓ | x |
| Socializes Your Dog | x | ✓ |
The Best Dog Training in Plano, TX
If you're looking for the best dog trainers in Plano, look no further. The following list features some of the top-rated trainers in the city, known for their expertise, experience, and commitment to helping dogs and their owners reach their training goals.
Dog Academy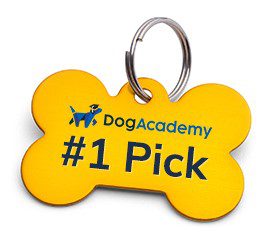 Dog Academy offers both online and in-person training. The instructors for Dog Academy's online courses are all AKC-certified trainers who have created them with AKC standards in mind.
Dog Academy emphasizes accessibility, affordability, and flexibility in scheduling. With an online program, you won't have to stress about missing classes or struggling to fit into a trainer's rigid schedule. Dog Academy is renowned for its cutting-edge platform and rich content. Their lessons are polished, transparent, and thorough while still being understandable.
For an in-person option, you may either work one-on-one with a trainer or learn in group sessions to help socialize your pet. Dog Academy has instructors covering every city in the United States, so there will always be a team of professional and highly experienced trainers ready to help you and your dog learn. Whether it's the basics, or something more specialized, Dog Academy has you covered.
Wiggle Butt Academy
Nicole, the owner of Wiggle Butt Academy, a Certified Dog Behavior Consultant (CDBC), and her team of Fear-Free Certified trainers provide positive training across Plano. The team can help with manners, obedience, separation anxiety, puppy training, and aggressive dogs.
Wiggle Butt Academy offers board-and-train packages for dogs. Unlike other training facilities, they also offer board-and-maintain packages for dogs to reinforce the new abilities they have acquired. In addition, Wiggle Butt Academy offers special needs boarding for timid or aggressive dogs that require additional care.
Fido's Finest Dog Training
Fido's Best Dog Training provides dog training to McKinney and surrounding areas. Owner Casandra Lambert heads a team of experienced and certified dog trainers. All training sessions use positive reinforcement methods, including toys and food as incentives.
Private in-home dog training from Fido's Best Dog Training may be adjusted to fit busy schedules. However, they also offer virtual training nationwide if you cannot attend a training session.
Positively Pups
Victoria Beckham is the owner and trainer of Positively Pups, a skilled positive reinforcement trainer offering private training sessions in Plano and the surrounding areas. Private sessions are conducted in the dog's home, where the owners and family can participate in the training sessions.
Before any training starts, Victoria recommends having an evaluation session. This helps her to understand your dog's behavior and what issues need support; from there, she can create a training plan for you.
K-9 University
K-9 University has a team of CCPDT-certified trainers that employ human training techniques, modifying unfavorable behaviors and reinforcing positive patterns to resolve training issues.
K-9 University offers day training and board-and-train options, and private training sessions for owners wanting to be involved in the training process. The training programs the team usually creates last ten weeks, although owners generally see results sooner than that. The team ensures owners know how to keep rewarding positive behaviors at home.
Canine Dimensions In-Home Dog Training
CDBA-certified dog behavior adviser Aimee Thompson leads Canine Dimensions Dog Training's Dallas location. She works with canines who require assistance with obedience, fear, and aggression using humane and positive training techniques.
Canine Dimensions forbid the use of shock collars and other kinds of punishment. Aimee conducts in-home training lessons for the Puppy GoodStart program, dog obedience, and behavior modification.
Find the Right Dog Training for You
Plano is a great place for dog owners to get the training their dogs need. With a variety of training options available, pet owners can find the right fit for their dog's needs. There are plenty of options whether they want to focus on basic obedience, address specific behavior problems, or have fun with agility training.
With experienced trainers and facilities, pet owners can be sure that their dogs receive high-quality training to help them become well-behaved, confident, and happy pets.