The Best Dog Training in Phoenix, AZ
8 minutes
From hiking to swimming, botanical gardens, parks, beach hangouts, coffee shops, and bakeries, there's a ton to do in Phoenix, Arizona. And fortunately, much of it can be done with your dog by your side, but you'll have trouble enjoying yourself if your dog is more menace than manners.
Luckily, there are many dog trainers offering their services in Phoenix. Whether you simply want a dog that listens or you're looking for fun activities to do with your pup, like dog sports, trainers in Phoenix can help. Skills like leash manners or off-leash recall are great if you want to bring your dog on a hike. If you like swimming, but your dog doesn't excel at it, your pup can definitely learn!
In this article, we'll share the five best dog training options in Phoenix so that you can help your dog become the perfect sidekick. Each recommendation will include a detailed description of the training offered as well as important information like contact details and cost. Let's get started!
A Quick Look at the Best Dog Training in Phoenix
Here's a chart that will allow you to get a quick look at the best trainers in Phoenix. We'll share more detailed information about each trainer later in the article.
| | | | |
| --- | --- | --- | --- |
| Trainer | Price | Training Types | Online / In-Person / Both |
| Dog Academy | $49.99 – $349.99 | Obedience Classes, Puppy Training, Psychiatric Service Dog Training | Both |
| AZ Dog Sports | $295 – $3,100 | Puppy Training, Obedience, Behavior Modification, Dog Sports, Service Dog Training | In-person |
| Crazy Daisy Dog Training | $200-$400 for group classes, $225-$720 for private training; value packages available for $350-$1,000 | Obedience, Reactivity, Canine Health, AKC Canine Good Citizen Training, Therapy Dog Training | Both |
| Modern Dog Training with Emily | Contact for details | Puppy Training, Obedience, Reactivity, Separation Anxiety, Problem Behaviors | In-person |
| Cathy's Canines | $425 – $695 | Puppy Training, Obedience, Behavior Modification | In-person |
Online Vs. In-Person Training in Phoenix
Online training has become more prevalent in recent years and is a viable way to train dogs. It allows owners to train at their own pace and from the comfort of home—or anywhere with an internet connection! Online training is also quite affordable.
On the other hand, in-person training is usually a bit more expensive, but it has its own benefits. In-person training tends to have a more rigid schedule, and that sort of structure is preferable for some.
Furthermore, if you and your dog could use a little socialization, you can choose group training classes. Both online and in-person training are effective, so it is up to you which you prefer.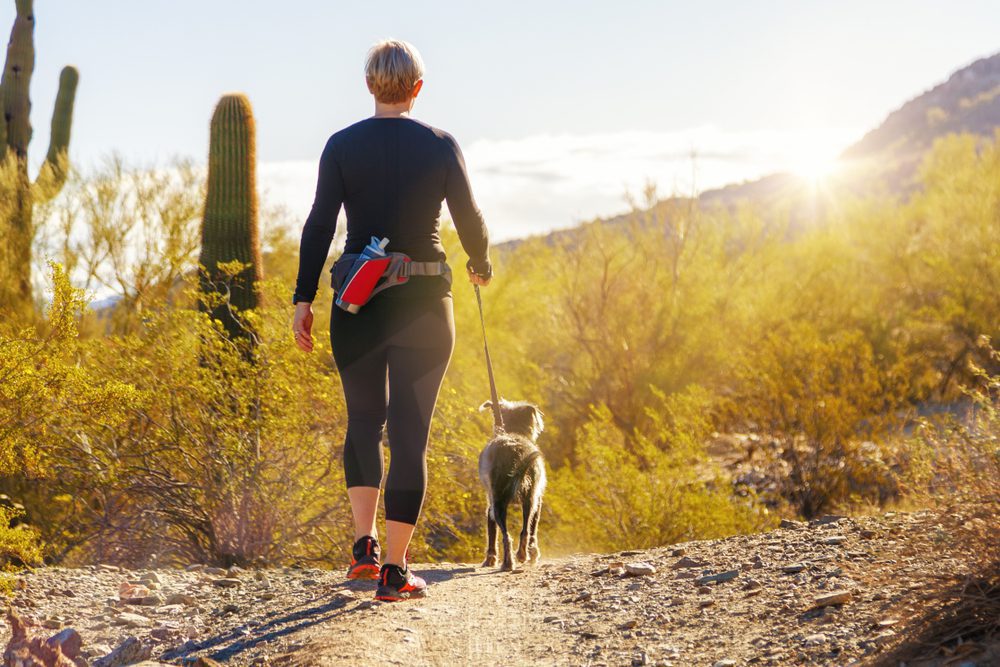 Perks of Online and In-Person Training in Phoenix
Here's a quick chart comparing the perks of online and in-person training.
| | | |
| --- | --- | --- |
| | Online Training | In-Person Training |
| Cost-Effective | ✓ | X |
| Flexible Schedule | ✓ | ✓ |
| Ask Questions | ✓ | ✓ |
| Study at Your Own Pace | ✓ | X |
| Learn at Home | ✓ | ✓ |
| Socialize Your Dog | X | ✓ |
| Firm Structure | X | ✓ |
The Best Dog Training in Phoenix
There are quite a few dog trainers in Phoenix, Arizona. We've done some research and chosen some of the very best. Here are our top five dog trainers in Phoenix.
1). Dog Academy
Dog Academy offers a number of online courses, as well as in-person training services, to suit a number of different dog training needs. Each course has been designed by American Kennel Club-certified trainers with over 25 years of experience in dog training.
Dog Academy teaches positive reinforcement techniques that are fun, effective, and force-free. Even in their onilne courses, users can contact trainers via phone, email, or the contact form to ask any questions they have during the training process, so they're never teaching their dog alone. If you prefer in-person training, they have a dozen professional trainers that serve every city in America, including Phoenix.
Dog Academy offers many different courses, including puppy training, basic obedience, psychiatric service dog training, emotional support animal training, leash manners, crate training, and even training to minimize separation anxiety. They also offer a course to teach your dog the manners they need to join you at your workplace, or tricks trainig. Classes for problem behaviors, like barking and reactivity, are available, too.
There are also courses you can take to teach yourself skills! Dog Academy offers a general canine grooming course, and a dog first aid and CPR class which will teach you skills that could be life-saving should your pup face an emergency.
2). AZ Dog Sports
AZ Dog Sports offers many training options and believes in a positive reinforcement philosophy. You can do in-home training, outdoor training,  board and train, day training, or take a group class. They also offer puppy training, obedience training, swimming lessons, behavior modification, and dog sports training.
The dog sports they train include agility, rally, parkour, tracking and scent work, tricks, and treibball. Their dog sports classes are offered both for those who wish to compete and those who just want to have fun with their dogs. AZ Dog Sports also has an extensive training program for those looking to train a service dog.
They offer several pricing options: you can purchase classes in packages (i.e. $595 for 20 classes) or a monthly membership for 3-12 months. Memberships include 10-12 classes per month, a discount off of AZ Dog Sports' retail items, and a gift card to be used at the AZ Dog Sports store.
3). Crazy Daisy Dog Training
Crazy Daisy Dog Training believes in using positive reinforcement to foster a strong relationship between dog and owner. Trainers at Crazy Daisy Dog never use fear or force to get a dog to cooperate. Instead, they create a training environment that works with the dog's motivations and is encouraging and fun.
Crazy Daisy Dog Training offers private, in-home training, group classes, and virtual lessons. Types of training offered include puppy training, leash behavior, obedience, fear, reactivity, tricks, canine health (for dogs who don't like the vet or the groomer), AKC Canine Good Citizen training, and therapy dog training.
4). Modern Dog Training With Emily
Emily of Modern Dog Training With Emily specializes in prevention and positive reinforcement training. She believes in preventing problem behaviors before they even happen because it is easier to prevent a behavior than to change it once it has become a habit. However, she doesn't just work with puppies who haven't yet developed these bad behaviors.
While she is passionate about helping people raise puppies correctly, she can also help with problem behaviors such as jumping, barking, leash-pulling, reactivity, and even separation anxiety. Additionally, Emily can help dog owners teach their hyper, overly-excitable dogs to settle down. She offers private, in-home training so that you don't have to travel.
5). Cathy's Canines
Cathy's Canines uses gentle training techniques. The trainer, Cathy, does not believe in using fear, intimidation, or force to get dogs to cooperate. Instead, she wants to foster a trusting relationship based on mutual respect. She teaches dog owners to recognize their dog's state of mind so that they can take the appropriate actions to bring their dogs back to a calm state.
Cathy helps transform hyper dogs into relaxed, well-behaved companions by identifying the cause of their behavior and providing a solution. She addresses common problem behaviors like jumping and more complex issues like fear.
Find the Right Dog Training for You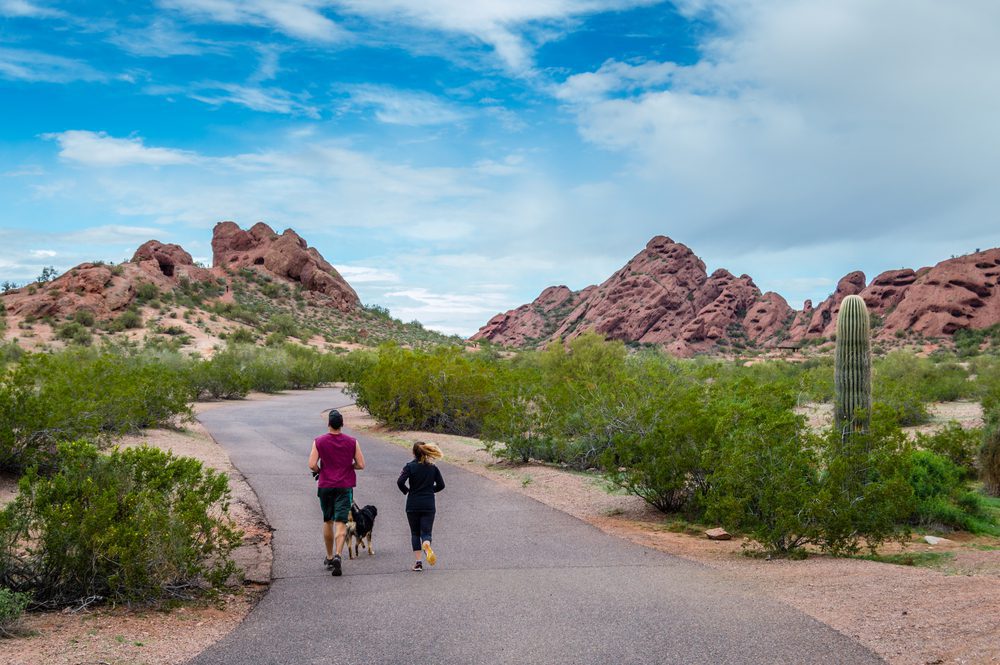 With so many trainers available in Phoenix, it can be hard to choose between them all. We've narrowed it down to just five options, but they all are great! If you don't want to leave home, then online training with Dog Academy or in-home training with Modern Dog Training With Emily are great choices.
If you're interested in dog sports or training a service dog, then AZ Dog Sports is your best option. If your dog needs help getting along with the groomer or vet or has problem behaviors, check out Crazy Daisy Dog Training. Crazy Daisy also offers Canine Good Citizen Training. Cathy's Canines and Modern Dog Training With Emily can also help with unwanted behaviors.
Whichever dog trainer you end up choosing, we wish you luck! With patience, love, and consistency, you can help your dog become a well-mannered member of the family.