The Best Dog Training in Pembroke Pines, FL
8 minutes
If you reside in Pembroke Pines, you're well aware of the city's abundant offerings – from its beautiful outdoor spaces to its vibrant community.
Owning a pet, such as a dog, can multiply the experience of living in this captivating city. Hold your leash, though! Before you unlock the full potential of your bond, there's one vital aspect to consider: Proper dog training.
In this bustling suburban paradise, your furry companion will encounter many challenges. Navigating busy sidewalks, mingling with unfamiliar faces, and staying focused amidst distractions are just a few.
That's where proper dog training comes into play. It's the key to ensuring your dog can walk gracefully, maintain composure in crowded spaces, and engage in social interactions with finesse.
Pembroke Pines is also blessed with breathtaking outdoor spaces and thrilling recreational activities. Imagine the joy of witnessing your well-trained dog confidently exploring nature trails, joining you on exhilarating adventures, and relishing the freedom of wide-open spaces.
Fortunately, Pembroke Pines offers a diverse array of dog training options tailored to cater to the unique needs of every four-legged explorer.
Whether you're dealing with a mischievous puppy seeking guidance, a rescue dog overcoming past struggles, or simply aiming to reinforce good manners, rest assured. There's a training program perfectly suited to your beloved companion.
This comprehensive guide will explore the acclaimed centers that offer the best dog training in Pembroke Pines, helping you find the perfect program to enhance your dog's behavior and enrich your shared adventures.
A Quick Look at the Best Dog Training in Pembroke Pines, FL
Here is a summary of the top dog training institutes in Pembroke Pines. In the subsequent sections, we will provide more detailed reviews of each institute. This will include their methodologies, customer satisfaction, and additional information to help you make an informed decision.
| | | | |
| --- | --- | --- | --- |
| Trainer | Price | Training Types | Online / In-Person |
| Dog Academy |  $49.99 – $349.99 | Obedience Classes, Behavioral Training, Psychiatric Service Dog Training | Online and In-Person |
| Kandi's Professional Dog Training | Contact for Price | Problem Solving, Non-Aggression Training, Service Dog Training. | In-Person |
| PetSmart | $20.00 – $355.00 | Training Workshops, Specialty Training, Personalized 1-On-1 Training. | Online and In-Person |
| Suburban K9 | Contact for Price | Training Boot Camps, Virtual Lessons | Online and In-Person |
| Ben Meyer Dog Training | Contact for Price | Obedience Training, Behavioral Training. | In-Person |
Online Vs. In-Person Training in Pembroke Pines, FL
When it comes to dog training in Pembroke Pines, you have the option to choose between online and in-person training sessions.  Each approach offers distinct advantages and considerations, and the choice ultimately depends on your preferences, schedule, and your dog's specific needs.
For instance, online training provides the convenience of learning from the comfort of your home but lacks immediate hands-on guidance from a trainer. In-person training, on the other hand, offers the benefits of personalized attention and immediate feedback from a professional trainer. Still, it may require committing to a fixed schedule and traveling to a specific location.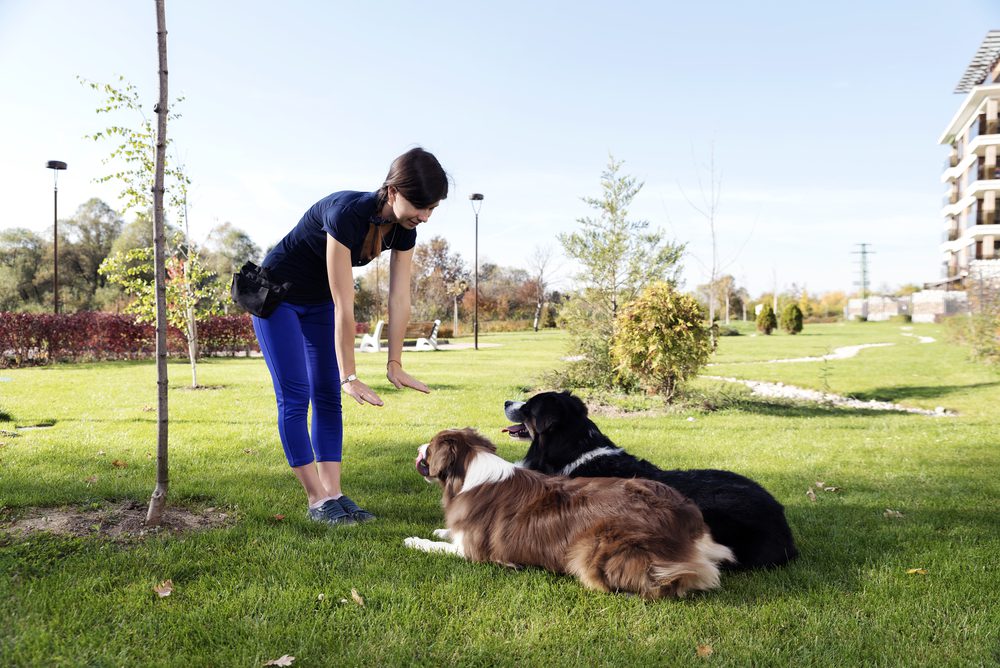 Perks of Online and In-Person Training in Pembroke Pines, FL
To help you make an informed decision about the training format that suits you and your dog best, let's compare the perks of online and in-person training. The table below outlines the benefits that both types of training offer:
| | | |
| --- | --- | --- |
| Perks | Online Training | In-Person Training |
| Cost-Effective | ✓ | ✓ |
| Flexible Schedule | ✓ | x |
| One-on-One Instruction | ✓ | ✓ |
| Personalized Feedback | ✓ | ✓ |
| Socialization | x | ✓ |
| Study at Your Own Pace | ✓ | ✓ |
Whether you prefer the convenience and flexibility of online training or the hands-on guidance and socialization opportunities of in-person sessions, there are options. Regardless, choosing a dog training institute that provides practical training solutions tailored to your dog's specific requirements is critical.
The Best Dog Training in Pembroke Pines, Florida
If you're looking for the best dog trainers in Pembroke Pines, we've compiled a list of top-notch options that offer a mix of in-person and online courses. This diverse selection includes independent trainers and larger training schools, covering a range of training methods and specialties.
Dog Academy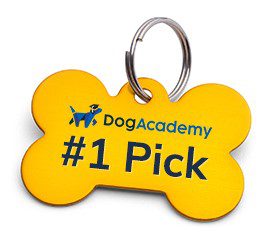 Dog Academy is a standout choice for dog training in Pembroke Pines. They offer a diverse team of professional and experienced trainers to cater to every dog's unique needs. With at least a dozen trainers serving each city, they can provide individualized attention and support to each client.
Whether you opt for their online training programs, which are meticulously developed by AKC-certified trainers, or in-person classes, you can expect top-notch instruction. Dog Academy excels in addressing various problems, including behavioral issues, obedience, and specialized training for psychiatric service dogs and emotional support animals.
Kandi's Professional Dog Training
Kandi's Professional Dog Training is an excellent choice for pet parents seeking in-person sessions. With over 40 years of experience and a Certified Professional Dog Trainer, Kandi brings extensive knowledge and expertise to her training programs. She understands the importance of tailoring the training process to meet the unique needs of each family.
Kandi's approach emphasizes positive reinforcement, ensuring that dogs learn and respond to commands in a happy and motivated manner. Her services cover many areas, including obedience training, problem-solving, non-aggression training towards cats, and even service dog training.
PetSmart
PetSmart is a trusted and renowned pet supply and service retailer known for its extensive range of offerings. They provide both in-person and online dog training classes to cater to the needs of puppy owners and adult dog owners alike.
They offer comprehensive training programs covering a broad spectrum of skill levels and training objectives. This includes specialized training options, private 1-on-1 sessions, and training camps. Additionally, they provide workshops like the StartSmart Training Workshop and Stress Less™ Training to address specific needs and promote a positive training experience.
Suburban K9
Suburban K9 is another famous dog training center in Pembroke Pines that addresses a variety of training needs. This includes customized in-home and virtual training sessions from professional trainers, boot camps, and private video lessons for improving your pup's behavior and obedience.
Their in-home sessions focus on personalized attention and customized homework, while the board and train program provides intensive training in a controlled environment. Virtual training, on the other hand, offers affordable and personalized lessons.
Ben Meyer Dog Training
Ben Meyer Dog Training offers several training options to improve your dog's behavior and strengthen the bond between you and your furry companion. The training approach combines the principles of dog behavior Ben learned from his experience with Cesar Millan with the structure of service dog training.
Ben creates a structured environment that encourages dogs to make the right choices by utilising calm, assertive body language and positive reinforcement techniques. Whether you need help with obedience training or addressing behavioral issues, Ben Meyer Dog Training can help you (and your pet) achieve it.
Find the Right Dog Training for You
Dog training is an essential investment for dog owners in a semiurban locality like Pembroke Pines, where dogs and their handlers face unique challenges. Through proper training, dogs can learn to navigate crowded areas, remain calm in stimulating environments, and interact appropriately with other dogs and people.
This comprehensive guide provides an overview of the best dog training in Pembroke Pines. From Dog Academy, offering both online and in-person training, to Kandi's Professional Dog Training with its personalized approach, to the convenience of PetSmart's classes.
Remember that finding the right dog training center is all about tailoring the training to your dog's specific needs. Consider factors like the type of training offered, the trainer's expertise, training methods, flexibility, and cost-effectiveness.
Take the time to dig deeper! Explore each trainer's website, and don't hesitate to ask questions. Many trainers even offer consultations or trial sessions to help you determine if their approach is the perfect match for you and your pet.
Ultimately, dog training is not just about obedience and behavior—it's about creating a harmonious and joyful relationship between dogs and their owners. With the right trainer by your side, you'll unlock a world of "paws-itive" changes, strengthened bonds, and endless tail wags.