The Best Dog Training in Oxnard, CA
8 minutes
Oxnard is one of California's more quaint cities, located on the coast west of Los Angeles. Its location on the seaside makes it a great place to own a dog if you love adventures on the beach. Furthermore, Oxnard isn't as condensed as larger cities like Los Angeles, which makes it easier to live on a bigger plot of land and take your dog on walks through uncrowded neighborhoods.
That said, living in Oxnard with your dog is a walk in the park until it isn't. Having an untrained dog may lead to your dog chasing people, running into the water, and getting lost. Leash training is also essential if you plan on taking your dog on walks. The last thing you want is for your dog to get loose and run away.
Fortunately, Oxnard has several dog trainers that can help you with all of your dog training needs. Trainers can help your dog behave around dogs, walk on a leash, and even swim. Some specialty trainers help with service dog training and training to track scents.
Still, finding the right dog trainer is easier said than done, especially with a ton of options. To help you narrow down your search we'll provide you with a list of the five best dog trainers in Oxnard, California, below. Check out the chart for a summary of our preferred dog trainers and their services.
| | | | |
| --- | --- | --- | --- |
| Trainer | Price | Training Types | Online / In-Person |
| Dog Academy | $49.99 – $349.99 | Obedience Classes, Psychiatric Service Dog Training, Specialty Classes | Both |
| My Best Friend Obedience | $99-$160 | Basic Obedience, Manners, Service Dogs | Both |
| Got Canine Training | Consultation Based | Puppy Basic Obedience, Adult Dog Basic Obedience Training, Doggy Boot Camp | In-Person |
| Petco | $89-$279 | Basic Puppy Essentials, Puppy Group Classes, Separation Anxiety | Both |
| PetSmart | Varies by Store | Group Sessions, Doggy Daycare, Grooming | Both |
Online vs. In-Person Training
Hundreds of dog trainers are available in California, so it's important to narrow your options down. A great way to start is to determine what type of training you need; the most popular options are in-person and online dog training. Depending on your training needs, budget, and schedule, both are viable options. Still, there are some key differences you need to understand.
The biggest difference is that in-person dog training can occur in your home (in-home training) or at a trainer's location. Some trainers will even have large locations for dog training to encourage socialization between dogs. Many in-person dog trainers also offer services like grooming, boarding, and a combination of boarding and training. In-person dog trainers are also better for service dog training or specialty training like nose work, tracking, and police activities.
On the other hand, online training is effective but for different reasons. What makes online dog training appealing is that it's more affordable and flexible than in-person training. Courses are usually inexpensive when you choose video calls and the scheduling is more flexible because you can train your dog when it's convenient for you. Online dog training has also progressed with innovations in video calling, so it's possible to get training services that are on par in quality with in-person training courses.
All that said, you need to consider the benefits and drawbacks of each type to determine which methods suit you and your dog best.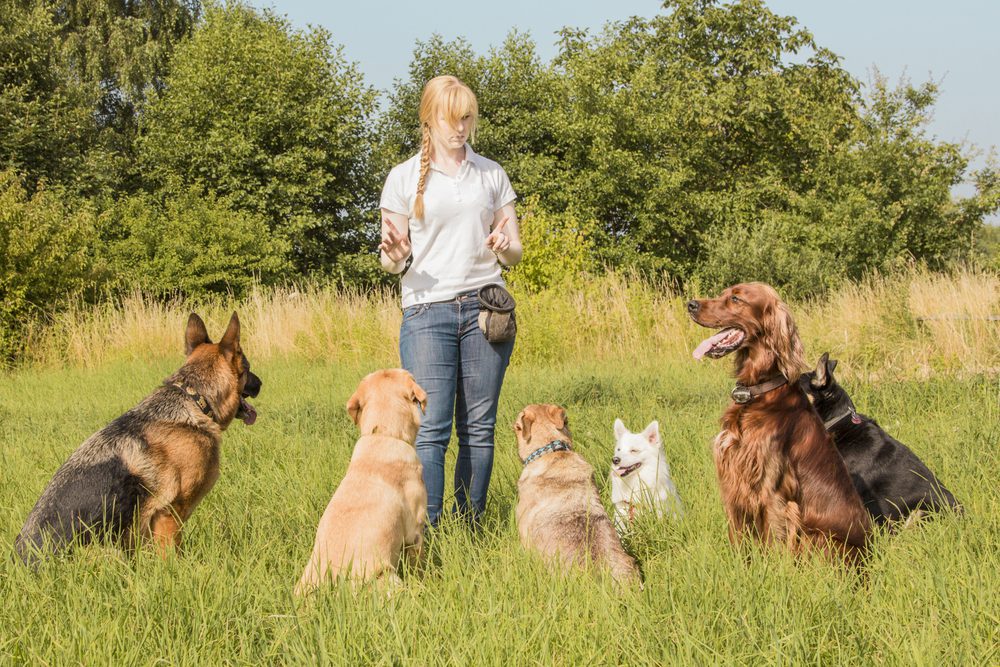 Perks of Online and In-Person Training in Oxnard
Online and In-person dog training offers many of the same perks. However, it's worth noting that there are some key differences. The chart below offers a summary of the perks of online and in-person dog training in Oxnard.
| | | |
| --- | --- | --- |
| | Online Training | In-Person Training |
| Cost Effective | ✓ | X |
| Flexible Schedule | ✓ | X |
| One-on-One Instruction | X | ✓ |
| Study at Your Own Pace | ✓ | X |
| Socializes Your Dog | X | ✓ |
| Boarding and Grooming | X | ✓ |
| Group Classes | X | ✓ |
The Best Dog Training in Oxnard
Hundreds of dog trainers are available in California, especially in areas that are close to Los Angeles like Oxnard. While having a lot of options is great, it makes it challenging to find the best fit, especially when you don't have a lot of time. Thankfully, we're here to help you save time and money with our list of the top five dog trainers in Oxnard, California.
Dog Academy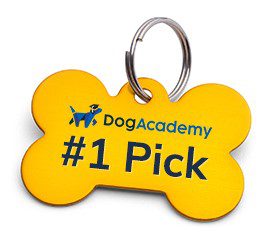 Online or In-Person: Online and In-Person
Types of Training Courses: Obedience Classes, Behavioral Issues, Puppy Training, Psychiatric Service Dog Training, Emotional Support Animal Training, Specialty Classes (e.g. Canine Confidence, Separation Anxiety)
Price Range: $49.99 – $349.99
Link to Website:

Dog Academy Basic Obedience Training Program

Phone Number: 605-223-1971
Dog Academy is one of the best dog training services in the United States. The organization has the resources to provide online classes to every city in the country and in-person classes to most locations. What makes Dog Academy unique is the combination of affordability, quality, and flexibility. Courses are grouped into packages to help you maximize value and many instructors help you learn at your own pace.
The quality of trainers is also second-to-none. Each trainer is a professional and all online trainers have American Kennel Club (AKC) certifications. Therefore, Dog Academy even offers unique classes and programs you can't find from trainers who don't have an AKC-certified trainer. Dog Academy also provides you with extra materials to further increase the value and specialty courses.
My Best Friend Obedience
Online or In-Person: Both
Types of Training Courses: Basic Obedience, Manners, Therapy Dogs, Service Dogs, AKC-CGC, AKC S.T.A.R., Group Classes
Price Range: $99-$160
Link to Website: https://bestfriendobedience.com/
Address: Serves Oxnard and Nearby Areas
Phone Number: 818-996-3647
My Best Friend Obedience has been around for more than 25 years and Karen Taylor, the founder, is picky when it comes to selecting her primary trainers. Taylor and her primary trainers, Michelle and Dani, maintain AKC certifications. Even non-primary trainers have certifications from the Council of Professional Dog Trainers.
Aside from the quality of the trainers, My Best Friend Obedience is also unique because of the training methods. All methods are based on positive reinforcement and maintaining the bond between dog and pet owner. There are also basic courses for dogs of all ages and sizes as well as specialty classes. A great example of specialty training you won't find elsewhere is a class that helps dogs that have trouble staying focused get focused. Classes also prepare dogs for therapy services and emotional support.
Got Canine Training
Online or In-Person: In-Person
Types of Training Courses: Puppy Basic Obedience, Adult Dog Basic Obedience Training, Doggy Boot Camp
Price Range: Consultation Based
Link to Website: http://gotcaninetraining.com/
Address: Serves Ventura County
Phone Number: (805)-766-1276
Got Canine Training focuses on turning dogs into obedient pets that you see in movies and television shows with positive reinforcement. With Got Canine Training you can have a dog that won't leave your hip when you're out for a walk and a dog that behaves well when you have company.
Most training classes are hosted by Leonardo Arcila who has been training dogs for more than eighteen years. The most common training courses available include leash training, obedience training, and behavioral modification for puppies.
Petco Dog Training
Online or In-Person: Both
Types of Training Courses: Puppy Level 1, Basic Puppy Essentials, Puppy Group Classes, Private Lessons, Separation Anxiety
Price Range: $89-$279
Address: 545 W Channel Islands BLVD, Port Hueneme, CA 93041
Phone Number: 805-984-3470
Petco Dog Training is always a safe option. What makes Petco Dog Training safe is that you're working with a large pet supplies company. Therefore, there are some guarantees and clear systems in place to avoid issues with payment or the mistreatment of your dog. Petco also has a big budget for many dog trainers and dog training programs. Trainers have certifications and classes are inexpensive compared to Petco's competition.
Additionally, classes are available online and in-person, which makes Petco more flexible than some other trainers in Oxnard. When you work with Petco you also have options for grooming and pet supplies. Plus, the staff will love your dog, so they'll have fun going shopping with you.
PetSmart Dog Training
Online or In-Person: Both
Types of Training Courses: Private Classes, Group Sessions, Video Calls, Doggy Daycare, Grooming
Price Range: Varies by store
Link to Website: https://stores.petsmart.com/ca/oxnard/-oxnard/dog-training
Address: 2141 North Rose Ave, Oxnard, CA 93036
Phone Number: 805-288-8495
PetSmart Dog Training is another pet supply store that provides dog training services in Oxnard. Like Petco, you don't have to worry about any payment issues or other problems with PetSmart.
Additionally, PetSmart also offers grooming services, pet supplies, and free resources for you to take home. There may even be great deals on group dog training classes depending on your location. The Oxnard location has in-person and online training but training with in-person trainers is more limited, so keep this in mind.
Find the Right Dog Training for You in Oxnard
Pet owners should always consider dog training, especially when they plan on walking the beach, going to a brewery, or hanging out around town. While dog training isn't necessarily for your dog to have a happy life it will keep them safe, calm, and a more pleasant member of society. So, how do you know which dog trainer in Oxnard works for you?
The best way to find the dog trainer that suits your needs is to choose options with a lot of reviews and testimonials like Dog Academy. With a platform like Dog Academy, you become a member of an online community, so you don't have to be alone throughout the training process. Additionally, Dog Academy has all of the courses you could ever need in budget-friendly packages.
That said, there are also some great options in Oxnard for specialty training for therapy dogs, service dogs, and much more.