The Best Dog Training in Orange County, CA
8 minutes
Dog training is an important task for many owners and their pups to be involved in. After all, nothing builds the bonds between you and your dog quite like the process of teaching and learning together. Plus, the end result will have your dog listening to your every command and thriving to the best of their ability.
There are several different types of dog training options available in Orange County that cover topics such as behavioral problems, service dog training, basic obedience classes, and off-leash training. All of these topics can help your dog live the best life possible in the safest way; dogs in Orange County need to learn how to socialize with other dogs, as the area is well-recognized as one of the most dog-friendly areas in California.
With proper off-leash training, obedient behavior, and socialization skills, your dog can join you anywhere in the city and take advantage of the many outdoor recreational opportunities the Orange County community has to offer.
A Quick Look at the Best Dog Training in Orange County
The table below gives you a quick look at our selections for the best dog training options in Orange County. We give more detailed reviews of each option below.
| | | | |
| --- | --- | --- | --- |
| Trainer | Price | Training Types | Online / In-Person |
| Dog Academy | $49.99 – $349.99 | Obedience training, puppy training, service dog training | Both |
| SoCal Dog Training | $85 and up | Puppy training workshops, behavioral issues, aggression | Both |
| Sit Means Sit Dog Training | Varies on course, $259 for basic obedience training | One-on-one training, puppy workshops, therapy dog training | In-Person |
| Bark Busters Home Dog Training | $200 – $900 | Obedience training, puppy training, behavioral issues | In-Person |
| Wags & Wiggles | $20 – $600 and up | Boarding and training programs, basic obedience, specialty classes | Both |
| Dog Evolution | $150 – $3000 | Obedience, off-leash training, behavioral issues | Both |
Online vs. In-Person Dog Training in Orange County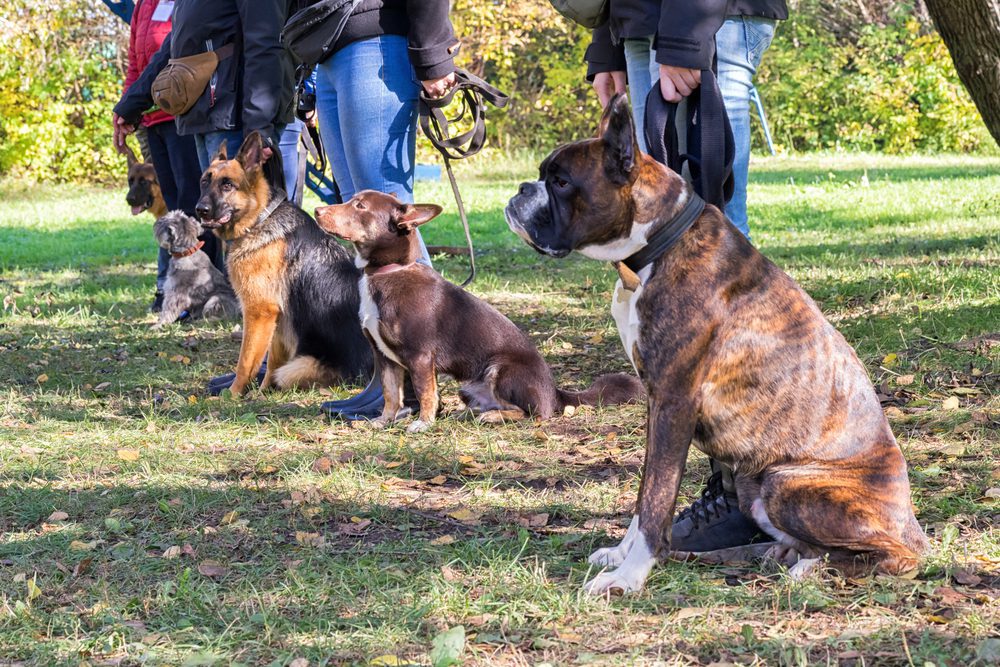 Deciding between online and in-person dog training can be a tough process as there are benefits and drawbacks to each type of training. For instance, online training may be preferred if you need something a little more cost-effective that allows you to study whenever you have free time without giving up specialty training options. On the other hand, in-person training can be preferred if you want to ensure your dog meets lots of other pups to socialize with.
It is important to carefully weigh both options before selecting a training option; this helps you make the most of your dog training choice.
Perks of Online and In-Person Training in Orange County
When it comes to online and in-person training, you may be confused about which option is the best for you and your pup. You can review our table below to get a sense of the pros and cons of each training type and how online or in-person training can fit into your life.
| | | |
| --- | --- | --- |
| | Online Training | In-Person Training |
| Trainer can come to your home | X | ✔️ |
| Flexible scheduling | ✔️ | X |
| One-on-One instruction options | ✔️ | ✔️ |
| Study and teach your dog at your own pace | ✔️ | X |
| Offers dog socialization opportunities | X | ✔️ |
The Best Dog Training in Orange County

Finding the best dog training options in Orange County doesn't need to be the challenge that you might think. Below, we list some of the best online and in-person trainers in the area that you can take advantage of to ensure your dog learns everything they need to thrive and live their best life with you.
1). Dog Academy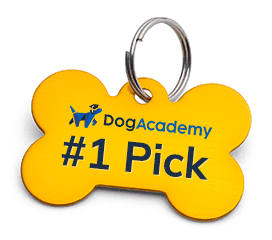 Dog Academy is the perfect choice for dog training if you are looking for a flexible online program that offers plenty of different dog training options, or in-person training with experienced, friendly trainers. Classes at Dog Academy range from basic obedience classes and puppy training courses to more specialized topics such as canine confidence and behavioral issues training.
The trainers at Dog Academy also offer psychiatric service dog (PSD) training and emotional support animal (ESA) training lessons so you can teach your pup valuable skills that help them on their way to becoming a service or support animal.
Plus, Dog Academy is highly affordable and allows you – and your dog – to study in the way that's best with you, with none of the hidden costs and fees that other online courses or even in-person courses may come up with.
2). SoCal Dog Training
SoCal Dog Training offers both virtual and in-person dog training that is highly customized to your dog's specific training needs and goals. The trainers at SoCal take the time to work with you closely to address any behavioral problems your dog has and build their confidence so that obedience commands, off-leash training, and behavioral correction training are followed with ease.
Virtual training starts at $85 for thirty minutes and includes materials to study once your video call or phone consultation is over. In-person training options are always customized to the dog and their owner, and the pricing varies on this; you will need to phone SoCal Dog Training and inquire about their training offerings and your dog's specific situation.
3). Sit Means Sit Dog Training
Sit Means Sit dog training specializes in the in-person training of dogs of any age, size, or behavioral issue. The trainers at Sit Means Sit will come to you and give training lessons at your home or wherever is most comfortable for both you and your dog. Each training program through the company is specifically tailored to your dog's training needs, so costs do vary. However, basic six-week obedience training programs start at around $259 for a course.
4). Bark Busters Home Dog Training
Bark Busters Home Dog Training utilizes a results-oriented training program and focuses on reducing environmental factors that may contribute to your dog's behavioral or training issues, in addition to helping you achieve positive training results. Trainers from Bark Busters will meet with you at your home and focus on evaluating your dog's environment before creating a customized training plan that helps the two of you work toward stated training goals. The training cost varies based on the trainer you work with and your dog's needs, so you will need to call for a quote.
5). Wags & Wiggles
There is nothing that the team at Wags & Wiggles can't train in your dog, and the services that this company offers includes specialty training programs, behavioral issues, and basic obedience and puppy training. Certain obedience and basic training programs are offered online and start in the $20 range; courses can be purchased separately and studied on your own time. Private lessons and group courses may cost more, and there is a boarding and training option that can be quite costly but is an all-inclusive four-week program.
6). Dog Evolution
Dog Evolution offers dog training programs that have been crafted by dog behaviorists and psychologists to help your dog learn and thrive. Basic obedience courses and behavioral issue training are offered in addition to service dog training and valuable off-leash training that allows you to retain utmost command over your dog when out and about. Training classes are offered either in person or in the form of one-hour video calls; dog training packages are available.
Find the Right Dog Training for You
Finding the right dog training option for your pup and lifestyle can seem like an overwhelming task at first. However, with the many online and in-person training options offered in Orange County, you should easily be able to find the perfect training method. As long as you carefully review our selection of the best dog training options, you are sure to find one that perfectly meets all of your needs and allows you and your dog to get started building bonds and learning together right away.