The Best Dog Training in Murfreesboro, TN
6 minutes
Exploring a dynamic city like Mursfreesboro, Tennessee with your dog can offer a rewarding experience to both you and your pet. Instead of leaving your dog behind when you roam Murfreesboro, you can ensure they get the exercise and socialization they need by taking them along.
That said, you might be reluctant to do so if your dog lacks proper training. No worries if so! Dog training options in Murfreesboro are abundant.
Are you looking for dog training in Murfreesboro? Keep reading to learn more. The following overview covers the top options in the city, while also explaining the benefits of both in-person and online dog training.
A Quick Look at the Best Dog Training in Murfreesboro, TN
This table lists the top dog trainers in Murfreesboro.  Further down, we provide more detailed information about each option.
| | | | |
| --- | --- | --- | --- |
| Trainer | Price | Training Types | Online / In-Person |
| Dog Academy | $49.99 – $249.99 | Obedience Classes, Puppy Training, Psychiatric Service Dog Training | Both |
| Wag it Better | $165 – $350; Puppy School $600/month | Aggressive Dog Training, Off Leash Training, Acting & Tricks | Both |
| Sit Means Sit Dog Training | Contact to Schedule Free Evaluation | Obedience, Aggressive Behavior Modification, Submissive Behavior Management | In-Person |
| The Complete K9 | $85 – $900; Board & Train 2-Week Program $2825 (with lifetime support); Aggression/Anxiety Board & Train 2-Week Program $3300 | Aggression & Anxiety Management, Detection & Scent Work, First Aid & CPR | In-Person |
Online Vs. In-Person Training in Murfreesboro
When seeking dog training in Murfreesboro, you have the option to choose in-person training, online training, or both.
Online training offers maximum convenience. As long as you have a reliable internet connection, you can participate in an online dog training session.
In-person training also offers potential advantages. For example, during an in-person session, your dog may be more engaged with the trainer and less prone to distraction.
Neither option is inherently superior to the other. Account for factors such as convenience, location, and your pet's overall disposition to choose the ideal dog training method for you!

Perks of Online and In-Person Training in Murfreesboro
This breakdown could help you better appreciate the advantages of online training and in-person dog training:
| | | |
| --- | --- | --- |
| | Online Training | In-Person Training |
| Training in Your Own Home | ✓ | ✓ |
| Setting Your Own Learning Pace | ✓ | X |
| One-on-One Instruction | ✓ | ✓ |
| Training with Professionals | ✓ | ✓ |
| E.g., Socializing Your Dog | X | ✓ |
The Best Dog Training in Murfreesboro
With so many dog trainers to choose from in a large city like Murfreesboro, finding the right trainer for your dog can seem overwhelming. That doesn't need to be the case!
We've compiled a list of the best dog training Murfreesboro has to offer. Each listing here covers the basic services a trainer offers, their price range, their contact information, and what they do that sets them apart from other trainers in the city.
Dog Academy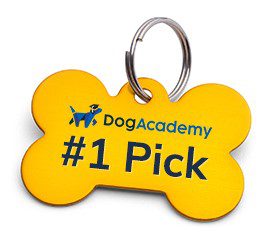 Dog Academy offers access to dog training in most major cities throughout the country. Its training options range from in-person group training to private sessions.
Whether you prefer in-person training courses or online dog training, Dog Academy offers both. We also offer various breed-specific courses, such as courses for German shepherds, goldendoodles, Australian shepherds, and more.
Wag it Better
Wag It Better offers dog training that accounts for the various lifestyles of dog owners. Along with basic obedience and puppy training classes, Wag It Better has you covered no matter how often your dog is on a leash.
Wag It Better offers training for those who need to keep their dogs on leashes as well as those who wish to offer their dogs a moderate degree of freedom while exploring Murfreesboro. Wag It Better also offers options to those who wish to prepare their dogs for off-leash adventures.
Sit Means Sit Dog Training
Sit Means Sit Dog Training offers day training, boarding and training, and hybrid training sessions, in which a trainer establishes a basic foundation for training. After doing so, they step back, supervising a dog owner's interactions with their pet.
Sit Means Sit Dog Training also offers different pricing for each customer because they tailor their services to the unique needs of a given dog.
The Complete K9
The Complete K9's name is very appropriate. As with any reputable dog training service in Murfreesboro, they offer general obedience training. Additionally, The Complete K9 offers various training courses and programs that might be difficult to find elsewhere.
Examples include scent work and detection courses, nutrition courses, and even pet first aid courses for those who want to know how to respond to medical emergencies involving their dogs.
Find the Right Dog Training for You
Considering your specific needs and goals is vital when choosing a dog trainer in Murfreesboro. For example, if you're looking for a trainer who offers a variety of services both in-person and online, we recommend Dog Academy.
Or, maybe you want a trainer who can work on your dog's basic obedience skills while also helping you learn how to provide your dog with first aid if necessary. If these are skills you would learn better in person, the Complete K9 may be the ideal option for you.
Perhaps you're not sure what type of training program your dog needs. Maybe you're seeking a trainer who'll develop a specialized program for you and your dog. Look into Sit Means Sit Dog Training if so.
Again, the main point to take from all this is that dog training options in Murfreesboro are wide-ranging. No matter what your goals may be, if you take the time to weigh the advantages of each trainer listed here, you'll be sure to find the right program for your pet!