The Best Dog Training in Miramar, FL
6 minutes
If you're looking for dog training in Miramar, Florida, you'll quickly find there is no shortage of options to consider.
Many dog training companies in the area offer basic obedience training programs. Depending on the trainer you choose, these programs may consist of in-person classes or virtual online sessions. Some classes involve one-on-one training, while others are group classes.
Various dog trainers throughout the region also offer specialty services. For example, perhaps you want your dog to offer comfort and a sense of security in stressful environments. If so, you may enroll your dog in a training program for emotional support pets. Or, you might choose a trainer who offers classes on K-9 skills if your goal is to train an effective guard dog.
Of course, in Miramar, a densely-populated community near some of Florida's busiest cities, it helps to know your dog is socialized and comfortable among other people (and other pets). You may want to be confident the trainer you opt for will help your dog learn to navigate a busy city without becoming fearful or aggressive.
Keep reading for more information. The following guide will make finding the right dog training in Miramar easy, helping you identify the ideal trainer for you and your furry friend!
A Quick Look at the Best Dog Training in Miramar, FL
Are you not sure where to start when searching for dog training in Miramar or the nearby communities? If so, this table should help you begin sorting through your options:
| | | | |
| --- | --- | --- | --- |
| Trainer | Price | Training Types | Online / In-Person |
| Dog Academy | $49.99 – $249.99 | Obedience Classes, Puppy Training, Psychiatric Service Dog Training | Both |
| Play Train Positive Dog Training | Schedule a Free Consultation | Puppy Kindergarten, Group Classes, Advanced Classes | In-Person |
| G.I K9 | Contact for Pricing | Basic Obedience and Manners Training, Group Training | In-Person |
| Champion Dog Training | Courses Start at $765,  Contact for Details | Basic Obedience, Advanced on Leash Obedience, Advanced Off Leash Obedience | In-Person |
| Bauser's Pet Training | $190 for  Monthly Subscription, Contact for Individualized Pricing | Backyard Agility, Day Training, Board & Train | Both |
Online Vs. In-Person Training in Miramar
In-person instruction may be the traditional method for training a pet. However, online training can also be effective with the right trainer. Depending on your lifestyle, online training may be more convenient than in-person sessions.
Neither option is universally "better" than the other. You have to account for your goals and daily schedule when deciding between in-person training, online training, or both.
[Image: https://www.shutterstock.com/image-photo/charming-yorkshire-terrier-dog-portraits-high-2344563255 alt text: puppy at computer]
Perks of Online and In-Person Training in Miramar
The following table highlights the basic features of online dog training and in-person training:
| | | |
| --- | --- | --- |
| | Online Training | In-Person Training |
| In-Home Training | ✓ | ✓ |
| Learning Pace & Schedule Flexibility | ✓ | x |
| One-on-One Training | ✓ | ✓ |
| Cost-Effective | ✓ | ✓ |
| Socialization | x | ✓ |
The Best Dog Training in Miramar
You want the best for your dog when choosing a company offering dog training in Miramar and the surrounding areas. We've made finding the right service easy by narrowing down the list of local trainers to the following top options:
Dog Academy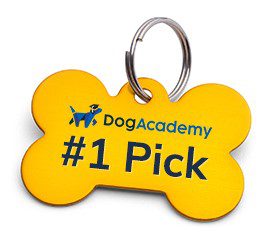 Flexibility is among the top qualities Dog Academy offers. By choosing this training company, you have the option of enrolling your dog in online courses, in-person classes, or both.
Once your dog has learned the basics of obedience, you may also enter them in specialty training courses, such as Emotional Support Animal Training. This helps them develop skills they might not be able to learn from other trainers.
Play Train Positive Dog Training
As the name implies, Play train Positive Dog Training's approach focuses on using play instead of discipline as a means of training a dog. They emphasize a fully positive approach, with no collars or other tools that may cause a dog discomfort.
You might consider this option if you want to be confident a trainer will strive to help your dog have fun during training sessions.
G.I K9
G.I K9 offers basic training services along with certain specialized training programs. For instance, they offer programs for explosive detection and security.
The business also offers training programs to help dogs learn to detect bed bugs. While these programs might not offer much to typical dog owners, they may appeal to those who wish for their dogs to cultivate security skills. They do also offer options for personalized training, as well as group classes.
Champion Dog Training
Champion Dog Training is unique when compared to other dog training in Miramar and the surrounding areas thanks to its focus on K-9 training programs. Along with basic obedience training, Champion Dog Training offers programs for personal protection, patrol dog training, detection training, and search and rescue.
Consider this option if you wish to prepare a dog for a K-9 unit role or you simply want your pet to offer you a degree of security and protection.
Bauser's Pet Training
Bauser's Pet Training is a fairly versatile dog training business offering everything from in-person group obedience training to virtual one-on-one sessions. If you like to spend time outdoors with your dog, you may want to look into the Backyard Agility training program.
Bauser's Pet Training also offers programs to teach dogs tricks, as well as specialty programs tailored to suit the needs of your individual pet.
Find the Right Dog Training for You
One of the best ways to find the right dog training in Miramar (or anywhere else) is to make a list of your specific goals. Naturally, you likely want your dog to develop basic obedience skills. However, you might also wish for your dog to develop specialized skills they can only learn through unique training programs that not all trainers offer.
Accounting for certain practical factors is also essential when looking for a dog trainer in the Miramar area. Although you don't want to settle for an unreliable trainer out of a desire to save money, you also may need to consider your budget when choosing a pet training service.
Additionally, you need to ask yourself whether you have the time to shuttle your dog back and forth to in-person classes, or whether it would be easier to train your dog via online instruction.
Refer back to this guide once you have a clear sense of what specific qualities and options you're looking for in a trainer. By researching the businesses here and considering your dog's needs, you'll be much more likely to select the ideal pet training business for your companion.