The Best Dog Training in Mesquite, TX
7 minutes
Mesquite is a fantastic city for dog owners, offering a wide array of training options to cater to the needs of its furry residents and their owners. Throughout the city, you can find various dog trainers that specialize in different goals, such as obedience training, puppy training, and even protection training.
Each training course serves a unique purpose based on the specific needs of dog owners. For instance, obedience training focuses on teaching dogs essential commands like sit, stay, and leave. On the other hand, protection training is designed to train dogs to offer protection and defend their owners when needed.
The abundance of green spaces and parks in Mesquite makes it an ideal location for dog owners. Many owners in Mesquite find obedience training to be highly beneficial. It enables them to confidently stroll through parks, allowing both themselves and their furry companions to socialize with ease.
In this article, we have compiled a list of the top dog trainers in Mesquite, catering to a wide range of needs.
A Quick Look at the Best Dog Training in Mesquite, TX
Here's a rundown of the best dog trainers in Mesquite based on different factors. Read on to find a detailed review of each option.
| | | | |
| --- | --- | --- | --- |
| Trainer | Price | Training Types | Online/In-Person |
| Dog Academy | $49.99-$349.99 | Obedience Training, Puppy Training, Service Dog Training | Both |
| Dog Training Elite | $45-$12,000 | Obedience Training, Personal Protection Training, Service Dog Training | In-Person |
| PetSmart | $20-$355 | Puppy Training, Trick Training, Therapy Dog Training | Both |
| All Dogs Unleashed | $27-$80 for boarding | Board and Train Program, House Training, Desensitization and Counterconditioning | In-Person |
| Petco | $39-$409 | Dog Socialization, Loose Leash Training, Behavior Training | Both |
| Always Faithful Dog Training of Dallas | $130 | Therapy Dog Training, Obedience Training, House Training | In-Person |
Online Vs. In-Person Training in Mesquite
Mesquite has a range of online and in-person training programs. The choice between these two approaches depends entirely on personal preferences and requirements.
In-person dog training sessions offer the benefit of direct interaction between the trainer and the owner, creating a hands-on learning experience. This is especially advantageous for activities such as agility training.
On the other hand, online training programs provide flexibility that cannot be matched by in-person sessions. They offer cost-effective solutions and the convenience of working at your own pace. However, online training may lack the personalized attention and direct observation that in-person training provides.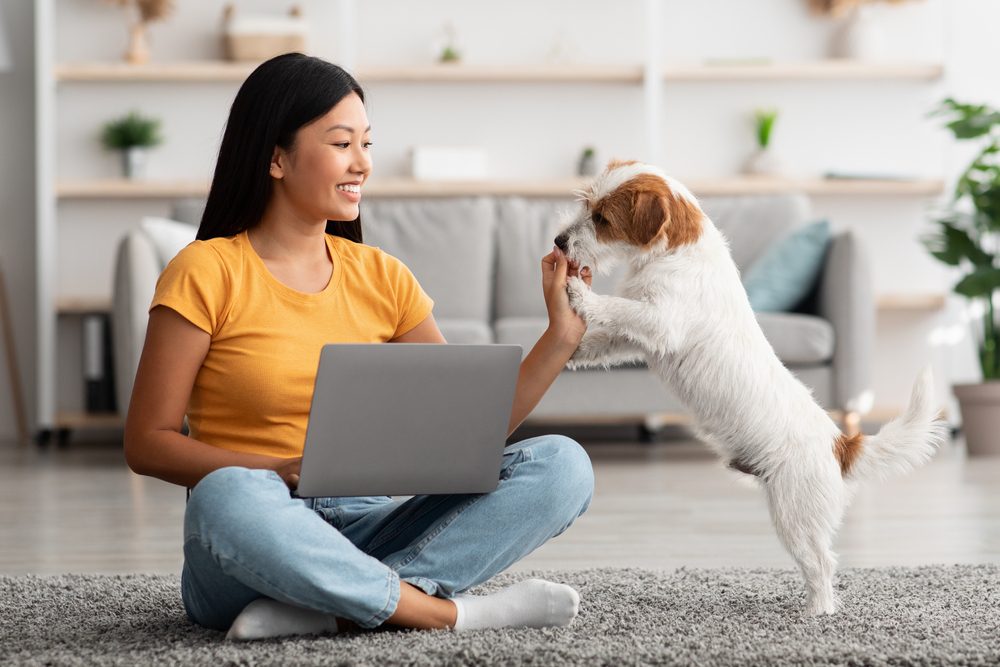 Perks of Online Vs. In-Person Training in Mesquite
Check out our comparison table to get a quick understanding of the pros and cons of online and in-person training.
| | | |
| --- | --- | --- |
| Perks | Online Training | In-Person Training |
| Budget-friendly | ✓ | ✓ |
| Face-to-face interaction | x | ✓ |
| Flexible hours | ✓ | x |
| Dog socialization | x | ✓ |
| Learn at your own pace | ✓ | x |
The Best Dog Training in Mesquite
Whether you want to opt for online training or in-person training, Mesquite has plenty of training options for you. Here is a list of the six best dog trainers to get you started:
Dog Academy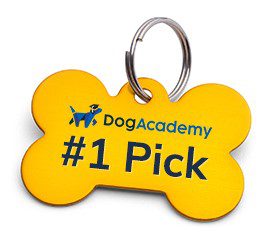 Dog Academy is the go-to dog training company in Mesquite, offering both online and in-person training options. What sets them apart is their friendly approach, not only towards training dogs but also in providing flexibility to dog owners. From basic puppy training to service dog training, you can rest assured that your furry friend will be in safe hands.
Choosing Dog Academy as your dog trainer in Mesquite is a cost-effective and accessible option. They have an extensive network of experienced trainers who offer private one-on-one sessions. Their online sessions have been written by AKC-certified trainers. Additionally, they also offer group sessions for socialization, allowing your dog to interact and learn in a supportive environment.
Dog Training Elite
With over 40 years of experience, Dog Training Elite (DTE) is a well-established, family-owned brand that has earned a reputation for excellence. Their commitment to exceptional customer support sets them apart in the industry. They are known for providing top-notch assistance during training sessions and prioritizing building long-lasting relationships with their clients.
DTE offers continued support and follow-up even after the training is complete.DTE understands that every dog is unique, and as such, they believe in tailoring their training programs to meet the specific needs of each individual dog owner.
Their team of experts is dedicated to ensuring that dogs are trained to follow commands effectively and exhibit desired behaviors. For those interested, DTE even offers the option to book a free demo so you can try out their services before making any commitment.
PetSmart
PetSmart offers a wide range of simplified dog training solutions to cater to both basic and advanced needs. They provide mini classes that cover various aspects of basic puppy training, including potty training and addressing separation anxiety.
PetSmart's comprehensive programs range from beginner to advanced levels, allowing you to choose the right training for your dog's specific requirements.
Whether you prefer online or in-person training, PetSmart has got you covered. They accommodate dog owners with both options to ensure flexibility and convenience. Additionally, PetSmart offers the convenient payment option of AfterPay, allowing you to make interest-free payments in installments.
All Dogs Unleashed
All Dogs Unleashed offers two specialized training programs: "Board and Train" and "In-Home Training." These programs cater to different needs and preferences of dog owners.
For busy dog owners, the Board and Train program is an ideal option. With this program, your dog will receive training in a regulated facility, allowing you the flexibility to go on vacation while your dog is professionally trained in your absence.
Alternatively, the in-home training program focuses on obedience training and behavior modification in the presence of the owner. Private training sessions are scheduled, allowing for personalized attention and guidance. These sessions are spaced two weeks apart, providing you with enough time to practice and reinforce the training with your dog between each session.
Petco
Petco is your ultimate destination for pet supplies and comprehensive dog training services. Their training programs are thoughtfully categorized into four levels, catering to both puppies and adult dogs. Petco's team of trainers follows a positive reinforcement approach to training, emphasizing the rewarding of positive behaviors.
In addition to their exceptional training services, Petco also offers a wide range of top-notch pet training supplies. You can conveniently find all the necessary tools and equipment to support your dog's training journey right in their store.
Always Faithful Dog Training of Dallas
Always Faithful Dog Training is an independent dog trainer. Darrin, the head trainer, follows a distinct "Leadership Training" approach, focusing on establishing the owner's dominance and training the dog to follow their lead. This unique approach has proven to be highly efficient and has earned him a stellar 5-star rating from customers.
Darrin specializes in providing basic obedience training, but what sets him apart is his dedication to going above and beyond to address specific issues that dog owners may face. His commitment to resolving individual challenges sets him apart as a reliable and attentive dog trainer.
Find the Right Dog Training for You
Finding the right dog trainer is essential to ensure your furry friend receives the best training tailored to their specific needs. Luckily, in Mesquite, you're spoiled for choice with an abundance of options, both virtual and in-person. Whether you prefer the convenience of online training or the hands-on approach of in-person sessions, Mesquite has it all.
These talented trainers in Mesquite offer a diverse range of training methods, allowing you to find the perfect fit for you and your dog. Have your pick from our list of top dog trainers in Mesquite and achieve your desired goals.