The Best Dog Training in Memphis, TN
7 minutes
There are many different types of dog training available in Memphis. You can have private in-home training, attend group classes, meet with a trainer one-on-one at a facility, or take virtual classes. Whether your dog needs basic obedience lessons, service dog training, or behavior modification for problem behaviors, you can find it in Memphis.
Because Memphis is such a large city, there's a fair bit to do. Whether you're in the heart of the city or enjoying the Big River Crossing, your experiences can be a lot more fun if you're able to take your dog with you. Working with a trainer will help you teach your dog the manners and obedience necessary for them to tag along with you to all sorts of different activities.
Because the city is so large, there are also many trainers to choose from. Today, we'll share the five training options in Memphis that we think are the best and fit a number of different budgets and training goals. Take a look!
A Quick Look at the Best Dog Training in Memphis
We've put together an overview of the best trainers in Memphis. There will be more in-depth information about these trainers later in the article, so be sure to check that out for any of the trainers you're interested in.
Online Vs. In-Person Training in Memphis
Sometimes, deciding whether to do online or in-person training can be difficult. Online training tends to be cheaper and more convenient than in-person training. Additionally, you can learn at your own pace and don't have to leave home.
On the other hand, in-person training helps you train on a schedule and can sometimes be good for socialization when done in a group setting; however, the group setting can also be more distracting than learning at home.
Both types of training are effective, so it's up to you which you'd prefer to do.
Perks of Online and In-Person Training in Memphis
Not sure if you'd rather do online or in-person training? Here's a quick chart comparing the two.
| | | |
| --- | --- | --- |
| | Online Training | In-Person Training |
| Cost-Effective | ✔️ | X |
| Flexible Schedule | ✔️ | ✔️ |
| Ask Questions | ✔️ | ✔️ |
| Socialize | X | ✔️ |
| Learn at Home | ✔️ | ✔️ |
The Best Dog Training in Memphis
There are a number of dog trainers in Memphis, but many of them use a "balanced" approach, which is just another way of saying they're not against physical punishments. We've gone out of our way to find the best trainers in Memphis who use effective but humane training methods. Here are our top five!
1). Dog Academy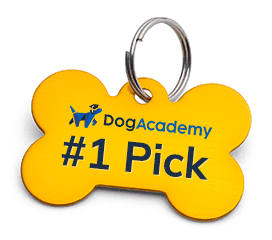 Online or In-Person: Both
Types of Training Courses: Obedience classes, behavioral issues, puppy training, psychiatric service dog training, emotional support animal training, specialty classes (e.g. canine confidence, separation anxiety)
Price Range: $49.99 – $349.99
Link to Website:

Dog Academy Basic Obedience Training Program

Phone Number: (605) 223-1971
Dog Academy offers several online courses to suit a number of different dog training needs, as well as customzied in-person training. Each course has been designed by American Kennel Club-certified trainers with over 25 years of experience in dog training.
Dog Academy teaches positive reinforcement techniques that are fun, effective, and force-free. Even in their online only courses, users can still contact trainers via phone, email, or the contact form to ask any questions they have during the training process. If you opt for in-person, you'll work with one of their dozen trainers who serve every city in the United States, including Memphis!
Dog Academy offers many different courses, including puppy training, basic obedience, psychiatric service dog (PSD) training, training to minimize separation anxiety, and even a course that'll teach your dog the manners they need to join you at your workplace.
2). Pawsitive Companionship
Online or In-Person: Both
Types of Training Courses: Puppy training, obedience, behavior modification (reactivity, dog-to-dog aggression, fear, guarding, digging, etc.), nose work, canine good citizen (CGC) prep
Price Range: $120 – $300 for classes or $100 per hour for private training
Link to Website: https://www.pawscompanion.com/
Phone Number: (901) 481-4145
Pawsitive Companionship focuses on positive reinforcement training that effectively improves a dog's behavior without the use of physical punishment. Head trainer, Ann Marie Easton, is certified fear-free, and Pawsitive Companionship offers a variety of different training opportunities, including private in-home training, group classes, and virtual classes.
Aside from teaching basic manners and skills, Pawsitive Companionship has a few fun courses, such as nose games and sensory exploration. They can also help people prepare for and take the canine good citizen (CGC) test. Finally, Pawsitive Companionship is happy to work with dogs with behavior problems, including dog-to-dog aggression, digging, chewing, reactivity, fear, guarding, barking, and more.
3). Veteran K9 LLC
Online or In-Person: Both
Types of Training Courses: Service dog training, therapy dog training, ESA training, rehab training (aggression, guarding, fear, stress), basic obedience
Price Range: $800 – $2500
Link to Website: https://veterank9.org/
Address: 2881 Kirby Rd, Memphis, TN 38119
Phone Number: (814) 205-0299
Veteran K9 was founded by Josh Newman, a veteran who served two combat tours in Afghanistan. After returning from overseas, Josh needed a service dog and trained his own. He started Veteran K9 because he recognized the need for service and emotional support animals, especially among veterans.
Newman rescues dogs from shelters and trains them to be service, therapy, and emotional support dogs. You can apply to purchase one of these dogs, but Veteran K9 also offers a plethora of "DIY" classes where he helps people train their own dogs to become service or support animals. Though the company strongly focuses on training service, therapy, and emotional support dogs, they can also help with basic obedience and problem behaviors such as fear, anxiety, and resource guarding.
4). Memphis & Shelby County Humane Society
The Memphis and Shelby County Humane Society is a great place for basic manners training because it is affordable, and all training is done using force-free methods. This Humane Society offers a six-week training course that teaches fundamental skills; your dog will learn hand targeting, sit, down, drop it, leave it, go to mat, come, loose leash walking, polite greeting, and even a fun trick. As an owner, you'll learn about how dogs think and learn as well as how to use a clicker or verbal marker in training. You'll even learn a little about a training technique called shaping.
5). The Pet Hospitals
"The Pet Hospitals" may sound like the name of a vet's office and that's because it is! However, they work with two trainers, Amy Lear and Tracey Cain, to offer dog training to their clients. Both Lear and Cain are force-free trainers who use positive reinforcement techniques.
The Pet Hospitals offers obedience training, behavior modification, and therapy dog training. They can also help with problem behaviors such as aggression, barking, leash pulling, jumping, biting, refusing to come when called, and more. Training can be done in-home, but The Pet Hospitals also offers drop-off training sessions as well as monthly group training sessions at all of their locations.
Find the Right Dog Training for You
Sometimes, the more options one has, the harder it is to make a decision. When it comes to dog training, you'll first want to decide if you're okay with traveling or not. If you aren't, then online or in-home training may be for you. Dog Academy is a great option for virtual training (as well as in-person options), and Pawsitive Companionship is wonderful if you'd like a trainer to work with you at home.
You'll also want to consider what training you want for your pup. For example, are you looking for basic manners, behavior modification, or something more complex, such as service dog training?
The Memphis Human Society is an affordable option for basic manners, and you'll be helping a good cause! For modifying problem behaviors, The Pet Hospitals or Pawsitive Companionship are quite capable. If you want to train a service dog, check out Veteran K9 or Dog Academy.
Regardless of which trainer you choose, we hope you'll be able to transform your pup into an even "good-er" boy or girl. Good luck!