The Best Dog Training in Louisville, KY
8 minutes
Like any big city, Louisville, KY has a lot to offer in terms of dog training. You can find basic obedience classes to teach your dog important behaviors such as coming when called, walking well on a leash, and being generally well-mannered.
There is also training available for dogs with problematic behaviors such as aggression, separation anxiety, lunging, excessive barking, and jumping — if your dog has an issue, there's training in Louisville that can help. If you're interested in participating in dog sports or having a dog for protection, you can also find such trainers in Lousiville.
Being such a large city, Louisville includes both urban and suburban landscapes. Having a dog that will pay attention to you in any setting is incredibly important for both safety and convenience. If you want to walk around downtown, it's important that your dog can ignore other people so that you can easily pass them without any pulling on the leash.
If you're interested in bite work, having a dog that can protect you will provide peace of mind no matter where you live as, unfortunately, there is crime everywhere. Whatever type of dog training you're looking for, you can likely find it in Louisville. We'll help you by sharing the best trainers the city has to offer.
A Quick Look at the Best Dog Training in Louisville
We've put together an overview of the best trainers in Louisville. There will be more in-depth information about these trainers later on in the article, so be sure to check that out for any of the trainers you're interested in.
| | | | |
| --- | --- | --- | --- |
| Trainer | Price | Training Types | Online / In-Person |
| Dog Academy | $49.99 – $349.99 | Obedience Training, Puppy Training, Service Dog Training | Both |
| Doggonit | $300 for 5 one-hour lessons | Obedience, Behavior Modification, Service Dog Training | In-person |
| Bark Busters | Contact for details | Obedience, Behavior Therapy, Puppy Training | Both |
| Kilo 9iner Dog Club | $450 for the first 3 months, $150 per month after, Free obedience training after one year. | Obedience, Protection, Tracking | In-person |
| The Life of Riley | $59-$689 | Obedience, Canine Fitness and Conditioning, Puppy Socialization | Both |
| Agility Cues for You | $85 – $100 for four weeks of class (1 class per week, 1 hour long) | Obedience, Agility, Rat Hunt/Scent Work | In-person |
Online vs. In-Person Training in Louisville
Online training tends to be cheaper and more convenient than in-person training. You can learn at your own pace, and you don't have to leave home. On the other hand, in-person training helps you train on a schedule and can sometimes be good for socialization when done in a group setting; however, the group setting can also be more distracting than learning at home. Both types of training are effective, so it's up to you which you'd prefer to do.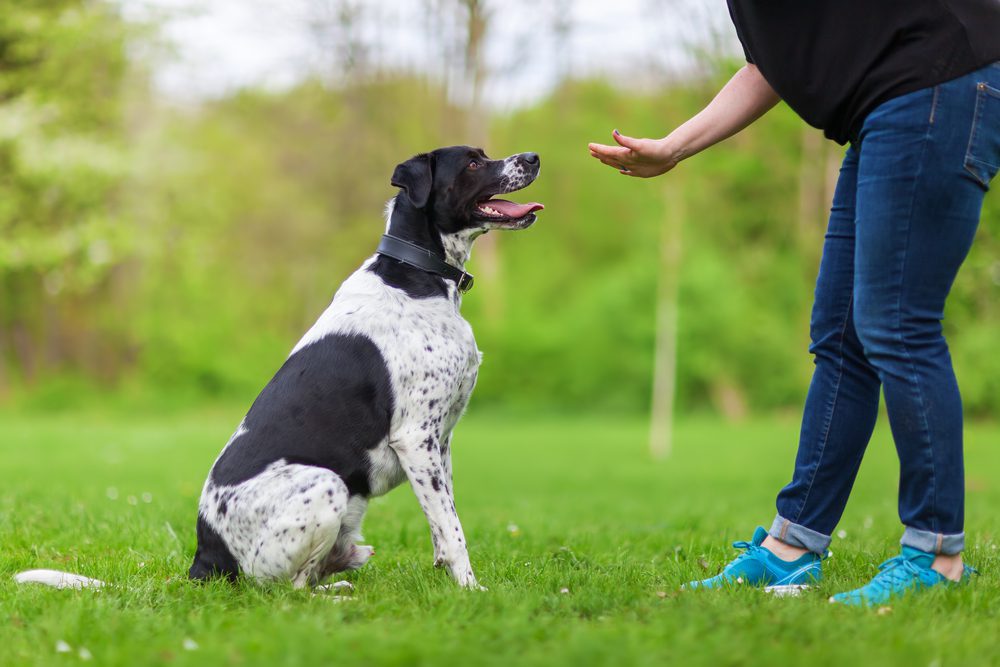 Perks of Online and In-Person Training in Louisville
Not sure which to choose? This chart outlines the perks of online and in-person training.
| | | |
| --- | --- | --- |
| | Online Training | In-Person Training |
| Cost-Effective | ✔️ | X |
| Trainer Can Come to Your Home | X | ✔️ |
| Ask Questions | ✔️ | ✔️ |
| Study at Your Own Pace | ✔️ | X |
| Socialize Your Dog | X | ✔️ |
The Best Dog Training in Louisville
Finding a trainer can be difficult especially when there are so many options. Therefore, we've rounded up the best trainers in Louisville to make your search a little easier.
1). Dog Academy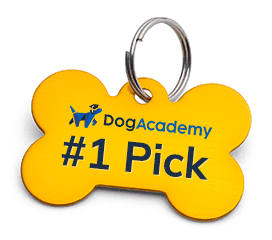 Dog Academy offers a number of online courses to suit a number of different dog training needs. Each course has been designed by American Kennel Club certified trainers who have over 25 years of experience in dog training. They also offer in-person training by experienced trainers, including both private training and group lessons that allow you to socialize your pup. Dog Academy teaches positive reinforcement techniques that are fun, effective, and force-free. Even when you study online, users can still contact trainers via phone, email, or the contact form to ask any questions they have during the training process – so you're never alone. And their in-person training is some of the most effective on the market, while still being cost-effective.
2). Doggonit Dog Training
Doggonit Dog Training believes in positive reinforcement techniques and trains dogs using methods such as classical conditioning, operant conditioning, shaping, and mood shaping. The trainer will come to your home, so there is no need to travel, and the price for five lessons is affordable compared to other such services. Doggonit offers a plethora of different training options whether you need help with basic obedience or your dog has a more serious issue. Behavioral issues that can be addressed include but are not limited to aggression (both toward other dogs and people), resource guarding, and separation anxiety. Doggonit can even help you train therapy and service dogs.
3). Bark Busters
Bark Busters offers online and in-home training and can work with your schedule. They do not use force or punishment to train dogs and focus on teaching dog owners how to communicate with their pets. Rather than just telling owners what to do, they explain the why behind each technique. Bark Busters can help with a plethora of training needs, whether it be basic obedience or something more severe like aggression, separation anxiety, barking, marking, pulling, destructive behaviors, and more.
4). Kilo 9iner Dog Club
Kilo 9iner believes in what they call "natural positive reinforcement techniques." This means they use verbal and physical praise rather than treats. They feel that in any given situation, you won't always have treats on you, so your dog should be able to listen without them. Their obedience training is taught as a group class and offers much more than just obedience: they also go over crate and potty training, nutrition, CPR and first aid for dogs, grooming, urban agility exercises, and more. Kilo 9iner is also experienced with bite work and can help you safely teach your dog how to protect you without instilling aggression or other negative habits into the dog.
5). The Life of Riley
The Life of Riley (TLOR) dog training believes in training that is fun for both dog and handler and does not involve punishment, fear, or force. The founder of TLOR, Wendy Taylor, is a certified dog trainer through the Victoria Stillwell Academy. She also has credentials as a  Certified Behavior Consultant for Canines (CBCC-KA), Certified Professional Dog Trainer (CPDT-KA), Certified Fear Free Professional (Trainer), Certified Canine Fitness Trainer (CCFT), and Family Dog Mediator (FDM). The Life of Riley is able to help with basic obedience and socialization as well as a number of behavioral problems such as growling, jumping, lunging, resource aggression, excessive barking, and more.
6). Agility Cues for You
If you are interested in dog sports, scent work, or trick training, then Agility Cues for You is the perfect option. They teach obedience, agility, rat hunt and scent work, rally, conformation, and tricks. They also use a positive approach that combines learning with play. Agility Cues for You offers both private and group lessons. Occasionally, they even host hide and seek trials as well as agility trials that you can compete in with your dog.
Find the Right Dog Training for You
With so many options, it can be hard to choose the right dog trainer for you. It's important to think about what you value the most. If you're interested in obedience training, then any of the options in our article would be suitable. However, if you'd like a protection dog or want to do dog sports, check out Kilo 9iner or Agility Cues for You. For service and therapy dog training, try Doggonit Dog Training.
You also need to think about transportation: do you want training to happen in your home, or are you willing to travel? For in-home training, you can take Dog Academy's online courses or check out Bark Busters and Doggonit. Once you decide what type of training you're looking for as well as where you'd like to have the training take place, it's much easier to narrow down your options and choose the perfect trainer for your needs.