The Best Dog Training in Los Angeles, CA
7 minutes
There are many different types of dog training available in Los Angeles, such as training for puppies, tricks, agility and sports, basic obedience, and even training that addresses problem behaviors. Puppy training, basic obedience, and trick training are all great for owners looking to have better-behaved dogs.
Agility or other sports training is great for anyone who wants to have fun with their dogs and is especially good for owners of high-energy breeds. Finally, if your dog suffers from aggression, separation anxiety, or displays undesirable behaviors such as excessive barking, nipping, jumping, etc., you'll benefit a lot from training for these problems.
Los Angeles is a big city with an equally large population. Whether you live in the suburbs, near the beach, or amidst tall buildings, it's important for your dog to be well-behaved and good with people.
You'll want your dog to be able to safely walk along the boardwalk without constantly jumping at other people or dogs. The same is true if you live in the city. Today, we'll share with you the best trainers in LA who can help you achieve your dog training goals.
A Quick Look at the Best Dog Training in Los Angeles
Here, we have provided a quick summary of the best dog training in Los Angeles. We will have a full review of each trainer later in our article, so be sure to check those out for any trainers you're interested in.
| | | | |
| --- | --- | --- | --- |
| Trainer | Price | Training Types | Online / In-Person |
| Dog Academy | $49.99 – $349.99 | Obedience Training, Puppy Training, Service Dog Training | Both |
| Zoom Room | $55 – $579 | Obedience, Agility, Therapy dog training, Tricks | Both |
| Tully's Training | Contact for details | Courses Are Designed Individually | Both |
| Fun Paw Care | Contact for details | Boot Camps, Service Dog Training, Behavioral Issues | In-person (Boarding) |
| Bark Busters | Contact for details | Obedience, Behavioral Problems, Group Classes | Both |
| Dog Gone Problems | Contact for details | Obedience Training, Behavioral Problems | In-person |
| iWorkDogs | $4,200 – $7,800 | Obedience, Behavioral Problems, Puppy Training | In-person (Boarding) |
Online vs. In-Person Training in Los Angeles
Both online and in-person training are viable ways to teach your dog to be a well-mannered member of the family. Online training tends to be much more affordable and convenient than in-person training but cannot provide a group environment. Though this means you'll have to take your dog out for socialization, you won't have to worry about your dog being distracted when you're trying to teach a new skill.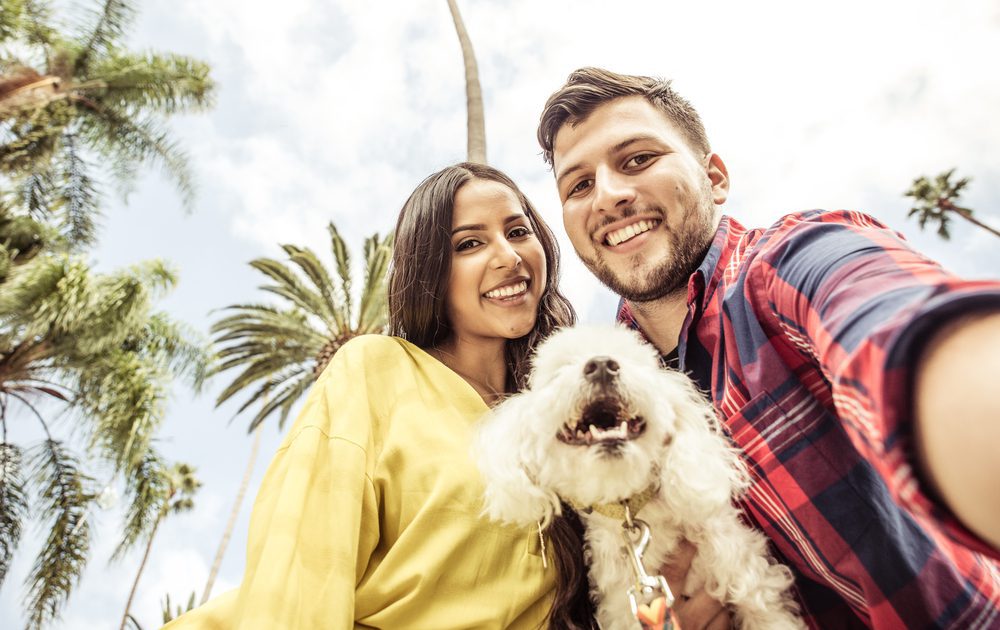 Perks of Online and In-Person Training in Los Angeles
Sometimes, it can be difficult to choose between online and in-person training. Here's a quick chart showing the perks of both!
| | | |
| --- | --- | --- |
| | Online Training | In-Person Training |
| Trainer Can Come to Your Home | X | ✔️ |
| Flexible Schedule | ✔️ | ✔️ |
| Can Train from Anywhere | ✔️ | ✔️ |
| Ask Questions | ✔️ | X |
| Study at Your Own Pace | ✔️ | X |
| Socialize Your Dog | X | ✔️ |
The Best Dog Training in Los Angeles
Since LA is a rather large city, there are a plethora of trainers to choose from. It can take a lot of time to research them all. Luckily, we've done that for you. Here are our top seven choices for dog training in Los Angeles!
1.) Dog Academy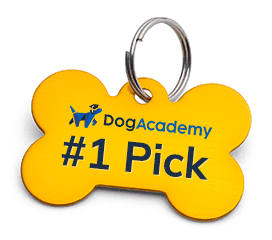 Dog Academy offers a number of online courses to suit a number of different dog training needs, as well as in-person training in Los Angeles. Each course has been designed by American Kennel Club certified trainers who have over 25 years of experience in dog training. Dog Academy teaches positive reinforcement techniques that are fun, effective, and force-free. Even if you choose online courses, you can still contact trainers via phone, email, or the contact form to ask any questions they have during the training process, so no matter what, you get personalized, 24/7 support.
2.) Zoom Room
Whether you're just trying to get your dog to come when called or you'd like to participate in canine sports such as agility, or flyball, Zoom Room can help. The trainers at Zoom Room use only positive reinforcement techniques and require you to be involved with every step of your dog's training. Not only do they teach basic skills, but they can also help your dog learn to relax during nail trims and other types of grooming. Aside from training courses, Zoom Room hosts playgroups to help dogs socialize and burn off some energy.
3.)Tully's Training
Tully's Training has been featured on Nat Geo Wild, Inspire Health Magazine, and Autostraddle.com. They offer in-home training, online training, and dog training classes at Healthy Spot locations in Southern California. Training sessions are catered to your lifestyle and your dog's specific needs. Tully's Training uses positive reinforcement techniques that are scientifically proven to be effective.
4.) Fun Paw Care
Fun Paw Care has been featured on the New York Times, NBC, CBS, Wall Street Journal, USA Today, and Business Insider. The founder, Russel Hartstein, once worked alongside Jane Goodall and has certifications in dog behavior, training, and applied behavior analysis. Fun Paw Care uses only positive reinforcement and offers many training options such as service and therapy dog training, boarding and training, and week-long boot camps. They can also help train dogs with problematic behaviors such as aggression, separation anxiety, potty accidents, and excessive barking.
5.) Bark Busters
Bark Busters offers online and in-home training and can work with your schedule. They do not use force or punishment to train dogs but also do not want their clients to have to rely on bribing dogs with treats. Instead, they teach clients how to communicate with and understand their dogs better. Bark Busters can help with a variety of training needs, whether it be basic obedience or something more severe like aggression or separation anxiety.
6.) Dog Gone Problems
Dog Gone Problems uses a force-free approach to training that motivates dogs to behave via the use of rewards. They understand dog behavior and help clients do the same so that they can more effectively communicate with their pets. Dog Gone Problems claims that clients will see unwanted behaviors stop within just one session for dogs that do not have aggression or fear-based issues. Not only can they help with minor issues like barking, chewing, jumping, or pulling, but they can also handle aggression and separation anxiety. Training sessions occur in your own home, so you don't have to travel.
7.) iWorkDogs
iWorkDogs uses positive reinforcement techniques to train dogs. Their approach focuses on rewarding dogs via treats or play. They can teach basic obedience as well as address problems like aggression, separation anxiety, nipping, chewing, digging, jumping, pulling, barking, and other undesirable behaviors. iWorkDogs exclusively offers board-and-train programs, but you can request a private lesson after your dog has been through the board-and-train program if you feel you need more help.
Find the Right Dog Training for You
With so many options, it can be challenging to choose the right dog trainer for you and your pet. You can narrow things down by deciding where you'd like the training to take place and how involved you'd like to be. If you don't have the time to put the effort in yourself, boarding through iWorkDogs or Fun Paw Care is a great option. If you don't want to travel, pick a trainer like Tully's Training that will come to your home or take an online class like those offered by Dog Academy.
Pair your preferences with what type of training your dog needs. Does your dog have behavioral issues, or are you just looking for some basic obedience classes? Knowing exactly what you're looking for can help you narrow down your options and choose the best trainer for you.