The Best Dog Training in Knoxville, TN
7 minutes
Dog training is an essential part of owning a dog and ensuring that your pup is happy, healthy, and disciplined. Not only can consistent dog training stimulate your dog's mind, but it also helps to make sure that your dog has the proper manners and socialization to excel in all manner of settings. You can also build on basic obedience skills to train more advanced tasks in your dog, such as service dog training.
Knoxville has plenty of different training options that you can choose from for your dog. However, we know that choosing the best training option can be overwhelming, which is why our article is here to help you determine which training option fits your needs. Below, we give you an overview of the best online and in-person training options available in Knoxville so you can make the best decision about your dog's training.
A Quick Look at the Best Dog Training in Knoxville
Our table below gives you a quick look at our selections for the best dog training in Knoxville. We go into more detail about each training option later on.
| | | | |
| --- | --- | --- | --- |
| Trainer | Price | Training Types | Online / In-Person |
| Dog Academy | $49.99 – $349.99 | Obedience Training, Puppy Training, Service Dog Training | In-person, online |
| The Dog Wizard | Variable price based on training needs | Behavioral Issues, Board and Train Programs, Group Training | In-person |
| Off Leash K9 Training | $400 – $3,700 | Obedience Classes, Behavioral Issues, Service Dog Training | In-person |
| Ears-Up K9 | $75 – $4,800 | Obedience Classes, Board and Train Programs, Behavioral Issues | In-person, online |
| PetSafe Village Dog Training | $65 – $3,200 | Obedience Classes, Board and Train Programs, Puppy Training | In-Person |
| The Spot 4 Dogs | $75 – $3,300 | Obedience Classes, Board and Train Programs, Private Lessons | In-Person |
Online Vs. In-Person Dog Training in Knoxville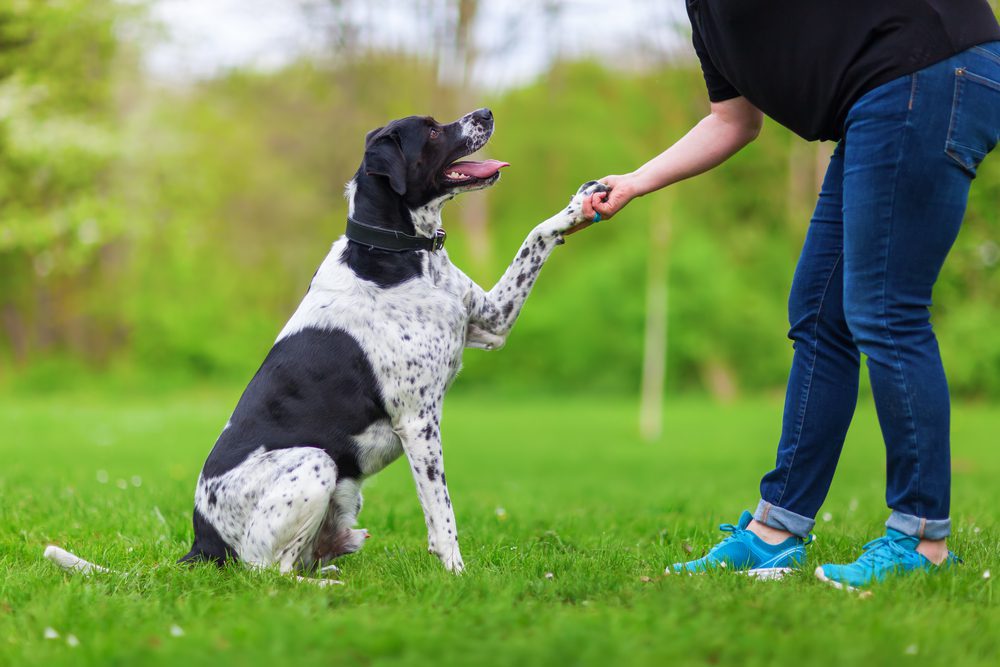 When it comes to choosing between in-person and online dog training, you may be confused about which option is best. Both of these training types have their own pros and cons, and it's important to keep in mind your lifestyle and your dog's training needs as you decide.
For example, online training is often preferred if you want to work along your own schedule and you are interested in finding something more cost-effective overall. Alternatively, in-person training is a good idea for puppies that need socialization, dogs that have behavioral issues, or if you want to meet up with other dog trainers and dog lovers in person.
Occasionally, consultations are required for both in-person and online training so the trainer can get a sense of your dog's training needs and develop a more effective training plan for you and your pup to follow.
Perks of Online and In-Person Training in Knoxville
The following chart of pros and cons gives you a better sense of online versus in-person training options in Knoxville. You can use the chart to determine which training format might offer you the best benefits and fits the most seamlessly into your lifestyle.
| | | |
| --- | --- | --- |
| | Online Training | In-Person Training |
| Cost-effective courses | ✓ | X |
| Specialty dog training options such as behavioral issues or service dog training | ✓ | ✓ |
| Flexible scheduling | ✓ | X |
| One-on-one instruction options | X | ✓ |
| Study and teach your dog at your own pace | ✓ | X |
| Offers dog socialization opportunities | X | ✓ |
The Best Dog Training in Knoxville
Knoxville has many different online and in-person dog training options for you to choose from. Review our selections for the best dog training programs in the area below to discover one that perfectly matches both you and your dog's training needs.
Dog Academy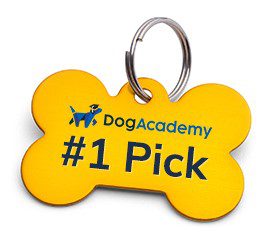 Online or in-person, and always cost-effective, Dog Academy basic obedience course is the perfect way to start teaching your dog basic obedience skills, whether they are a puppy or an older dog.
Many of the courses in the Dog Academy course are offered online, something that gives you amazing flexibility when it comes to working on new skills with your dog at a pace that fits the both of you. You can also have a personal, in-person plan customized for you by one of their trainers, if you're looking for something more tailored.
Dog Academy also offers specialty classes for you to choose from, such as Canine Confidence and behavioral issue modifications, that can benefit your dog with more advanced training needs.
The Dog Wizard
The Dog Wizard is one of the highest-rated dog training companies in Knoxville, and it's easy to see why. Several different training courses are offered by The Dog Wizard, with options ranging from basic puppy training to obedience classes for adults and group training classes.
Board and training programs are also available for your pup, and prices are calculated based on your dog's general temperament, attitude toward training, and your training needs.
Off Leash K-9 Training
Off Leash K-9 Training is another highly rated dog training option that offers a variety of courses for Knoxville dog owners. Both basic and advanced obedience courses are offered, and Off Leash also provides separate options for boarding and training or puppy training.
Specialized courses at this company include behavioral issue training and service dog training courses.
Ears-Up K9
Ears-Up K9 works to provide your pup with the dedicated, consistent training they need to succeed in daily life. All ages and sizes of dogs are accepted into training, and the company specializes in a variety of boarding and training programs for your dog.
Private lessons are offered, as are online video classes. Prices for video classes start at $75 per session, while higher costs are associated with extended boarding and training programs.
PetSafe Village Dog Training
Dog training options at PetSafe Village Dog Training are centered around basic obedience skills and adult dog manners. Both puppies and older dogs can benefit from the training courses offered, and boarding and training programs of various lengths are available.
Private lessons are offered by PetSafe Village Dog Training, and you can take these lessons either at the facility or in your home.
The Spot 4 Dogs
The Spot 4 Dogs is a great place for your puppy or adult dog to learn all of the basic obedience skills that will serve them in life and help them to maintain a confident outlook. Courses at The Spot 4 Dogs are generally offered in packages of ten to fifteen days, though you can pay for private dog training separately by the half hour.
Additionally, you can receive a free consultation about your dog's training needs and goals before you make an investment into any of this company's dog training programs.
Find the Right Dog Training for You
Deciding which type of dog training program to go with, whether or not to use online dog training, and evaluating your dog's exact training needs can be an overwhelming process, especially when you consider the many different options available in Knoxville. Fortunately, you can use our article to help you get started with finding the best dog training option for both you and your pup.
Make sure you keep in mind the type of training you want to teach your dog, any behavioral issues or special tasks your dog might need extra training assistance with, and how much time you have to dedicate to dog training. Choose online or in-person courses based on what fits best with your lifestyle and schedule, and remember to remain patient as you work with your dog to transform them into a well-behaved, happy, and confident companion.