The Best Dog Training in Joliet, IL
8 minutes
Joliet is near many parks, dog parks, walking trails, and the like. There are even some dog-friendly breweries within driving distance. Though many trails and parks will require your dog to be on a leash, there are still loads of people and other dogs around, so it would be tough to enjoy these locations if your dog is reactive toward other people or dogs.
Similarly, when you're ready to head home from the dog park, you don't want to have to chase your dog down. It'd be better if you're easily able to call your dog away from her playmates.
Having a well-trained dog will allow you to enjoy both daily life and outings with your furbaby.  Luckily, there are many fantastic dog trainers in the Joliet area who can help. In this article, we'll share the best trainers in Joliet as well as provide some information about online training so that you can make a well-informed decision about what type of training is best for you.
A Quick Look at the Best Dog Training in Joliet, IL
Here's a quick overview of the best trainers in Joliet. We'll be providing in-depth information on each training option later in the article, so be sure to keep reading.
| | | | |
| --- | --- | --- | --- |
| Trainer | Price | Training Types | Online / In-Person |
| Dog Academy | $49.99 – $349.99 | Puppy Training, Psychiatric Service Dog Training, Specialty Classes | Both |
| Lucky Dog Academy | $130 – $155 for Group Classes (4-6 Lessons); $90/hour for Private Reactive Dog Training | Agility, Canine Good Citizen, Therapy Dog | In-Person |
| Stone City Kennel Club | Group Classes (6 weeks):  $60 – $84 for Members; $120.00 for Non-Members, Private Lessons: $30 – $60/hour for Members, $40 – $80/hour for Non-Members | Agility, Conformation, Nose Work | In-Person |
| Bark Busters | Contact for Details | Aggression, Behavior Modification,  Separation Anxiety | In-Person |
| Muttz Gym | Contact for Details | AKC Canine Good Citizen, Agility, Canine Fitness | In-Person |
Online Vs. In-Person Training in Joliet, IL
There has long been a myth that online training isn't effective, but this is simply not true. The reality is that online training may require more independence on your part, but it can be just as effective as in-person training. In fact, neither is better than the other; it's a matter of preference as each has its pros and cons.
Online training tends to be the most affordable. It is also very convenient as it can be done from anywhere with an internet connection. Furthermore, many online training courses are yours to keep forever.
In-person training is a great choice for those who struggle with technology or who just prefer face-to-face interactions and learn better with in-person demonstrations. Oftentimes, in-person training provides distractions and socialization for your dog, especially if you're attending a group class.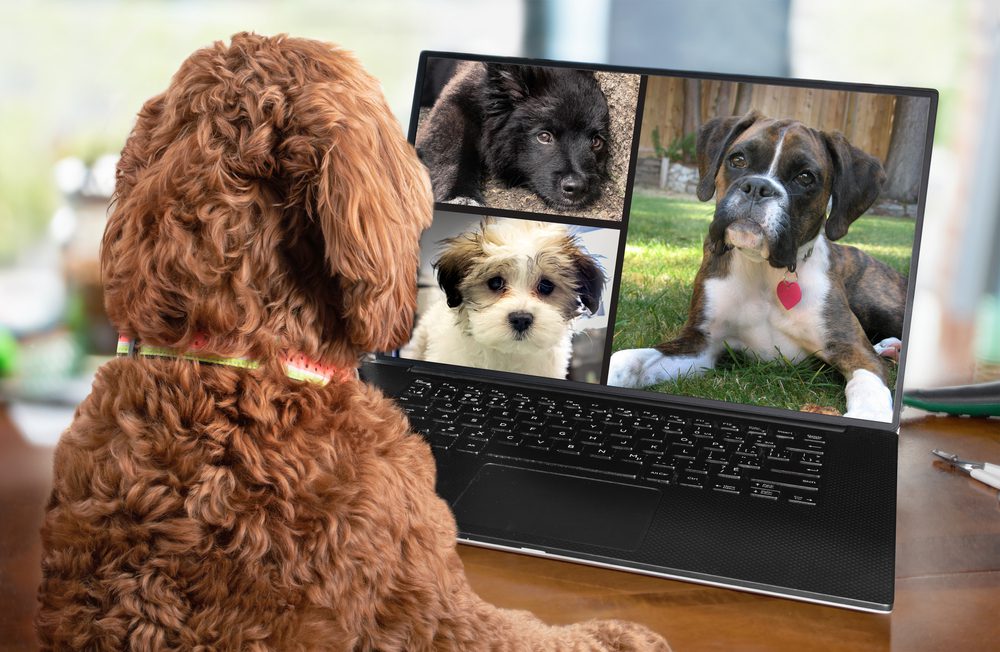 Perks of Online and In-Person Training in Joliet, IL
Here's a quick chart outlining the perks of online vs in-person training.
| | | |
| --- | --- | --- |
| | Online Training | In-Person Training |
| Train with Professionals | ✓ | ✓ |
| Learn from Home | ✓ | ✓ |
| One-on-One Instruction | ✓ | ✓ |
| Study at Your Own Pace | ✓ | X |
| Socializes Your Dog | X | ✓ |
The Best Dog Training in Joliet, IL
Researching dog trainers can be a lot of work. That's why we've compiled a list of the best dog trainers in the Joliet area. We've included pertinent information such as what types of training they offer, their contact details, and pricing information. Check it out!
Dog Academy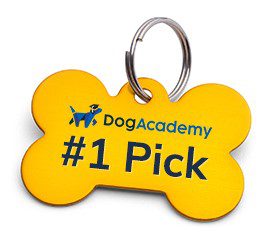 Whether you're interested in online or in-person dog training, Dog Academy has your back. Dog Academy offers group classes, private training, and online courses. We have a dozen experienced dog trainers servicing every city in the United States, including Joliet!
If in-person training isn't your thing, check out Dog Academy's impressive catalog of online courses. You can find puppy training, basic obedience, psychiatric service dog training, emotional support dog training, leash manners, trick training, crate training, and more classes on Dog Academy's website. There are even courses addressing problem behaviors, including barking and reactivity.
If you'd like to learn a skill such as how to groom your dog at home or administer life-saving canine CPR, Dog Academy can help with this, too! All of our online classes are designed by American Kennel Club-certified trainers with over 25 years of experience. If you need to get in touch with a trainer, you can do so via phone, email, or the contact form on Dog Academy's website.
Lucky Dog Academy
Lucky Dog Academy focuses on providing group dog training classes for a plethora of different training needs; they also offer private sessions and in-home training.
Classes available include AKC S.T.A.R. puppy, pre-sport puppy, obedience (beginner, intermediate, and advanced), and AKC Good Citizen, therapy dog. They also offer classes for agility, tricks, rally obedience, nose work, reactive dog, shy/fearful dog, leash walking, door manners, and sports prep.
As you can see, there's a class for just about everyone! The best part is, Lucky Dog Academy is dedicated to force-free training.
Stone City Kennel Club
Stone City Kennel Club offers group classes and drop-in classes for those who are interested in dog sports and competitions as well as for those who have a family dog in need of training. Private lessons are also an option.
Available classes include AKC S.T.A.R. puppy, puppy manners, family dog, obedience, AKC Canine Good Citizen, competition, agility, conformation, nose work, and rally. Class offerings can change, and sometimes other courses such as barn hunt are also offered.
To match the many course offerings, there are also many trainers working at Stone City Kennel Club. Many of these trainers have expressed their preference for positive reinforcement techniques that do not use aversives. In fact, you will find that some of the classes offered use the clicker training technique.
Bark Busters
Bark Busters offers private, in-home training for dogs of any age. Their training style is rather unique because while it does not rely on the use of choke collars, prong collars, ecollars, or other aversives, it also does not rely on treats or clickers.
Bark Busters' training methods are pain-free and will not harm your dog into obedience. Instead, they describe their method as instinctive and natural, using body language and voice tones to grab your dog's focus and earn their respect.
Bark Busters can help with numerous behavioral issues such as aggression, biting, barking, jumping, digging, destruction, whining, leash pulling, and separation anxiety. After you finish training with them, they will continue to help you tackle new or recurring issues for the life of your dog at no additional cost.
Muttz Gym
Muttz Gym offers private training, group classes, day training, and doggy daycare. Though you are encouraged to join each private training session, dropping your dog off is an option. Day training sessions are a mixture of training and doggy daycare where your dog will spend time training, playing, and resting.
Group classes are 45 minutes long and run for six weeks. Available classes include puppy classes, adult obedience, AKC Canine Good Citizen, and a number of specialty classes. Specialty classes include pack walks, agility, shy dog, intro to dog sports, canine fitness, and "Sit, Stay, Come!"
Muttz Gym uses only force-free, positive reinforcement training. Their mission is to educate dog owners and provide training, play, and fitness opportunities to promote overall well-being for dogs and their owners.
Find the Right Dog Training for You
With so many great options for dog training, it can be difficult to figure out which one would be the best choice for you. Consider whether or not you want to travel. If you don't, you can do in-home training with Bark Busters or Dog Academy; online courses are also available via Dog Academy.
If you're looking for a hands-off approach to dog training, check out Muttz Gym as you can drop your dog off for a private training session or for a whole day of training and play. For dog sports training, try Lucky Dog Academy or Stone City Kennel Club.
Whichever dog trainer you choose, we have faith that you can achieve all of your dog training goals. All it takes is a bit of love, patience, and consistency.