The Best Dog Training in Jacksonville, FL
7 minutes
Being such a large city, Jacksonville has a lot to offer in terms of dog training. You can find puppy courses, basic obedience, and even dog sports like agility, nose work, rally, and conformation.
Professional trainers in the area can also address behavioral issues big and small. You can get help for mild problems such as jumping, barking, leash pulling, and other bad manners. You can also find help for serious issues such as aggression and separation anxiety.
Whatever type of training you're looking for, you'll feel much more at ease in Jacksonville once you and your dog have received it. Obedience training will help you walk through the city without your dog pulling every which way on the leash.
You'll be able to visit the beach and even let your dog frolic without having to worry about whether or not they'll come back when you call. If you enjoy dog sports, you can even participate in events hosted in the area. Jacksonville is full of opportunities for you and your soon-to-be well-trained dog!
A Quick Look at the Best Dog Training in Jacksonville
We've rounded up the best trainers in Jacksonville and put them into a chart so you can easily see what's what. However, we do have more detailed information on each trainer, so be sure to check that out, too!
| | | | |
| --- | --- | --- | --- |
| Trainer | Price | Training Types | Online / In-Person |
| Dog Academy | $49.99 – $349.99 | Obedience Training, Puppy Training, Service Dog Training | Both |
| Zoomiez Dog Training | $295-$795 | Puppy Training, Obedience, Behavior problems | In-Person |
| K-9 Obedience Club | $140-$160 | Puppy Training,  CGC Prep, Basic Obedience, Therapy Dog Training, Dog Sports | In-Person |
| Whoa Nellie Positive Canine Training LLC | $50-$520 | STAR Puppy, CGC, Custom Private Courses | Both |
| Maggie Marshall Dog Training | $200-$1200 | Puppy Training, Adolescent Dog Training, Behavioral Problems | In-Person |
Online vs. In-Person Training in Jacksonville
Online and in-person training are both effective, but you'll often find that online training is more affordable and convenient. It also allows you to study at your own pace and tends to be more flexible than in-person training. On the other hand, in-person training can provide a group atmosphere which may help you and your dog get out of the house more often and be more social.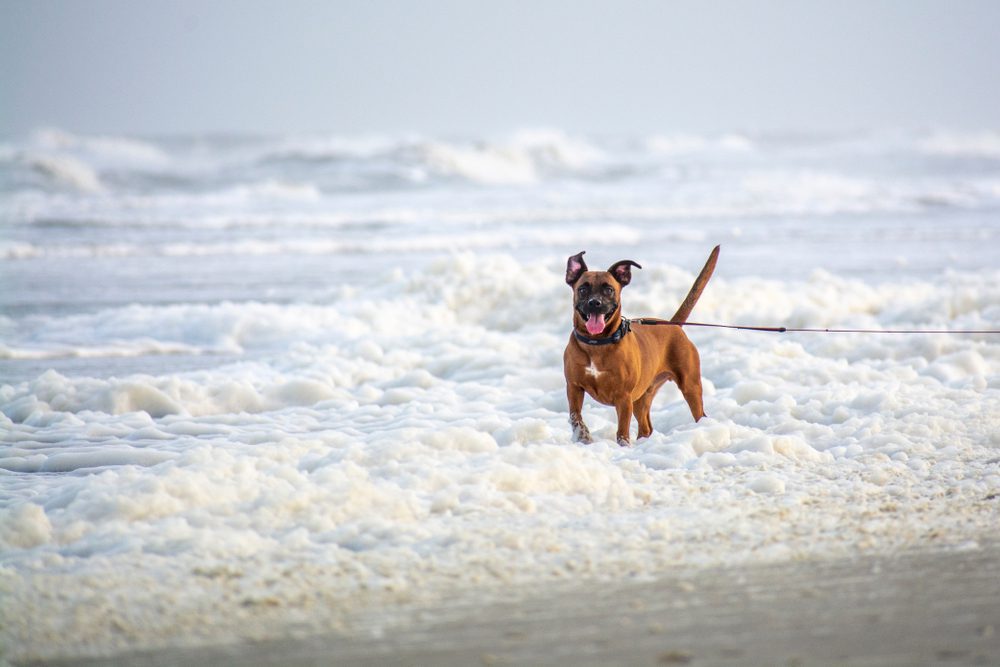 Perks of Online and In-Person Training in Jacksonville
Here's a quick look at the perks online and in-person training have to offer.
| | | |
| --- | --- | --- |
| | Online Training | In-Person Training |
| Cost-Effective | ✔️ | X |
| Flexible Schedule | ✔️ | ✔️ |
| Training Can Come to Your Home | X | ✔️ |
| Study at Your Own Pace | ✔️ | X |
| Socialize Your Dog | X | ✔️ |
The Best Dog Training in Jacksonville
Finding the best trainers in your city can be difficult as there are often many to choose from. Lucky for you, we've done the research and found the five best dog training options in Jacksonville.
Dog Academy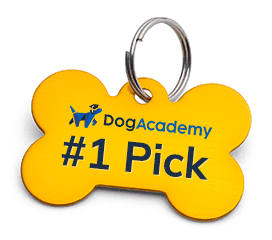 Dog Academy offers a number of online courses to suit a number of different dog training needs, from puppy kindergarten to psychiatric service dog training. Each course has been designed by American Kennel Club certified trainers who have over 25 years of experience in dog training. Plus, they have a nationwide team of trainers who service every city, including Jacksonville. Dog Academy teaches positive reinforcement techniques that are fun, effective, and force-free. Even when you study online, users can still contact trainers via phone, email, or the contact form to ask any questions they have during the training process. Dog Academy offers a number of different courses, including puppy training, basic obedience, psychiatric service dog (PSD) training, training to minimize separation anxiety, and even a course that'll teach your dog the manners they need to join you at your workplace.
Zoomiez Dog Training
Zoomiez Dog Training is fear-free certified and specializes in positive reinforcement techniques. They utilize clicker training to help you teach your dog important skills. Training takes place in your home, so you don't have to travel. Zoomiez offers puppy classes and basic obedience training as well as training for behavioral issues. They can help you solve problems such as barking, chewing, digging, house soiling, jumping up, counter surfing, fear, anxiety, aggression, biting, and more. They also work with both dog owners and veterinarians to make vet visits less intimidating for dogs; Zoomiez can help your dog learn to behave for nail trims, blood draws, and other aspects of veterinary care.
K-9 Obedience Club
K-9 Obedience Club is a non-profit organization made up of volunteers dedicated to helping others train their dogs in a variety of different disciplines. The training method used is positive reinforcement, and they offer a plethora of courses, including puppy training, basic obedience, Canine Good Citizen (CGC) prep, therapy dog training, agility, nose work, rally, and conformation. Because they are non-profit, their courses are also less expensive; however, this also means they are quick to fill. Classes take place in a group setting outdoors in a covered area.
Whoa Nellie Positive Canine Training LLC
Whoa Nellie Positive Canine Training is owned by Samantha Davis, a Certified Professional Dog Trainer – Knowledge Assessed (CPDT-KA), a CATCH Canine Trainers Academy Certified Dog Trainer (CCDT), an AKC Canine Good Citizen Evaluator, and a Fear-Free Certified Professional. As you can guess, Samantha Davis uses positive reinforcement techniques for dog training, and she strives to help you and your dog learn using games, logic, and fun! Whoa Nelly offers STAR puppy classes, Canine Good Citizen classes, and private training (either in your home or at their location). Private training is catered to you and your dog's specific needs.
Maggie Marshall Dog Training
The founder and head trainer at Maggie Marshall Dog Training (MMDT), Maggie Marshall, is a Certified Professional Dog Trainer and a Certified Canine Behavior Consultant. The training method she and her associate trainers use is positive reinforcement — specifically, clicker training. MMDT does not use shock collars, prong collars, choke chains, or any other aversive tools. If your dog is over 16 weeks old, MMDT  will come to your home for a two-hour consultation to evaluate your dog and provide advice on the spot. If they feel that, for whatever reason, they aren't the right trainer for you (or you aren't the right client), they will even recommend you other trainers who they think could help. Maggie Marshall Dog Training is able to provide training for dogs of all ages and dispositions. They can even help with serious issues like severe aggression toward dogs or people.
Find the Right Dog Training for You
Now that we've narrowed your options down to five different trainers let's figure out which one is right for you. First of all, you should consider your budget. If you're looking for affordable training, you'll want to check out Dog Academy or K-9 Obedience Club.
Next, you should consider if you want training to take place in your home or somewhere else. Dog Academy, Zoomiez, and Maggie Marshall are all great options for training from the comfort of your own home. If you're willing to travel, Whoa Nellie Positive Training and K-9 Obedience Club have some great classes.
Finally, consider what type of training you want. Do you just want basic obedience, or does your dog have more serious issues that need to be addressed? Are you looking to get involved with canine sports? For basic obedience, any of the trainers on our list would be great.
For behavior problems, we'd recommend Zoomiez or Maggie Marshall. For canine sports, check out K-9 obedience. Dog Academy is your best choice for specialty training like psychiatric service dog (PSD) training or emotional support animal  (ESA) training. Whichever training option you choose, we're sure you and your dog will learn and improve a lot!