The Best Dog Training in Irvine, CA
9 minutes
Hiking trails, beaches, parks, shopping centers, breweries, and restaurant patios: These are examples of dog-friendly places that actually exist in Irvine, California. It's always a welcome change to be able to take your fur baby with you on an outing, but even if pets are allowed, you'll have a frustrating experience if your dog isn't well-behaved.
That's where this article comes in. We've put together a list of the six best dog training options in Irvine. With the help of one of these expert trainers, you'll be able to get your dog to relax and behave even in public places. The trainers on our list are able to assist you with just about any dog training need, whether your dog struggles with aggression or reactivity or is a puppy who just needs to learn the basics.
A Quick Look at the Best Dog Training in Irvine
Here's a quick overview of the best trainers in Irvine. We'll be providing in-depth information on each training option later in the article, so be sure to keep reading.
| | | | |
| --- | --- | --- | --- |
| Trainer | Price | Training Types | Online / In-Person |
| Dog Academy | $49.99 – $349.99 | Obedience Classes, Puppy Training, Psychiatric Service Dog Training | Both |
| 2 Tails Dog Training | Contact for details | Puppy Training, Manners, Reactivity | In-Person |
| Trick-N-Treat Dog Training | Virtual Training $150 – $1,200; In-Home Training $195 – $1,560; Day Training $195 – 1,560; Puppy Package (8 sessions) $950; Board and Train $1,750 – $4,725 | Puppy Training, Obedience, Behavior Modification | Both |
| All About Training Dogs | Online Courses $39+; Virtual Training $160 – $599; In-Home Training $649 – $1,899 | Basic Manners, Separation Anxiety, Aggression | Both |
| Wags & Wiggles | Group classes: $180 – $299,  Quickie class: $35, Private training: $180 – $815 | Canine Good Citizen, Dog Sports, Separation Anxiety | Both |
| Kind to Canines | Contact for details | Puppy Training, Problem Behaviors, Canine Good Citizen Training, | In-Person |
Online Vs. In-Person Training in Irvine
Some people may believe online training isn't effective, but that is not the case. Online training can be just as effective as in-person training, and it allows trainers to reach a broader clientele since there is no need for travel. Not only that, but it also tends to be more affordable than in-person training.
In-person training is still a great option, too, though. It allows dogs to socialize with other people and dogs and can challenge them to stay focused in a different environment. If you take a group class, both you and your dog may be able to make new friends.
When it comes down to it, neither type of training is better than the other. Therefore, you can choose whichever type best suits your preferences.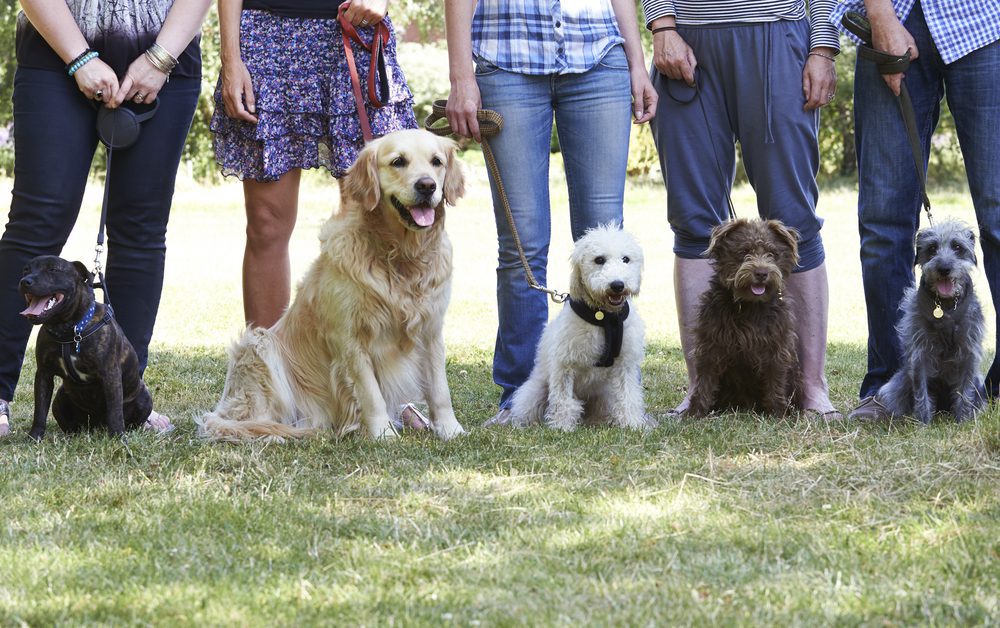 Perks of Online and In-Person Training in Irvine
Here's a quick chart outlining the perks of online vs in-person training.
| | | |
| --- | --- | --- |
| | Online Training | In-Person Training |
| Train with Professionals | ✓ | ✓ |
| Learn from Home | ✓ | ✓ |
| One-on-One Instruction | ✓ | ✓ |
| Study at Your Own Pace | ✓ | X |
| Socializes Your Dog | X | ✓ |
The Best Dog Training in Irvine
There are a lot of trainers in Irvine, and it can be hard to sort through them all. Lucky for you, we've researched the top dog trainers in Irvine and put them on this list. Check it out!
Dog Academy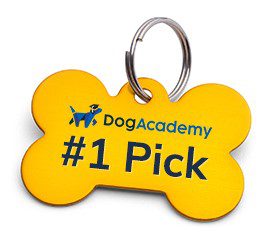 Dog Academy offers online courses as well as in-person private training and group classes. We have a dozen experienced trainers servicing every city in the United States, including Irvine. If in-person training isn't for you, check out Dog Academy's extensive catalog of online courses.
You can find puppy training, basic obedience training, psychiatric service dog training, emotional support dog training, leash manners training, trick training, crate training, and more. There are even courses that address problem behaviors such as barking, reactivity, and separation anxiety.
Dog Academy doesn't just train dogs, we train people too! We can teach you how to groom your dog at home as well as how to administer canine first aid and CPR. All of Dog Academy's online courses are designed by AKC-certified trainers with over 25 years of experience. If you need help with an online course, you can easily contact Dog Academy via phone, email, or the contact form.
2 Tails Dog Training
2 Tails Dog Training is owned and operated by a woman named Lynn whose training focuses on positive reinforcement and games. By playing games, Lynn motivates dogs to learn new skills, habits, and behaviors. These games also help provide enrichment for dogs struggling to find an outlet for excess energy.
2 Tails Dog Training is able to address a number of dog training needs, such as puppy training, obedience, manners, anxiety, and reactivity.
Training is done in-home but may sometimes be done at a different location so your dog can learn how to behave in different environments.
Trick-N-Treat Dog Training
Trick-N-Treat Dog Training offers private training (both online and in-home), day training, and boarding and training. They use positive reinforcement techniques only, including clicker training, so your dog will always be treated right and can have fun learning new behaviors.
Trick-N-Treat Dog Training can help with a number of needs and offers puppy training, obedience training, and behavior modification. Examples of behaviors they can modify include fearfulness, reactivity, excessive barking, overarousal, leash manners, impulse control, separation anxiety, aggression, and resource guarding.
The head trainer, Cally Liu, has over 700 hours of experience, is fear-free certified, is a Karen Pryor Academy Certified Training Partner, and is a Certified Professional Dog Trainer (Knowledge Assessed).
All About Training Dogs
All About Training Dogs offers virtual one-on-one training, in-home private training, and virtual dog training courses. It is owned and operated by Sherry Nativo, a Certified Professional Dog Trainer through both the Karen Pryor Academy (KPA CTP) and the Certification Council of Professional Dog Trainers (CPDT-KA).
Training offered includes puppy training, basic manners, obedience, and behavior modification. Behavior modification training addresses issues such as reactivity, leash aggression, separation anxiety, resource guarding, and aggression. All About Training Dogs can also help with common issues such as barking, lack of focus, jumping, and pulling on the leash.
All About Training Dogs uses positive reinforcement training which is fun, effective, and humane. Sherry works with dogs of all breeds, ages, and backgrounds and considers herself a great resource for "dog owners who feel helpless."
Wags & Wiggles
Wags & Wiggles claims they can help any dog of any age with any problem. They offer several different training options, including private training, group classes, boarding and training, and puppy raising (just like boarding, except you take your pup home every night).
Group classes offered include obedience, zen dog, trick training, puppy training, agility, nose work, and canine fitness. Problems Wags & Wiggles can help with include potty training, jumping, leash pulling, running away, barking, excitability, guarding, stealing, separation anxiety, and aggression.
Wags & Wiggles also offers online dog training. They have various different training options and packages to help meet different budgets.
Perhaps the best thing about Wags & Wiggles is that they successfully train dogs without force. They make use of positive reinforcement and clicker training and do not even allow tools like choke chains or ecollars on the premises.
Kind to Canines
Kind to Canines provides in-home training, day training, and board and train services. They offer puppy training, problem-solving, and behavior modification. Problem-solving addresses common undesirable behaviors such as chewing, jumping, barking, jumping fences, house soiling, destructive behavior, and separation anxiety.
Behavior modification addresses issues such as phobias towards dogs, people, noises, or objects; obsessive-compulsive behaviors; and leash aggression towards people, dogs, or other small animals. Kind to Canines can also help with Canine Good Citizen training and therapy dog test preparation.
They are happy to invite children to train with their families as they believe it's important for dogs to listen to children and be safe around them. Furthermore, Kind to Canines offers specialized training for expecting mothers so that introducing a new member of the household can go as smoothly and safely as possible.
Find the Right Dog Training for You
Dog training isn't always cheap, which is why it's important to try and find a good fit the first time. To do so, consider both your preferences and your needs. Do you prefer private, in-home training or would you like to attend a group class?
What does you need your dog to learn? Are you addressing a behavioral problem or looking to start off a puppy on the right paw? Dog Academy is a great option as it has courses covering just about every dog training need (including behavioral issues), while still being convenient and affordable.
If you're dealing with a behavior issue Dog Academy doesn't cover, such as aggression, check out Trick-N-Treat Dog Training or All About Training Dogs. For more general behavior modification, Kind to Canines and 2 Tails Dog Training are also good options. If you're interested in training your dog in fun activities like dog sports, then we'd recommend Wags & Wiggles.
Whichever dog trainer you choose, you'll be able to achieve your dog training goals as long as you're patient, consistent, and loving.