The Best Dog Training in Hollywood, FL
8 minutes
Hollywood is a famous name but Hollywood, LA, doesn't have a monopoly on being Hollywood. In fact, thousands of people live in Hollywood, Florida, which is a gorgeous beachfront city located along the Atlantic Ocean. It has more than seven miles of beaches, more than 60 parks, and several golf courses.
The boardwalk is one of Hollywood's main attractions and it's over two miles long. While it's easy to enjoy these amenities on your own, you'll want to have your dog trained if you plan on bringing them around.
Dog trainers in Hollywood will help you with several things but the best trainers can help your dog adjust to Hollywood's environment. For example, some trainers can help your dog swim in the ocean or remain calm during a game of golf.
To make the most use out of beaches and golf courses you'll want this type of training. Also, make sure trainers are aware of the heat and where your dog can't walk (hot roads or sidewalks).
As long as you find the right trainer you won't have to worry about much in Hollywood. That said, some options are better than others. To help you save time and money we're taking you through the best dog trainers in Hollywood.
A Quick Look at the Best Dog Training in Hollywood, FL
Below we show you some quick information about the best dog trainers in Hollywood.
| | | | |
| --- | --- | --- | --- |
| Trainer | Price | Training Types | Online / In-Person |
| Dog Academy | $49.99 – $349.99 | Obedience Classes, Puppy Training, Psychiatric Service Dog Training | Both |
| Kandi's Professional Dog Trainer | Consultation Required | Service Dog, Therapy Dog, Aggression Towards Cats | In-Person |
| K9 Advisors Dog Training | Free Consultation | Dog Obedience, Protection K9 Training, Service Dog Training | In-Person |
| 5-Star K9 Trainer | Consultation Required | Aggression, Destructive Behavior, Biting | In-Person |
| Canine Dimensions | Consultation Required | Puppy Training, Fear & Aggression, Board & Train | In-Person |
Online vs. In-Person Training
When looking for a dog trainer in Hollywood, Florida, the type of training they provide is one of the first things you should consider. The two training methods are in-person and online dog training. There are also some variations of these methods that you might come across, like hybrid trainers that offer in-person and online training depending on your needs.
The first training method we'll cover is in-person training. When most people think of dog training, in-person training is what comes to mind because you go to a training facility, meet them at a park, or have your dog boarded.
While in-person dog training does include these methods you'll also find doggie daycare, grooming services, and even retail supplies with some dog trainers. The benefits of in-person training are that trainers can bond with the dog physically. Major drawbacks include high costs and less flexibility.
Online training is a newer type of dog training in Hollywood, Florida. What makes online training convenient is that it's more affordable and flexible than in-person training. This is because you can take video calls with a trainer almost anywhere. Plus, you can leverage different time zones from national trainers like Dog Academy to make it work in your favor.
The only disadvantage of online training is that trainers don't get to interact with your dog directly.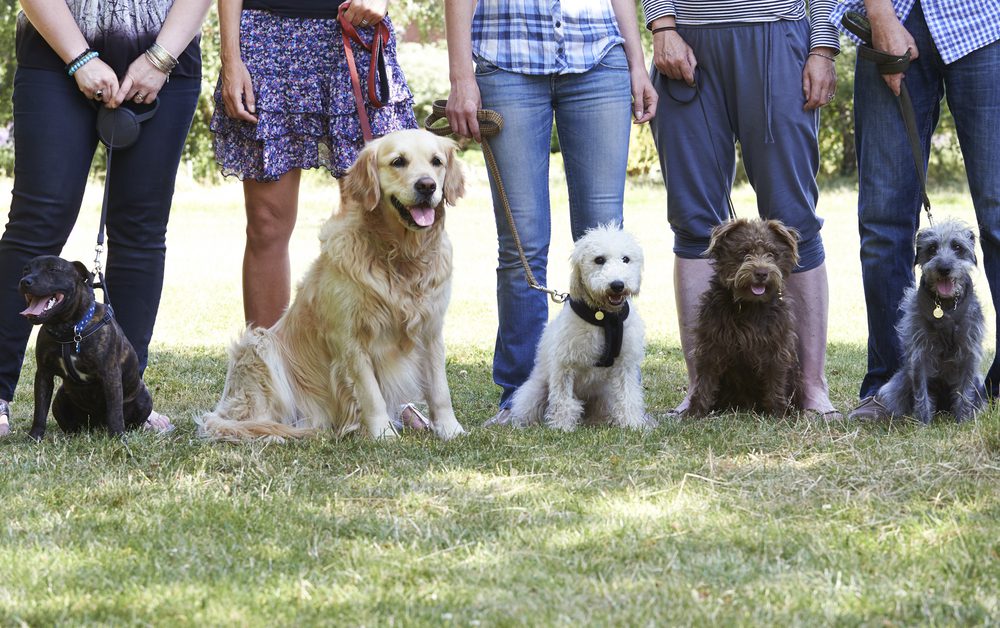 Perks of Online and In-Person Training in Hollywood
Below we explore some of the perks of in-person and online dog training in Hollywood.
| | | |
| --- | --- | --- |
| | Online Training | In-Person Training |
| Cost Effective | ✓ | X |
| Flexible Schedule | ✓ | ✓ |
| One-on-One Instruction | ✓ | ✓ |
| Study at Your Own Pace | ✓ | ✓ |
| Socializes Your Dog | X | ✓ |
The Best Dog Training in Hollywood
Dog trainers are abundant in Hollywood and many dog trainers from similar cities will also venture into Hollywood to train dogs. This is great for having more options but it doesn't make the process of training a dog any easier. In fact, it increases the risk of you wasting time and money on consultations.
The good news? We list the best dog trainers in Hollywood below.
Dog Academy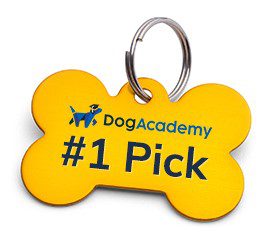 Dog Academy has been around for a few years and since its inception that organization has grown rapidly. Today, there are more than 1,000 online trainers ready to help you when you need it and sometimes you can find in-person training if it's available in your neighborhood.
With this many trainers it might seem like quality isn't as important but this couldn't be less true. Dog Academy trainers all maintain certifications from organizations like the American Kennel Club (AKC) and continue to learn and become better trainers.
Training aside, there are also educational materials on the website that amount to several hundred hours of content. The last thing to note is that training packages are flexible and affordable. Packages group many classes into one package to help you save on costs.
Kandi's Professional Dog Trainer
Kandi is a professional dog trainer who has been training dogs for over 40 years. She maintains several certifications from reputable organizations like the American Kennel Club.
Kandi focuses on several aspects of dog training but everything ties into her primary method which is the "Place" method. The command "Place" gives your dog a safe place to go when you don't want them around or if you need them to relax.
Kandi is also certified and can teach dogs to become emotional support animals or therapy dogs, which is great for people who struggle with mental health disabilities.
K9 Advisors Dog Training
K9 Advisors is one of the few dog trainers in the Hollywood, FL, area that does it all. Trainers from K9 Advisors maintain important certifications that allow them to train service dogs, therapy dogs, and emotional support animals.
Furthermore, the team can help dogs train for personal protection. Personal protection classes help dogs notice danger and guard their owners. In Florida, this is becoming more common but you'll need a bigger dog.
Fancy training options aside, K9 Advisors also offers traditional dog training courses for puppies and adult dogs. The cost varies based on the level of training and the type of training. For example, service dog training costs more than puppy potty training.
5-Star K9 Trainer
5-Star K9 Trainer is about more than just training your dog with basic commands. Blas L.Cardenas is the lead trainer with 5-Star K9 Trainer and she's a dog psychologist. This skill set helps her identify issues with dogs and modify their behavior.
Additionally, Blas is able to help people communicate better with their dogs. This comes in the way of commands but also body language which makes dogs more comfortable. It's also worth noting that 5-Star K9 Trainer is the official dog trainer for the Miami Heat and the University of Miami. These accreditations and contracts don't come easy.
Canine Dimensions
Canine Dimensions is one of Hollywood's best in-home dog training services. Trainers from the group will visit your home and help with all of your training needs. This includes behavioral modifications and simple things like potty training.
Many trainers are certified by the American Kennel Club and some even have Red Cross certifications for canine CPR. With this skill set trainers can help you with any type of training, even Canine Good Citizen.
That said, boarding is also an option for an extended period. Boarding programs help you take some time off and give your dog plenty of one-on-one time with the trainer. Many boarding programs also help with socialization.
Find the Right Dog Training for You in Hollywood
When you want to find the right dog trainer in Hollywood, Florida, it comes down to a few factors. First and foremost, always consider what your goals are.
If you want a service dog or a dog that performs a specific task, in-person trainers or boarding programs are usually your best options. However, if you want your dog to learn some commands and behave better around people or on a leash, flexible/affordable online training courses are the way to go.
Regardless of what you need, all of the trainers on our list are exceptional and ready to help you get started.