The Best Dog Training in Gilbert, AZ
7 minutes
Dog training is an important part of owning a dog. Failing to train a dog leads to several problems that include a lack of respect, love, and loyalty between dog owners and their dogs. Fortunately, it only takes a little bit of training to see the results you need. Dog training in Gilbert is easily accessible, affordable, and high-quality when you know where to look.
Still, there are some important things you need to consider about Gilbert, Arizona, before you start looking for a trainer. For example, Arizona is home to some harsh climates and wildlife, depending on where you are. Wildlife in Gilbert may harm your dog, so trainers must have aversion programs to prevent your dog from chasing them. Additionally, you'll want to find trainers that help your dog avoid cacti and other harms you find in the desert.
The good news is that many trainers in Gilbert are equipped to help your dog. Trainers will help with behavioral changes, manners, collars, and much more. Boarding and training programs are also available for people who want to drop off their dogs for a week or two.
Take a look at the best trainers in Gilbert in the chart below for an overview of the best options.
Online vs. In-Person Training
When you're training a dog, the most important factor to consider is how training is completed. There are two popular options, which are online and in-person training. It's also worth noting that many hybrid trainers are available, as well as trainers who specialize in at-home training. That said, knowing the differences between in-person and online training is important for success.
The main difference between the methods is that online training happens through the internet, while in-person training happens face-to-face. While this is a big difference, it doesn't usually impact the outcome of dog training. Therefore, both options are viable depending on your needs.
Some things to note, though, are that in-person and online training have unique benefits. Online training is more flexible than in-person training and typically costs less. On the other hand, in-person training comes with some more perks like grooming services, boarding, and daycare.
Depending on your dog, budget, and schedule, make sure you choose the method that works for you.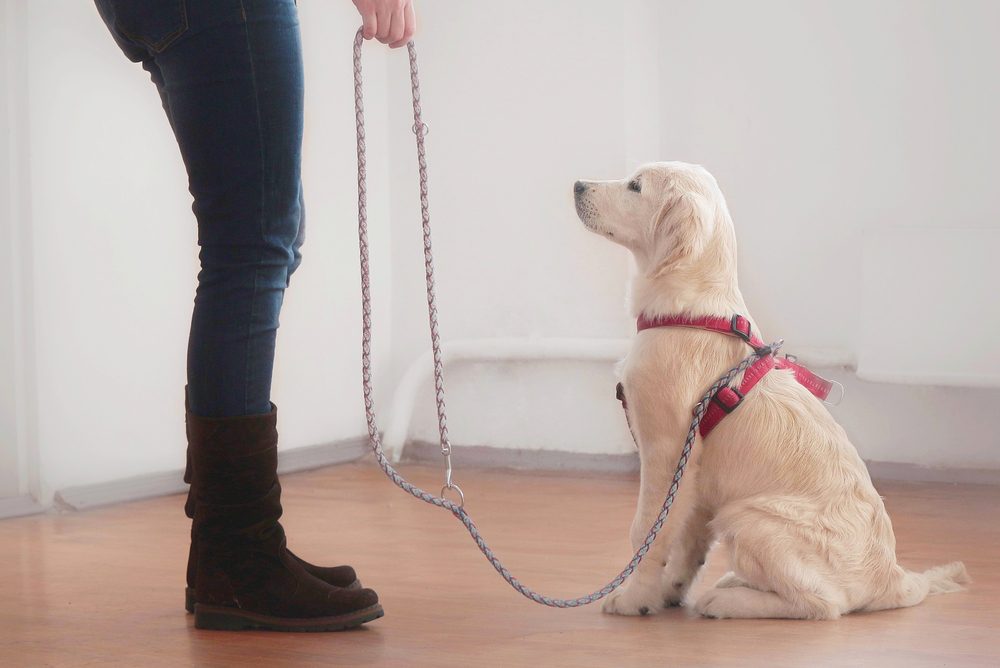 Perks of Online and In-Person Training in Gilbert
Below we list some of the perks and benefits of online and in-person training in Gilbert, Arizona.
| | | |
| --- | --- | --- |
| | Online Training | In-Person Training |
| Cost Effective | ✓ | X |
| Flexible Schedule | ✓ | X |
| One-on-One Instruction | X | ✓ |
| Study at Your Own Pace | ✓ | ✓ |
| Socializes Your Dog | X | ✓ |
The Best Dog Training in Gilbert
Dozens of dog trainers are available in Gilbert. While it's great to have options, sometimes too many are a bad thing. Unfortunately, when it comes to dog training, having a ton of options can be overwhelming and you may waste time with the wrong trainer. To help you work with the best possible trainers in Gilbert, we've compiled a list of the top five dog trainers in the area.
Dog Academy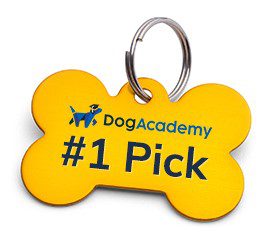 Online or In-Person: Online and In-Person
Types of Training Courses: Obedience Classes, Behavioral Issues, Puppy Training, Psychiatric Service Dog Training, Emotional Support Animal Training, Specialty Classes (e.g. Canine Confidence, Separation Anxiety)
Price Range: $49.99 – $349.99
Link to Website:

Dog Academy Basic Obedience Training Program

Phone Number: 605-223-1971
Dog Academy is always the best choice when you want dog training that's available, affordable, and high quality. When you train with Dog Academy your dog enters a world of high-end trainers who know how to handle most types of training. Training is also available online or in-person (depending on your region and schedule), which makes it one of the most flexible options around.
All trainers are professionals and the online trainers maintain America Kennel Club certifications. Additionally, many trainers with Dog Academy are skilled enough to train advanced courses like emotional support animals and service dogs. Classes are also split into packages, so you don't have to worry about finding a new trainer every session.
Tip Top K9
Online or In-Person: In-Person
Types of Training Courses: Behavioral Training, Obedience Training, Leash Training, Socialization, Puppy Training
Price Range: $1-$450
Link to Website: https://tiptopk9.com/locations/az/gilbert-dog-training/
Address: In Home: Serves Gilbert and Nearby Areas
Phone Number: 480-739-1236
Tip Top K9 is a large dog training organization with multiple locations in Arizona. However, this part of the organization focuses on Gilbert and some of the surrounding counties. In Gilbert, trainers visit the homes of dog owners, so it's in-home training.
In-home training is one of the best training methods for in-person training because the dog is in the comfort of their own home. Therefore, there is less stress and pressure. Plus, dogs don't have to be away from their owners, which also relieves stress. Programs like this work well because when the dog is less stressed they're easier to train.
Top Dog Boarding and Training
Online or In-Person: In-Person
Types of Training Courses: Boarding, Private Lessons, Board & Train, Service Dogs, Protection Dogs, Socialization
Price Range: Evaluation-Based
Link to Website: http://www.topdogaz.com/
Address: 1774 S 131st St, Gilbert, AZ 85233
Phone Number: 480-650-1650
Top Dog Boarding and Training is one of the few places in Gilbert that does it all. At Top Dog Boarding and Training you and your dog have many options. Dogs that need advanced training can be boarded but there are also more intimate private lessons that only last for about an hour and feature one-on-one training.
There are also programs for training aggressive behaviors and specific options for puppies and small dogs. Top Dog Boarding and Training also provides you with a lot of resources to take home. Having extra resources helps pet owners train their dogs in their own time.
Lose the Leash Dog Training
Online or In-Person: In-Person
Types of Training Courses: Private Lessons, Group Classes, Puppy Training
Price Range: Evaluation-Based
Link to Website: https://losetheleash.com/
Address: 2662 S Jacob St, Gilbert, AZ 85295
Phone Number: 480-818-4899
Lose the Leash Dog Training has been around for a while and that's because of its experienced trainers. The team has more than 20 years of combined experience that can help you turn your dog into a well-behaved companion.
Trainers at Lose the Leash have also come from diverse backgrounds. Some trainers have experience with zoos, while others have worked with the United States Navy in the marine mammal program. Experience aside, trainers are also personable and easy to work with. It's not hard to find trainers who will mesh well with your dog and personality.
CharlieBar Dog Boarding & Training
Online or In-Person: In-Person
Types of Training Courses: Board and Train
Price Range: $750/week
Link to Website: http://charliebardogtraining.com/
Address: 14 S 29th PI, Gilbert, AZ 85296
CharlieBar Dog Boarding and Training is specifically a training company that has board and train programs. Boarding is the primary method of training here and the trainers have years of combined experience.
There is a large property for the dogs to spend time on and trainers will teach your dog to behave better, avoid dangers, and be social around people/animals. What's more, it's the best option for boarding and training in Gilbert because that's their specialty. So, for boarding and training, it's tough to beat CharlieBar Dog Boarding and Training. In fact, the team has trained more than 4,000 dogs in total.
Find the Right Dog Training for You in Gilbert
The right dog trainer is the one that works best for you. Some dog trainers work well for others but won't work for you, so it's always important to contact a few trainers before you make your choice. Always check to see their availability, how they interact with your dog, and how your dog feels about them. Also, consider whether or not you want to be present for the training or if you'd prefer to have your dog boarded. From there, it's easier to narrow down your options.
All that said, our favorite pick for dog training in Gilbert, Arizona, is Dog Academy. Dog Academy is one of the best choices because it's the best of both worlds. Not only do you get professional in-person trainers but there are also online trainers available for people with less flexible schedules.