The Best Dog Training in Escondido, CA
7 minutes
You're in for a "treat" when it comes to dog training in Escondido! This charming city offers a fantastic selection of training programs tailored to meet your and your pet's specific needs. Whether you're looking to teach basic obedience, address behavioral issues, or explore specialized programs, Escondido has got you covered.
What's great about dog training in Escondido is the variety of formats available. You can choose from group classes, private lessons, or even take advantage of online platforms.
The focus of these programs goes beyond teaching basic commands; they also prioritize socialization and behavior modification. This ensures that your dog not only learns essential skills but also becomes confident in interacting with other dogs and navigating the urban environment.
In this blog, we will take a closer look at the best dog training centers in Escondido. We'll explore the range of training services they offer and provide you with all relevant details, so you can make an informed decision.
A Quick Look at the Best Dog Training in Escondido, CA
Let's start our exploration of the best dog training options in Escondido with a quick overview of the available trainers in the city. Take a glance at the table below for a summary of the top dog training providers, highlighting each one's specialties. Don't worry, we'll be diving into a more detailed review of each trainer later in the article.
| | | | |
| --- | --- | --- | --- |
| Trainer | Price | Training Types | Online / In-Person |
| Dog Academy |  $49.99 – $349.99 | Obedience Classes, Behavioral Training, Psychiatric Service Dog Training | Online and In-Person |
| Hidden Valley Obedience Club (HVOC) | $90.00 – $200.00 per 7-week session | Command Training, Sport Training, Utility Training | In-Person |
| The Proficient Pup Dog Training and Massage | $225.00 – $1,800.00 | Basic Obedience, Rally Obedience, Agility Training | In-Person |
| Dog Quest | Contact for Pricing | Beginner to Advanced Training Courses, Agility Training, Leash Aggression Training | In-Person |
| Companion Dog Training | $125.00 – $300.00 | Obedience Training, Off-Leash Training, Socialization | Online and In-Person |
Online Vs. In-Person Training in Escondido, California
Escondido offers a variety of options for pet parents seeking dog training. If you have a tight schedule or prefer the convenience of learning from home, online training classes can be a great choice. They provide flexibility and eliminate the need for travel. However, online training requires self-motivation and discipline to implement the techniques without direct supervision.
In-person training classes, on the other hand, ensures hands-on guidance and real-time feedback. It also allows for your dog to interact with other dogs, which works like a charm for developing social skills and appropriate behaviors across diverse real-world settings.
In case your dog requires personalized attention or has specific behavioral issues, one-on-one sessions with a trainer may be the ideal choice. These sessions allow for a tailored training approach and focused attention on your dog's individual needs.
Regardless of the training option you choose, it's essential to ensure that the methods used align with your values and prioritize positive reinforcement techniques.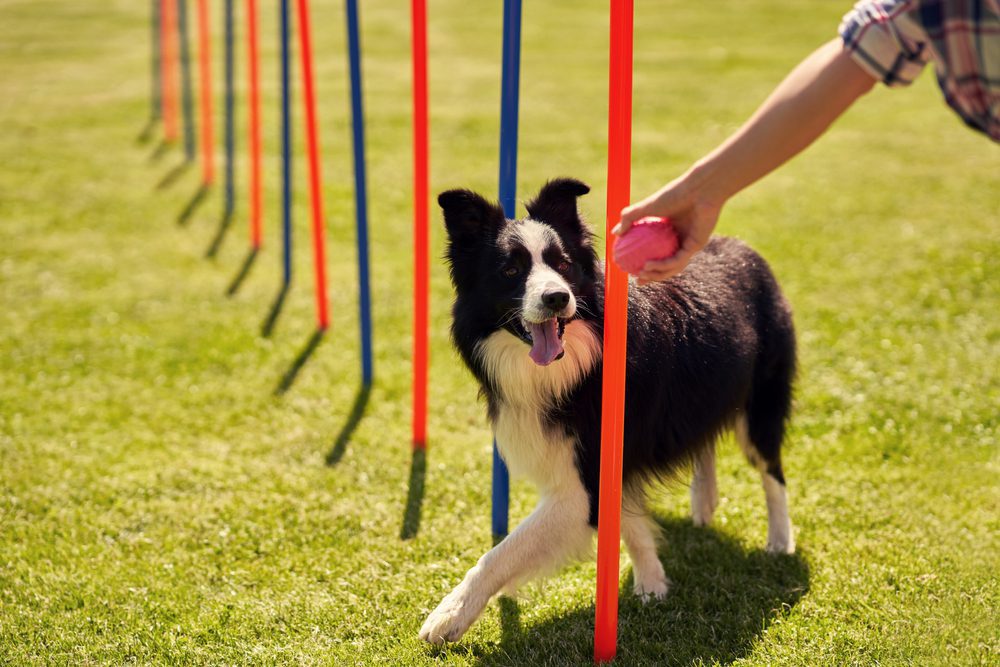 Alt-Text: border collie taking agility training classes]
Perks of Online and In-Person Training in Escondido, CA
Online training offers convenience and flexibility, allowing you to access professional guidance from home. However, in-person training provides immediate feedback and hands-on guidance, promoting interactive learning and socialization opportunities for your dog.
It is important to consider your preferences and your dog's needs to determine the best fit for you, so we have built this quick comparison chart highlighting both benefits.
| | | |
| --- | --- | --- |
| Perks | Online Training | In-Person Training |
| Pocket-Friendly | ✓ | ✓ |
| Flexible Schedule | ✓ | x |
| Personalized Instructions | x | ✓ |
| Self-Paced Learning | ✓ | x |
| Opportunity for Socialization | x | ✓ |
The Best Dog Training in Escondido
Here's our pick of the crème de la crème of dog trainers in Escondido. These trainers have earned a stellar reputation for their expertise, dedication, and ability to bring out the best in every canine student.
Dog Academy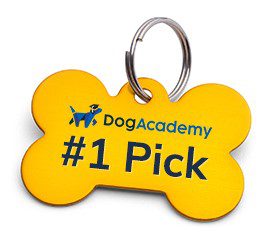 Dog Academy stands out as a top-notch dog training option in Escondido, offering comprehensive programs to cater to every dog owner's needs. What sets them apart is their commitment to providing both online and in-person training options, giving pet parents flexibility and convenience.
In addition to their online offerings, Dog Academy also provides exceptional in-person training programs. Whether you prefer private sessions or the interactive nature of group classes, basic or specialized training for your pet, they have it all.
With a network of trainers servicing cities across America, including Escondido, Dog Academy ensures that every dog receives personalized attention and professional guidance.
Hidden Valley Obedience Club (HVOC)
The Hidden Valley Obedience Club (HVOC) is renowned for its exceptional obedience training programs. At HVOC, experienced trainers lead the way, focusing on positive reinforcement techniques to foster good behavior and obedience in dogs. Their emphasis on positive reinforcement creates a nurturing and encouraging training environment.
Their structured curriculum encompasses basic commands, leash training, and effective behavior modification techniques to suit the individual needs of each dog. They are committed to helping each dog reach its full potential.
The Proficient Pup Dog Training and Massage
The Proficient Pup Dog Training and Massage is a dedicated trainer who specializes in individualized attention and combines dog training with canine massage therapy. Their training programs focus exclusively on in-person, one-on-one classes, ensuring your pet receives individual attention.
Proficient Pup is owned and operated by Lynn Davis, a certified professional dog trainer (CPDT-KA) and certified canine massage therapist. Proficient Pup's personalized approach addresses your dog's specific needs and tailor the training to your goals. With a custom training plan, you and your pup can learn comfortably and progress together.
Dog Quest
Specializing in dog agility, Dog Quest offers both beginner and advanced training courses and leash aggression training in Escondido. With experienced instruction and a commitment to nurturing the potential of both dogs and their handlers, this training center offers a rewarding experience for agility enthusiasts.
Led by the highly skilled Anne Platt, a nationally recognized dog agility trainer, Dog Quest provides in-person training classes throughout the week. Whether your dog is new to agility or already at the advanced level, they have classes designed to cater to various levels of experience.
Companion Dog Training
Companion Dog Training, founded by Gina Esoldi, is another prominent dog training facility in Escondido, California. Their focus is tailoring the training to fit your lifestyle and needs, providing the necessary tools for immediate success and sustained training.
They offer online and in-person options, including private consultations and online classes. They emphasize bite inhibition, early socialization, and effective solutions for common behavior problems.
With a beautifully equipped training facility known as "Rancho Cucciolo", they provide the perfect setting for comprehensive training to create well-behaved and harmonious companions.
Find the Right Dog Training for You
With a diverse array of dog training options in Escondido, finding the perfect fit for you and your furry companion is important. Start by exploring this list of trainers in Escondido and read reviews from other pet owners. This will provide valuable insights into their training programs and the experiences of previous clients.
It's also essential to inquire about the trainers' methods and certifications. Ensure that their training approach aligns with your values.
Remember, finding the right dog trainer is not just about the training itself. It's about establishing a strong bond and nurturing a relationship based on trust and understanding. By choosing a trainer who prioritizes positive reinforcement and shares your values, you can set the foundation for a lifelong partnership with your furry companion.