The Best Dog Training in Columbia, SC
7 minutes
Affectionately called the "Soda City" by locals, Columbia is the capital of South Carolina. The city is home to many pet-friendly places including the famed Congaree National Park and Harbison State Forest. If you hesitate to take your dog to such places because of their behavior, then worry not!
There are various dog training options available in Columbia, ranging from teaching basic commands to addressing more advanced behavioral problems such as aggression and anxiety. Making sure your canine buddy gets the best training means that they can enjoy the outdoors without jeopardizing anyone's safety.
In a city like Columbia, where there are endless opportunities for urban exploration and outdoor adventures, there's nothing more important than having a well-trained dog. The city boasts numerous nature parks, trails, dog-friendly restaurants, and markets, and not taking your furry pal with you to all those places would be a great disservice.
In this article, you'll learn about the best 5 dog trainers in Columbia, South Carolina.
A Quick Look at the Best Dog Training in Columbia
Below, we've added a table that includes the best dog trainers in Columbia, categorized according to their price, training types, and whether their training programs are online or in-person (or both).
| | | | |
| --- | --- | --- | --- |
| Trainer | Price | Training Types | Online/In-Person |
| Dog Academy | $49.99-$349.99 | Obedience Training, Puppy Training, Service Dog Training | Both |
| The Dog Wizard | Determined During a Free Consultation | Separation Anxiety Training, Aggression Training, Problem-Solving Training | Both |
| Dog Training Elite | $45-$12,000 | Obedience Training, Personal Protection Training, Service Dog Training | In-Person |
| Petco | $39-$409 | Positive Reinforcement Training, Dog Socialization | Both |
Online Vs. In-Person Training in Columbia
As you can tell by looking at the table above, most dog trainers in Columbia offer both online and in-person training programs. Which one you should choose ultimately depends on your personal preferences, but there are some important differences between the two options that you should know.
For example, with in-person training, your dog will get personalized attention from a professional trainer, which will allow for immediate feedback and adjustments. Another advantage, especially if you've opted for group training, is that your dog gets an opportunity to socialize with other pets (and humans) in a controlled and monitored environment.

With online training, the most important thing that it requires is a stable Internet connection. It's more accessible and affordable than in-person training since you don't have to worry about traveling and other costs.
It's generally easier for trainers to observe a dog's behavior when it's being trained in-person, but if you're short on time, then you might prefer online training.
Perks of Online and In-Person Training in Columbia
Here's a table that highlights some of the main advantages and disadvantages of online and in-person training:
| | | |
| --- | --- | --- |
| Perks | Online Training | In-Person Training |
| Budget-Friendly | ✓ | X |
| Accessible From Anywhere | ✓ | X |
| Personalized Attention | X | ✓ |
| Flexible Hours | ✓ | X |
| Dog Socialization | X | ✓ |
| Hands-On Practice With Trainer | X | ✓ |
The Best Dog Training in Columbia
Columbia has some of the most professional and effective dog trainers you can find. Here are some of them, along with a brief overview of what they're like and what training programs they provide:
Dog Academy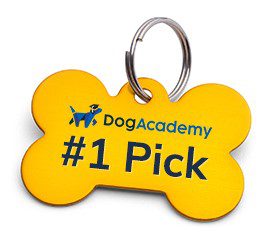 Dog Academy is the best option for dog owners in Columbia as they have some of the best trainers in the US. They offer both online and in-person training programs. If your dog is too shy and doesn't prefer the company of other pets, then you might want to opt for private classes.
Alternatively, they also provide group training sessions, which will give your pooch a chance to socialize and make new friends.
Their online courses have been written in collaboration with AKC-certified trainers and their in-person classes are delivered by trainers who are equally professional and experienced.
No matter which type of training you prefer, Dog Academy will take great care of your pet and make sure it gets the training (and love) that it deserves!
The Dog Wizard
The Dog Wizard prides itself on its highly effective dog training methods, which teach dogs to listen to their owners' commands even in distracting environments. Before the training begins, The Dog Wizard assesses your dog's behaviors and needs during a free consultation.
Once the company has determined what sort of training your dog requires, they connect you with the right trainer. Once the training is finished, you have the option to attend their weekly group classes where your dog's newly-learned skills are reinforced.
Their classes involve an engaging blend of both mental and physical exercises. They also offer the Canine Good Citizen (CGC) Program, a 10-skill test that turns your dog into a well-mannered companion. The test is conducted by an AKC-certified trainer. You receive the CGC certificate once you've cleared all 10 items on the test.
Woof University
Woof University's objective extends beyond just dog training. They provide a comprehensive education for both you and your pet. Their goal is to help you form a meaningful and "mutually enjoyable" relationship with your dog.
Just like The Dog Wizard, Woof University also offers CGC preparation and tests. Most of their other tests and training classes involve socializing with other dogs, so your pet can learn how to behave in a group setting.
For owners who have a busy schedule, Woof University recommends taking their private training classes, along with their "Family Dog Mediation" program. Private classes can be taken either online or in-person, depending on your personal preferences.
Petco
Petco's main objective with all of their training programs is to help build trust between you and your dog. Their trainers achieve this with the help of positive reinforcement – rewarding good behavior. They offer many different types of courses, including puppy training, private dog training, and adult dog training.
Their obedience training classes are available online as well as in person. Their classes, which are led by certified trainers and AKC evaluators, are structured in a way that accommodates all skill levels and specific training needs.
For example, their "Adult Level 2" course is a 6-week group class for 6+ months old dogs. It incorporates various training methods and commands, including "heel" and "down."
By visiting the nearest Petco store, you can speak to one of their trainers and create a custom course for your dog.
Find the Right Dog Training for You
Finding the right dog training in Columbia isn't very challenging. There are several trainers who offer both online and in-person classes. We recommend checking out their official websites and contacting them to get a better sense of what sort of training they provide and whether or not they'll be good for your dog.
If you and your furry friend lean towards the introverted side, then online classes would be perfect for you. But if you want your dog to make new friends, then give group training a shot. Both options are great and will help strengthen the bond between you and your dog.