The Best Dog Training in Chicago, IL
7 minutes
Whether you've just adopted a new puppy or you want to teach your old dog some new tricks, finding a trainer you can trust is a vital part of caring for your furry best friend. This is especially true in a crowded city like Chicago, where your dog has to be well-behaved around strangers at Millennium Park or the Navy Pier. But narrowing down all the choices available in such a big city can seem overwhelming.
Luckily, we've researched and found the best of the best in the Windy City, so you can easily choose the ideal trainer for your pup! Whether you're looking for a guided online obedience course, group puppy training classes, or expert help reducing your dog's aggression, we've got you covered! We've also included trainers for a variety of budgets, so whether you're ready for a big investment or are looking for something more wallet-friendly, you'll find what you need.
Read on to discover first-rate dog trainers in the Second City – as well as our helpful guide to online versus in-person training, so you can know for sure what's right for you.
A Quick Look at the Best Dog Trainers in Chicago
If you want to get straight to the point, we've summarized our picks for the best dog training in Chicago in the table below.
Trainer
Price
Training Types
Online/In-Person
Dog Academy
$44.99-$349.99
Obedience Training, Puppy Training, Service Dog Training
Both
Found Training Center
$200-$1350
Basic Obedience, E-Collar,

Puppy Training

In-Person
Canine Perspective Dog Training
$225 – $4250
Basic Obedience, Behavioral Modification, Puppy Training
In-Person
Anything is Pawzible
$100-230
Obedience, Dog Therapy Training, Tricks
Both
Pat's K9 Training
Must Request Quote
Basic Obedience, Protection Training, Puppy Training
In-Person
Online Vs. In-Person Training in Chicago
Both online and in-person classes come with their own sets of benefits and drawbacks.
Overall, online training is much more flexible and cost-effective, and it's easier to help your dog study at their own pace – you can move through lessons as slowly as you need, and even go over lessons again and again until your pup nails it.
On the flip side, in-person training gives your dog a chance to socialize with others in person – including other dogs, if you take a group class, and gives you one-on-one attention. However, they're typically much more expensive, and you're at the mercy of the trainer's schedule.
Perks of Online and In-Person Training in Chicago
There's no right or wrong answer here – it's all about what works best for you and your dog.
| | | |
| --- | --- | --- |
| | Online Training | In-Person Training |
| Ask Trainer Questions | X | ✔️ |
| Flexible Schedule | ✔️ | X |
| One-on-One Instruction | ✔️ | ✔️ |
| Study at Your Own Pace | ✔️ | X |
| Socializes Your Dog | X | ✔️ |
The Best Dog Trainers in Chicago
Now that we've covered the different class types, it's time to dive into the most trustworthy and experienced dog trainers in Chicago!
1). Dog Academy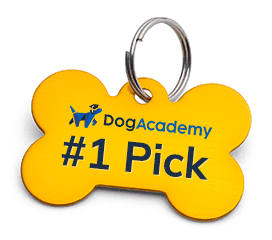 Whether you're looking for a basic obedience course, specialized courses (like minimizing separation anxiety), or how to train a psychiatric service dog, Dog Academy has thorough, in-depth courses for what you need. They offer online training programs designed by AKC-certified trainers, so you can work at your own pace and train any time that works for you. And they have a nationwide network of trainers, including ones in Chicago, so you can get personalized private training or even study in group lessons.
They've also designed each course to be simple to follow, even if you're brand-new to training, and their positive, reward-based training approach is both effective and fun! If you're minding your budget, Dog Academy is a great choice as well, since they offer their online courses for as much as 95% less than in-person competitors without sacrificing quality – and even their in-person training is a bargain.
2). Found Training Center
Found Training Center is run by founder Fabian Romo Vargas, a certified trainer with 14 years of experience; he also holds a CCPDT-KA, CGC, and an APDT, and is a NePoPo© Gold Graduate. Fabian and his team of trainers offer multiple types of courses, including group obedience classes, daycare programs that maintain training, and an intensive Puppy Imprinting Program that covers all the basics.
There is sometimes a waiting list to enlist in their training programs, so keep that in mind if you need training quickly.
3). Canine Perspective Chicago Dog Training
One of Chi-Town's top dog trainers, Jesus San Miguels (also known as the "Chicago Dog Whisperer"), is part of the team at Canine Perspective Chicago Dog Training. Here, they offer several types of training services, ranging from basic obedience to behavioral modification that combats more serious issues, like aggression.
To make things more convenient, they do offer in-home training or transportation for your dog to their on-site classes – but either of these will cost you extra. Still, it's a useful option if you live in the suburbs but want to take advantage of the training offered in the city!
4). Anything is Pawzible
For over 20 years, Anything is Pawzible has been helping Chicago pup parents with everything from dog therapy training to basic obedience skills. Their owner, Rendy Schuchat, is a long-respected trainer who specializes in positive reinforcement techniques that are proven successful and help build a stronger bond between you and your pup. They also began offering virtual obedience classes during lockdown, making their programs more generally accessible.
Anything is Pawzible offers both group classes for dogs that need to be socialized, and private lessons for dogs that need some one-on-one attention and focus. However, you are required to take a private course first, to be sure they're well-behaved enough to be safe around other dogs. Their classes aren't quite as in-depth as some others on the list, but they're a solid option for basics or general overviews.
5). Pat's K9 Training
Patrick, the founder and Head Behavior and Training Consultant of Pat's K9 Training, specializes in dogs who have issues with fear, aggression, or reactivity issues – while using only positive reinforcement techniques! Pat's K9 Training also offers courses in puppy training, basic obedience, and even protection training – which can help your dog become an alert and focused guard dog.
Pricing is dependent on your dog's specific needs and experience level, but Pat's K9 Training offers quick, free quotes, so you can get an idea of what your cost would be without much hassle.
6). Dynamic Dogs
Jennifer Hack, with Dynamic Dogs, is a dog behaviorist with years of experience – and with a degree in Clinical Psychology, she strives to understand the unique way your dog thinks in order to create a customized training program for them. On top of customized training, Dynamic Dogs offers lots of different training focuses, even including training for talent animals and animal actors! They also offer a Boarding School for Dogs, which offers boarding along with intensive training, so your dog can focus on learning the skills they need to master.
Dynamic Dogs works with all ages and breeds of dogs, which can be especially helpful if you've rescued an older dog!
Find the Best Dog Trainer in Chicago
No matter what type of training you're looking for, Chicago has a wealth of great trainers that offer exactly what you need. We hope that our guide to the best dog trainers in Chicago will help you make a choice with confidence so that you can get your furry best friend in the right training for them – and help make your bond stronger and better than ever!