The Best Dog Training in Cedar Rapids, IA
8 minutes
Cedar Rapids and its surrounding areas offer a lot of outdoor activities that are dog-friendly. You can enjoy parks, trails, and even the Indian Creek Nature Center. Dogs are also welcome in certain stores, such as pet stores and some hardware stores.
It's a lot of fun to be able to take your dog out, but some dog owners struggle to do so because their dogs are not well-behaved. If you're reading this article, you may be one of them, and you're certainly not alone. Dogs who are reactive or who don't come when called won't be able to enjoy outings with you.
Luckily, there is a solution! We've done some research and put together a list of the best dog trainers in Cedar Rapids. With their help, your dog will be able to join you on those beautiful trails or for a visit to the pet store. Keep reading to find out more about the best dog training Cedar Rapids has to offer.
A Quick Look at the Best Dog Training in Cedar Rapids, IA
Here, we've put together a chart that provides an overview of the best dog trainers in Cedar Rapids. We will be providing in-depth information on each of these trainers later in the article, so keep reading.
| | | | |
| --- | --- | --- | --- |
| Trainer | Price | Training Types | Online / In-Person |
| Dog Academy | $49.99-$349.99 | Obedience, Puppy Training, Behavioral Issues, Psychiatric Service Dog Training | Both |
| A Better Dog 4U |  Contact for Details | Puppy Training, Behavior Modification, Small Challenges Course (Confidence Building) | In-Person |
| Cedar Run Company | Play and Train $600 per Session; Group Classes $175 per Class | Manners, Canine Good Citizen Prep, Play and Train | In-Person |
| Bark Busters | Contact for Details | Aggression, Behavior Modification,  Separation Anxiety | In-Person |
| Dunbar Academy | $100 – $200 per Single Course, or $20/month Subscription (or $150 Annually) | Dog to Dog Reactivity, Aggression, Games | Online |
Online Vs. In-Person Training in Cedar Rapids
Online and in-person training are both effective options for teaching your dog new skills. Online training tends to be more affordable and a lot more convenient as you can study from anywhere with an internet connection. With some online courses, you are even able to keep the training materials forever.
As for in-person training, it can be a great way to provide socialization for your dog and help them learn to listen in the presence of distractions (especially if you take a group class). Since both in-person and online training are effective, which you choose is ultimately up to preference.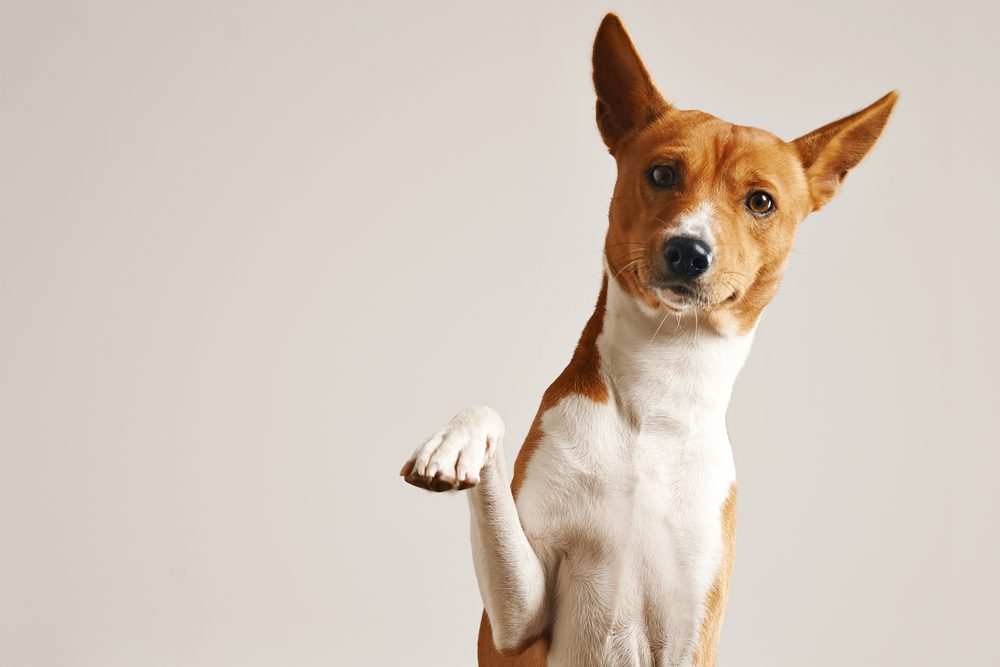 Perks of Online and In-Person Training in Cedar Rapids
Here's a quick chart outlining the perks of online vs in-person training.
| | | |
| --- | --- | --- |
| | Online Training | In-Person Training |
| Train with Professionals | ✓ | ✓ |
| Learn from Home | ✓ | ✓ |
| One-on-One Instruction | ✓ | ✓ |
| Study at Your Own Pace | ✓ | X |
| Socializes Your Dog | X | ✓ |
The Best Dog Training in Cedar Rapids
Finding a humane dog trainer that doesn't use force or intimidation isn't always easy. That's why we've carefully selected trainers whose methods that are fun, effective, and safe for your furbaby. We've included information about their services, pricing, and contact details. Take a look!
Dog Academy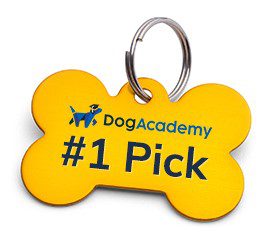 Online or In-Person:  Online and In-Person
Types of Training Courses: Obedience Classes, Behavioral Issues, Puppy Training, Psychiatric Service Dog Training, Emotional Support Animal Training, Specialty Classes (e.g. Canine Confidence, Separation Anxiety)
Price Range: $49.99 – $349.99
Link to Website: Dog Academy Basic Obedience Training Program
Phone Number:  (605) 223-1971
Dog Academy has a dozen experienced trainers servicing every city in the United States, including Cedar Rapids. We offer group classes, private training, and online courses.
We are proud to have an extensive catalog of online classes that you can take from the comfort of your own home. Training topics we cover include basic obedience, reactivity, barking, leash manners, tricks, crate training, puppy training, emotional support dog training, service dog training, and more.
You can also learn some skills yourself, such as how to groom your dog at home or how to administer canine CPR. All of Dog Academy's courses have been designed by American Kennel Club-certified trainers who have over 25 years of experience.
If you ever need help, you can get in touch with a trainer via phone, email, or the contact form on Dog Academy's website.
A Better Dog 4U
A Better Dog 4U offers obedience training and a small challenges course. Obedience training is available for dogs of all ages and will teach skills like come, sit, stay, heel, and lay down. All training is done one-on-one in your home or at an agreed-upon location (if your dog is great at home but doesn't listen when at the park, you can train there).
The small challenges course is an obstacle course with low-impact physical challenges for dogs. This course can be used by dogs of all sizes, breeds, and ages and is meant to help improve a dog's confidence levels. It's also great for a dog's physical fitness.
A Better Dog 4U claims they can help with any dog training issue and are a great option for people who have recently adopted or rescued a dog. Training is completely force-free and humane and focuses on building a fun, trusting relationship between dog and owner.
Cedar Run Company
Cedar Run Company is a one-stop shop for many of your dog-related needs. They offer boarding, daycare, grooming, and training. You can drop your dog off for a play and train session or participate in a group class.
Play and Train pairs daycare with dog training. Dogs will be dropped off twice a week for four weeks total and receive eight hours of daycare and eight hours of training each week. This is a great option for busy dog parents as their pups will learn good manners and obedience and also come home tired.
If you'd like to be more involved in your dog's training, then Cedar Run Company offers a few group training classes. These include beginner obedience (for 12 months and under), basic obedience (for any dog, any age, any skillset), and Canine Good Citizen prep.
Bark Busters
Bark Busters offers in-home training for dogs of all ages. They can help with numerous dog training needs such as jumping, digging, destruction, hyperactivity, whining, leash pulling, and more. Bark Busters is also skilled enough to work with more serious issues such as biting, aggression, and separation anxiety.
Their methods are completely force-free, though they aren't your typical positive reinforcement dog trainers. Rather than using treats or clickers, they use body language and voice tones to earn your dog's focus and respect. You can trust that they will not use harmful tools like choke chains or shock collars.
Bark Busters is also committed to your success. If at any time after your training, you find yourself with a new or recurring dog training problem, Bark Busters will offer additional training free of charge. This service is good for the life of your dog.
Dunbar Academy
Dunbar Academy was created by Ian Dunbar, a pioneer of modern force-free dog training, and his family. Dunbar Academy offers a plethora of online training courses, which include puppy training, behavior problems, using games to train reliability, dog-to-dog reactivity, treatment and prevention of aggression.
If you're interested, there are even some courses about the science behind dog training. While all courses are available for a flat fee, the better deal may be to subscribe to the Top Dog Academy.
For $20, this monthly subscription grants access not only to the dog training courses on the website, but also to hundreds of hours of dog training videos, ebooks, podcasts, and worksheets. Furthermore, you can take part in periodic seminars and live Q&A sessions or ask questions in an exclusive Facebook group — you may even receive advice from Ian Dunbar himself!
Find the Right Dog Training for You
Choosing the right dog trainer is tough, but we'll try our best to help you narrow things down. If your dog is a problem child who has poor manners or some nuisance behaviors like digging, barking, and chewing, then we'd recommend A Better Dog 4U.
However, for more serious behavioral issues like separation anxiety or reactivity, check out Bark Busters, Dunbar Academy, or Dog Academy. If your dog is lacking confidence or you simply want to enjoy a fun activity with them, check out Cedar Run Company since they have a fantastic obstacle course that is appropriate for dogs of all ages.
Whichever trainer you choose, we're sure you'll be able to achieve all of your dog training goals. It just takes a little bit of patience, love, and consistency!