The Best Dog Training in Bridgeport, CT
8 minutes
Bridgeport is a coastal city with high-rise buildings in downtown and residential areas that bring a suburban feel. Dogs in the city enjoy a stroll downtown where they can greet passersby and walk off-leash alongside their owners in less crowded areas.
Your dog must behave well around other people and pets to get the most out of these places and the attractions like Seaside Park.
Unfortunately, Bridgeport doesn't have many options when it comes to dog training. There are only a few dog trainers within the city's borders. Still, the good news is you won't need to go as far as New York City to find reliable dog trainers.
In this article, we'll present you with the best dog trainers in and around Bridgeport, Connecticut. The dog trainers that made our list provide a range of dog training services, including but not limited to puppy training, service dog training, fixing unwanted behaviors, and ESA training. So you will find dog training that suits what you're looking for in Bridgeport.
A Quick Look at the Best Dog Training in Bridgeport, CT
Here's an overview of the best dog trainers in Bridgeport. You'll find a more detailed review of the following dog trainers in later parts of the article.
| | | | |
| --- | --- | --- | --- |
| Trainer | Price | Training Types | Online / In-Person |
| Dog Academy | $49.99 – $349.99 | Obedience Classes, Puppy Training, Psychiatric Service Dog Training | Both |
| Wag Central | $45 – $300 | Group Classes for Puppy, Basic Obedience, Agility Training | In-Person |
| One Smart Dog | $60 – $625 | Basic and Intermediate Obedience, Puppy Training, Group Classes | Both |
| Pet Degree Dog Training | $100 – $350 | Private Lessons, Group Classes, Behavior Consultations | In-Person |
| Empire State K9 Services | $2,500 – $6,500 | House Manners, Basic and Advanced Obedience, Medical Alert Service Dog Training | In-Person |
Online Vs. In-Person Training in Bridgeport
When life gets busy and you don't have much in your schedule to move around with your dog, online training can give you the freedom of choosing when to train. Plus, it can be done anywhere – your living room, backyard, office, everywhere is a potential training ground.
However, online training may not be the best if your dog has serious behavioral issues like aggression toward strangers or severe anxiety. These problems often require supervision from a professional dog trainer. Online training is more suitable for most dog owners in Bridgeport to teach them basic tricks, stopping reactivity, and housetraining.
Additionally, some dog trainers offer private, online calls. These calls are usually set on Skype or Zoom and require a reliable internet connection for the trainer to coach you in real-time. It can be an option to consider if in-person training is not an option for you, but you need expert guidance.
When thinking about in-person training, it doesn't have to be the typical group classes or training sessions at the trainer's location. Most trainers that made our list of best trainers in Bridgeport also provide in-home training sessions. The trainer will come to your location and train your dog alongside you or take them for an out-and-about training lesson.
In-home training  enables trainers to work with your dog closely and utilize training techniques that will work for their temperament, making them highly effective.
These are just a few differences that set online and in-person training apart. Below, you'll find a chart outlining some of their perks to help you decide further.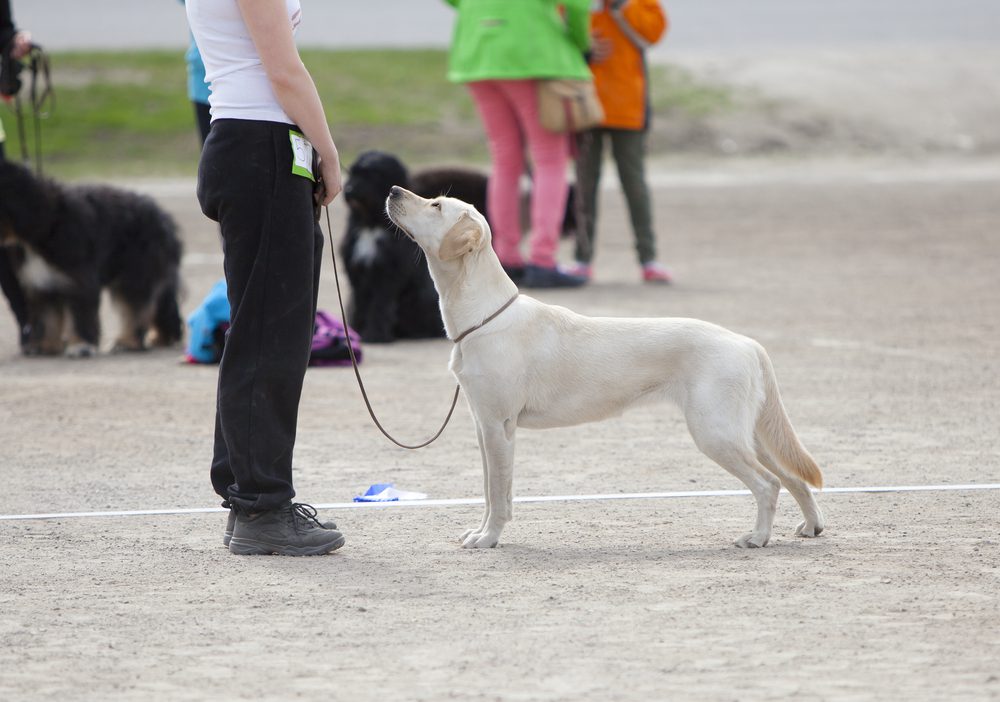 Perks of Online and In-Person Training in Bridgeport
| | | |
| --- | --- | --- |
| | Online Training | In-Person Training |
| Socializes Dogs | x | ✓ |
| Train at Your Own Pace | ✓ | x |
| Customized Training Plan | x | ✓ |
| Flexible Scheduling | ✓ | x |
| Train With Professional Trainers | ✓ | ✓ |
The Best Dog Training in Bridgeport
We've researched extensively to eliminate the bad trainers from the good in and near Bridgeport, Connecticut. Here's an overview of the best dog training you will find in Bridgeport and the neighboring areas within a short drive.
Dog Academy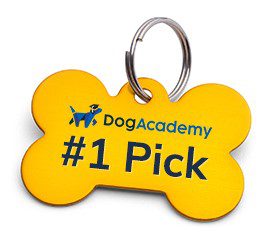 Dog Academy is a nationwide name in dog training. The reason many troubled dog owners turn to Dog Academy is simple. The training programs are affordable and accessible, whether you want online or in-person dog training.
The online courses include puppy, basic obedience, psychiatric service dog, and ESA training. Along with these, you'll find resources on stopping unwanted behaviors such as pulling on the leash and excessive barking. There are also breed-specific courses that cover everything you need to know about a particular breed – extremely helpful before welcoming one into the family.
Dog Academy's network of professional dog trainers can also come to your home, or you can enroll your dog in group classes. The in-person training services Dog Academy offers may be more suitable if you want hands-on guidance from an expert dog trainer. You can also hold online calls with the trainers to get help through your dog's training journey.
Wag Central
Located near the Stewart B. McKinney National Wildlife Refuge, Wag Central is within a short drive from the east of Bridgeport. They offer group classes for puppies, basic obedience, and agility work. All the training sessions accept up to six dogs per class, so your dog will have plenty of attention from their trainers.
Wag Central also has a Hit It, Quit It, Say We Did It program that helps dog owners understand their dog's behavior. It's essentially coaching for dog owners that covers basic training, puppy behaviors, and crate training and ends with a Q&A session. This program can be beneficial for dog owners struggling to find time to bring their dogs to Wag Central.
In addition to training, Wag Central also offers daycare, boarding, and grooming. Their facility is spacious and includes an indoor swimming pool for dogs.
One Smart Dog
Just south of the Sports Center of Connecticut, One Smart Dog is a dog training organization with private and group classes. They have various packages for one-on-one training, suitable for dog owners with different training needs and budgets.
The group classes held at One Smart Dog teach basic and intermediate obedience. There are prerequisites to joining some – for example, dogs must pass the basic obedience class before participating in intermediate or advanced manners.
One Smart Dog offers online training, and some packages include virtual consultations before the training starts. They also have phone consultations. According to their website, these phone consultations are ideal for dog owners troubled with crate training, destructive behaviors, and phobias.
Pet Degree Dog Training Center
Just north of Indian Ledge Park, Pet Degree Dog Training Center isn't as close to Bridgeport as other trainers listed, but they offer in-home training. You can be up to 10 miles from their location without extra fees. This means much of Bridgeport falls within their coverage area.
Pet Degree Training Center's in-home training creates a customized plan for your dog. These private lessons can also go hand-in-hand with behavior consultations if your dog displays acts that need fixing.
They also have group classes for puppies, basic obedience, and lessons for the AKC Canine Good Citizen program. Since in-home training lessons are the most suitable for Bridgeport residents, be prepared to spend a little extra on training with this trainer.
Empire State K9 Services
Empire State K9 Services offers in-home training sessions and extensive courses with their board and train program. The in-home sessions are ideal for fixing unwanted behaviors or teaching house manners to your dog.
The courses, on the other hand, are more specialized and focus on advanced training. Empire State K9 Services has three programs that give dogs service animal training and teach guard work. The company also has a course for medical alert training.
Empire State K9 Services operates in all cities across the New Jersey, New York, and Connecticut tri-state areas. Although their pricing is high for working dog training, it's a reputable dog trainer that offers services only a few dog trainers do near Bridgeport.
Find the Right Dog Training for You
With a handful of dog trainers in the city, online training is the most inviting for Bridgeport residents. If you have the time to spare for dog training, online training your dog can help you understand their personality and temperament and troubleshoot their future behaviors.
While training your dog with the help of a course or an instructor will undoubtedly strengthen the bond between you and your furry friend, it's not always possible. That's when you may need help from a professional dog trainer.
Dog Academy, Pet Degree Dog Training, and Empire State K9 are the dog trainers in Bridgeport that can come in for an in-home consultation. From there, you and the trainer can decide if private or group classes are the best for your dog.
Lastly, there are a few critical considerations to make when finding the best dog training in Bridgeport. Before you invite any trainer or drive up to their location, don't forget to consider their pricing, expertise, and qualifications and check their reviews to see if they will meet your expectations.