The Best Dog Training in Baton Rouge, LA
8 minutes
Despite the hot, sticky summers, dogs and dog owners love Baton Rouge because it's one of the most dog-friendly cities in the US. This means there are plenty of places where your four-legged friend is welcome. Before you take your dog out to mingle at one of the many dog-friendly restaurants or green spaces in the city, you want to make sure they know how to mind their manners and interact positively with other dogs and people.
Thanks to the high number of dog owners in the area, there are plenty of great options for dog trainers as well. Many schools offer full-service options like boarding, daycare, and grooming as well. Whether you're looking for training options you can do from home or in person, there are some great options available including one-on-one and group classes.
A Quick Look at the Best Dog Training in Baton Rouge
This table features a few of the top-rated trainers that operate in the Baton Rouge area. There are a  good range of options in terms of price, topics covered, and convenience. Some trainers specialize in one-on-one training, but others do group classes that help socialize your dog. There are even online and in-home training options. This table gives you a brief overview, but each trainer has a full rundown below.
| | | | |
| --- | --- | --- | --- |
| Trainer | Price | Training Types | Online / In-Person |
| Dog Academy | $34.99-$349.99 | Obedience, Puppy Training, Service Dog Training | Both |
| Camp Bowwow | $40-$200 | Obedience, Leash Training, CGC | In-Person |
| Dog Training Elite | $4-$2895 | Socialization, Behavior Correction, Therapy Dog | Both |
| Pet Suites | $65-$400 | Puppy Training, Good Manners, Behavior | In-Person |
| Larry Benoit | $165-$1500 | Basic Commands, Potty Training, Advanced Training | In-Person |
Online Vs. In-Person Training in Baton Rouge
With online dog training options becoming an increasingly popular option, it can be hard to know what's best for you. Both online and in-person dog training have their benefits and there are many different courses and styles of training in both categories.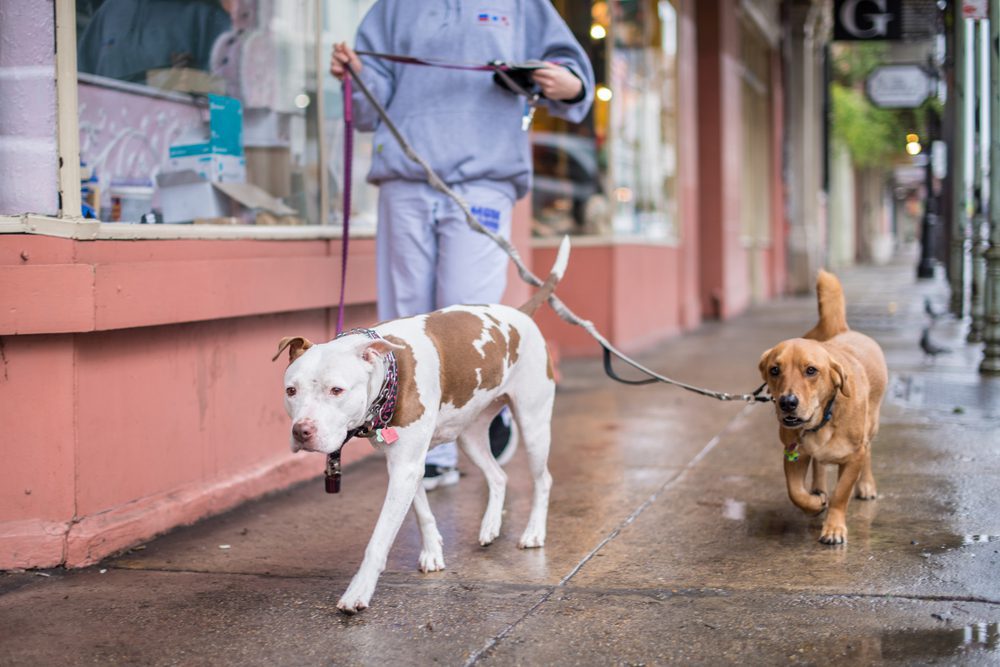 Perks of Online and In-Person Training in Baton Rouge
Online dog training is the peak of convenience, which can really appeal to busy professionals or folks that might spend a lot of time keeping up with a family full of extracurricular activities. Any chance to avoid a traffic jam can be very welcome. Training from home can also be more comfortable for dogs that are easily stressed or anxious around other dogs and aren't ready to be in a group setting yet.
Of course, in-person dog training allows for more opportunities to give your dog socialization.  There are also some handy options, such as day training that allows you to drop your pup off so they can enjoy training and enrichment while you're at work. There are also courses that help train you to communicate better with your dog.
| | | |
| --- | --- | --- |
| | Online Training | In-Person Training |
| Variety of Training Levels | ✓ | ✓ |
| Flexible Schedule | ✓ | x |
| Socialization | x | ✓ |
| Any Location | ✓ | x |
| Behavior Correction | ✓ | ✓ |
The Best Dog Training in Baton Rouge
Now that you may have a better idea of what style of training will suit you and your dog best, you probably want to dig a little deeper into the specific options around Baton Rouge. From online courses to small personal trainers, our list has an option for every human and every dog.
We believe in transparency, so we always include pricing information, along with the style of training and specific courses available. Most trainers will offer beginner classes and puppy schools, but more specialized and advanced training is also available. A dog of any age and level can get the support they need to be more comfortable in a variety of settings and situations.
1). Dog Academy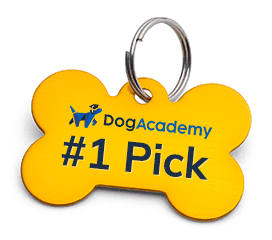 Online or In-Person: Both
Types of Training Courses: Obedience Classes, Behavioral Issues, Puppy Training, Psychiatric Service Dog Training, Emotional Support Animal Training, Specialty Classes (e.g. Canine Confidence, Separation Anxiety)
Price Range: $49.99 – $349.99
Link to Website:

Dog Academy Basic Obedience Training Program

Phone Number: (605) 223-1971
Dog Academy is the top choice when it comes to convenience. Train your dog from the comfort of your own home or yard whenever your schedule allows it. Their courses offer a wide variety of specialized training including breed-specific options and courses to correct negative behavior.
If you are hoping to take your dog with you, they have a canine coworker course to help prepare them for a workplace setting where they will interact with other people and have to maintain a level of quiet throughout the day. Their ESA training course is also valuable to folks who are looking to turn their furry friend into a supportive companion.
Each course is taught by a dog training professional and lays out a clear syllabus along with information about the materials needed. Dog Academy helps train you how to train your dog, increasing the bond between you two.
2). Camp Bowow
Online or In-Person: In-Person
Types of Training Courses: Canine Good Citizen (CGC), Obedience, Leash Training
Price Range: $40-$200
Link to Website: https://www.campbowwow.com/baton-rouge/
Address: 7195 Pecue Lane, Baton Rouge, LA 70817
Phone Number: (225)-810-3647
Camp Bowow is highly rated by Baton Rouge pup parents for its immersive socialization and courses ranging from beginner to advanced levels. The school is dedicated to a healthy and scientific approach that doesn't harm dogs or create an overly harsh environment but works with their natural instincts offering them mental stimulation and teaching better human-to-dog communication.
Uniquely, Camp Bowow's classes focus more on adult dogs who may still need to learn the basics of obedience to commands and leash training, rather than puppy training. This is perfect if you adopted an older dog or didn't dedicate enough time to training your pup when they were little, but want to correct some issues now.
The school offers boarding services and doggy daycare as well to help your dog get enough enrichment while you're away at work. They have options to work short training sessions into their daycare schedule or while they are boarding as well. If your dog isn't ready to be in a group environment, there are also private lessons available.
3). Dog Training Elite
Online or In-Person: Both
Types of Training Courses: Obedience, Socialization, Behavior Correction, Therapy Dog Training
Price Range: $45-$2895
Link to Website: https://dogtrainingelite.com/baton-rouge
Address: In-home
Phone Number: (225)-274-6107
Dog Training Elite is one of the pricier options around Baton Rouge, but it's pretty clear why once you understand the services they offer. Training is done in your own home to better help your dog  apply training skills to their everyday environment. Training can be done in outdoor spaces too, such as the park, where behavior problems may be more likely to occur.
Training packages also include access to group classes in Baton Rouge so that dogs and owners can develop skills in these social settings as well. Owners are empowered to be involved in the training and can contact the school and trainers at any time for guidance should issues arise between training sessions.
Dog Training Elite is a good option for adult dogs who are having some emotional or behavioral issues that need to be addressed. However, they also have a proactive puppy training course and their online puppy training seminar is the most affordable option they offer, giving some guidance to new puppy parents trying to lay down good foundations with their new family member.
4). Pet Suites
Online or In-Person: In-Person
Types of Training Courses: Puppy Training, Good Manners, Behavior
Price Range: $65-$400
Link to Website: https://batonrouge.petsuitesofamerica.com/
Address: 8200 Perkins Rd, Baton Rouge, LA 70810
Phone Number: (225)-367-2942
Pet Suites may be better known for their boarding services, but they offer quite a few other options for pet parents in Baton Rouge. If you're going out of town for a few days, they are a great boarding option, and training classes can be rolled into your boarding package or it can be a part of their doggy daycare stay if you are looking for enrichment for your dog during the week.
There are also group classes such as the Dog Good Manner course which offers tiered material to help your dog qualify for a Canine Good Citizen certificate. Their Puppy Kindergarten is also a popular option to help get your dog off on the right paw when it comes to behavior.
Their reward-based, dog-friendly approach is available for dogs of all ages and levels. You do not have to board your dog or enroll them in daycare to take advantage of the group or one-on-one courses the facility offers.
5). Larry Benoit
Online or In-Person: In-Person
Types of Training Courses: Basic Commands, Potty Training, Advanced Training
Price Range: $165-$1500
Link to Website: http://larrybenoitdogtrainerllc.com/
Address: 14653 Terrell Rd, Baton Rouge, LA 70816
Phone Number: (225)-791-6743
This local school is on the smaller side, but focuses on helping improve the relationships between dogs and owners by opening up communication. When humans communicate in a way that the dog listens to, both parties are happier together. The school offers group classes in basic obedience to help your dog understand day-to-day commands and good manners.
There are also drop-off classes to allow your dog to spend the whole day at the facility learning new skills and leveling up their existing ones with a team of trainers over a two-week period. Personalized training in your own home is also available to deal with specific triggers or behavioral issues and for more intensive training.
The personalized care and limited class sizes as well as the variety of course formats make this a good option for many dog owners.
Find the Right Dog Training for You
Fortunately, the days of smacking a dog on the nose with a newspaper have long passed. Trainers are more focused on kind, communicative training options now that help teach your dog the skills they need to live happily with us in the human world. And they teach us, humans, how the dog's mind works and how we can better communicate with them.
There are so many great dog trainers around Baton Rouge that you can easily find one to suit your needs. Carefully evaluate which kind of course will help your dog and figure out which one best fits your schedule for a harmonious home.