The Best Dog Training in Athens-Clarke County, GA
6 minutes
Athens-Clarke County is a pet-friendly city with spacious dog parks for dogs to run loose and let their energy out. You'll also find plenty of dog-friendly businesses and restaurants that boast impressive dog menus. The city is generally walkable, and you can take your dog to run errands while meeting their daily exercise needs.
Athens-Clarke is overall dog-friendly, but having a well-trained dog to explore around will make everything much better. The city has regulations prohibiting dogs from walking off-leash outside the owner's property and designated off-leash areas. Dog owners also can't let their dogs disturb the peace by loud, persistent barking, which may concern those with a reactive dog.
You can ensure your dog behaves well by setting up a training schedule. However, it can get difficult to spare time for it when life gets busy. If this sounds like you, the dog trainers of Athens can help and provide the guidance your dog needs.
In this article, we'll list the best dog training options you have as a dog owner in Athens-Clarke County. Read on to discover each dog trainer's services and pricing to find the best fit.
A Quick Look at the Best Dog Training in Athens-Clarke County, GA
The below chart is a summary of the dog trainers you'll find in this article.
| | | | |
| --- | --- | --- | --- |
| Trainer | Price | Training Types | Online / In-Person |
| Dog Academy | $49.99 – $349.99 | Obedience Classes, Service Dog Training, Puppy Training | Both |
| Pawtropolis | $125 – $225 | Puppy Classes, Behavior Modification, Basic and Advanced Obedience | In-Person |
| Sit Happens Dog Training & Behavior | $150 – $410 | Puppy Classes, Private Lessons, Board and Train | In-Person |
| Lucky Dog Agility | Contact for Price | Dog Sports, Agility Training, Rally Obedience | In-Person |
Online Vs. In-Person Training in Athens-Clarke County
You'll find a variety of dog training in Athens-Clarke County. The trainers in the city offer online training through video calls and courses, private training with in-home or on-site sessions, and group classes for puppies and obedience training.
However, the majority of the trainers don't offer online lessons. Athens-Clarke County trainers focus more on in-home and group training. Dogs with specific needs or severe behavioral issues benefit the most from private lessons. The trainer can give their undivided attention to address their training needs one-on-one.
While private lessons deliver fast results, it's costlier than other forms of dog training. Another option for in-person training that's more affordable is group classes. If you have a puppy, this can also provide the crucial socialization young dogs need while learning tricks and manners.
Online training is the best for those with travel or budget limitations. You can schedule affordable lessons and start training anywhere. Again, you only have a handful of options for online training in Athens-Clarke County.
Ultimately, choosing the right training comes down to your circumstances. Consider your budget, schedule, and your dog's training needs to make the best decision.
img class="aligncenter wp-image-38725 size-medium" src="https://dogacademy.org/blog/wp-content/uploads/2023/08/dog-gazing-at-owner-using-laptop.jpg" alt="dog gazing at owner using laptop" width="1000″ height="667″ />
Perks of Online and In-Person Training in Athens-Clarke County
Here are the perks of online and in-person training in Athens-Clarke County to help you decide between these two training methods.
| | | |
| --- | --- | --- |
| | Online Training | In-Person Training |
| Flexible Schedule | ✓ | x |
| Hands-On Guidance | x | ✓ |
| Budget-Friendly | ✓ | x |
| Socialization Opportunities | x | ✓ |
| Study at Your Own Pace | ✓ | ✓ |
The Best Dog Training in Athens-Clarke County
The dog trainers in Athens-Clarke County specialize in various types of dog training. You'll find a trainer experienced in the training your dog needs. Here's an overview of the best dog trainers that found a spot in our article.
Dog Academy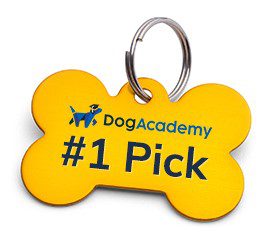 Dog Academy is overall the dog trainer in Athens-Clarke County. You'll find it all, from basic obedience classes to fixing behavioral issues with private lessons to group classes for ESA training.
Dog Academy makes finding the best trainer easy. All you need to do is answer a few questions and choose your preferred training method. You will then match with AKC-certified trainers in your area that are experts in the training your dog needs.
Dog Academy won't break the bank with affordable online, private, and group training. You can also watch hundreds of hours of content to train your dog at your own pace. Getting quality training with a ton of flexibility sets Dog Academy apart, making it a top choice for Athens-Clarke County residents.
Pawtropolis
You might've already heard of Pawtropolis for their doggie daycare and grooming as they have two locations in Athens-Clarke County. This happy place for dogs is more than grooming and daycare. They also train dogs, including nose work, behavior modification, puppy classes, and private lessons.
Pawtropolis dog trainers specialize in different types of training. This ensures your dog will get attention from an expert in their field with years of experience. The trainers can come in for an in-home private lesson, or you can join group classes at one of their locations. Lastly, you can book a phone consultation with a trainer for assistance.
Sit Happens Dog Training & Behavior
Sit Happens Dog Training, located near the Athens-Clarke County Library, has a catchy name. The company focuses on fixing unwanted behaviors through private lessons and has puppy classes for 10 to 18 weeks and 4 to 6 months old puppies. Sit Happens Dog Training also has a board and train program for eligible dogs that pass their behavioral survey.
What separates Sit Happens Dog Training from others is they have classes teaching you how to train your dog. These extensive courses teach you how to clicker train your dog in three different levels: Introduction, beginner, and advanced. This program is for dog owners that want to get more involved in their dog's training journey.
Lucky Dog Agility
Lucky Dog Agility, five miles outside Athens-Clarke County, specializes in dog sports. If your dog has finished their obedience training and you're looking for new ways to give them a sense of purpose, this can be the perfect place to start.
Lucky Dog Agility has various programs for Canine Good Citizen, Rally Obedience, Barn Hunt, and agility training. These programs are perfect for introducing your dog to sports and advance gradually to compete. The classes take place in a fenced outdoor facility with plenty of agility equipment, so there is no worry about safety.
Find the Right Dog Training for You
We've listed a range of dog trainers with different specializations in Athens-Clarke County. These trainers are experts in various types of training that can help you address your dog's training needs. Since they have different types of training available, you're guaranteed to find a suitable trainer for your dog.
Before booking any, make sure to check each trainer's reviews, training methods, and facilities to find the best dog training for your needs in Athens-Clarke County.