The Best Dog Training in Anchorage, AK
7 minutes
Anchorage is the most populous city in Alaska, and it's home to a diverse population. What most of the residents have in common is their love of the outdoors and their ability to thrive in harsh conditions. Dogs are beloved companions to Alaskans during long, dark winters and the perfect buddies for outdoor adventures throughout summer.
Anchorage has plenty of dog lovers, and it comes as no surprise that there are also plenty of good options for dog trainers around the city. From puppy training to behavior correction, the basics are covered, along with a number of trainers who also offer specialist training for agility, trail commands, or other competitions. Whether you are training your dog to be a family companion or a blue ribbon winner, you'll find training programs that will suit your and your dog's needs and provide plenty of enrichment.
A Quick Look at the Best Dog Training in Anchorage
Here's a quick peek at some of the basics about the trainers available to Anchorage residents that we reviewed for this article. We'll give you a more detailed rundown below.
| | | | |
| --- | --- | --- | --- |
| Trainer | Price | Training Types | Online / In-Person |
| Dog Academy | $49.99 – $349.99 | Behavior, Service Dog Training, Breed-Specific Training, Obedience | Online and In-Person |
| Alyeska Canine Trainers | $125-$135 | Puppy Training, Agility, Nosework, Competition | In-Person |
| Anchorage Dog Training | $50-$400 | Puppy Training, Behavior Modification, Communication | In-Person and Online |
| Alaska Dog Sports | $150-$165 | Behavior Modification, Puppy Training, Rally Skills, Nosework | In-Person |
| Howling Peaks | $100-$2750 | CGM, Socialization, Behavior | In-Person |
Online vs. In-Person Training in Anchorage
Digital services have gotten more popular in recent years, and there's good reason for it. Online classes and consultations are the peak of convenience—no need to worry about adjusting your schedule or going out in bad weather. Of course, when it comes to dog training, there are benefits to having a professional working with your dog in person. It's up to you to decide what will work best for you and your dog when choosing between the two options.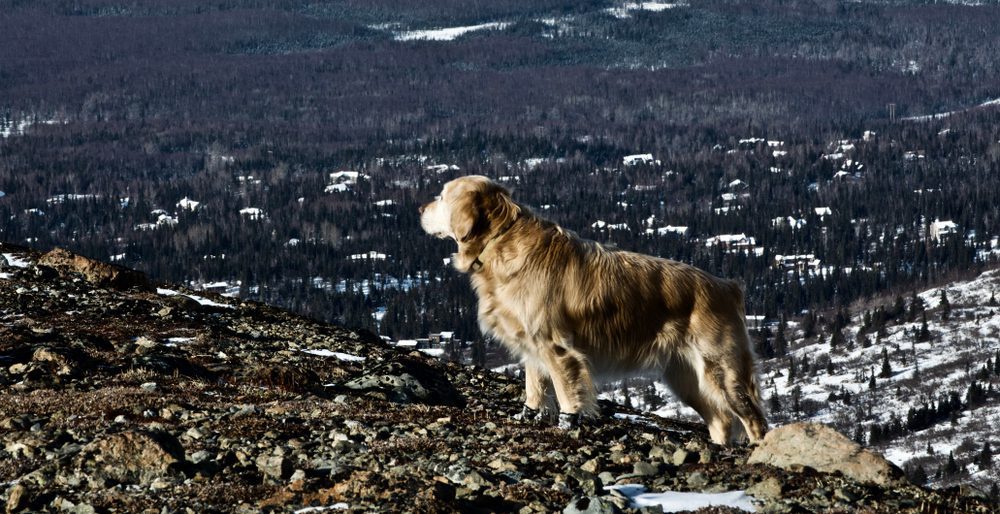 Perks of Online and In-Person Training in Anchorage
We made a quick rundown of the pros and cons of both in-person and online training for your dog to help you weigh the options better. It's up to you to decide what training options will be the most sustainable for your pup and for you.
| | | |
| --- | --- | --- |
| | Online Training | In-Person Training |
| Affordable Options | ✓ | ✓ |
| Works on Any Schedule | ✓ | x |
| Specialized Training | ✓ | ✓ |
| Offers Socialization | x | ✓ |
| Improves Human & Dog Communication | ✓ | ✓ |
The Best Dog Training in
We're going to dig a little deeper into what makes each of these training options special and how their offerings stack up. They all offer different training options and packages and are all located in and around Anchorage. Hopefully, you'll find your perfect match on this list.
Dog Academy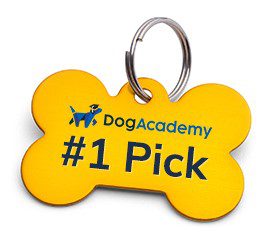 Online or In-Person: Online and In-Person
Types of Training Courses: Obedience Classes, Behavioral Issues, Puppy Training, Psychiatric Service Dog Training, Emotional Support Animal Training, Specialty Classes (e.g., Canine Confidence, Separation Anxiety)
Price Range: $49.99 – $349.99
Link to Website: Dog Academy Basic Obedience Training Program
Phone Number: (605) 223-1971
Dog Academy has a full library of training courses, all taught by professional dog trainers. You can choose the level and specialist subject that will work for you and your pup. Even better, their online courses can be done anytime and anywhere. If you have an anxious dog that struggles around strange dogs or people, you can start by training them at home in a safe and familial environment.
They even offer breed-specific courses to cater to the unique needs of certain dogs. Classes to prepare your dog to be an emotional support animal are also available. Dog Academy recently launched a service to connect you with their own verified trainers in person as well. Their private trainers allow the same convenience as online training but with a professional right there with you to help your dog make the most progress. Group classes are also available.
Alyeska Canine Trainers
Online or In-Person: In-Person
Types of Training Courses: Puppy Training, Agility, Nosework, Competition
Price Range: $125-$135
Link to Website: http://alyeskak9trainers.com/index.html
Address: 549 W. International Airport Rd., Suite A15, Anchorage, AK 99518
Phone Number: (907) 563-4335
While Alyeska Canine Trainers offers foundational training classes that focus on puppy training and other beginners, they specialize in training dogs for competition. A well-behaved, well-trained dog is essential for more advanced work. They offer classes in agility, dog parkour, competitive obedience, and rally.
Even if you don't have your sights on a blue ribbon, plenty of their classes offer excellent enrichment for intelligent and energetic dogs. Their Canine Good Citizen course is beneficial to any dog, and classes in nose work would be a great source of enrichment to working breeds, even if they don't go on to compete.
Anchorage Dog Training
Online or In-Person: Both
Types of Training Courses: Puppy Training, Behavior Modification, Dog Language
Price Range: $50-$400
Link to Website: https://www.anchoragedogtraining.com/
Phone Number: (907) 313-0525
Anchorage Dog Training is run by one trainer with over 20 years of experience, from training dogs for films and K9 police units to working with family dogs that need help with behavioral issues. This school doesn't focus on tricks and competitive skills but rather makes its mission to help dogs and people communicate well and have strong relationships. Phone consultations are also available for dogs that aren't ready or able to train in person.
There are two main course routes you can choose from: puppy training or behavior modification, depending on the needs and age of your dog. Additionally, Anchorage Dog Training offers a special dog language class to teach people how to better read their dog's signals give to try and communicate with us. For professionals who work with canines, the class is even offered for free.
Alaska Dog Sports
Online or In-Person: In-Person
Types of Training Courses: Behavior Modification, Puppy Training, Rally Skills, Nosework
Price Range: $150-$165
Link to Website: https://akdogsports.com/index.html
Address: 2000 W International Airport Rd A7, Anchorage, AK 99502
Phone Number: (907) 561-9663
As you might guess from the name of this school, the focus is on sports. Alaska Dog Sports offers six-week courses for dogs in agility, rally, and other competitive skills at various levels. Special workshops in nose work and other enrichment activities are offered to dogs of different ages and levels. All of their courses put the relationship between dogs and their handlers at the fore of their work.
Even if your dog isn't ready for competition, the school also offers comprehensive puppy training, as well as obedience classes for adult dogs and CGC classes. Classes on correcting specific negative behaviors are also offered.
Howling Peaks
Online or In-Person: In-Person
Types of Training Courses: CGM, Socialization, Behavior
Price Range: $100-$2750
Link to Website: https://www.howlingpeaks.com/
Address: 6614 Lake Otis Pkwy, Anchorage, AK 99507
Phone Number: (907) 336-3647
Howling Peaks is a full-service, one-stop shop for the dog care needs of Anchorage residents. They offer daycare, grooming, boarding, and training services for dogs 10 weeks and up. Their training program focuses on private lessons in good manners (their obedience training) or in behavior correction for issues like aggression and reactivity. These personalized classes are taught by their large staff of K9 coaches.
If you are looking for opportunities for your dog to train in a group setting, there are two possibilities to consider. They offer a "Stay & Learn" package, which is a two-week board and train session for dogs who've attended a private session and mapped out their training goals. If that's a bit too intensive, they also offer group classes over the summer that range from 3 to 5 weeks in length and focus on different skills and skill levels. Their off-site Real World Manners course will be particularly beneficial for dogs with some foundational training to help them better avoid distractions in environments they'll encounter with their owners.
Find the Right Dog Training for You
You want your dog to have the best possible life, and that includes making sure they are well-trained so they can cope with the different circumstances life throws at them. Whether it's weathering the cold winters together in front of a fire, getting sporty outdoors, or both, a dog you can communicate with can be your closest companion.
We hope that this list of some of the best dog trainers in Anchorage helps you find the school and training program that will most benefit you and your dog.