The Best Dog Training in Alexandria, VA
7 minutes
Alexandria is just south of Washington D.C. and it's located on the Potomac River. It's one of the oldest cities in America and it's well-known for its 18th and 19th century buildings. Plus, many old brick sidewalks still run alongside these buildings.
Along with old buildings and sidewalks, plenty of historical-themed activities are available. These range from museums to parks and even include some taverns. Many of these places are dog-friendly, so you can make the most out of living with your dog in Alexandria.
To make the most of your time in Alexandria your dog needs to go through some form of training. It's best to take your dog through some types of puppy courses or socialization training to help them interact in public, especially if you want to visit breweries or taverns.
Having your dog trained to mitigate aggression and other behavioral problems will also prevent your dog from damaging property. This is extra important in cities like Alexandria that have historic properties.
While having your dog trained in Alexandria might seem overwhelming at first, it never has to be. There are plenty of dog trainers in Alexandria and they can help you in your home, online, or even through boarding programs. Many trainers also offer several training courses you can start when your dog is a puppy but continue as they get older.
Overall, anything is possible in Alexandria as long as you find the best dog trainers.
A Quick Look At the Best Dog Training in Alexandria, VA
Many dog trainers are available in Alexandria but we've narrowed down the options to our top five choices. Take a look at some of their services in the chart below.
| | | | |
| --- | --- | --- | --- |
| Trainer | Price | Training Types | Online / In-Person |
| Dog Academy | $49.99-$349.99 | Obedience Classes, Psychiatric Service Dog Training, Specialty Classes | Both |
| Olde Town School for Dogs | Free Consultation | Puppy Classes, Private Lessons, Off-Leash Training, | In-Person |
| Core Canine | $135-$140 | Puppy Classes, Adult Dog Training, Group Classes | In-Person |
| Alexandria Dog Training Company | Consultation-Based | Basic Obedience, Basic Manners, Puppy Preschool | In-Person |
| Wholistic House Academy | Starting at $225 | Puppy Classes, Agility Classes, Nose Work | In-Person |
Online vs. In-Person Training
One of the biggest factors that you need to consider about dog training is where and how the training takes place. You always want to find trainers that use reward-based training to prevent bad behavior. Once you know a trainer has the right programs for your dog, the next step is to consider online or in-person training. Learn more about each process below.
First and foremost, we'll begin with online dog training. Online dog trainers offer their services online and help you train your dog through online resources, webinars, and video calls. The benefits of online training include a low cost and flexible schedule but the drawback is that you miss out on boarding, daycare, and grooming.
In-person dog training involves meeting a trainer at a facility, having them come into your home, or letting them board your dog for an extended period. These are some of the best ways to train a dog but they're expensive and less flexible than online training. That said, you may get some extra benefits like grooming or daycare services.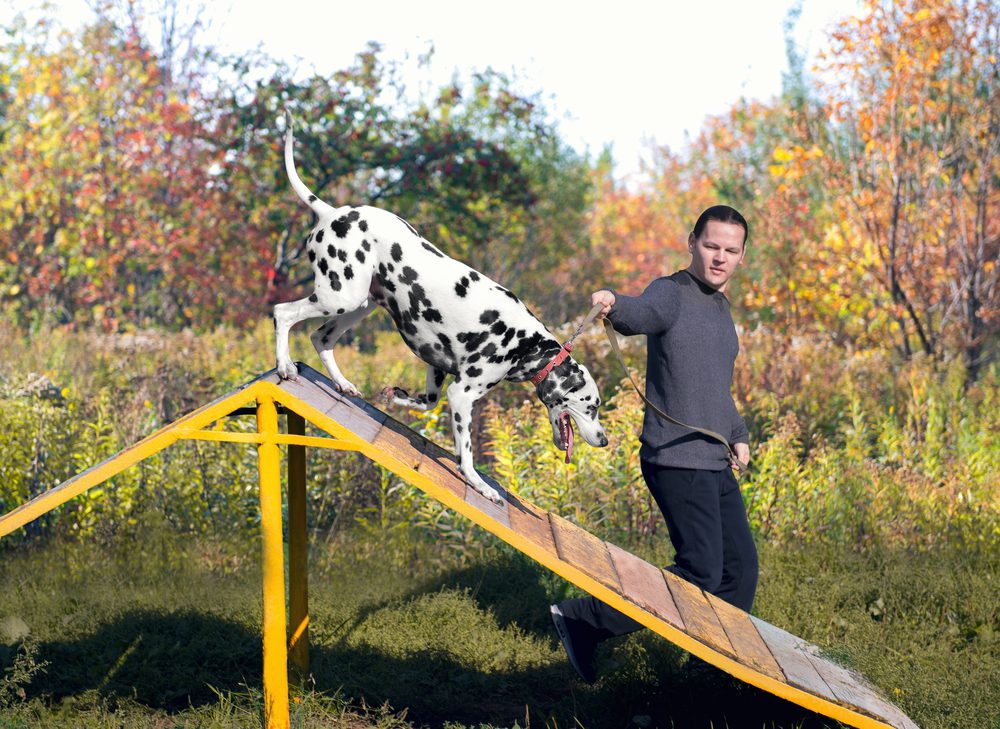 Perks of Online and In-Person Training in Alexandria
We cover the perks of online and in-person dog training in Alexandria below.
| | | |
| --- | --- | --- |
| | Online Training | In-Person Training |
| Cost Effective | ✓ | X |
| Flexible Schedule | ✓ | ✓ |
| One-on-One Instruction | ✓ | ✓ |
| Study at Your Own Pace | ✓ | ✓ |
| Socializes Your Dog | X | ✓ |
The Best Dog Training in Alexandria
Tons of dog trainers offer their services in Alexandria, which is a good thing and a bad thing. On the one hand, you have plenty of options but on the other hand, it's challenging to know which options are better than others. To help you narrow down your choices, we've chosen the top dog trainers in Alexandria. Learn more about each trainer below.
Dog Academy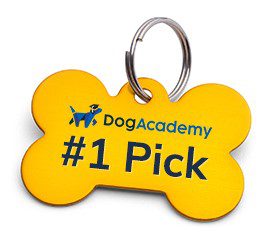 Dog Academy is one of the best dog training organizations in the US and this applies to Alexandria as well. All trainers have certifications and every online trainer is certified by the American Kennel Club (AKC) to offer courses like Canine Good Citizen.
Qualifications aside, Dog Academy is also one of the best trainers in Alexandria because of its flexibility. Training courses are offered in packages with flexible pricing and you can also choose individual sessions if necessary.
In addition to the training packages, Dog Academy has plenty of free online education to help you continue your education once training comes to an end.
Olde Town School for Dogs
Carlos and Sandy Mejias are the owners of Olde Town School for Dogs. The organization has been around since the 1970s and has built up a great reputation for all types of training in Alexandria.
Many training programs from Older Town School for Dogs are broken into packages. For example, individual training sessions run for an hour and you meet with the trainer six times. There is also an exclusive off-leash training program that your dog can continue with as long as they're accepted after basic training.
Aside from training services, there is also a retail front for purchasing dog-related products and you can leave your dog for daycare or grooming.
Core Canine
April and Olivia are the lead trainers at Core Canine and all of their programs are based on positive reinforcement. Olivia and April work with dogs of all ages, sizes, breeds, and even temperament.
Most classes take place in your home and the team can even travel to some locations outside Alexandria like Springfield and Arlington. Furthermore, you can visit their training facility in Alexandria if you want to travel from outside the region.
April and Olivia also offer group classes through Core Canine, which helps dogs in Alexandria with socialization skills.
Alexandria Dog Training Company
Alexandria Dog Training Company is one of the largest trainers in Alexandria. They have plenty of spots available, which makes it easy to find a trainer you can work with now, rather than later. They have a facility, but it's also possible to get in-home services for adult dogs and puppies.
Group classes for socialization are also available, which is perfect for dogs who are growing up in the busy city of Alexandria. In addition, Alexandria Dog Training Company offers some unique courses like service dog training and assistance with service dogs. While these training courses tend to be expensive, they're a high-quality option with a lot to offer.
Wholistic Hound Academy
Wholistic Hound Academy uses evidence-based principles of dog psychology in its training methods, which helped them develop one of the best positive-reward training programs for dogs in Alexandria. These principles trickle into several training programs that help with advanced techniques like nose work and agility classes.
When it comes to the volume of classes Wholistic Hound Academy is one of the best choices in Alexandria. They have training for dogs of all ages and skill levels and there are plenty of training courses for you to choose from. We also love the workshops and specialty classes that can help you take your dog's skills to the next level.
Find the Right Dog Training for You in Alexandria
When it's time to find the right dog trainer in Alexandria, always consider your options. We've provided you with the best options but some will work better based on your needs.
For example, people who value flexibility and affordability get the most value out of trainers with online options, like Dog Academy. Dog Academy offers these services without compromising quality, so it's a great place to start.
However, in-person trainers may be the best option for you if you want extra services like daycare, boarding, and grooming. Plus, some in-home trainers will be a great fit for dogs that feel more comfortable in their homes.