The Best Dog Training in Palmdale, CA
7 minutes
Palmdale has many dog-friendly places and activities. Your dog can have the time of its life visiting beautiful pet-friendly beaches or hiking on the Strawberry Peak Trail with you.
But what if it gets aggressive with fellow dogs or barks at people? If that happens, you will spend more time calming your dog than having a good time.
But don't worry; several dog training facilities are available to encourage good manners and help you re-establish control.
Here, we have covered the best dog training in Palmdale, along with the services they provide and their prices.
A Quick Look at The Best Dog Training in Palmdale, CA
The chart below highlights the types of training and prices of the best dog training services in Palmdale. Keep reading to learn more information about each training facility.
| | | | |
| --- | --- | --- | --- |
| Trainer | Price | Training Types | Online/In-Person |
| Dog Academy | $49.99-$349.99 | Obedience, Puppy Training, Service Dog Training | Both |
| K9 Intuition | Initial Consultation and Evaluation $100 | Human Aggression, Dog Reactivity, Leash Manners | In-Person |
| Freedom Walk Training | Puppy Package $750, tricks package $450 | Eye Contact, Tricks, Crate Training | Both |
| Karma Dog Training | Contact for details | Puppy Kindergarten, Canine Good Citizen, Dog Walk Program | Both |
| Your Best Companion | Private lessons are $330, ultimate board and train $1700 | Behavior Balancing, Crate Training, Poor Social Manners | In-Person |
Online vs. In-Person Training in Palmdale
In-person and online training provide various benefits. Online training allows you to train your dog in the comfort of your home. This flexible training option works well if your dog has social anxiety.
In-person training is excellent for identifying behavioral problems faster. It also allows for better socialization opportunities for dogs.
Which one suits you the best depends on your pet's needs and your comfort.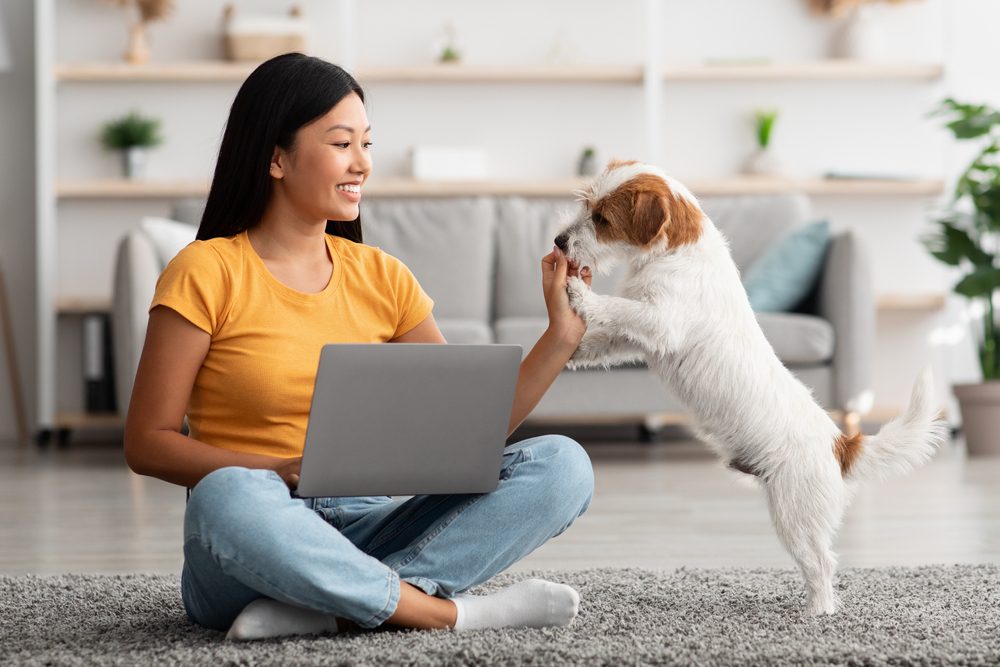 Perks of Online vs. In-Person Training
| | | |
| --- | --- | --- |
| | Online Training | In-Person Training |
| One-on-One Attention | X | ✓ |
| Learn at Your Own Pace | ✓ | X |
| Training Customization | ✓ | ✓ |
| Choose Your Own Training Schedule | ✓ | X |
| Socialization | X | ✓ |
The Best Dog Training in Palmdale
Read on for more in-depth information on the five best dog training services in Palmdale, California.
Dog Academy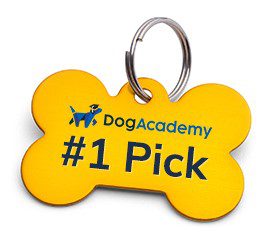 The trainers at Dog Academy use positive reinforcement and reward-based training to motivate your dog to learn. They offer Private, Online, and Group Training, all specifically designed to encourage good dog behavior.
Trainers ensure your dog is trained to walk with you without pulling and is comfortable around other animals. Their Basic Obedience Program is now available at around 40% off and focuses on teaching basic commands. Advanced courses include Psychiatric Service Dog Training, General Canine Grooming, Minimizing Separation Anxiety, etc.
All Dog Academy trainers have several years of experience, and most of them are also AKC certified. Additionally, training programs can be customized according to your demands.
K9 Intuition
K9 Intuition comprises professional dog trainers who train dogs aged ten months or older. Their primary focus is to train aggressive, over-excited dogs that need basic obedience training.
Stefano Filippeli, the owner and head trainer of K9 Intuition, is an Animal Behavior College graduate with a certification in Dog Training. He has specialization in behavioral modification and can efficiently work with dogs that most trainers refuse to train.
They offer various dog training services, including initial consult and evaluation, leash manners, in-home manners, etc. Intensive training is also available for those living far away, comprising a two to three-day program to help quickly develop the skills you need to lead your dog.
Freedom Walk Training
Freedom Walk Training helps strengthen your bond with your dog. The founder, Kate, is a dog trainer who offers various courses, including pet first aid and CPR, animal physical therapy, introduction to animal psychology or pet behavior, leash training, and more.
They offer a package for five-week to 10-month-old puppies, a Basic Package for 11 months and up, a Tricks Package for any age group, and a Combo Package, with training at your home, for dogs of five weeks or more.
Real World Obedience is another package focusing solely on commands like sit, stay, and calm to ensure your pooch is well-behaved and content.
Karma Dog Training
Karma Dog Training has been operating since 2004 and uses 100% positive reinforcement and science-based techniques to train your dog. They also provide free consultations to make it easy for you to get a feel for their methods and discuss your needs.
They offer basic obedience, puppy kindergarten, canine good citizen classes, pet sitting or dog walking. You have fifteen different options of private or group classes to choose from.
All of their trainers undergo a strict vetting process, ensuring quality training for your dog.
Your Best Companion
Duane, the trainer at Your Best Companion, is known for being a renowned canine behavior expert. They have decades of experience and use strategies based on in-depth research. Your Best Companion offers private sessions and a boarding and training program.
Their private sessions offer one-on-one training that quickly recognizes and solves your dog's behavioral issues. The ultimate board and train program teaches your dog leash obedience and general manners and corrects minor behavioral problems.
Duane focuses on helping dogs deal with problems like aggression, barking, digging, hyper-sensitivity to noises, possessiveness, jumping on people or other dogs, etc.
Find The Right Dog Training in Palmdale
In this article, we have covered the five best dog training facilities you can visit in Palmdale; however, if you are still confused about which one to choose, here's our take on it.
If you want to create a more stable and stronger bond with your dog, opt for Dog Academy. With the help of their AKC-certified trainers, who provide both online and in-person sessions, you can address a wide range of issues your dog might be facing. You can also train your dog for therapy and emotional support.
If you have a busy schedule, K9 Intuition's Intensive Training program is an excellent option. The two-to-three program offers training in real-world locations to ensure your dog is familiarized with many different types of surroundings.
If you want your dog to socialize with other dogs or humans without getting aggressive or too excited, you should consider Karma Dog Training. They provide group sessions that teach your dog to be comfortable around others.
For severe behavioral issues like housebreaking, confinement phobia, fearful tendencies, poor social manners with dogs, or pulling on the leash, Duane from Your Best Companion can help you out.
If you need your dog to be trained inside your home with multiple sessions and a test at the end, Freedom Walk Training is your go-to option.
No matter which trainer you decide to go with, consistency is the key! Your dog will need time to adapt to good behaviors, and your love and consistency can make the job easier.