The Best Dog Training in Bakersfield, CA
9 minutes
Though Bakersfield, California isn't as hustling and bustling as LA, it's still a sizeable city with over 400,000 people. Its main attractions include museums, art, agriculture, river rafting, and other outdoor activities.
If you live in Bakersfield and have a dog, you may already know that there are several pet-friendly parks and restaurant patios. However, even when places allow dogs, bringing an unruly pet often turns what should be an enjoyable outing into a frustrating, overwhelming experience.
Luckily, you have options! Dog trainers in Bakersfield can help even reactive dogs chill out in public settings. If your dog just needs to learn basic manners and how to behave on a leash, they can help with that, too.
This article will share some of the best dog training options in Bakersfield, California. Keep reading to learn about what each trainer has to offer as well as their pricing.
A Quick Look at the Best Dog Training in Bakersfield
Here's a quick look at the best trainers in Bakersfield. Be sure to keep reading for more detailed information on each trainer and their services.
| | | | |
| --- | --- | --- | --- |
| Trainer | Price | Training Types | Online / In-Person / Both |
| Dog Academy | $49.99 – $349.99 | Obedience Classes, Puppy Training, Service Dog Training | Both |
| Zoom Room | $47 – 510 for group classes, $70 per private session or $250 for 4 private sessions | Canine Good Citizen, Therapy Dog Training, Dog Sports | Both |
| American School of Dog Obedience | Contact for details | Manners, Obedience | In-person |
| Dunbar Academy |  $100 – $200 per single course, or $20/month subscription ($150 for annual subscription) | Dog to Dog Reactivity, Aggression, Games | Online |
| Animal Behavior Institute | $3,780 | Behavior and Enrichment, Health and Nutrition | Online |
Online Vs. In-Person Training in Bakersfield
Both online and in-person training are viable ways to train your dog. However, online training tends to be the most affordable option; it's also convenient as it can be accessed from anywhere with an internet connection.
In-person training may not be as convenient, but it's good for those who like being social. Group classes will allow both you and your dog to meet new people and new dogs. Both types of training have their benefits, which we'll talk about briefly next.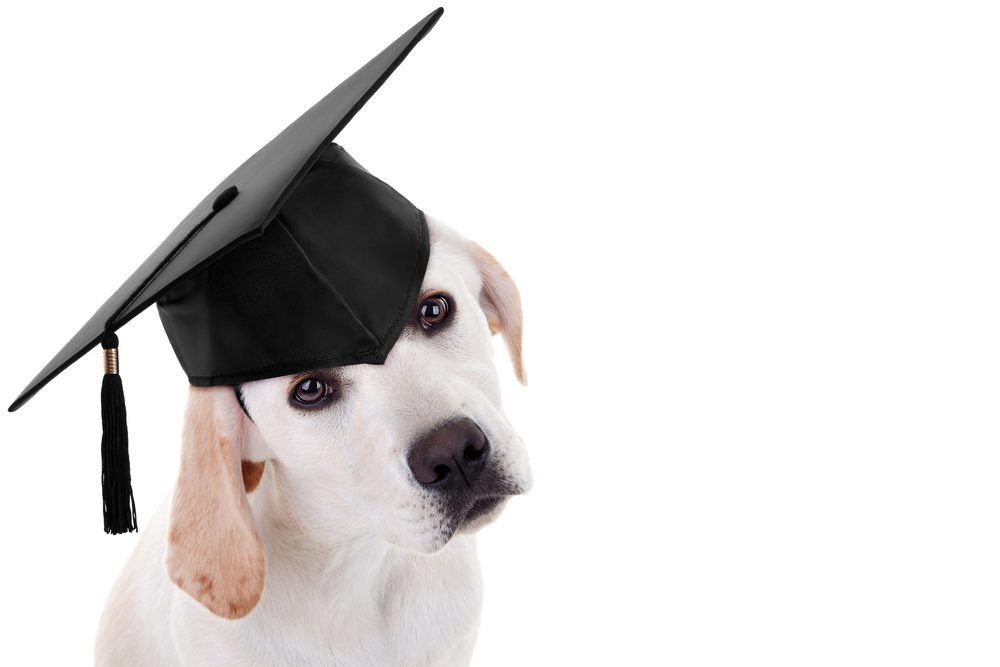 Perks of Online and In-Person Training in Bakersfield
If you were wondering what all the perks of online and in-person dog training are, we've created a simple chart to help you understand.
| | | |
| --- | --- | --- |
| | Online Training | In-Person Training |
| Cost-Effective | ✓ | X |
| Flexible Schedule | ✓ | ✓ |
| Ask Questions | ✓ | ✓ |
| Study at Your Own Pace | ✓ | X |
| Learn at Home | ✓ | ✓ |
The Best Dog Training in Bakersfield
Unlike LA, Bakersfield doesn't have quite as many options for dog training. However, that doesn't mean you'll have to travel to find a decent trainer. We've done some research and were able to find five fantastic dog training services for people living in Bakersfield. Have a look!
1). Dog Academy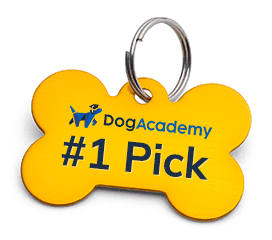 Online or In-Person: Online and In-Person
Types of Training Courses: Obedience Classes, Behavioral Issues, Puppy Training, Psychiatric Service Dog Training, Emotional Support Animal Training, Specialty Classes (e.g. Canine Confidence, Separation Anxiety)
Price Range: $49.99 – $349.99
Link to Website:

Dog Academy Basic Obedience Training Program

Phone Number: (605) 223-1971
Dog Academy offers both online and in-person training programs. The in-person programs provide both private and group classes, and their trainers service every city in America. If you're more interested in online training, Dog Academy has a plethora of courses to suit your needs.
You can find puppy training, basic obedience training, psychiatric service dog training, emotional support dog training, leash manners training, trick training, crate training, and more on Dog Academy's course list. Of course, if your pup has problem behaviors such as reactivity or excessive barking, Dog Academy can help with that, too.
You can even find classes designed for people! For example, learn how to apply first aid, administer canine CPR, or groom your dog at home. Each course was designed by Americal Kennel Club-certified trainers with over 25 years of experience. For online courses, you can easily contact trainers via phone, email, or the contact form on Dog Academy's website should you have any questions.
2.) Zoom Room
Online or In-Person: Both
Types of Training Courses: Puppy Training, Obedience, Agility, Tricks, Rally, Canine Good Citizen, Scent Work, Canine Confidence, Therapy Dog Training, Canine Fitness, Urban Herding
Price Range: $47 – $510 for group classes, $70 per private session, or $250 for 4 private sessions
Link to Website: https://zoomroom.com/location/bakersfield/
Address: 3250 Coffee Road Bakersfield, CA 93308
Phone Number: (661) 491-1210
Zoom Room uses only positive reinforcement techniques and provides small group classes, private training, and online options. What's unique about Zoom Room is that they refer to themselves as a dog gym. They have various equipment on the premises, which is used for dog sports or even canine fitness (which they refer to as "pup-lates").
Dog sports classes offered include scent work, urban herding, rally obedience, and agility. The "pup-lates" class focuses on strengthening a dog's core, increasing athleticism, and improving balance. It's great for dogs recovering from injuries, senior dogs, and dogs that need to lose weight.
Of course, Zoom Room also offers more traditional dog training courses such as obedience, puppy training, Canine Good Citizen prep, loose leash walking, canine confidence, come when called, and trick training. Private training is recommended for dogs who struggle with reactivity or other similar issues.
Aside from training, Zoom Room offers space for you to rent for 30-minute segments to work on self-training or just to have the opportunity to play with your dog using their equipment and toys. They also run playgroups and events such as Doggy Disco that allow you and your pup to socialize.
3.) American School of Dog Obedience
Online or In-Person: In-person
Types of Training Courses: Manners, Obedience
Price Range: Contact for Details
Link to Website: https://www.americanschoolofdogobedienceinc.com/
Address: 3701 Wegis Ave, Bakersfield, CA 93314
Phone Number: (661) 589 – 3333
The American School of Dog Obedience (ASDO) takes a unique approach to dog training: they do not use clickers or treat rewards. At the same time, they do not punish, abuse, or yell at dogs, and their website emphasizes that their approach is humane and gentle. Instead of treats or punishment, the American School of Dog Obedience combines praise, exercise, and discipline.
They describe discipline as being "firm and decisive without any anger or abusiveness." The goal of ASDO's method is to get dogs to respect their owners and view them as leaders; once that happens, the owner's love and praise motivate dogs to willingly and lovingly obey.
The American School of Dog Obedience can teach your dog to come when called, stop jumping, walk nicely on a leash, wait at doors and gates, stop barking, remain calm, and more. Additionally, they offer boarding and training, private lessons, and group courses.
Because the ASDO is so confident in their method, they have a lifetime guarantee. Owners can return with their dogs for free refresher lessons should there be any problems.
4.) Dunbar Academy
Online or In-Person: Online
Types of Training Courses: Puppy Training, Behavior Problems, Dog to Dog Reactivity, Aggression, Games
Price Range: $100 – $200 per single course, or $20/month subscription (or $150 annually)
Link to Website: https://www.dunbaracademy.com/
Contact Details: info@dunbaracademy.com
Ian Dunbar is considered a pioneer of modern, force-free dog training. With the help of his wife and son, he has created a website that provides online training courses. They offer many different courses, some focusing on dog training and others more on the science behind it.
Dog training courses include puppy training, behavior problems, games to train reliability, dog-to-dog reactivity, treatment and prevention of aggression, and more. Dunbar Academy also offers a monthly subscription to their Top Dog Academy.
The Top Dog Academy includes hundreds of hours of dog training videos, ebooks, podcasts, and worksheets. There are also periodic seminars and live Q&A sessions. With the subscription, you also receive access to an exclusive Facebook group where you can ask questions and receive advice from professional trainers and even the Dunbars themselves.
A number of dog training courses on their website are also included in the Top Dog Academy subscription. Since the subscription is only $20 per month, you can potentially save money by opting for the subscription instead of paying a flat fee for each course.
5.) Animal Behavior Institute
The Animal Behavior Institute offers online education for those who wish to become dog trainers. Though that may not be your goal, you can think of this as going straight to the source to learn about dog training. You'll learn everything dog trainers know.
The courses will teach you how to use fundamental and advanced training techniques, solve common behavioral issues, including barking and leash pulling, understand canine body language, treat fears and phobias, handle aggressive behavior, manage sexual behavior, and much more.
You'll even learn how to handle canine emergencies, administer CPR, and provide first aid. Once you've finished the coursework, you will receive certification and be considered a Certified Canine Training and Behavior Specialist (CCTBS).
Find the Right Dog Training for You
It's never easy to choose a dog trainer. You want to make sure that your dog will be treated humanely but also that the techniques will be effective and won't be a total waste of your money. We feel that all of the options on our list would be a good choice, but which one is best for you depends on what you're looking for.
If your dog has bad habits that need addressing and you feel you'd benefit from in-person training, check out Dog Academy, Zoom Room, or the American School of Dog Obedience. However, if you have confidence in your ability to train your dog independently but just need a little more structure, then we also have some great online options.
Once again, Dog Academy is a fantastic choice for online training, but so is Dunbar Academy. If you want to learn what the trainers learn, you could even go so far as to study dog training (and then apply what you learn to your own dog) through the Animal Behavior Institute.
Whatever your goals are, we know that with love, consistency, and a little help from one of these training programs, your dog can become an even "gooder" boy or girl.