Dogs are one of man's best friends. Plenty of breeds of dogs around today have evolved alongside humans, providing companionship, helping with essential tasks, and guarding or protecting their human companions.
Some dogs, however, have a reputation for being aggressive. These are the dog breeds that you may want to be wary around, especially if you are looking for the perfect dog breed to add to your family and you need a gentle breed or one that is easier to handle.
Our guide gives you information on what factors make a dog breed dangerous and answers your frequently asked questions about aggressive dog breeds. In addition, we'll give you essential facts about some of the most aggressive dog breeds known today.
What Makes a Dog Breed Aggressive?
Several different factors can make a dog breed be considered aggressive, and by extension, dangerous. Some breeds have more of the traits that are typically considered risks for aggression. Others may be genetically predisposed to more aggressive behaviors due to selective breeding for certain aggressive traits.
Factors that may play into what we consider aggressive traits amongst certain dog breeds include:
Genetics, such as genetics in dogs that were purposefully bred for activities like guarding, hunting, and fighting
High prey drives, which may occur more commonly in dogs bred for hunting
Strength and size of the dog, including jaw strength and bite power
Trainability of the dog, and whether or not they are very stubborn or difficult to control
Behavioral issues that may stem from boredom, anxiety, fearfulness, or a predisposition to stress
Territorial behavior, which may cause a dog to behave more aggressively unless properly socialized
Of course, dogs of any breed may develop aggression issues for reasons besides what we've listed above.
It's important to be open to the idea that many aggression issues are due to behavioral problems in dogs. Other factors such as genetics, the strength of the dog, and a high prey drive may encourage an aggression problem or result in a breed being considered high-risk.
Another set of rules that determines canine temperament is testing by the American Temperament Test Society, Inc (ATTS). ATTS testing helps breeders determine the specific temperament characteristics of their dogs and provides owners an insight into the temperament tolerances of their pets.
In turn, this helps to influence any training programs needed for dogs and allows breeders to select more positive traits, moving away from behaviors or genetic factors that might give a dog breed a more aggressive disposition.
Are Lists of Aggressive Dog Breeds Reliable?
When it comes to dog aggression, it's important to note that there is a significant amount of public opinion and dog breeds that have skewed opinions based on their histories.
That being said dogs with high prey drives, those that were bred to hunt or guard, or breeds that were unfortunately created as fighting dogs do have a higher potential for being aggressive. Make sure you avoid lists of dogs that are rumored to be aggressive based on anecdotal stories and public opinion, as these lists tend to be less reliable.
The Most Aggressive Dog Breeds You Should Know About
The following dog breeds all have a reputation for being aggressive. However, it's important to note the many factors that could make a dog aggressive, as we mentioned above.
It's not a guarantee that every single dog belonging to these breeds will be outwardly aggressive and hard to handle. It's more that these dogs have been bred for jobs that require aggression, such as guarding, hunting, or fighting, and that it takes a more experienced hand to handle many of these breeds.
Chihuahua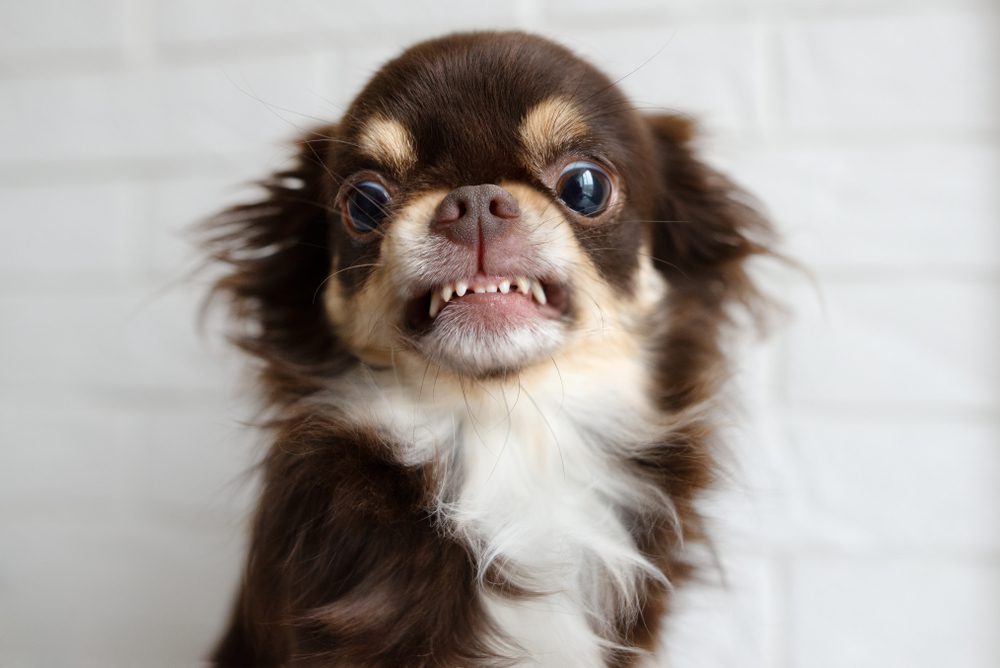 Even though Chihuahuas are small dogs, they have a reputation for aggressiveness, behavioral issues, and grumpiness that precedes them. This dog breed is typically very loving and loyal to their favorite family members, but they can be hostile towards strangers and other animals they live with.
Because of their smaller size, Chihuahuas aren't seen as the most dangerous breed prone to aggression, but they can still cause harm with their bites, growls, and barking. Chihuahuas are also known to have a great amount of confidence when attacking something double their size, so make sure your dog is properly trained to avoid these instances.
Rottweiler
Rottweilers are a popular dog breed. They may have natural aggression that could be harnessed by the wrong type of owner to mold the dog into an attack or fighting dog. Rottweilers are fiercely protective and loyal, and they do have a higher prey drive than many other dog breeds.
Rottweilers learn quickly and are faithful to their owners, and because of their strength, size, and the power behind their bites, they can be dangerous when improperly trained. You must have firm control over a Rottweiler and be experienced with working with stronger, more aggressive dogs in order to prevent behavioral issues or aggressive behaviors from occurring.
Pitbull Terrier
Pitbull terriers are one of the most controversial dogs in the United States. Many organizations are working to challenge the belief that every pitbull is an aggressive, dangerous dog. Pitbull terriers are commonly used in dog fighting, even today, and they are strong, muscular, and boast an impressive bite strength.
Because of their breeding to work as a fighting or guard dog, high prey drive, strength, and protective nature, pitbull terriers can be aggressive or even dangerous in the wrong hands. Like many other dogs on this list, the wrong owner can encourage negative behaviors and mold their dog into a more dangerous animal.
If you're considering adopting a pitbull, make sure to understand the controversy around this dog as well as proper care and training requirements. This will ensure both you and your dog have the best shot at happiness.
Neapolitan Mastiff
Most famous for the role of Fang in the Harry Potter movies series, the Neapolitan mastiff dog breed is fiercely loyal and protective. They are aggressive toward strangers or anyone they deem a threat, and they need firm training and command to be controlled.
Neapolitan mastiffs are large dogs, and they are quite strong. This may contribute to issues if behavioral problems aren't addressed or if this dog isn't properly socialized from the time they are young.
Presa Canario
The Presa Canario, also known as the Perro De Pressa Canario or the Canary mastiff, is known to be extremely territorial and distrustful toward strangers. They were bred as guard dogs and fighting dogs, and they have the size and strength needed to succeed in both of these activities.
The Presa Canario requires an experienced dog handler who knows how to properly socialize dogs and curb aggressive behaviors. This breed is genetically prone to aggression, even among the humans or dogs they live with, due to their territorial nature.
Chow Chow
Chow Chows may look large and fluffy, but this breed has a reputation for being aloof and aggressive. Chow Chows were originally bred as guard dogs and hunting dogs, and they may have a high prey drive today because of this.
While many Chow Chows form strong bonds with their families, their protective and territorial natures may result in aggression. This may come in the form of biting, barking, and growling at strangers or others who they deem threats, including other animals in the home.
You must train Chow Chows consistently and have firm command over your dog if you want to curb any aggressive behaviors or other behavioral issues.
Dogo Argentino
One of the most aggressive dog breeds around today, the Dogo Argentino requires a strict upbringing, consistent training, and experienced handling to curb any aggressive behaviors. This dog has a very high prey drive, and they shouldn't be kept in homes with other animals, especially small animals like cats due to the risk of injury or death.
Dogo Argentinos are strong and deliver a powerful bite. While they are very loyal and protective of their families, this dominant and territorial behavior may result in them attacking strangers or other animals around their home.
It's important to note even with the best upbringing of training, socialization, and experienced handling, certain situations or people may trigger aggression in this dog. This is why this breed must be treated with caution.
German Shepherd
The German shepherd dog breed is a prime example of a dog that might have a tendency to be aggressive, but with correct training and handling, can become a tamer, more helpful breed.
German shepherds are mostly known today for their work as service dogs, police dogs, and military dogs. They excel in these roles thanks to their high intelligence and eagerness to work, though they may require extra training and careful handling when introduced as a family pet.
German shepherds often act as guard dogs, and they are protective of their families. German shepherds rarely become outwardly aggressive these days, after decades of selective breeding, but the problem with this dog lies in their strength. If they are not trained properly or socialized correctly, their bite and strength may cause some damage.
Basenji
The Basenji dog breed is historically a hunting breed, and they are very independent and strong-willed. They also have a reputation for being aggressive, and for chasing anything they catch sight of. Basenjis are not a great option if you have other pets in your home, especially small animals like cats.
This breed does tend to form strong bonds with their owners, but their protective nature can result in aggression toward strangers if they are not properly trained.
Additionally, Basenjis need lots of exercise and mental stimulation to stay happy. If they aren't properly cared for, they can become bored or stressed, something that tends to result in them displaying aggressive behaviors.
Siberian Husky
When it comes to Siberian huskies, any aggression that this dog might exhibit tends to be a result of boredom or anxiety. Huskies are also quite protective and territorial, and unless they are properly socialized, they may attempt to dominate other dogs or animals living with them. This can result in aggressive behaviors like biting, snarling, growling, or barking.
Siberian huskies may have a high prey drive, and you should make sure that your husky is trained from puppyhood to avoid the development of aggressive behaviors. Overall, huskies are one of the least aggressive breeds on our list, as long as you know how to handle and care for this active dog.
Rhodesian Ridgeback

[Image: https://www.shutterstock.com/image-photo/beautiful-dog-rhodesian-ridgeback-hound-puppy-115737610 alt text: rhodesian ridgeback outdoors in a field]
Rhodesian ridgebacks are very handsome dogs, but they have strong prey drives, territorial instincts, and the strength to cause damage if they are not properly trained.
Rhodesian ridgebacks should not be kept in homes with cats or other small animals. They must be under their owner's control to stop them from chasing things that catch their eye when out and about.
This dog breed is loyal and protective of its owners, and it may do well with other dogs when properly socialized and raised alongside them. They tend not to do well with dogs of the same sex they are unfamiliar with. Rhodesian ridgebacks have dominant behaviors that may cause them to fight with other dogs, regardless of how well-trained they are.
This breed is also very strong-willed, something that requires an experienced trainer and dog handler to combat.
Dachshund
Dachshunds might be another small dog, but they are known for having a fearsome reputation when it comes to being aggressive to strangers and their own family. This breed may easily feel threatened due to their size, and this tends to result in behaviors such as growling, barking, and biting that they use to protect themselves.
Dachshunds may fight with other dogs due to territorial behavior, and they may bite or snap at their owner for any number of reasons. It's important to properly train and socialize a Dachshund from puppyhood to combat these issues and curb aggressive behaviors.
Gull Dong
One of the rarest dog breeds on our list, the Gull Dog is also known as a Pakistan gull terrier, or the Pakistan Gull Dong. This breed is a cross between a Gull Terrier and a Bully Kutta, both of which are dog breeds native to India.
The Gull Dong was bred for fighting, and it is unfortunately used in both Pakistan and India for this purpose today, in addition to guard dog duties.
The Gull Dong is considered a medium-sized dog, it has short, smooth fur. This breed is very strong-willed, difficult to train, and very aggressive. They are common in Pakistan, but fairly rare within the United States.
Dalmatian
Known for being the mascot of firehouses, the spotted Dalmatian tends to have an aggressive streak that results from being very stubborn and strong-willed. This breed is loyal to their family, and they tend to make a good watchdog, though these same traits may make them aggressive toward strangers and unfamiliar animals.
Dalmatians have a higher prey drive and might chase other animals or very small children, and they need to be properly trained, exercised, and socialized to thrive in a family environment.
FAQs About Aggressive Dog Breeds
Reviewing the most aggressive dog breeds tends to raise a lot of questions. We answer the most frequently asked questions about aggressive dog breeds below so you can understand more about these dogs.
Can You Train a Dog to Be Less Aggressive?
Many dog breeds, while predisposed to aggression, may be able to thrive and have any destructive or aggressive behaviors curbed with consistent proper training.
In the case of some breeds, you may need to consult an expert on reactive dogs or dogs with behavioral issues. You might be able to train some dog breeds yourself to prevent aggressive behaviors if you are an experienced dog handler.
Keep in mind that even with training and proper care, some dog breeds simply have more aggressive tendencies than others. You should treat them with caution to prevent an accident or injury.
Are Aggressive Dog Breeds Safe to Own?
Aggressive dog breeds may be safe to own as long as you are prepared for the task of helping such a dog to thrive.
Even though certain breeds have more of a predisposition to aggression than others, every dog is different. You may find a dog belonging to one of the breeds on our list that has a tamer temperament.
When combined with socialization, exercise, mental stimulation, and training, you may reduce the chances of aggressive behaviors in your dog and help them to thrive in your home.
Whether or not an aggressive dog breed is safe to own depends on your risk tolerance and how much work you are willing to put into training and caring for your dog.
Will Aggressive Dog Breeds Attack Anything?
Just because a dog breed is considered aggressive doesn't mean it will attack anything it sees.
However, dog breeds that are considered aggressive due to a high prey drive do have a higher risk of chasing and injuring other animals or even children. This is why training and evaluating whether or not your home provides a safe space for the dog and your family is essential.
Can You Live With an Aggressive Dog Breed in an Apartment?
Many apartments and even counties, states, and countries have banned certain dog breeds due to the risk of aggression from that specific breed.
Examples of dogs that aren't typically allowed in apartments include pitbull terriers, Rottweilers, Chow Chows, and Dogo Argentinos, among several others. Check directly with your apartment complex, rental agency, or landlord before signing a lease to ensure your pet is not on a list of banned apartment dogs.
Will Pet Insurance Cover Aggressive Dog Breeds?
Pet insurance is a popular investment for pet parents these days, and it may be incredibly helpful in the case of a vet visit or other incident with your dog.
However, breeds that are perceived as aggressive or dogs with a bite history may not be eligible for pet insurance. You will need to check with a per insurance company directly to determine if you can get coverage for an aggressive dog breed.
Should I Adopt an Aggressive Dog Breed?
Adopting an aggressive dog breed is a very personal decision and one that requires lots of thought.
Adding one of these aggressive breeds to your life should only be done if you have experience handling and training dogs, and that you understand the training commitment involved. You must also ensure that your household will provide a suitable environment for the dog (for example, no small children or other small pets around).
When adopting an aggressive dog breed, you might be met with public scrutiny, challenges living in an apartment, and other issues due to the controversial nature of some breeds. This will stem from the public's fear of dog breeds that are more aggressive, so be prepared for these questions and potential challenges.
If you're determined to adopt an aggressive dog breed despite all this, make sure you have a proper socialization, training, and care plan in place ahead of time. Then, you will be ready to meet your dog's needs and help them thrive.
What Is the Best Way to Handle an Aggressive Dog Breed?
The best way to handle an aggressive dog breed is by being commanding, firm, and by consistently engaging in training.
You should also make sure your dog has plenty of exercise and mental stimulation, as this helps to curb behavioral issues that often lead to destructive or aggressive behaviors. Work with a professional trainer as needed to ensure that your dog has the best shot at a happy, healthy life while under your care.
Understanding Aggressive Dog Breeds
In today's world, there are many different types of dog breeds out there, though some may be known for being more aggressive than others. It's important to understand which dog breeds might need more training or pose more of an aggression risk, especially if you are interested in adding a dog to your life.
Understanding aggressive dog breeds better helps to prepare you for choosing a dog that fits in with your family, or for adopting and caring for one of these unique dog breeds.