While all dogs have the ability to bite or act aggressively, certain dog breeds have a stronger reputation for this behavior than others. Adding a dog to your family is an important decision, and many individuals want to stay informed about the breeds that are least likely to act aggressively, have a high prey drive, or be a challenge to discipline.
Fortunately, our article can point you in the right direction for dogs that are least likely to act aggressively and cause training or safety problems in your family.
What You Need to Know About Dog Aggression
Dog aggression is something that is highly studied today, as many individuals are interested in learning what makes a dog prone to certain behaviors. Genetics certainly play a part, but so do certain personality characteristics of the dog and the environment in which they are raised.
It's also important to make the distinction between aggressive dog behaviors, such as growling, lunging, and biting that are unprompted, and reactive dog behaviors that are displayed in this same way but tend to happen due to the dog's reaction to their environment.
Dogs that are sourced from responsible breeders are the most predictable in terms of behavior, as there are certain breed characteristics and traits that you can expect to genetically appear in the dog. Mixed breeds may carry certain traits of their parents' breeds, but they are much more of a wild card in certain environments and take careful dog ownership to understand their personalities.
You can read more about dog aggression and the efforts to understand these behaviors here.
The Top Fifteen Least Aggressive Dog Breeds
The following breeds are the least likely to be prone to aggression and make great cuddly, gentle companions to your life. You should also note that breeds mixed with these top ten may also be quite fairly tame and sociable.
1. Golden Retrievers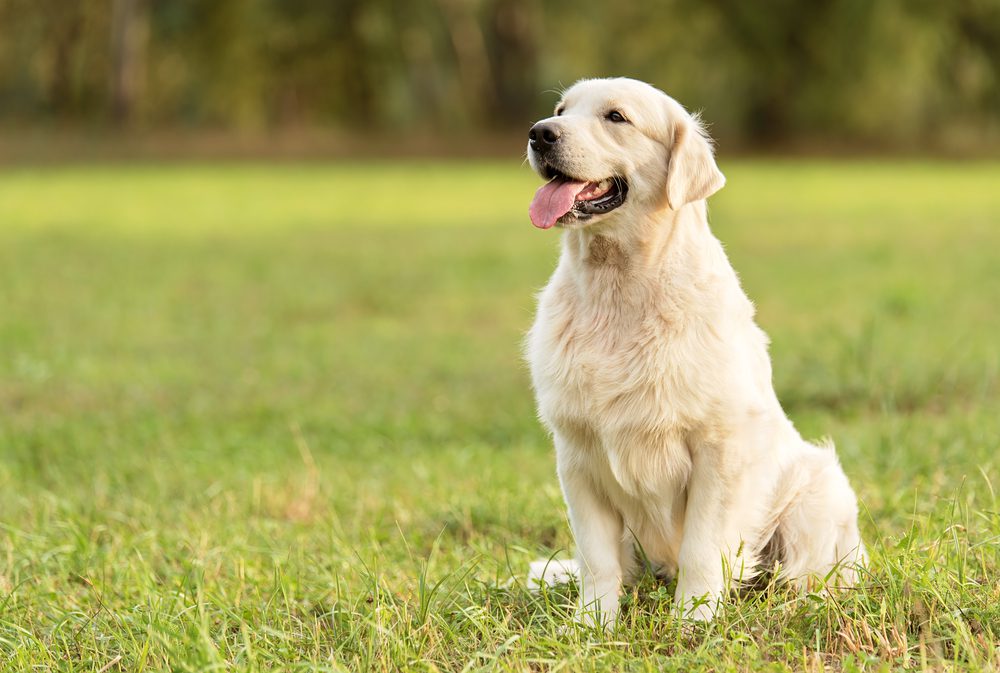 This lovable family dog has been a popular choice for families and individuals looking for a gentle, friendly, and sociable addition to their lives. The golden retriever is a medium to large-sized dog with lots of love to give – they enjoy spending all of their time with their families, love to play outside, and have a loveable mischievous streak that makes them a goofy, fun-loving companion. Golden retrievers are also incredibly loyal and eager to please, making them easily trainable and helpful as service or therapy dogs.
2. Labrador Retrievers
Energetic, playful, and gentle, the Labrador retriever is another example of an iconic family dog. This pup is great with children, loves to spend lots of time outdoors, and is highly social.
They do need lots of exercise and a proper training regime to ensure they don't become destructive with their pent-up energy, but Labrador retrievers are unlikely to be prone to aggressive behaviors such as growling, biting, barking, and nipping.
3. Bernese Mountain Dogs
Despite their larger size, Bernese Mountain dogs are known for their gentle, docile, and hard-working natures. This breed is best suited for families or homes that have large outdoor areas for them to run around, and they thrive in environments where they are given daily tasks or a work routine.
Bernese Mountain dogs are loving, patient with children, and love to be involved with everything their family does, but you may need to watch out for them attempting to gently herd smaller members of your family.
4. St. Bernards
Calm and relaxed, St. Bernards are known as gentle giants. This pup loves to accompany their family just about anywhere, and they thrive in environments where they are given daily tasks and work to complete. It's important to note that St. Bernards, like the other larger dogs on our list, need ample outdoor space to get their energy out.
These dogs also need a firm obedience routine if adopted as a puppy, because they have quite a mischievous streak and can maintain this if they grow older without proper guidance.
5. Newfoundland Dogs
Another large dog with a soft heart, Newfoundlands are recognizable by their impressive stature, fluffy black fur, and friendly expressions. This breed is intelligent, easy to train, and loyal to their families, and they will be especially protective of and gentle around children.
Newfoundland dogs are generally social and never seem to be bothered by other dogs or pets that you have in your home, and they are a great choice for families that have large yards or access to swimming areas.
6. Cavalier King Charles Spaniels
Well-known for their sweet disposition, Cavalier King Charles spaniels are a small to medium in size. They have large, gentle, and expressive eyes, and they love to be around their families as much as possible.
Cavalier King Charles spaniels are very adaptable, and their energy levels vary; they are just as happy spending lots of time outdoors with you as they are cuddling up on the couch after a long day. This pup is very cheerful and thrives in a family environment.
7. Pugs
Another medium-sized lovebug, pugs are known for their trademark wrinkles and somewhat sassy attitudes. However, pugs are very affectionate, gentle, and sociable. Pug dogs do well around most other pets and children, and they are not likely to be high-strung, though they can be dramatic.
Pugs are easy-going, fun-loving, and enjoy spending time with their families, soaking up as much affection as possible.
8. Irish Setters
Recognized by their distinctive red coats, Irish setters are an athletic dog known for their sweet, but goofy, natures. This pup loves to stay active and plays gently with children, and they can be easily trained.
Irish setters enjoy being given working tasks and spending lots of time outdoors, and they have a reputation as fun-loving, kind dogs.
9. Bichon Frise
Small dogs with lots of personality, the bichon frise loves to be involved in everything their family does. They are known for their solid role throughout history as companion dogs, and they have a generally friendly, easy-going, and sociable disposition.
The bichon frise loves to play outdoors or cuddle up with their families, but they do need a consistent exercise and training routine to curtail any mischievous or destructive behaviors.
10. Beagles
Another iconic family dog, the beagle has expressive eyes, a medium size, and lots of playful energy. This dog is active and enjoys spending time outdoors playing with their family, and they are gentle around children. Beagles are quite social and get along well with most other pets or people, and they love to snuggle up to their families after a long day.
You should note that beagles can have a stubborn streak and may be escape artists, so ensure your pup has a consistent training routine and a secured space for them to play in.
11. Bulldogs
Most types of bulldogs can look intimidating, but these pups are some of the sweetest around. Whether you are interested in an American, English, or French bulldog, you're signing yourself up for a fun-loving dog that enjoys cuddling with their family, spending time outdoors, or meeting new people.
Most bulldogs are outgoing and easily adaptable, and they won't have a problem accompanying you on all of your daily tasks.
12. Basset Hound
Basset hounds are easily recognized by their large, floppy ears and soulful eyes. This dog has a calm, friendly disposition, and they can actually be quite fun-loving and goofy. Basset hounds do well in family environments and are gentle around children, but you should note that they may sometimes have mobility issues due to their shorter legs.
This pup is very adaptable and can be happy in both apartments or homes, as long as they get their required amount of daily exercise and cuddle time.
13. Greyhounds
Greyhounds are known for their fast bursts of speed, but outside of these zooming moments, this breed is a total couch potato. Greyhounds are gentle, loving, and enjoy cuddling more than anything else, and they will be happy to spend most of their days lazing around with their families.
This breed has a peaceful and calm disposition, and they love to spend their time in quiet environments. Make sure that your greyhound is well-socialized and trained, as they do have a high prey drive and may chase smaller animals.
14. Boxers
Though boxers can look intimidating to some, this breed is actually fairly gentle, goofy, and fun-loving. Boxers tend to have very expressive facial expressions and they are very loyal to their families, enjoying spending as much time as possible with their owners.
Boxers are intelligent, easily trainable, and gentle around children, but they are quite active and will need a daily exercise routine to keep them happy.
15. Whippets
Whippets are a unique breed that is not as commonly heard of as the other dogs on this list, but they are gentle and friendly nonetheless. Whippets descend from the greyhound breed which explains their similarities, and they are fun-loving and affectionate.
This breed loves to spend lots of time around their owners and they are generally laid-back, adaptive, and happy. Make sure that your whippet gets enough daily exercise to curb any wanted destructive behaviors.
Where Can I Adopt a Gentle Dog?
While the dogs on this list are purebred, it is possible to adopt a gentle dog instead of purchasing a puppy from a breeder. If you are interested in adopting one of these breeds or another gentle mixed breed, your first step is to look at local or national rescue organizations for the breeds you are interested in. You can also look at local shelters or animal rescues to see which dogs pass through.
It's important to keep in mind that, even though the dogs on this list are known for being the most gentle, nurture has a lot to do with dog behaviors and aggression. Most dogs are sweet and can be quite loving when given proper training routines and allowed to thrive in environments that suit their personalities.
Don't discount other dogs that you may fall in love with at a rescue or shelter because they aren't a certain breed, and always make sure to treat your new family member with love and respect to allow them to grow into their true loving personalities.