Teaching your dog new tricks is a fun way to bond with your pup and increase their overall obedience. One of the most classic tricks you can teach your dog is to play dead – this skill is a great way to impress your friends while giving your dog extra love and attention.
To help you get started teaching your dog this trick, we've compiled a step-by-step guide. You can review the process of training your dog to play dead below and look at our section on troubleshooting training problems in order to be as informed as possible about teaching your dog this great new skill.
Why Train Your Dog?
As you get started training your dog for the first time or teaching them new skills for their obedience repertoire, you may be wondering why training your dog is so important.
To start with, dog training can help improve their mental stimulation and ensure they are overall happier in life. It can also increase your bond with your pup and make them more likely to listen to you, leading to a more obedient dog. Plus, everyone loves a polite, well-behaved dog, and training can help with this.
The more well-trained your dog is, the happier they will be, the closer you will feel to them, and the more places they can safely go.
Teaching Your Dog to Play Dead: Step by Step
When it comes to teaching your dog how to play dead, there are a few simple steps that you should follow. Review these steps carefully, and then get to work practicing with your pup.
You should also note that you will need training treats to complete this process – try to use a high-value reward like pieces of ham, chicken, or turkey.
Step One: The Down Command
The first step in training your dog to play dead is to make sure that they are familiar with the 'down' command and can perform it easily. For this, you should put your dog in a 'sit' position. Take a treat and show it to them, then pull the treat away from their nose and back toward yourself, all while angling the treat to the ground. Your dog's belly should hit the ground, at which point you can verbally give the 'down' command and reward them.
Practice the down command until your dog can perform it easily without the offering of a treat. This video can help you out in this process.
Step Two: Offer a Treat
Once your dog has mastered down, look to see which hip they are favoring – dogs will always put more of their weight on one hip versus the other when they are comfortable in the 'down' position.
Take out a training treat and show it to your dog. As soon as you have their attention, move the treat toward the opposite hip that they are favoring. This will cause them to lean to one side and eventually lay down on that side. Reward them and use a verbal command (something like 'play dead!' or 'bang!') when they lay on their side.
Step Three: Complete the Command
As your dog gets more used to moving to their side from the down position, you can start to take away the treat and rely solely on the verbal command. Remember to reward your dog with love and attention every time they perform the trick, and release them from the play dead position with a friendly and upbeat 'ok!' or something similar.
Step Four: Practice
After your dog has mastered the play dead command with just a verbal cue, the only thing left for you to do is practice.
Incorporate this trick into your dog's training repertoire and practice it regularly along with other commands and obedience skills. This will keep your dog's knowledge fresh and ensure that both of you make the most of your training time together.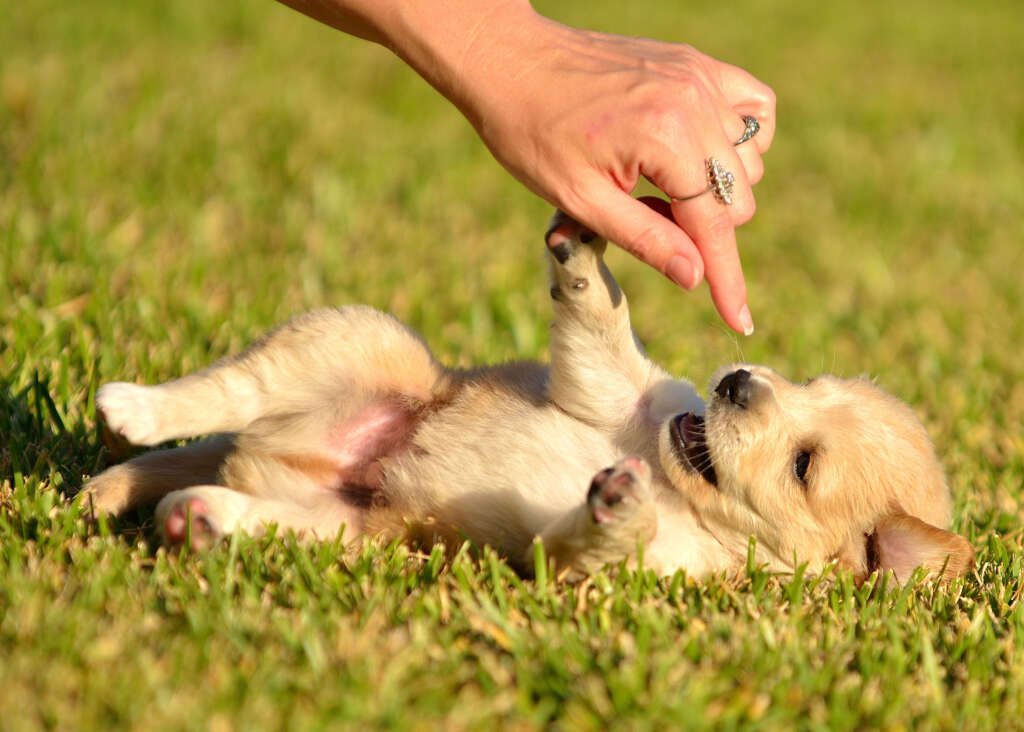 Troubleshooting Common Training Problems
Training your dog is not always going to be the easiest task in the world. Sometimes, even the smallest issue can cause problems to arise between you and your pup. It is important to recognize these issues and get to work troubleshooting them if you want to ensure maximum benefits from your training sessions.
Your Dog Isn't Listening
Some dogs can have stubborn personalities, and some dogs can simply be a little all over the place, making them feel like they aren't listening. Instead of getting frustrated due to this, your best option is to slow down the training and figure out what really motivates your pup.
Most dogs are highly food motivated, so it may just be a process of figuring out what treats your dog likes the best and is willing to listen to you for.
Remember, training your dog should be fun and stress-free for the both of you. Don't yell at your dog, try to force them to complete commands, or use any type of 'tough love' — such as smacking your dog — to get them to behave. Positive reinforcement, patience, and lots of affection is the best way to get your dog to learn.
Your Dog Doesn't Want to Show Their Belly
For dogs, laying on their side or showing their belly in any way can feel like a very vulnerable position. If you are having issues getting your dog to lay down and you suspect it's because they don't feel comfortable, you should consider taking a step back from training and working on building up your bond with your pup.
Take time to make them feel loved and relaxed and work on easier skills that don't involve showing the belly as you work up to learning this skill.
Your Dog Is Getting Overwhelmed
Much like humans, dogs can often get overwhelmed by the sights and sounds around them and lose their focus. If you notice your dog is getting overwhelmed by their surroundings and can't seem to concentrate on your or their training, you should be looking for a different location to train your dog.
Choose somewhere that is unlikely to have lots of other people or dogs walking by during your designated training time, and make sure to have their favorite treat with you so that their attention stays on you.
Fun Training for You and Your Pup
Training your dog can be a fun activity for both of you that improves your bond and increases your pup's overall obedience skills. The classic trick of teaching your dog to play dead can easily be mastered with simple practice, patience on your part, and lots of high value treats to encourage your dog.
Always remember to have fun while training your dog, and try not to overwhelm them with your teaching sessions. Do this, and you and your pup are sure to have the best time together learning new skills.