Beyond the enchanting allure of a wagging tail and soulful eyes, adopting a dog comes with a range of financial considerations that every prospective dog owner should be prepared for. While the emotional bond formed with a dog is priceless, it's essential to consider the various costs that accompany this journey.
When considering adding a furry friend to your family, the question you may ask is: how much does it cost to adopt a dog? Read on to learn the answer to this and many other questions you may have about the financial side of adopting a dog.
Initial Adoption Fees
When considering adopting a dog from shelters or rescues, it's essential to understand the concept of adoption fees and the factors that influence them. Adoption fees are a standard practice in animal welfare organizations, and they serve to cover various costs associated with caring for the animals and running the organization.
Understanding Adoption Fees
Adoption fees are a financial contribution that adopters make to the shelter or rescue when adopting a dog. These fees play a crucial role in supporting the organization's operations, including but not limited to:
Medical Care: Adoption fees often cover essential medical services, such as vaccinations, spaying or neutering, microchipping, and initial health checkups. These services ensure that the dog is in good health and has received necessary preventative care.
Shelter and Care: The fee helps offset the costs of providing shelter, food, and other basic necessities for the dogs while they await adoption.
Operational Expenses: Running a shelter or rescue involves administrative costs, facility maintenance, staff salaries, and more. Adoption fees contribute to keeping the organization operational.
Rescue and Rehabilitation: Some dogs may come from challenging backgrounds, requiring additional care and rehabilitation. Adoption fees support the efforts to rescue, rehabilitate, and socialize these animals.
Factors Influencing Adoption Fees
The adoption fees can vary widely based on several factors:
Breed: Purebred and rare breeds might have higher adoption fees due to their demand and often specialized care requirements.
Age: Puppies and younger dogs tend to have higher adoption fees compared to older dogs. This is because puppies are more in demand than older dogs.
Location: The cost of living in your area can influence adoption fees. Urban areas with higher costs might have slightly higher fees compared to rural locations.
Included Services: Adoption fees typically cover a range of services. The more services included (vaccinations, spaying/neutering, microchipping, etc.), the higher the adoption fee might be.
Potential Adoption Fee Range
It's important to note that adoption fees can vary widely based on the factors mentioned above. Here's a general range to provide an idea:
Municipal Animal Shelters: $50 – $250
Private Shelters and Rescues: $200 – $400
Purebred or Designer Breeds: $300 – $600 or more
Keep in mind that while these ranges provide a rough estimate, individual cases can deviate significantly. Always inquire with the specific organization you're considering to get accurate information about their adoption fees and the services covered. Remember that the adoption fee is a small fraction of the total costs associated with dog ownership, which includes ongoing care, food, grooming, and unforeseen medical expenses.
Preparing Your Home for a New Canine Companion
Welcoming a dog into your home is a joyous occasion, but it also requires thoughtful preparation to ensure a safe and comfortable environment for your new furry friend.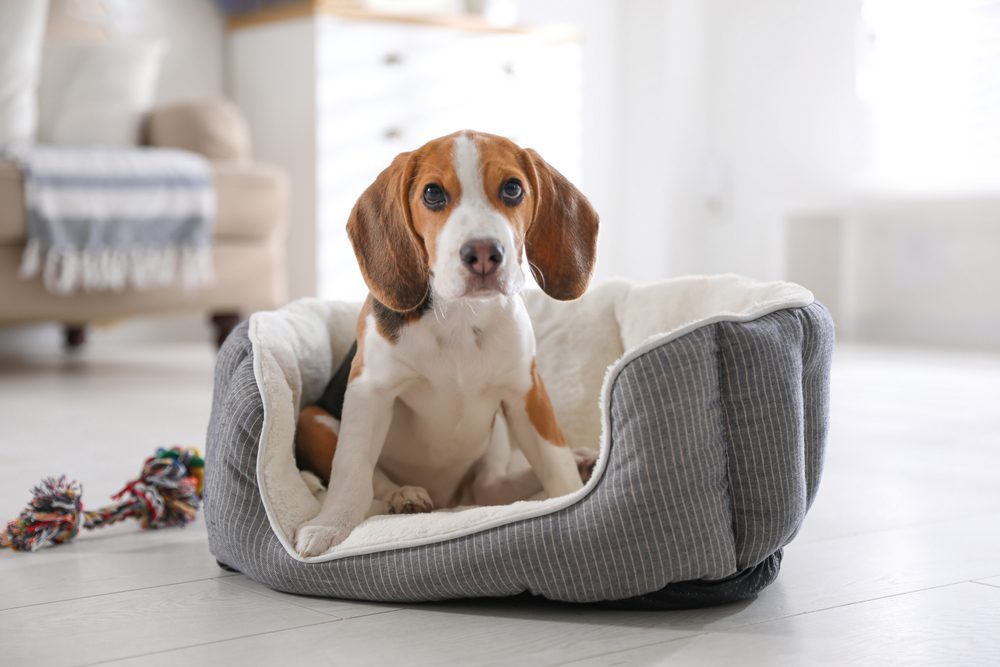 Upfront Costs
Dog-proofing involves making your home safe and suitable for your new companion. While this process doesn't have to break the bank, there are some upfront costs to consider:
Crates and Beds: A comfortable crate serves as a den for your dog and aids in-house training. Quality crates range from $30 to $150, depending on size and features. A cozy bed is essential, too, costing around $20 to $100.
Toys and Enrichment: Toys keep your dog mentally stimulated and help prevent destructive behavior. Budget around $10 to $30 for a variety of toys that cater to your dog's preferences.
Leashes and Collars: A sturdy leash and well-fitting collar are necessary for walks and identification. Costs vary, with basic options starting at $10 and more specialized choices around $30 to $50.
Food and Water Bowls: Stainless steel or ceramic bowls are durable and easy to clean, costing approximately $5 to $20 each.
Gates and Barriers: These are handy for sectioning off certain areas of your home, especially during training or when introducing your dog to the space. Expect to pay around $20 to $50.
Initial Medical Expenses: Ensuring Your Dog's Health from the Start
Bringing a new dog into your home is an exciting journey, but it's crucial to prioritize their health and well-being right from the beginning. Just like humans, dogs require proper medical care to thrive.
Initial Checkup
One of the first steps after adopting a dog is scheduling an initial veterinary checkup. This comprehensive examination assesses your dog's overall health and helps identify any underlying conditions that might require attention. The cost of an initial checkup can vary depending on location and the veterinarian's fees, typically ranging from $50 to $100.
Vaccinations
Ensuring your dog is up-to-date on vaccinations is vital to prevent serious illnesses. The core vaccines usually include rabies, distemper, parvovirus, and adenovirus. Depending on your dog's vaccination history, you might need to pay around $20 to $50 per vaccine.
Microchipping
Microchipping is a crucial step in ensuring your dog's safety. It's a one-time expense that typically costs around $25 to $50. This tiny chip holds essential information that can help reunite you with your dog if they ever get lost.
Spaying/Neutering
If your dog hasn't already been spayed or neutered, this procedure might be necessary. Prices vary based on factors like the dog's age, size, and your location, but generally ranges from $100 to $300.
Prioritizing your dog's health right from the start sets the tone for a fulfilling and joyful life together. By budgeting for initial medical expenses and building a strong rapport with a veterinarian, you're taking crucial steps toward ensuring your new companion's well-being.
Monthly Recurring Costs: Sustaining Your Dog's Well-Being
Dog ownership is a long-term commitment that comes with ongoing responsibilities, including providing for your dog's essential needs and ensuring their overall health and happiness. Let's delve into the recurring expenses that are part and parcel of being a responsible dog owner.
Food
Feeding your dog a balanced and nutritious diet is paramount to their well-being. Food costs vary based on the brand, type (dry, wet, raw), and your dog's size. Here are three diet options:
Budget Diet: These are more affordable commercial dog foods.
Mid-Range Diet: Offers better quality ingredients without the premium price tag.
Premium Diet: High-quality dog foods with superior ingredients come with a higher cost.
Healthcare
Regular veterinary care is essential to your dog's health. Anticipated monthly expenses include:
Checkups: Regular wellness visits may cost $30 to $50 each time.
Vaccinations: Depending on your dog's needs, vaccinations can cost $20 to $50 per vaccine.
Preventative Medications: Budget $10 to $20 per month for flea/tick prevention and heartworm medication.
Grooming
Grooming needs vary depending on your dog's breed and coat type. Costs can range from $30 to $100 per grooming session.
Bathing: Frequency depends on the dog's activity level and coat type. You might opt for a professional groomer or bathe them at home.
Haircuts: Breeds with longer hair might require regular haircuts to prevent matting and discomfort.
Training and Socialization
Investing time and money in training and socialization yields well-mannered and happy dogs:
Training Classes: Basic obedience classes can range from $50 to $150 per session. These classes help build a strong bond between you and your dog.
Socialization: Activities like dog park visits or playdates contribute to your dog's mental and emotional well-being.
Unforeseen Medical Expenses: Planning for the Unexpected
While we strive to provide the best care for our canine companions, life is unpredictable, and health issues can arise when least expected. This is why having an emergency fund specifically for your dog's veterinary needs is not just prudent but also a compassionate step to take.
Importance of an Emergency Fund
Having a dedicated emergency fund for your dog's health is akin to providing them with a safety net. Unexpected accidents, injuries, or sudden illnesses can lead to significant veterinary bills. An emergency fund ensures that you can swiftly address these situations without compromising your dog's well-being or your financial stability.
Common Health Issues and Potential Costs
Here are a few examples of unforeseen health issues and their potential costs:
Accidents: Broken bones, lacerations, or ingestion of foreign objects can result in emergency visits that might cost anywhere from $500 to $2,000 or more.
Allergies: Allergic reactions might require medication and ongoing management, leading to expenses of around $200 to $500 per year.
Dental Care: Dental issues such as infections or extractions can range from $300 to $1,000, depending on severity.
Gastrointestinal Problems: Treating stomach issues or gastrointestinal infections can cost around $200 to $500, including tests and medications.
Chronic Conditions: Managing chronic conditions like diabetes or arthritis might involve regular medications and veterinary visits, amounting to several hundred dollars per year.
Optional Costs
Finally, when you're trying to figure out "how much does it cost to adopt a dog," there are some other (optional) costs you may want to consider.
Pet Insurance
Pet insurance offers financial peace of mind by covering a portion of your dog's medical expenses. Plans vary in coverage and cost, typically ranging from $20 to $50 per month. It's especially valuable for managing unforeseen medical costs and allowing you to make medical decisions based on your dog's health needs rather than your financial limitations.
Dog Walking/Pet Sitting Services
If your schedule doesn't allow for ample time with your dog, dog walking or pet-sitting services can be a great investment. Costs depend on the frequency and duration of services, ranging from $15 to $30 per walk or visit. These services help keep your dog physically active and mentally stimulated when you're not around.
Pampered Pooches
From initial adoption fees to ongoing expenses, understanding the financial commitment will help ensure a happy and fulfilling life for you and your newfound canine companion.