There are hundreds of different dog breeds around today, and with such a range of diversity, there are plenty of different dog coats and fur types. You may encounter hairless dogs, dogs with short fine hair, or dogs with fluffy hair and cloud-like coats that you'll want to keep petting.
If you want to adopt a fluffy dog breed, our article is a great place to start your search. Below, we give you information about the fluffiest dog breeds around so you can find the fluffy pup of your dreams.
The Diversity of Dog Breeds
When it comes to dog breeds, there is no shortage of the diverse characteristics that dogs display. Fluffy fur is a very noticeable trait that many dogs have, and, in addition to being fun to pet, fluffy fur helps insulate dogs from their environment.
Fluffy fur is most commonly seen in dogs that have been bred in colder environments and need to stay warm. You may encounter fluffy dogs with an undercoat and a fluffy top coat that provides even more insulation.
Many working breeds of dogs, such as sheepdogs and herding dogs, will have fluffy fur to help them stay warm when needed and otherwise regulate their temperature.
Fluffy Dog Breeds You'll Want to Keep Petting
The following dog breeds all have fluffy fur that you'll want to keep petting. We've split our list of fluffy dog breeds up by size, so you can look through the small, medium, and large fluffy dog breeds around today.
Small Dogs With Lots of Fluff
There are many different small dog breeds around today, but the ones below are some of the fluffiest tiny dogs you'll meet.
​Bichon Frise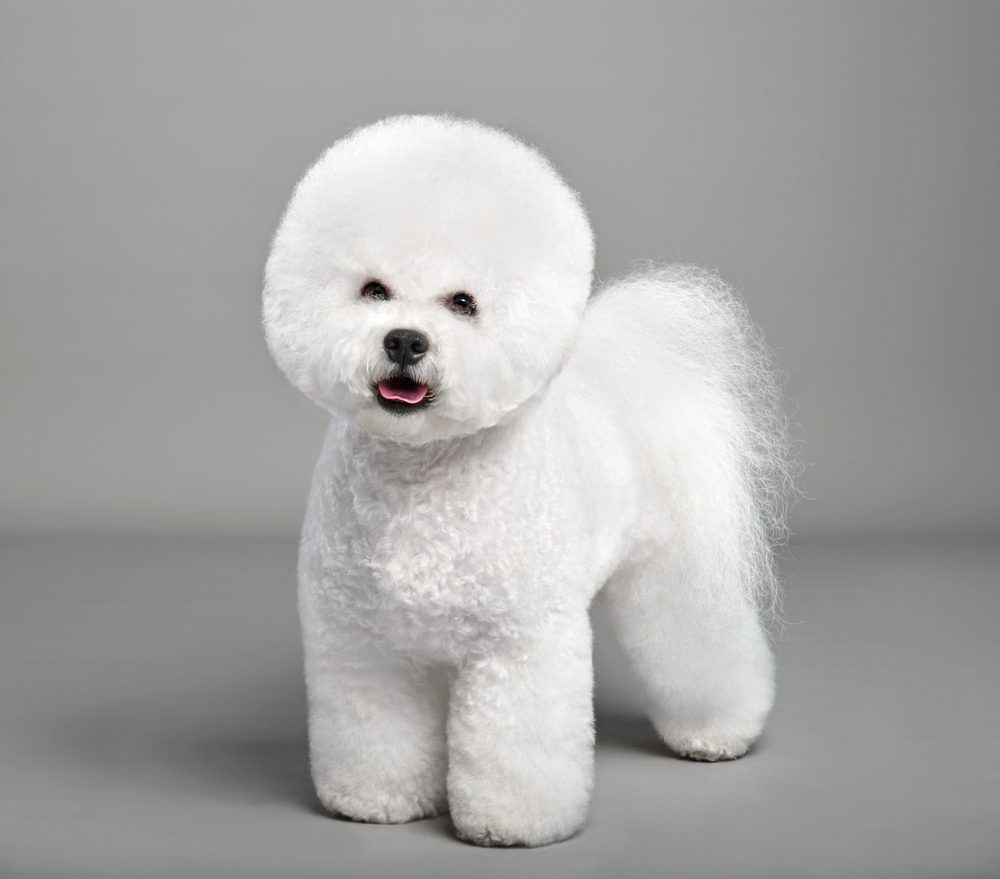 The Bichon Frise is a small, happy breed that boasts a large amount of fluffy white fur. This pup is affectionate, loving, and playful, and they fit in well with families. Your Bichon Frise will need lots of playtime with their family to stay happy, and they will be a loyal companion to you.
Make sure your Bichon Frise gets regular trims and baths to ensure their fluffy coat stays white and soft.
Cockapoo
The cockapoo is a mix between the Cocker Spaniel and poodle dog breeds. They are playful, intelligent, and easy to train, and they make fun companions for families or any individual looking to add an affectionate pup to their life.
The coat of the cockapoo may be longer and more similar to the Cocker Spaniel, or it might be short and curly like that of the poodle. Either way, it will be fluffy, soft, and irresistible to pet.
Havanese
The small Havanese pup has a long, silky coat, and this pup is full of energy and affection. The coat of the Havanese can be trimmed into a popular 'teddy bear', or it can be kept long and straight. Make sure that you brush your Havanese daily, as their long, soft fur easily gets tangled and matted without proper care.
Pomeranian
The Pomeranian is a fun little fluff ball that has an impressive amount of fur for a small dog. This breed is loving and playful, and they make the perfect companion for any individual, as they are fairly gentle and love to spend time with their owners.
You will need to brush your Pomeranian daily, as their long fur becomes matted, and regular brushes with a slicker-style dog brush will help keep their fur as fluffy and soft as possible.
Pekingese
Initially bred in China, the Pekingese is a unique small dog breed known for their long fluffy coat and their more stubborn nature. The Pekingese dog breed has very soft fur which can grow quite long, and they will need regular trims to keep their coat in shape.
You will need to brush your Pekingese regularly and be prepared with lots of patience as you try to train this willful, yet loyal and loving, pup.
Shih Tzu
The Shih Tzu dog breed is known for their unique name and their long fluffy fur which grows over their face and eyes. It's important to keep your Shih Tzu fur trimmed to ensure this pup can see properly, and regular brushings help to keep their fur soft.
Shih Tzus are known for their curiosity and playfulness, and they often need lots of exercise to ensure they stay healthy and happy.
Toy Poodle
A smaller version of the standard poodle, the toy poodle has a similar curly, fluff coat that is known for being hypoallergenic. This small dog is intelligent, loving, and loyal toward their families, and they can be easier to train than some other small dog breeds.
You will need to brush your toy poodle to prevent tangles from forming in their curly fur, and this breed might not shed as much as other fluffy small dogs.
Long-Haired Chihuahua
The quintessential small dog, the Chihuahua breed has both long and short-haired varieties. If you are interested in one of these funny pups, the long-haired Chihuahua is just the fluffy dog for you. Chihuahuas are known for their loyal nature and the affection they give to their favorite person, and the exercise needs of a small chihuahua aren't too strenuous.
Make sure to brush your long-haired Chihuahua often so that they stay looking their fluffiest and feeling their best.
Medium-Sized Fluffy Dogs
If you're looking for something a little bigger – but not too big – and you want lots of fluff on your dog, check out these medium-sized fluffy dog breeds.
American Eskimo
Energetic and curious, the American Eskimo dog loves to be around their families and they make for a great companion. This fluffy dog typically has long white fur and a very fluffy tail; their fur is soft and may be trimmed up to keep it in perfect shape.
American Eskimos are known for being very close with their families, so if you adopt one of these pups, expect to spend lots of time with them to keep them happy and healthy.
Keeshond
The Keeshond is a unique dog breed that gets most of their genetics from ancient Arctic dogs. They have a two-layer coat, with the top layer being very fluffy, and they are typically seen with black and silver fur colors.
Keeshonds have a fluffy tail and they are very affectionate and social; they can't be left alone for long hours. Along with several other fluffy breeds, the Keeshond is a prolific shedder.
Finnish Lapphund
The Finnish Lapphund hails from Lapland, Finland, and the breed is historically a herding and working breed.
In recent years, the Finnish Lapphund has become more of a companion animal and family pet as opposed to a herding breed, and they are known for being very affectionate and eager to please their owners. They may be easily trained, and they are known for their strong barks and long fluffy fur.
Chow Chow
One of the fluffiest dogs around is the Chow Chow, and this breed hails from Northern China where they were initially bred as companions and guard dogs. Chow Chows have a teddy bear-like appearance, with round faces and a very sturdy build.
Chow Chows typically require an experienced dog owner, because while they are fluffy and mostly friendly, they can be stubborn and aggressive with strangers. This dog breed needs firm training and lots of socialization from a young age to curb any bad habits.
Japanese Spitz
Similar in appearance to the Pomeranian but slightly larger, the Japanese spitz has white fluffy fur and a curly tail. They have pointed ears, a friendly face, and they are eager to be around their owners, making them easy to train.
The Japanese spitz makes for a good family dog, as they are fairly friendly and affectionate. As long as they have regular brushings and trims for their fur, they will look their fluffiest year-round.
Shetland Sheepdog
Sheepdogs are known for being incredibly fluffy dogs, and the Shetland sheepdog is a herding breed that has its history in Scotland. This dog breed has a distinctive fluffy coat that typically appears in the sable pattern with red on top and a white chest and belly, and they are very intelligent.
The Shetland sheepdog is hard-working, loyal, and energetic, and they will need lots of exercise and mental stimulation to stay happy.
Australian Shepherd
Australian shepherds are known for their bright outlook and playful attitudes. This dog breed is also quite intelligent, and they may easily be trained. Australian shepherds do have a double coat and they shed quite often. They will need daily brushings, regular baths, and professional grooming to ensure their coat stays trimmed, free of tangles, and looking its fluffiest.
Large Fluffy Dogs
These large fluffy dog breeds might be confused for walking clouds due to their size and the soft fluffy fur they carry around.
Siberian Husky
One of the more popular dogs in the United States, the Siberian husky is known for their sassy attitude, their uniquely colored coats, and their notably wolf-like appearance. Siberian huskies are built for the cold, which is why they have such fluffy coats.
This dog breed is known for shedding a large amount, and they will need regular grooms, brushing, and baths to keep their coats in shape.
Standard Poodle
The standard poodle is known for their curly coat, their long legs, and the work that this breed often completes as a service dog. Standard poodles are intelligent, affectionate, and loyal, and this breed loves to stay by their owner's side.
The curly fluffy coat of the standard poodle is hypoallergenic. They are often a good choice for someone who wants a fluffy dog that won't shed quite as much as other fluffy dogs on our list.
Bernese Mountain Dog
Large, fluffy, and friendly, the Bernese mountain dog is lovable and enjoys being pet as much as you love running your hands through their soft fur. Bernese mountain dogs are considered a working breed, though they are often more relaxed and easily adapt to a family lifestyle. This dog is intelligent and easy to train, and regular brushing helps their fur stay soft and tangle-free.
Samoyed
Samoyeds are active dogs that are known for being fairly vocal, and this pup requires an energetic lifestyle to stay happy. Samoyeds have white fluffy fur, curled tails with a poof of fur, and they are quite large. Your Samoyed will need lots of activity and firm training to combat any destructive or loud behaviors as a result of boredom.
Great Pyrenees
The Great Pyrenees is one of the fluffiest dogs out there, and this pup often weighs more than a hundred pounds. This breed was initially used as a herding dog and a guard dog for shepherds, and they are very loyal and protective. Great Pyrenees dogs do need lots of exercise and their thick, fluffy coat needs regular brushing and grooming to keep in shape.
Bearded Collie
The bearded collie is a sheepdog and herding dog breed initially bred in Scotland. They are known for their intelligent and active nature, and they need a fair amount of exercise to stay happy and keep out of trouble. The bearded collie is loyal and affectionate, and they need regular coat trims to keep their hair out of their eyes and clean up the appearance of their long fluffy fur.
Rough Collie
Another popular fluffy sheepdog hailing from Scotland, the rough collie is best known for the character of Lassie. This dog is intelligent and adapts easily to family environments, though they will need lots of exercise to stay happy. You can train a rough collie easily, and you will need to make sure to brush this breed often to keep their long fur knot-free and fluffy.
Newfoundland
Another very large dog, the Newfoundland is distinctive for its size and fluffy black fur. Newfoundland dogs are often referred to as gentle giants, and they do produce lots of drool in addition to lots of shed fur.
That being said, Newfoundlands are loving, affectionate, and loyal to their families, and these big dogs have calm temperaments that make them suitable for many different living situations.
Alaskan Malamute
Similar somewhat in appearance to the Siberian husky, the Alaskan Malamute is large, stocky, and bred for activities such as pulling dog sleds. This dog's large fluffy coat helps protect them in cold environments, and it requires a fair amount of maintenance.
The Alaskan Malamute is very independent and stubborn, and they require lots of firm training to ensure they don't develop bad habits. This dog also requires lots of exercise.
Old English Sheepdog
The Old English sheepdog is a fluffy, intelligent breed with a history of working as a herding dog. This dog is happy as a working breed, and they have a thick, shaggy coat that requires lots of maintenance. Old English sheepdogs are loyal, affectionate, and eager to please, and they may be easily trained once they live in a family environment.
Tibetan Mastiff
Another large, incredibly fluffy dog has a large, thick coat. The Tibetan mastiff has densely packed fur, and they need lots of brushing to ensure their fur stays free from tangles. This dog breed also needs lots of baths, and because they don't shed as much due to how dense their fur is, they will need de-shedding brushes in addition to regular brushes to fluff out their coats.
FAQs About Fluffy Dog Breeds
If you are considering adding a fluffy dog breed to your family, you may want to know more about these pups. We answer your most frequently asked questions about fluffy dog breeds below to give you more insight into these dogs.
How Do I Care for a Fluffy Dog Breed?
Fluffy dog breeds require an extra bit of care as they need regular brushing, baths, and trips to a professional groomer to ensure their fur stays free from tangles, knots, and other problems. Without proper coat maintenance, a fluffy dog breed can develop tangles and mats that grow to be painful for the dog and end up causing issues such as skin problems.
In addition to caring for your fluffy dog breed's coat, you will need to learn more about the specific care needs of the breed you are adopting. Some dogs require more exercise than others, and some breeds will need more firm or consistent training.
You will also need to look into specific food requirements, known health issues, and attend regular veterinary visits to ensure your fluffy dog stays in their best health.
How Much Grooming Will a Fluffy Dog Need?
While the majority of fluffy dogs need regular grooming in the form of brushing and baths, some fluffy dog breeds don't need these grooming items as often as others.
You can expect to groom your fluffy dog around two to three times a week on minimum. Brushing your pup every day and giving them baths on a monthly or bi-monthly basis might be the best way to keep them looking their best and ensure their fur stays soft, fluffy, and tangle-free.
Will I Need to Get My Dog Professionally Groomed?
Most owners of a fluffy dog breed will need to get their dogs professionally groomed from time to time. A professional groom includes important items such as toenail trims, fur trims and shaping, baths, and paw-pad shavings. All of these things help to keep your dog's fur in good shape and ensure they look their best.
Depending on your fluffy dog's exact breed, you may need to book professional grooming sessions on a monthly or bi-monthly basis. Speak with a professional groomer for their recommendations about grooming care for your specific dog.
How Much Shedding Can I Expect With a Fluffy Dog?
With lots of fluff comes lots of shedding, and you can expect most fluffy dog breeds to leave a decent amount of fur behind.
Fluffy dogs that have curlier hair, such as the standard and toy poodle, may not shed quite as much. Fluffy dogs with double coats or very large fluffy dogs that have lots of fur will shed quite a bit.
Where Can I Adopt a Fluffy Dog Breed?
If you want to adopt a fluffy dog breed, you have the choice of finding a breeder that breeds the specific breed of fluffy dog you are looking for or searching for a rescue or shelter for a fluffy dog.
Breeders will typically be the more expensive way of obtaining a fluffy dog, and you should always make sure that the breeder you are purchasing from is ethical and responsible. Check papers and licenses and tour facilities is necessary to ensure the breeder's operation is legitimate.
You may be able to find a fluffy dog in a shelter or from a breed-dedicated rescue organization in your area. There are also national organizations dedicated to specific dog breeds.
Don't hesitate to adopt a mixed breed dog from a local shelter if they look fluffy enough. Oftentimes these fluffy pups have traces of the breeds on our list and may be an unexpectedly welcome lifelong companion.
Finding the Best Fluffy Dog for You
There are plenty of dog breeds out there, and many of these unique pups have fluffy coats you'll just want to bury your face into. If you are looking for a fluffy dog breed to snuggle, make sure to consult our list for ideas of which breed you might be interested in owning. From there, you can decide which breed or mixed breed is the best fluffy dog to adopt.