Our Most Popular Training Programs
Why Train Your Dog With Us?
The right training makes for a happier and healthier dog - as well as a deeper bond between you and your furry best friend. Whether you're looking to teach basic commands or advanced service dog techniques, our expertly designed courses are here to help.
Effective

With thousands of happy customers it's clear that our courses deliver results.

Affordable

95% cheaper than in-person training and similarly effective.

Flexible

Life is busy. Train from home around your own schedule.

Experienced

Our training courses have been crafted by American Kennel Club certified trainers with more than 25 years of experience.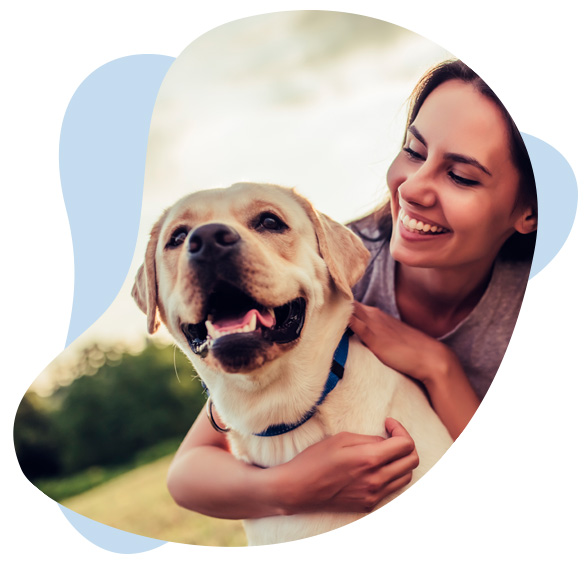 A Well Trained Dog Is A Happier Dog
94% of people do at least some training with their dog at home. Find out which course is right for you!
Learn More
What People Are Saying
Terrance Jones
Philadelphia, Pennsylvania
"Even if you're a total rookie when it comes to dog training, I'd recommend Dog Academy. Before their Basic Dog Training Course, I couldn't even get my dog, Charlie, to sit. This course covers everything you could need to know without being overwhelming or hard to follow. I finally feel confident when training my dog, and he heels, sits, and stays perfectly. I couldn't be happier!"
Jennifer Page
Denver, CO
"I finally decided to get my kids and our cat a canine playmate. I knew getting a puppy would be best to raise with the cat, but I was nervous about training a new puppy. Puppy Kindergarten was a huge help. I don't know who has enjoyed it more, me, my kids or our pup. We all had such a positive experience with this training program and learned a lot about training a puppy. This has been a very enjoyable and enlightening experience overall. Our family receives so many compliments about how well behaved my puppy is and we owe it all to Dog Academy."
Chelsea Strickler
San Bernardino, CA
"My brother is special needs and 25 years old. Everyday outings can feel overwhelming and difficult to handle. I heard about Dog Academy so I decided to train my Frenchie to help reduce my brother's anxiety and calm him a little. The training was cost-effective, simple, and proved to be extremely helpful for both me and my brother. Dog Academy has truly enabled us to travel to new places and experience new things that were previously impossible. I encourage anyone who may have loved ones with anxiety, depression, or a neuro-diversity to try these training courses."
Previous
Next
Our Dog Trainers
Jordan Lowery
CPDT-KA
Jordan started her career with dogs at age 15. She worked in shelters and boarding facilities before beginning her career as a trainer in 2015. Jordan recently sat for her CPDT-KA exam and passed with flying colors. She has also applied for her AKC CGC Evaluator certification.
Lydia Bagley
CPDT-KA, CBCC, CGC Evaluator, APDC Training Facilitator
Lydia started her career training horses after college and shifted to dog training in 2018. She earned her CPDT-KA in 2019, AKC CGC Evaluator in 2021, and passed the CBCC exam in the fall of 2021.
Frequently Asked Questions
Select questions below for answers
A. All of our dog trainers are certified by the American Kennel Club.
A. Each dog you're training must be enrolled themselves. They will each receive their own certificate upon graduation!
A. Upon successful course completion, your dog will receive a printable certificate.
A. Our courses are significantly less expensive than in-person trainers. Depending on the course, prices range from $59 to $349, and the cost includes any certifications.
A. There is no legal requirement for a service dog to be certified. However, a training certification can help avoid disputes and confrontations with landlords, business owners, airlines, and employers.
A. Our courses are designed to be accessible to everyone. Even if this is your very first time working with a dog, the lessons are both comprehensive and easy-to-follow. Plus, we have additional learning materials to make training easier.
A. You. That's right! You will be training your dog with guidance from our program and our skilled instructors.
A. All training services are provided by DogAcademy.org.
A. Anyone who has been diagnosed with a mental illness by a licensed mental health professional.
A. PSDs are protected by the Americans with Disabilities Act (ADA) and by the Fair Housing Amendments Act & Air Carrier Access Act.
A. The full training course, a clicker for positive reinforcement training, and a certificate of completion.
A. As soon as you purchase your course! That's right; there is no waiting. Once you have purchased your course, you can begin training immediately. However, the training clicker will take 5-8 business days to arrive.
A. PSDs are protected by the Americans with Disabilities Act (ADA) and by the Fair Housing Amendments Act & Air Carrier Access Act. This means they can go anywhere their handler goes as long as it does not cause a threat to the PSD's safety.
A. The videos are located within the course. Some chapters do not include instructional videos while other chapters do.
A. Our instructors are based in the United States of America, and are educated in the laws and procedures surrounding Service Dogs and their access.
A. USA, Canada, the European Union (28 countries), and most of the UK.
A. Typically, a dog needs at least 120 hours of training throughout their lifetime to master Service Dog tasks and pass the public access test. This is to ensure the safety of not only the handler and dog but the general public as well. But every dog learns at their own pace.
A. Typical shipping is 7-10 business days.
A.
Eligible course purchases can be refunded within 30 days after the purchase. Courses that you have not started may be refunded in full within the 30-day period. Courses that you have started may be refunded on a pro-rata basis within the 30-day period depending upon how far into the course you have progressed. For example, if the course contains ten (10) lessons and you have completed four (4) lessons, will be eligible for a 60% refund. If you have completed seven (7) lessons, you will be eligible for a 30% refund. Again, all refunds must be requested within 30 days of the purchase of the course. Refunds will be processed within ten (10) business days of approval. For more information visit:
Refund Policy.
A. After submission and grading of the final exam, a digital copy will be sent within 24 hours. Please note that Dog Academy may request additional information before grading your final exam, if applicable.